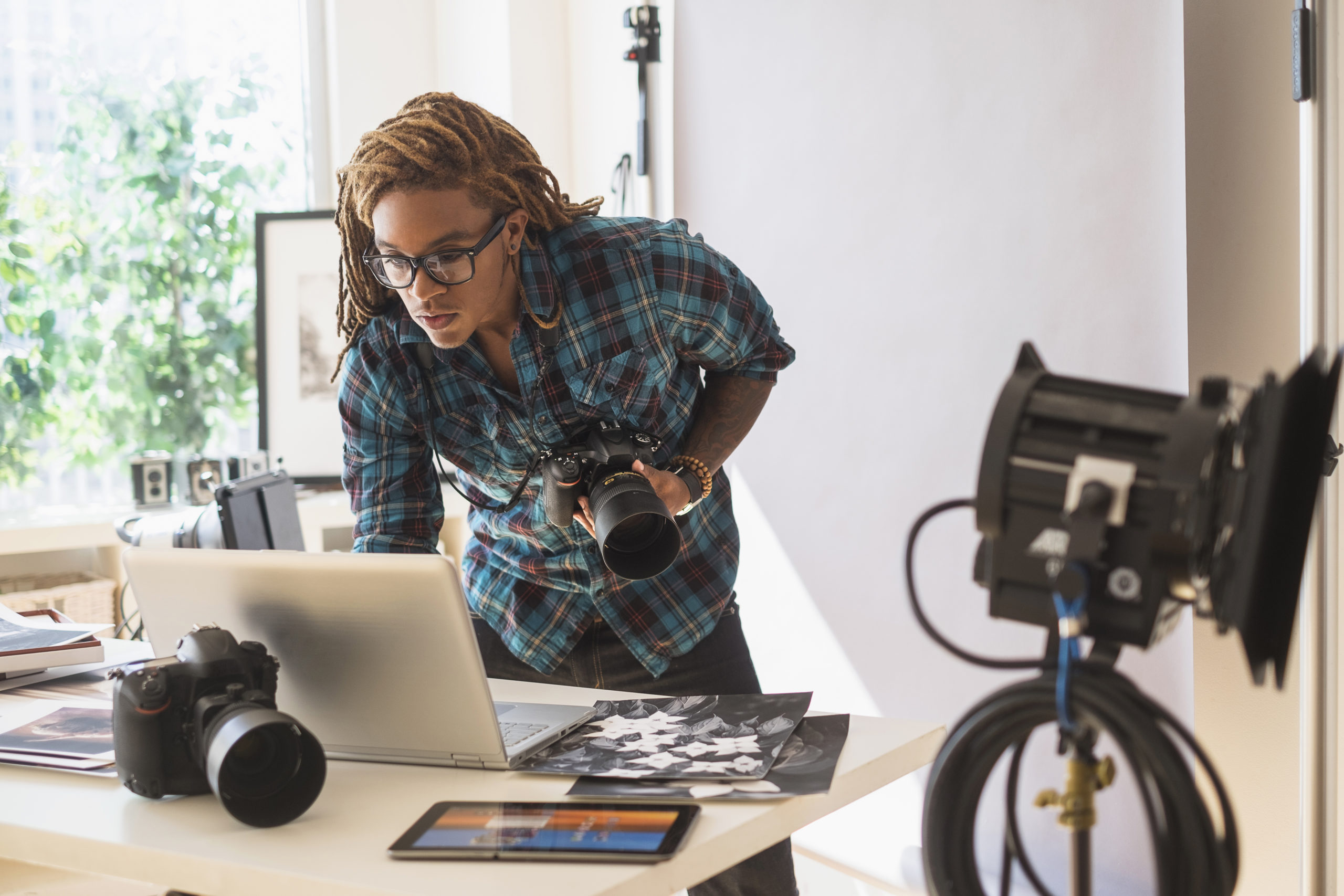 Freelancers Weigh In On How COVID-19 Is Affecting Their Lives
We have to consider creatives during this time.
As a result of the COVID-19 pandemic, hardworking people across the globe are being forced to work from home. But one group is not being considered as they should — those who work in more creative-centric fields, and their branches, such as musicians, artists, and public relations representatives. This community's subgroup, freelancers, has been hit especially hard by this news.
Freelancers tend make their living based on projects. For example, a freelance photographer would make money based on individual shoots, a rapper would get paid per show, and a writer would be paid by the article. But given the news, some companies that usually work with freelancers are now slow to respond, and pay, and people are having a hard time coming into opportunities. The transition was out of no where for most.
So that people have a better understanding of exactly what this means to creatives, we talked to 6 Black freelancers about how they've been affected by the COVID-19 outbreak. Read their responses below.
_____________________________________________________
It has been an eventful week as we have had to shift to working remote and a series of events have been cancelled. Agencies are team-based, so when you are working on large-scale events, everyone being somewhere different creates its own set of challenges.
In the same breath, people are rightfully nervous because there is so much uncertainty around the situation. I am a people-first person. So while working from home is not ideal, if it means decreasing the chance of passing it on to someone, I will do it. I also recognize being able to work from home is a privilege and one that not everyone has. With that, my heart is truly with those who do not have that option.
Our biggest activation is our multi-city cookout tour that has hit NYC, Philly , Atlanta and other major cities throughout the U.S.
Women, men and children of all races are invited to celebrate with us. Since the COVID-19 pandemic hit the states, it's been a bit of a struggle for myself as a performing artist and entrepreneur.
Starting with SXSW. We were invited for a second year to curate the CareFreeBlackGirl Cookout at the festival. This year was supposed to be the start of a great festival run and a less stressful year (financially) for my team and I. Since starting the CareFreeBlackGirl cookout, we haven't received major backing from a corporate brand. This year, Red Bull was one of sponsors, along with other small businesses.
Not only did we have to cancel them, we also could no longer book buzzing talent like Jucee Froot and…Queendom. As a brand, we've had to cancel our stops until June and refund money to sponsors and vendors…The CareFreeBlackGirl Cookout and other events are all about gathering, so the next few months and even the rest of the year, is uncertain for us.
Donate to their fundraiser here.
–Quanna, artist and founder of #CarefreeBlackGirl
As a freelancer based in the Bay Area, which is classified as a region with the highest socioeconomic inequality in the world, the loss in income has negatively impacted my finances. Prior to the pandemic, I was projected to accumulate over $2,000; the majority from speaking engagements as a cultural journalist, and the minority from editorial content. Right now, I'm working as a front line worker with homeless youth, so it's frightening, to be honest. Yet, I need the additional income to make up for losses.
The disheartening part of this is witnessing my counterparts lose 50 – 80% of their yearly income, so I've been uplifting their links to purchase products, or donate to PayPal, CashApp, and Venmo.
Because of this pandemic, I lost a cover story with an artist who I've been working towards interviewing for years. So, in lieu of that, please donate to your local creatives, and if you're in a position of power, hire if possible. These social conditions are prime examples of the financial insecurities experiences by freelancers, so I hope employers recognize the value of remote work.
As a full time creative and podcast host with her background and degree in journalism, COVID-19 has been really weird for me. I've been very lucky this year to be apart of projects that pay very well. So with every check, I've paid up my bills — which allows me to relax, but waiting to hear back from my editorial work has been a hassle. Publications haven't been doing the best job being transparent about if they are or are not accepting pitches or, if the content they have received will go live.
I'm currently on hold for about $1300 from one place in which the editor has yet to reach out to me about the piece, so I don't know if he's sick or if he's on hold too. Many pubs has been asking for Corona-specific content which is something I'm not interested in doing. On the creative end, my podcast — Dating in NYC: The Podcast— and a couple of campaigns I was apart of are on hold, but have paid me within a matter of 3 days which has been a relief. With my podcast, I can't record in person and recording over the phone ruins the sound quality. As of right now, I've been working on "Where are They Now?" episodes via voice notes from former guests, but there's no date on when I'll be able to record as regular again.
One of the ways I'm asking for support is by listening, sharing and subscribing to my podcast and reading/watching my work on my blog and on my Instagram. I've been taking this time to remind myself that I have the tools, ideas, and assets that I need that will bring me more work. I don't have to wait on anyone, but myself.
One of the ways I'm asking for support is by listening, sharing and subscribing to my podcast and reading/watching my work on my blog and on my Instagram. I've been taking this time to remind myself that I have the tools, ideas, and assets that I need that will bring me more work. I don't have to wait on anyone, but myself.
–Jourdan Ash, host of 'Dating in NYC' podcast
The first major way COVID-19 affected me was the cancellation of SXSW, where I was slated to shoot in-house for the entire festival (March 13-22.) In addition to the festival, I'd been commissioned to photograph a number of brand activations, all of which were obviously cancelled as well.
With this happening as the live music/concert season is only just opening up for the year, this couldn't have come at a worse time for myself and my colleagues who similarly make majority of their income from photographing entertainment events such as this, which makes up the bulk of what I'm hired to work for. These events are among those most heavily affected by the coronovirus, as they rely heavily on the ability of people to freely congregate in close quarters — exactly what we're all trying to avoid right now. Here in Chicago, the governor of Illinois ordered the shutdown of all events more than 1,000 people for next 30 days, which effectively cancels any concerts and large gatherings. All other events, photo sessions and other future work I had scheduled, even outside of entertainment events, have also been cancelled. In the meantime, I've been forced to lean on thinning savings while cutting back on non-essential expenses to weather this unprecedented storm as I brainstorm other ways to keep bills and rent paid. It's all been really crazy.
There have been some events cancelled, like I had my book come out, and I had some book signings that were coming up at different bigger events. So those events were cancelled, and the book signings aren't happening.
The big difference for me is I'm used to a routine. You know, I get up, go to the gym, I get some coffee, and then I go work at SoHo House, or one of the co-working spaces that I go to. Since all of those are closed, my routine has been a little moved around, and I feel like I'm not as productive.
It feels like things are at a halt, even though I still have a lot of stuff due. I feel off, if that makes sense. So I've been trying to be like, "okay, you don't really have a break, you still have all this work to do!" You gotta keep yourself in that mode.
___________________________________
We want to encourage freelancers to check out this COVID-19 online resource for creatives, which also has multiple emergency funding opportunities.
Photo credit: Getty Images