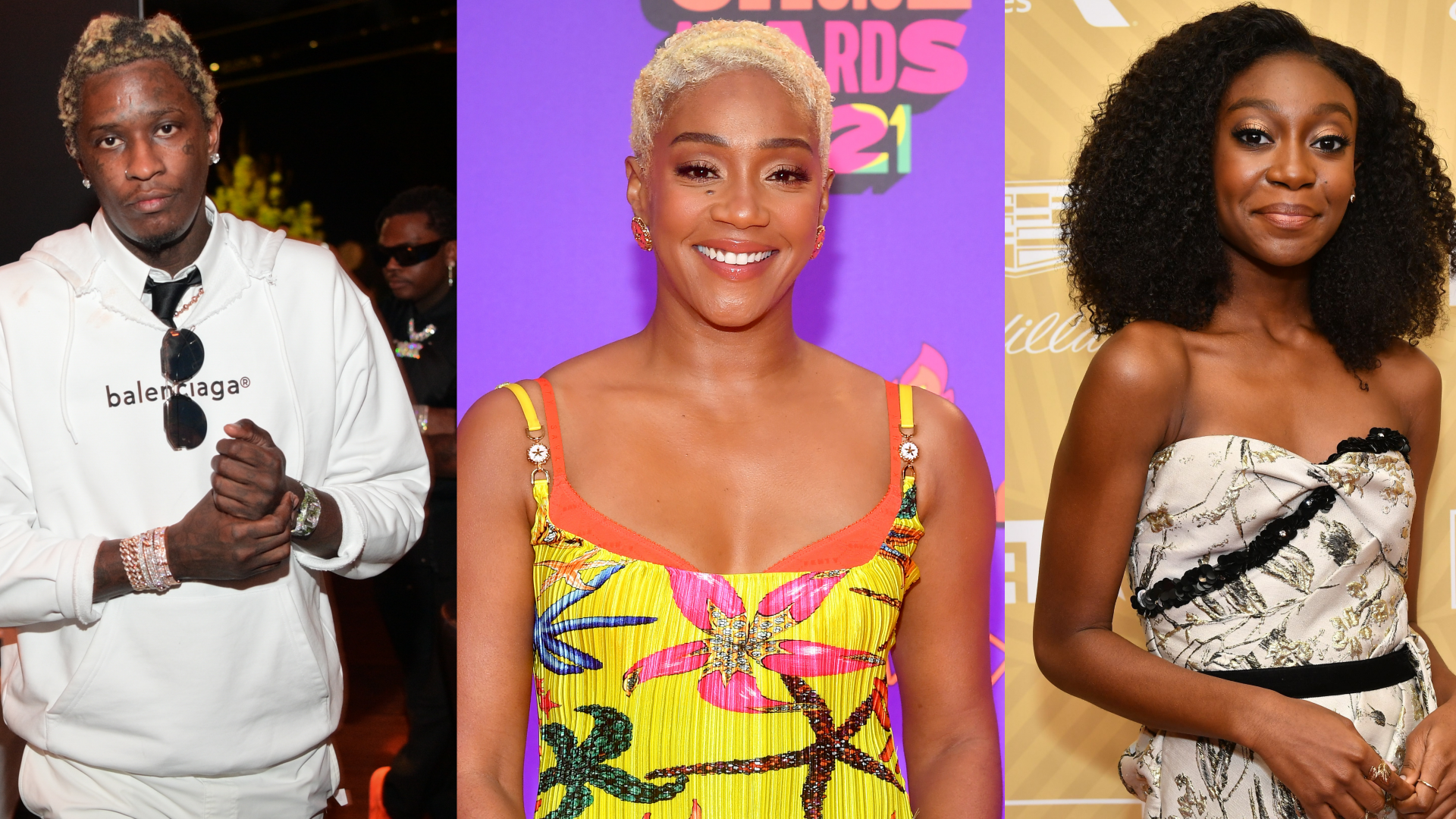 Shahadi Wright Joseph and Young Thug To Star In 'Throw It Back' Produced By Tiffany Haddish
We spoke to the 'Them: Covenant' actress about the project.
If there's one thing about Shahidi Wright Joseph, it's that she stays booked, blessed, and busy!
As reported by The Hollywood Reporter, the 16-year-old will be starring alongside rapper Young Thug in the musical dramedy Throw It Back, a film produced by Paul Feig and Tiffany Haddish.
This will be Young Thug's acting debut.
The film follows Wytrell (Wright Joseph), a high schooler in their senior year who has a bit of a problem with blending in. As stated in the official Throw It Back description, the story takes place "after a controversial superstar Miami rapper decides to feature the renowned dance team from her high school in his latest music video, it throws the school into chaos, and Wytrell battles for a spot on the squad and her final chance to be in the spotlight."
"I'm so excited about this project! I love the concept, the cast and creative team behind it," Wright Joseph told Girls United exclusively. "Throw It Back is bringing dance, Black culture, and Gen Z to the forefront of this story and I'm 100% here for it. Plus, I get to work with Young Thug and Tiffany Haddish!"
Wright Joseph has previously had roles in Hairspray Live!, The Lion King, Jordan Peele's Us and Them: Covenant.
If you're wondering why Throw It Back is categorized as a "musical dramedy," the Us actress broke it down.
"First, because it celebrates music and Miami's unique dance culture. Then, the script is both fun and funny but still has scenes that require depth from its actors. If we all tell this story as well as it's written, this will be different from most dance movies we've seen so far," Wright Joseph explained.
Though there is no official release date or announcement of production in progress, Young Thug is confirmed to oversee the film's soundtrack and serve as executive producer. The movie will be co-produced by Haddish's She Ready Productions, while Feig and Laura Fischer will produce for Feigco Entertainment.
"The dance movies from my parents' generation are known for great dancers and iconic dance scenes, but they usually lack a great script," Shahadi admitted. She excitedly explained how this was not the case when she was first approached by co-writers Jeffrey and Smith with the script for.
"When I read Throw It Back, I was completely drawn into Wytrell's world. I understand her, I understand her journey and I'm excited to bring her story to life. Not to mention, I literally laughed out loud while reading some of the dialogue. This is gonna be fun!"
She also shared that meeting with the writers of the movie was a feeling similar to that of a family reunion. She and the team chopped it up about Caribbean and Southern culture, HBCU dance styles and the importance of Miami's culture in the story.
"We talked about creating authentic characters because a lot of the movie's concept comes from Shadae's personal high school experiences," she continued. "Since I'm currently in high school, I can relate to how those scenes play out."
Photo Credit: Getty Images
Shahadi Wight-Joseph: Photo by Leon Bennett/WireImage
Tiffany Haddish: Photo by Amy Sussman/KCA2021/Getty Images for Nickelodeon
Young Thug: Photo by Prince Williams/Wireimage