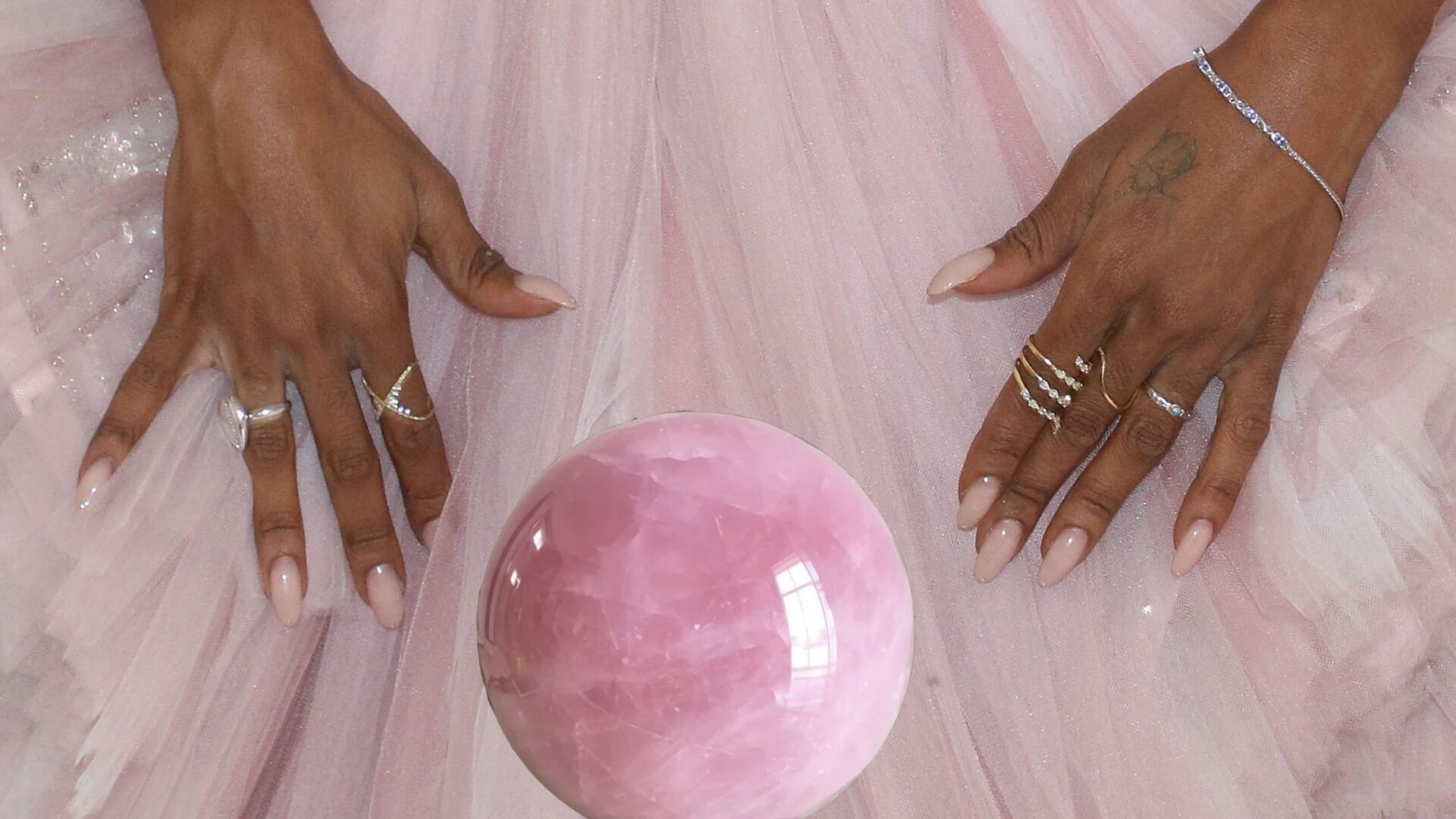 Here's What Your Zodiac Sign Can Expect During This Scorpio Season 🔮
Something wonderful this way comes.
There's chatter about Scorpio season welcoming us to the dark side and to some degree, it's true. In the same breath, Scorpio season also invites us to explore our most sensual and intimate emotions. Here's to a season of getting to know yourself and your partner(s) on the deepest of levels and unveiling pieces of yourself that you never knew existed!
This season, Venus, the planet of romance, beauty and balance will shift into disciplined Capricorn, making all love connections cut and dry. While, yes, cuffing season is in full effect, Venus in Capricorn will make it very easy for you to decide who is added or hexed from the roster—no games are to be played. Tbh, you might find yourself ready to drop everyone and give all your love to your MVP. Yes, the one who's never missed a beat and has always reassured you that you're the prize.
As you cut through the BS and receive a bit more clarity on who's most deserving of your time and attention, beware of the sexual tension that might arise between you and your partner(s), because it's THICC. Expect to experience some of the most tantalizing, toe-curling sex of your life. If you're single, no biggie. Scorpio season is the perfect time to revamp or invest in a new pleasurable toy that'll make you proud that you've taken your orgasms into your own hands, literally.
As the eighth sign of the zodiac, Scorpio highlights death, re-birth and all of life's natural cycles from beginning to end. This marks a beautiful time of shedding and releasing previous versions of yourself that no longer fit the goals and visions you're starting to mold for 2022. Try not to fight the feeling or become too hyper-focused on the little things. Growth and change are never meant to feel comfortable. Behind closed doors, who do you truly wish to show up as in the real world? Allow yourself the new beginning you've been yearning for. By the end of Scorpio season you'll be hella proud of the bad b—– staring back at you in the mirror. Go off, sis!
Aries
Breathe, Aries. Growth won't feel as easy this season, but your increased self-awareness will lead you to initiate necessary changes will serve you best in the long-haul. Your greatest moments will arise when you stop hiding from your truth. Free yourself from the fear of the unknown and walk confidently in the direction of your dreams. This season, you feel every emotion to its core. It's important not to sweep them under the rug. Channeling your emotional intensity into focus time can help declutter your mind. When you're feeling a little spicy, multiple breaks involving some sensual self-pleasure will for sure help to decompress and take the edge off.
In the midst of going through one of the most powerful personal transformations this year, your career and professional endeavors are simultaneously popping off for the better. As Venus transits your 10th house of career this month, stay open to new opportunities that invite you to share your beautifully curated ideas or even secure a bigger and better bag. All is possible, just remember to keep your dealings in order and try not to bury yourself so much in your work that you forget to give yourself your own creative down time to stay inspired.
Taurus
It's ok to let your guard down a little, Taurus. At times, welcoming the mushy-gushy feels can feel uncomfortable, but Scorpio season wants you to embrace them with open arms. By opening up and forming deeper connections with others, you learn more about yourself and discover exactly what it is that you need and desire in your relationships. For some time, you've had quite a few beaus tucked in your back pocket, but you're realizing that it costs a pretty penny to keep up with them all.
Setting the record straight and inserting your boundaries on who has access to you and your lifestyle starts now. Focusing on channeling your energy towards the one that truly has your heart can change the game for you, so stay open. If you've been holding back on committing to that special someone, trust that this new relationship will feel nothing like the rest. Deep down you admire and adore everything about them, down to the way they say your name when they're mad at you. There's nothing wrong with falling head over heels for once. It's ok to take your time though. If anyone, it's you that understands slow and steady wins the race.
Gemini
Your work is not your identity, Gemini. Don't become so engulfed in your work this season that you forget the importance of nurturing your mind and body. Scheduling time for naps and uninterrupted lunch breaks during the day might sound minuscule, but will help immensely in saving some time and space for yourself on the daily. While it might feel impossible to escape your work, know that you always have a choice to choose what's best for you. Considering a few mental health days this month can easily take the load off. By the end of Scorpio season, you'll have a renewed sense of what you will and will not invest your time and energy towards.
Cancer
Scorpio season marks a beautiful time for experiencing some of the sweetest love and we love this for you. It feels both freeing and exciting to to be as cared for as you should. You deserve to connect with a lover who pays close attention to your love languages and reassures that their loyalty lies with you and only you. While you don't have to put all your eggs in one basket, Scorpio season encourages you to consider how much you truly want out of your connections. You'll only receive as much as you're willing to give, Cancer. Remember, you're in control of the outcome of your relationships. If you play your cards right, cuffing season might have an early end and you'll be officially boo'd up before the holidays.
Leo
Now is not the time to dim your light, Leo. Tender feelings that arise from reminiscing on the past can hold you back from staying on your toes and getting your work done. While it's important to be gentle with yourself during your season of healing, try to also set boundaries with how much of your feelings you allow to consume your days. Perhaps scheduling an extra session with your therapist is necessary to help contain your emotions and sensitivities. Know that you don't have to go through or experience anything alone. Your sacred space, whether it be your home, your car, your bedroom, or wherever you spend most of your time, is crucial to setting the tone of your days this season. Decluttering your space as often as possible will do wonders for your mental health. When it comes to your health overall, try incorporating physical exercise and tons of water into your daily routines. Take it one day at a time.
Virgo
Now is not the time to hold back how you truly feel, Virgo. If it's not hitting how they think it is, kindly let them know. Reveal what needs to be healed. Holding your tongue for the sake of keeping the peace will only stunt your growth. If you've been playing nice all Libra season, Scorpio season invites you to remind everyone why they shouldn't take your kindness for weakness. It's not your job to be of service to everyone and their needs. Pouring from an empty cup gets you nowhere, Virgo.
It's important to have better discernment in who you're most intimate with this month. If you're not mindful, you'll find yourself repeating the same toxic patterns and creating unstable foundations with potential partners. This season, you get to reboot and restructure your love life the right way. Some folks get to stay fans. Remember that not everyone deserves your affection.
Libra
Time is money and wasting your time taking on hella projects/jobs just because you 'can' isn't going to cut it. When you value yourself, your time and your creativity, you truly understand the importance of pouring yourself into the things that make you most fulfilled. Trust that a bigger bag is on the way and release yourself of exhausting your energies out of fear of not having it all. Scorpio season instills an increased sense of determination and will-power to take on bigger and better opportunities as long as you create the space to fully receive.
Some of the best moments this season will take place in the comfort of your own home and in your solitude. Warm romantic bubbles with a glass of wine and a curated silk sheets playlist might feel like the best time of your life and you deserve that. Tis' the season of healing your love of self by romancing yourself in all the ways you'd desire your partner(s) to.
Scorpio
Do it like it's yo' B-day, Scorpio! Give yourself some grace. Take a moment and look at where you are now. You're literally standing in what you only once dreamed of years ago. Let this be a reminder and motivation that you are capable of manifesting just about everything you desire in this lifetime. During your season, expect for all eyes to be on you as you're a true representation of turning nothing into something.
Your energy is infectious and everyone wants a piece of you. Whether you want to indulge or not, know that your options are endless in all things romance, pleasure and joy. Continue to walk with confidence and openly communicate to the Universe exactly what you wish to manifest throughout this next evolution of your life. Know that all good things are happening to you, for you and within you. Step out of the shadows and into your light, my love!
Sagittarius
Some of your most difficult moments this year have birthed the best version of yourself today. This season, step into the unknown and trust that you're being led on a path that'll change your life forever. Healing is not linear and you might find yourself running in circles, but it's important to love and embrace the route you take versus comparing yourself to those around you. Know that all of the hard work you've been putting in to turn a dream into a reality is paying off, quite literally. What you once loved to do as a hobby now has the potential to turn into a main stream of income. Know that you've gotten to this point by reminding yourself of your worth and standing firm in your values and never folding. So proud of you, Sag!
Capricorn
Chile, you've been working your tail off this past year, and you can finally let your hair down and breathe a little. All of the dreams you've dreamed are fully in drive at this time—revel in that. Here's to a season filled with endless laughter and moments with your close friends. You deserve to celebrate even when it's not your b-day. Splurge a little on yourself and treat yourself to something luxe before you start thinking about what to gift everyone else for the holidays this year.
With Venus shifting in your sign, you're coming out of your shell, and taking on all that life has to offer. Don't hold back in sharing your wins this season as they'll inspire so many others to bet on themselves and put in hardwork and effort that you have. Know that you are truly an inspiration to many, even when it may not feel like it.
Aquarius
Behind the scenes, your career and professional life is in a beautiful phase of transforming into something you didn't even imagine was possible—trust that. For the longest time, you've been secretly wishing to re-route your career to focus more on what you love to do on a daily basis. If you take a closer look, you'll notice that you've already planted the seeds to making this your permanent reality. But like all things, patience is required. Know that your dreams are a lot closer than they appear, keep at it!
Scorpio season marks a great time to get quiet on what your next steps are as you enter 2022. Now may not be the time to voice what you're plotting and brewing on. Instead, focus on how you can gracefully close out what a year this has been for you romantically, spiritually and physically—it's been a wild ride. And while it's not over quite yet, give gratitude for how far you've come to date.
Pisces
Underneath it all, who are you and what do you enjoy most, Pisces? Scorpio season invites you to go on a journey of exploring more of what makes you feel liberated and brings you the most joy. This is a season of studying and re-learning all of who you are to further expand your success and evolution. This journey might look like planning or going on a lil' solo staycation to spend more time with yourself and think in peace. Once you've given yourself the time you need, call up the homies for a much needed lituation. There's no greater feeling than being surrounded by those you love and allowing them to pour into you—call it soul medicine. Cheers!
Photo credit: Taylor Hill/ Contributor/Getty Images/Peace Compassion Love/Brooklyn White