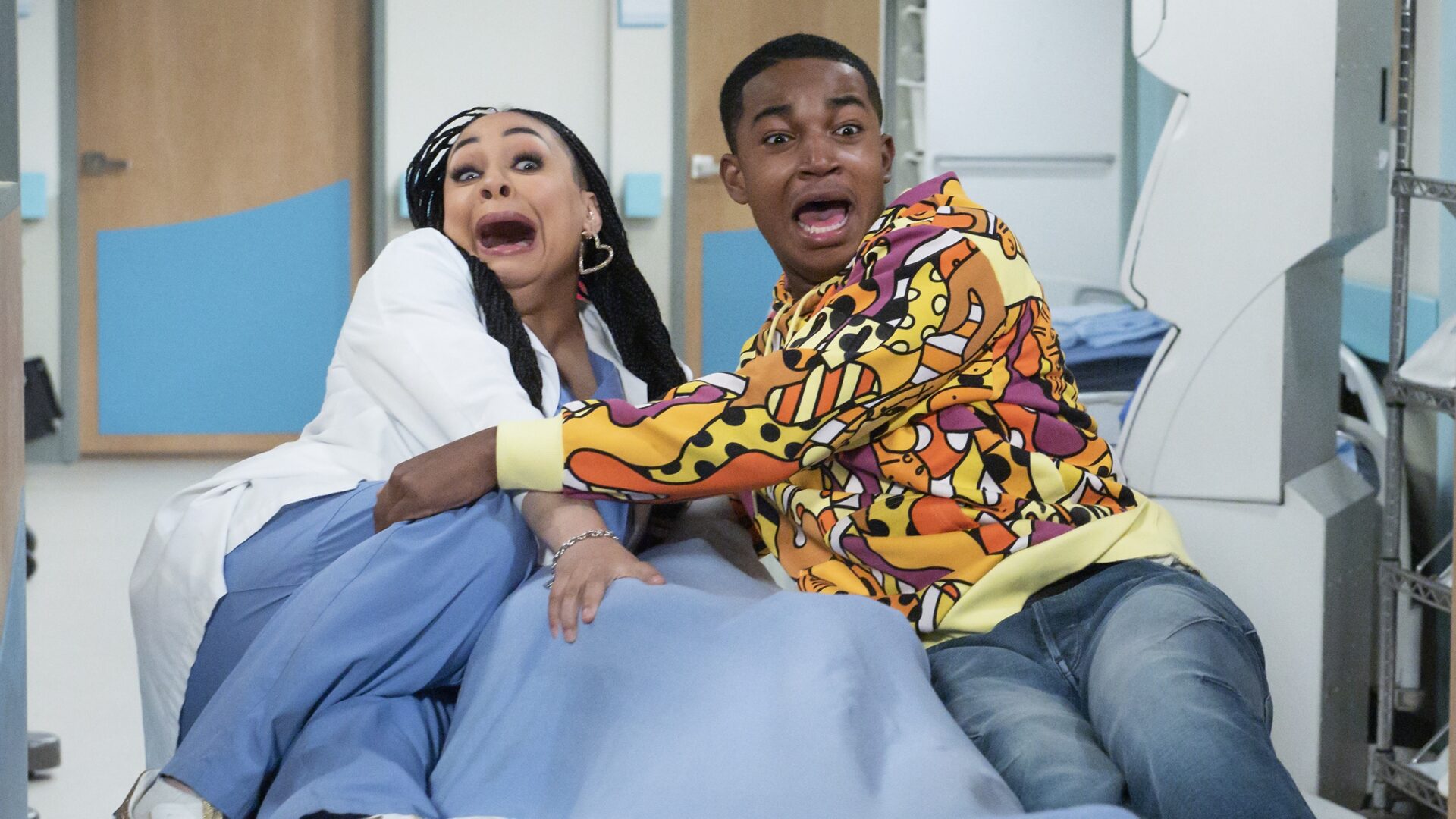 Raven-Symoné On Defeating The Reboot Curse With 'Raven's Home': 'It's So Real'
The former 'That's So Raven' star and Issac Ryan Brown are celebrating the reboot's 100th episode.
There are TV characters and then there are fictionalized persons who capture the iconicism of representation that shape the way we see ourselves forever through recited lines and television programming. Raven Baxter is one of those characters. Through Disney Channel's original series That's So Raven and its reboot Raven's Home, Raven-Symoné captivated millions of viewers and made young Black girls and women seen in a space of entertainment, fashion, and overall mainstream media where we aren't always accurately represented through joy, style, and authentic narratives.
While many have attempted, few shows have triumphed over the dreaded reboot curse, but Raven's Home made it through and is proudly approaching its sixth season, which is slated to premiere in 2023. "One of the things that we really focused on for the first season of Raven's Home was to make sure that we branded it as Raven Baxter and Chelsea in a new adventure because that reboot curse is so real," Raven-Symoné told Girls United. "It's so real. Surprisingly, [with the] fifth season, I would say this is actually a reboot now. We are back in San Francisco. My dad's involved in the mix. There are some nostalgic characters coming to life."
As if that weren't enough nostalgia, Raven's on-screen son Booker will be attending Bayside High, where Raven, Chelsea, Eddie (Orlando Brown), and Alana (Adrienne Bailon) attended in That's So Raven. While this may be a new generation, Raven ensures me that "the shenanigans ensue." She continued, "I think beating that reboot curse was because we really attached a different thinking process for the first four seasons and established the future journey of what Raven Baxter is so that when we did come back home you're like, 'Oh, this is what I was missing.'"
Photo Credit: Disney Channel's 'Raven's Home' Season Five – RAVENS HOME – The Wrong Victor (Bonnie Osborne via Getty Images) RAVEN SYMONÉ, ISSAC RYAN BROWN
While Issac Ryan Brown, who plays Booker in Raven's Home, wasn't there to indulge in the nostalgia of on-set memories with Raven-Symoné and Rondell Sheriden (Victor Baxter), he was very aware of the original impact of That's So Raven and how each piece of furniture in every corner of the fictionalized house brought the entire vision together. "There's a red couch and that was one of the more iconic things to me because I remember seeing that couch. I've never seen that anywhere, so when I saw it on set my first day, I was like, 'Wow, we really back,'" he said humbly.
"Issac is right. There were moments that I would just stare at the set and not only remember the scenes, but remember personal experiences that I went through for the first show," Raven-Symoné added. "I started when I was 14 years old so a big part of my growing up and mental stuff happened on that set. Good, bad, beautiful, and ugly, and it was a mixture of joy, love, and PTSD to be honest.
She continued, "With the new cast, with Isaac, and with everyone, it's an amazing cleansing. It's reformed that memory in my head and it's a beautiful thing. It's like living in your parents' home but then seeing two new generations getting to experience the same thing, it's giving life to you, and pushing out those weird experiences that I had back in the day."
Ahead of the 100th episode celebration of Raven's Home, as well as Raven's 200th episode playing Raven Baxter, Girls United had a fun chat with Brown and Raven-Symoné about the impact of Raven Baxter's character, what Brown has learned from watching Raven-Symoné on set, and the hopes of the show moving forward.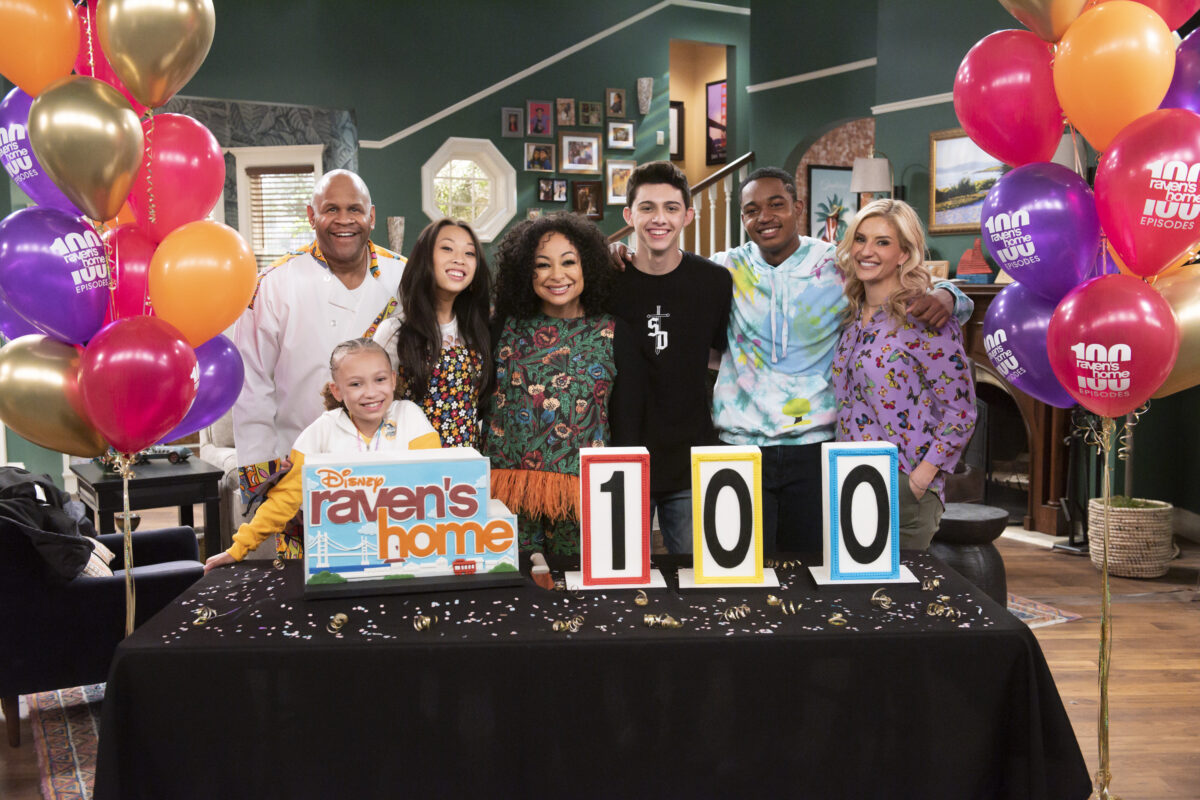 On That's So Raven and Raven's Home achieving intergenerational success:
IB: "I wasn't even thought of when That's So Raven was being conceptualized and I was not even around. I had nothing to do with that show, but for Ray, that's ridiculous. The amount of hard work and effort she's put in and being able to do that over the course of two decades, coming back, and then having basically the same impact, bringing the same laughter to a brand new generation of kids – that's a feat."
RS: "I wouldn't be able to do it without Disney Channel and the Walt Disney Company. They really do thrive on inclusivity, they thrive on family content, [and] they understand how important it is for consistency. With That's So Raven, we tackled issues. With Raven's Home, we're tackling issues. One thing I love about our cast is we have everybody from first-generation Chinese to Latino to mixed to who knows what's going on, but we do know that there is everybody included age bracket wise, ethnicity wise, and LGBTQ+ wise. I think that's a testament to Disney Channel and understanding how important it is to showcase diversity in front of the eyes of younger and older people because if you see it on TV, it must be real."
On lessons that Issac has learned from Raven while working on Raven's Home:
IB: "Well number one, Raven's never late. Raven's always on time for stuff. If you're talking about how to move in front of cameras, how to fight for your own singles, set etiquette, [and] how you treat people on set, Raven has been such an incredible influence. Growing up on set, Raven never left it up to the director. She would always tell us, 'Y'all know how to do this. They're coming into our house, they're teaching, they're coming in and kind of picking up where we're leaving off, but we have to set the tone. You guys know how to stand, Y'all know how to cheat out y'all know how to say y'all lines, so don't act brand new.' That's just stuff that carries on with you for the rest of your life so, thank you, Ray."
RS: "I learned something from him and it actually changed my life. I learned to stop eating at a certain time of the day and it helped me tremendously – and I've been going on runs. He has a great work ethic for his body and his health. I personally stop eating by three o'clock. I'm getting ready for season six, so I shrunk my window. I'm about to be stellar."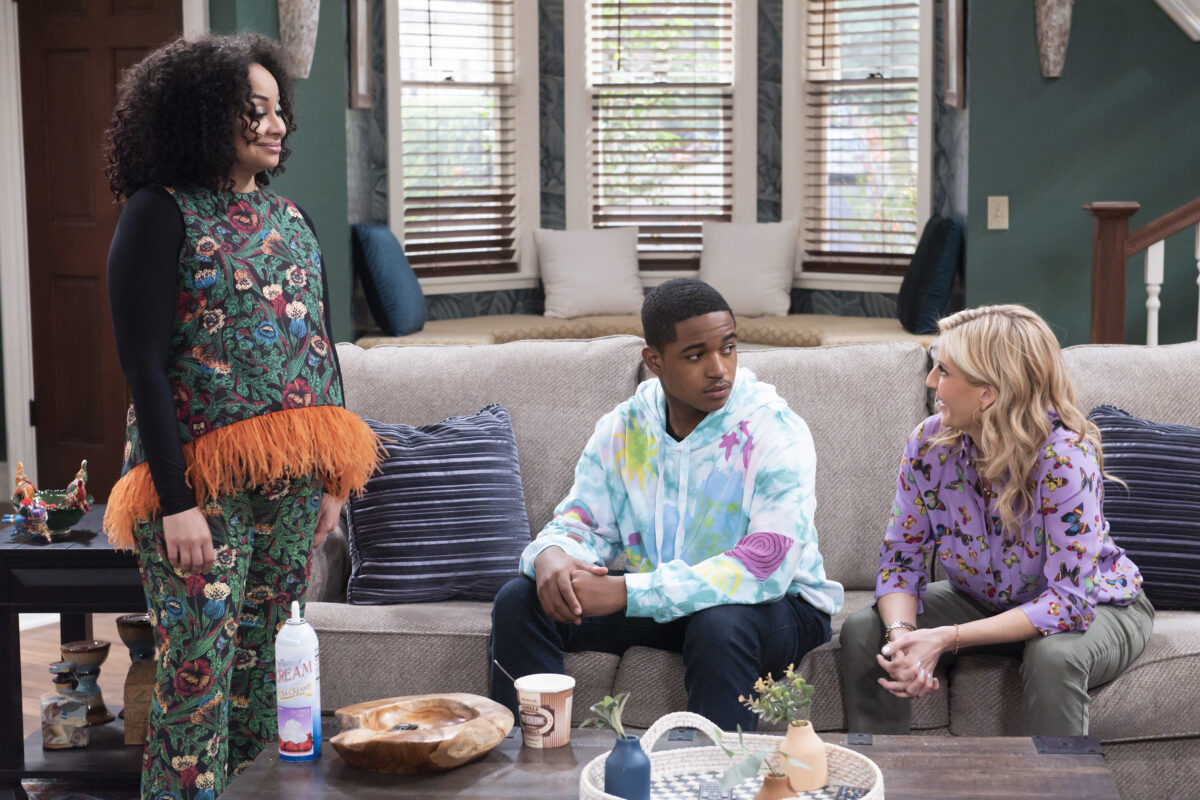 On Raven being proud of herself and her growth since the debut of Disney Channel's original series That's So Raven:
RS: "I normally don't think like that. It's really hard. I'm working on self-patting backs. I work for a company that allows me to grow as an artist, as someone who wants to direct and produce and create and learn behind the scenes as well. Gary Marsh, who ran the company for many years, sat me down while I was on my retirement, which was between That's So Raven and now, and he was like, 'I think you're a director.' I was like, 'eh, whatever. I'm trying to get out,' and he was like, 'No, if you come back, we'll make sure you are on the path to behind the scenes because this is what you can do.'
"The president of a company saying I care about your future career is massive. It does not happen. People are out for money. People are out for their own personal success and there is a caring, loving environment [in what] I call the 21st floor. They take care of us, but it's because we start as kids. It's a family type of environment. So yes, I am proud because I set goals, I reach them, and I was placed in a nest that I could only succeed in. [During] my first episode directing, Isaac was there, the company was there, and I felt like people were really there to help me to make the right decisions. As I continue to grow as a director, I want to pass it forward."
On Isaac honing in on his creativity off-screen:
RS: "One of my main goals this year – and I'm going to put you on the spot, Issac – is to get him in the writer's room. He is amazing at writing and I know that when you're in the industry, being an actor is fantastic, but it's really important to have things to fall back on because actors' careers are very volatile. The person who gets the most work in our business is like the grip. I just know that he has so many talents and why not cultivate them here so that when we leave the nest, everything's good? That's my goal for him. I don't know what goal he has, but that's my goal."
IB: "I'm going to try. I used to sneak in there a lot when I was young when I was like 11, 12. It would get late and they'd be like, 'We're ready to start letting loose now Isaac, you got to go,' and I was like, 'Okay, I'll leave.' I'm older now and I am more than willing to participate, so I would love to see what those guys have to teach me."
About D'Shonda: Born and raised in Brooklyn, NY, D'Shonda Brown is the Associate Editor at Girls United. When she's not interviewing or writing, she enjoys running, dancing, buying sneakers, and binge-watching Lifetime movies.