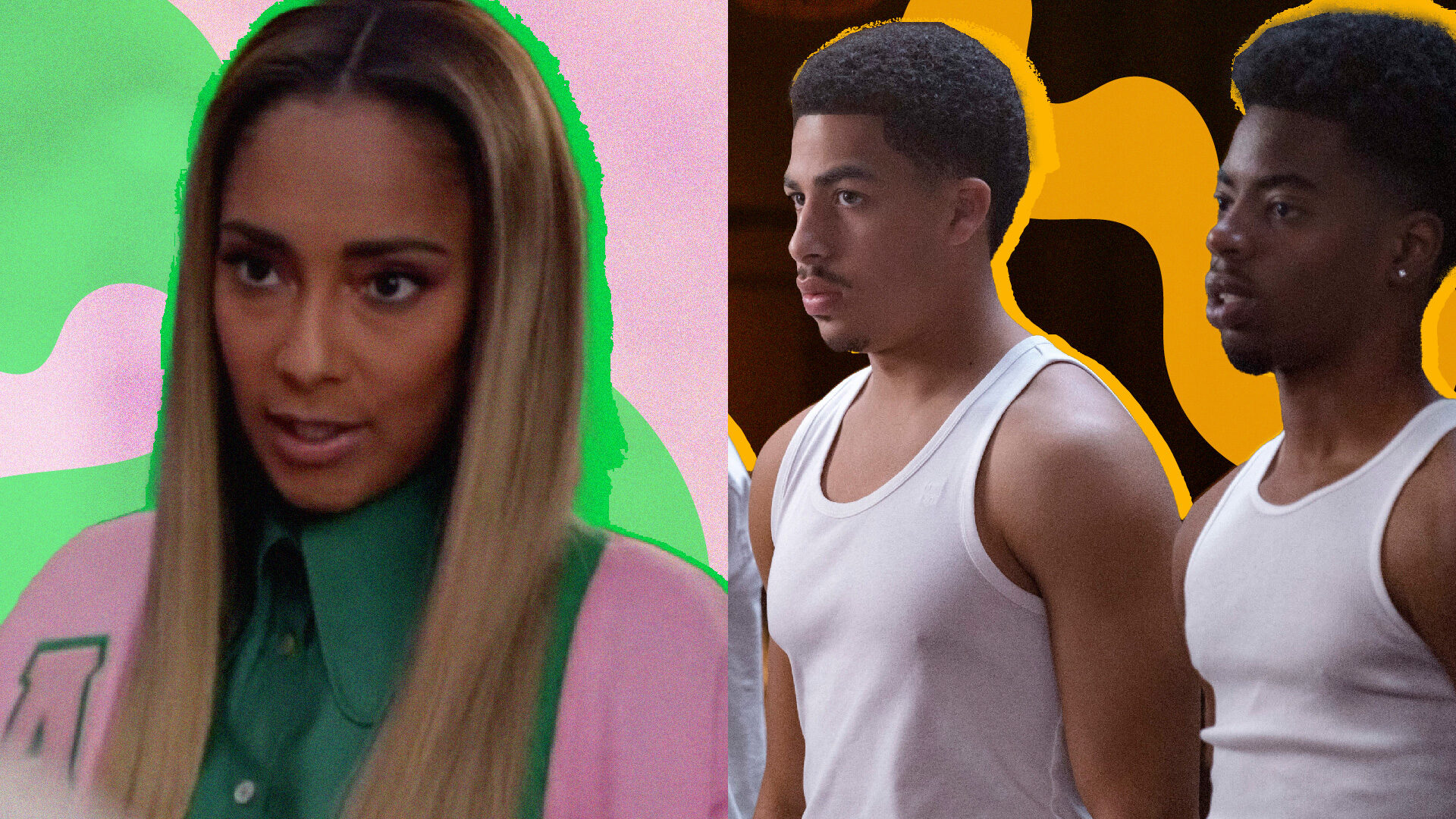 Do Film And Television Accurately Portray Pledging And On-Campus Greek Life?
From 'A Different World' to 'Grown-ish,' how do Greeks IRL feel?
Written By Ariyon Dailey
As a young child, I always knew I wanted to attend an HBCU. My mother attended two of them and I knew every word of Drumline after watching it so many times on VHS tape. I knew where I belonged and this meant completely immersing myself in HBCU culture. My mother is a proud member of Alpha Kappa Alpha Sorority, Inc. who always had me in the flyest colors of pink and green, showing me femininity means taking me to community service events or encouraging me to be of high standards.
When I arrived on Florida A&M University's campus, I was committed to becoming a woman of class, service, leadership, and originality. My mother only spoke positively and was appreciative of her experience as an AKA, even the stereotypes. I cherished that deeply and considered all the frightening portrayals I saw on School Daze or Burning Sands because it'll even have a future legacy second guessing.
Once I became a member of my beloved Alpha Kappa Alpha Sorority, Inc., I realized that it's something you'd really have to experience yourself to understand how those portrayals have got it right and other parts wrong. Ultimately, the portrayal of Greek life in TV and film is only accurate based on personal experience. While there are some negative and some positive, whether you're interested or uninterested, you'll never be quite sure unless you experience it for yourself.
Black sororities and fraternities provide a unique sector to Black culture and community. African-Americans have always had to band together due to discrimination and racism, but another layer was added by creating the National Pan-Hellenic Council member organizations known as "Divine 9 (D9," a group of Black Greek letter organizations exclusive to scholars. These organizations included Alpha Phi Alpha Fraternity, Inc., Alpha Kappa Alpha Sorority, Inc., Kappa Alpha Psi Fraternity, Inc., Omega Psi Phi Fraternity, Inc., Delta Sigma Theta Sorority, Inc., Phi Beta Sigma Fraternity, Inc., Zeta Phi Beta Sorority, Inc., Sigma Gamma Rho Sorority, Inc., and Iota Phi Theta Fraternity, Inc..
These organizations were created to promote community service, fellowship, unbreakable bonds, and a lifetime commitment to pouring into the Black community. You've probably seen these organizations or their fictionally-referenced imitations on TV shows like A Different World, Grown-ish, Burning Sands, or The Parkers.
But are these depictions accurate?
Some portrayals on the big screen display Greek life as being popular, extroverted partygoers with tight-knit relationships that parade their pride for their organization through step shows, events, strolling, and community service. However, other depictions have shown a darker side of Black Greek letter organizations through hazing, humiliation, physical harm, name-calling, and the privilege to avoid consequences. Girls United spoke with two D9 members about the accuracy of widely-known portrayals of Black Greek letter organization culture.
Spike Lee's School Daze is a 1988 film that focuses on the Black college experience. A significant part of the plot is how the fictional D9 organizations interact and exist on campus. Tenyse Williams, a member of Delta Sigma Theta Sorority, Inc., enjoys storytelling and documentaries with School Daze as one of the few films that made her eager to learn more about Greek life. "I didn't go to an HBCU, but it definitely piqued my interest. Like, 'What is that?' Of course, it's stereotyped, but I was still very interested in this culture," Williams said about the film. Williams has been a Delta woman for nearly ten years.
The main character "Dap" participates in a string of hazing events alongside his co-initiates through sleep deprivation, wearing dog chains, being spanked, being forced to eat dog food, and other humiliating acts to be a part of Gamma Phi Gamma Fraternity, Inc. We've seen similar patterns in Stomp the Yard, Grown-ish, and Burning Sands, where the main characters' values and commitment are put to the test by completing distracting tasks, while also being physically abused out of punishment or evaluation.
"I love the fact that it exposes the culture in terms of the showcases, the community work, and fellowship. I do appreciate that, but sometimes those films only wanna talk about the process and hazing," Williams continued. While not all rituals involve pain, do these depictions convey the message that those interested must endure stressful experiences before becoming an official member?
Maria Smith, also a member of Delta Sigma Theta Sorority, Inc., an office assistant for Story27 Productions, and an aspiring screenwriter, weighed in. "In various aspects, there are things that are correct, dramatized, or undervalued. I think there's truth in every part of it. The parts that I can attest to are only positive, " Smith added about the representation of Greek life in mainstream media. "The organization that was for me was through personal interactions. I understood how it could work, but with writing my own story I had to figure out what did work."
As of 2019, 44 states have passed laws prohibiting hazing. Of those, only 10 states have laws that explicitly make hazing a felony when it results in death or serious injury. All National Pan-Hellenic Council (NPHC) organizations have strict rules that prohibit any kind of hazing on or off campus.
"I think sometimes organizations get defensive of depictions when they come with negative stereotypes and sometimes it's from lived experience. I'm just like, 'That didn't happen to me so I don't know nothing about that,' but I can't say that didn't happen for other people because the history of D9 culture has had its ups and downs," Smith continued.
In 2014, VH1 aired the reality show Sorority Sisters centered around women in various D9 organizations living in Atlanta, but the show was hastily pulled after only three episodes as a result of backlash and the "misrepresentation" of their organizations. Because of the negative display of the cast, who had members from Alpha Kappa Alpha Sorority, Inc., Delta Sigma Theta Sorority, Inc., and Sigma Gamma Rho Sorority, Inc., which included much cattiness, profanity, and fighting, some members faced expulsion or suspension from their organization.
Is it really 'A Different World,' or are we on the same page here?
A relatively more upbeat depiction of Greek life was featured on the show A Different World, a show about a group of Black students navigating life at their fictional HBCU, Hillman College. The 21st episode of the fourth season titled "Sister to Sister, Sister" were mentioned by both Smith and Williams because of the episode's plot surrounding how the ego can make or break the experiences of sorority sisterhood.
"Growing up watching TV, I thought I was gonna become an AKA because that's what I saw on TV. The adaptations with Whitley Gilbert [as played by Jasmine Guy] —all the cool girls, the pretty girls were obviously the fictitious versions of AKA," Smith said. Whitley's character is the "Alpha Delta Rho" dean of pledges, excited to help prepare her close friend Kim (Karen Charlene Brown) through the process, which leads to Whitley verbally hazing Kim, in the name of preparing her to be fit for the organization. By the end of the episode, Whitley recognizes that drills, humiliation, and forced favors do more harm than good to women trying to join the organization and happily initiates Kim.
"I think the idea of the bonds you have is accurate. I think that it's a real adaptation of understanding the image versus the context of actually doing service and the meaning behind the letters you wear. There's so much more to it than a power stroke," Smith said.
In this same episode, Kim is constantly questioned about why she wanted to join, in which one of her responses was, "It's a lifelong association. Alpha Delta Rho is a powerful force in the Black community, their scholarship paid for my first two years in college and yes their parties are live." The influence, guidance, and morale of these organizations make them attractive or unattractive – on-screen and in real life.
While Smith didn't get the full yard experience herself with her sorors, she beamed while discussing her upcoming fifth Deltaversary. "They're automatically someone I can turn to," she praised of her sorors. "It's very much a sisterhood in more than one way. I'm learning and growing and feeling all the sappy stuff that you're supposed to feel with your sisters."
Moreover, Smith mentioned how Delta women lifted her spirits during her darkest times during her undergrad years. "At one point in my undergraduate journey, things were very tough and frustrating and the women helping me out in real-time and making sure I was okay were Delta women. Where I was at that time in my life, [it] made the biggest impact because I felt like I had lost myself," she continued.
Smith adds, "The fact that these women were going out of their way to make sure I was okay was very important to me."
In Hollywood, there's always a general sense of dramatization, but Smith repeatedly makes a point that real-life interactions influenced her choice rather than the power of cinematography. "Growing up in a Black community, you see these people repping their [organizations] in real time doing real things and that can sway you. Choosing Delta for me was about the real-time influence," Smith continued.
Williams says that social media allows non-members to create theories. "With social media, people are creating their own theories of stuff they have no clue of. As we keep progressing, it does put a damper on things because everyone has their own opinion," she said as she continued to reference the impact of shows such as A Different World. "It wasn't TV for me, but I would be remiss if I didn't talk about the formation that they mold into your head of what's what, especially with old, 90's, Black TV."
D9 organizations are very particular and sensitive about their image and likeness in the realm of media and entertainment. During the final season of HBO's Insecure series starring and created by Issa Rae, Amanda Seales' character, "Tiffany DuBois" portrays a member of Alpha Kappa Alpha Sorority, Inc. by wearing their signature shades of pink and green, with the letters "AKA".
This controversial scene faced a lot of attention and debates from D9 organizations and actual AKAs calling it " widely disrespectful," primarily because Seales is not an actual member and D9 Greeks consider it discourteous for non-members to wear or represent their brand.
So what can TV shows and movies do to make sure these depictions are on point?
"Licensing with trademarks. Treat us as if you would treat any other entity," Williams added as she referred to the controversial episode with Amanda Seales while she noted the importance of "not really going into the stereotypes of what you think we are" when gearing up to show these episodes. "[Secondly], really talk to people and get a form of consultation."
However, Smith thinks the depictions shouldn't be explicitly formed by D9 members. "Sometimes [directors, writers, and executives] have to get this full-body agreement from the organization to create some type of fictitious alignment and to a certain degree. I feel like that can stifle creativity and what makes the story unique."
About Ariyon Dailey: My name is Ariyon Dailey, a multimedia journalist from Haines City, Florida, based in Dallas, TX. I graduated from Florida A&M University with my bachelors of science in Broadcast Journalism. I enjoy writing and producing videos about pop culture, food and local stories geared towards young adults. Take a look at my mini-series "The Dailey Tap-In" and find all of my work here.