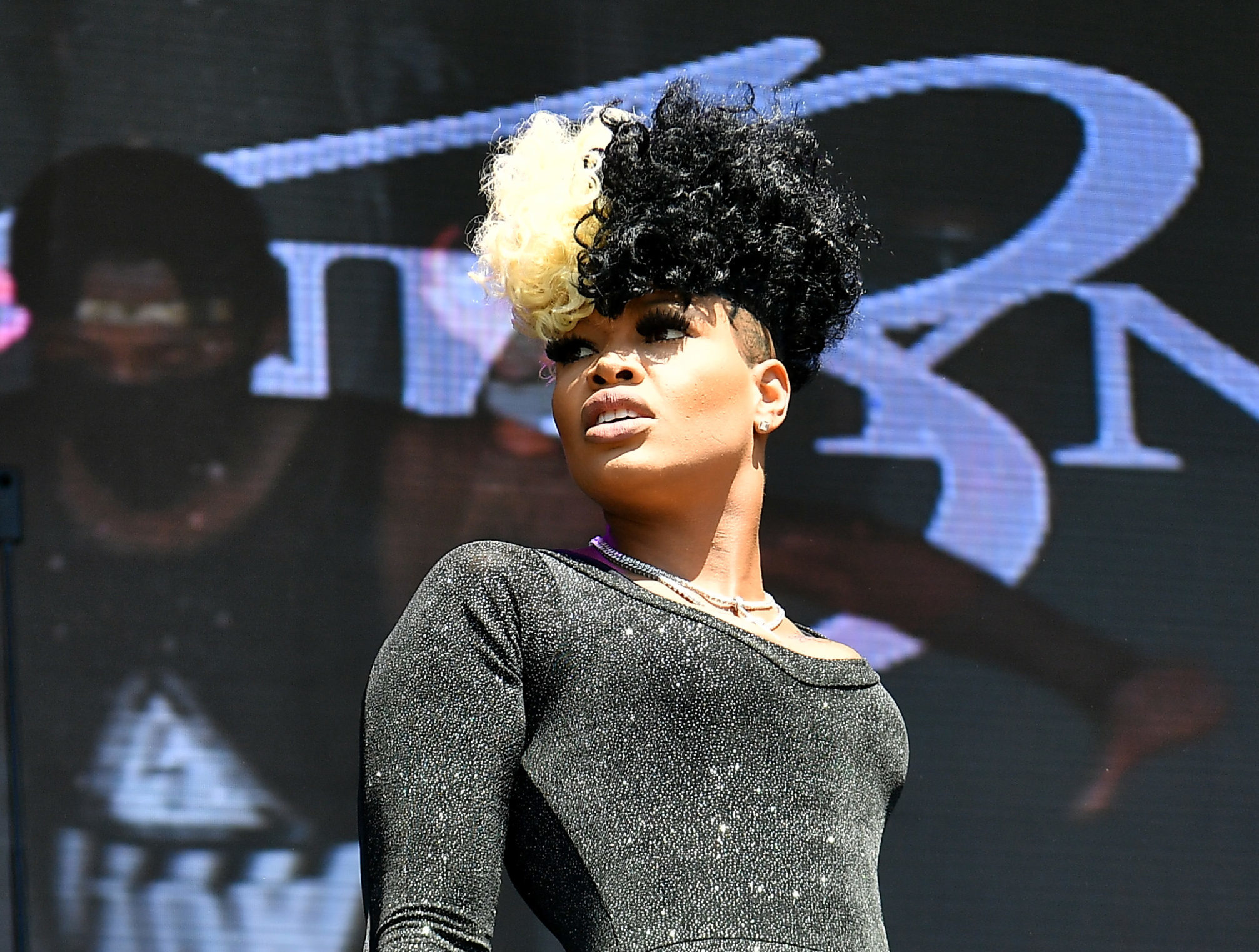 Get To Know Rhythm & Flow's Londynn B
Atlanta-based rapper Londynn B spoke to us about finding balance, taking her career seriously, and more.
Londynn B has already made history. The New York-born, Atlanta-based rap star was one of the thirty contestants who appeared on the first season Netflix's Rhythm + Flow. The music series was the first of its kind on Netflix, and Londynn was the sole woman to make it to the top four. She won us over with electrifying performances (especially the one alongside Teyana Taylor) and her signature, multicolored hair. Londynn is also a fearless, openly queer woman with a vision and a serious work ethic, so we know she'll be making even more history soon.
Check out our chat with the stylish rapper below!
Girls United: When did you decide to take rapping more seriously?
Londynn B: I decided to take rapping serious when I got the courage and the confidence to go out there and really apply what I was trying to do. I only had one song at the time.] [So], that one song, I just took it and tried to build as much confidence and courage as I could around that one song. Then when people started to react to it, that's when I knew I had something.
Girls United: So, we know that 2019 was a big year for you. You got a shout out from Nicki Minaj for your remix of her song, "Megatron," and then it was revealed that you were to be a contestant on Rhythm & Flow. How did you find your balance, and maintain it, in the midst of all of this life-changing news?
Londynn B: I just stayed really, really close to like the people who love me, like my daughter and my wife. They have [been a huge help with] trying to deal with everything at one time. So overall, it's been a lot of family, [and people who are] supportive. They ground me and they keep me focused.
Girls United: Can you tell us a little bit about your two-toned hair? I know everybody is wondering the backstory on it.
Londynn B: The back story is that, is well, one I'm a Gemini, so there's always two of me. Then, you know, just the duality part of life — that yin and yang, that black and white. It's something that I've always used to drive my music. So I'm getting really connected to stuff like that.
I decided to do the black and white thing when I did my hair these colors and went to work. They were like, "Man, that style fits you!" I had always had my mohawk, but I just stuck to this one because it had a je ne sais quoi about it and I enjoyed it.
Girls United: So do you often use beauty and fashion to express yourself?
Londynn B: Absolutely.
I love expressing myself through my nails. Like right now, I have this universe-looking theme on my nails, with a whole bunch of colors. And I definitely express myself through the things that I choose to wear, like leather.
Girls United: Are you working on a new music project this year?
Londynn B: Yes, I'm working on a new project in 2020. I released Reset in 2019…and I'm really excited about how that went.
I'm not on tour now, [but]…everywhere I've been, they showed me love, especially New York City. It felt so good to get love from my hometown. And Atlanta and Los Angeles, we've been definitely tackling those areas. They love me, too. I'm really excited.
Girls United: How do you feel that Rhythm + Flow enhanced your career?
Londynn B: Rhythm + Flow gave me the exposure I needed. I knew I always had something to say, but Rhythm + Flow kind of brought it to life in a whole 'nother way. Everybody just picks up on what you're saying [and] how you're saying it…The most positive thing I've ever done in my career [thus far] was Rhythm + Flow. It [had] such an impact on hip hop in general. It was the first show where we got our hip-hop American Idol.
Keep up with Londynn B by following her on Instagram.