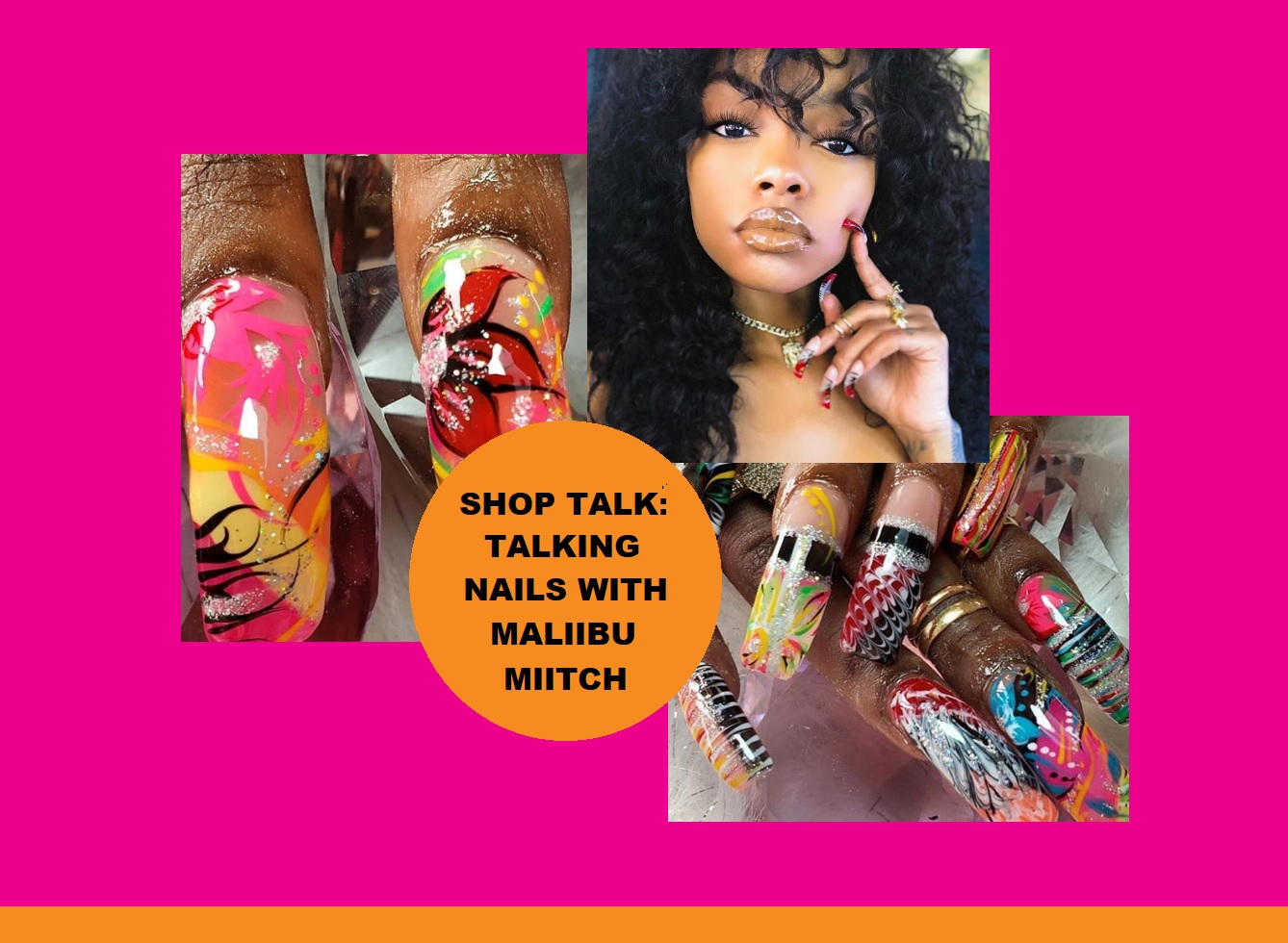 Shop Talk: Talking Nails With Maliibu Miitch
The Bronx rapper dished on her love for long acrylic nails.
Rapper Maliibu Miitch is known for her heavily-accented flow and sense of style. But, super fans of the New Yorker are obsessed with her lengthy, curved acrylic nails, too. She's cited Florence Griffith-Joyner as an influence, among other throwback divas. Miitch also celebrated close friend Teyana Taylor for keeping the culture alive with her Harlem based nail salon, Junie Bee Nails. We caught up with the rapper to talk about why her nails as art, Instagram nail trends, and more. Check out our chat below.
Girls United (GU): Can you tell me a little bit about your relationship with your nails growing up?
Maliibu Miitch (MM): Growing up, my mom used to always get her nails done..super long. I used to always find broken nails around the house [laughs]. When I started getting older, I started wearing nails [myself]. I've been probably wearing [them] since I was about maybe 15, 16.
GU: So you view your nails as a homage to your mom and other women in the late 1980s and 90s?
MM: Yeah. My style is just very vintage. I love my [acrylic] nails long and I love them curved. And I like throwback designs, you know? Or I would just do my nails a plain color, like plain red or black.
GU: In early 2018, you experienced a little bit of criticism because of the way you were wearing your nails. You cited some of your influences, like Coko of SWV. Why do you think people had such a negative response to something that should be celebrated?
MM: Instagram kind of has the world all crazy these days. As much as it helps us, it [hurts us]. A lot of the new nail trends came from Instagram – very skinny, pointy looking nails. Your natural nail doesn't grow the way these girls are doing these trends. They don't understand why their nails will break, or why their nail beds end up looking the way they do when they take them off.
I [also] feel like they weren't really doing their nails when they were growing up. They didn't see their moms doing their nails. A lot of the people commenting [on my nails] were people who just got into the nail trends.
There were Black girls underneath [my] post like "yo, this is how my aunt did her nails, this is how my mom always did her nails..". I just think the Instagram nail trends have misconstrued [the history.]
GU: Lastly, what message do you think your nails convey?
MM: I wanna give like..vintage mami. When [certain] people see [these kind of] nails, they think "oh, that's ratchet." But when my mom used to get her nails done back in the day, it was art. It was a way to express yourself. That's what my nails are – vintage art. [I'm] showing my creative side on my nails. The colors that I choose to get [are] the mood that I feel right then and there, [or] the vibe that I want to give that week. It's art to me.