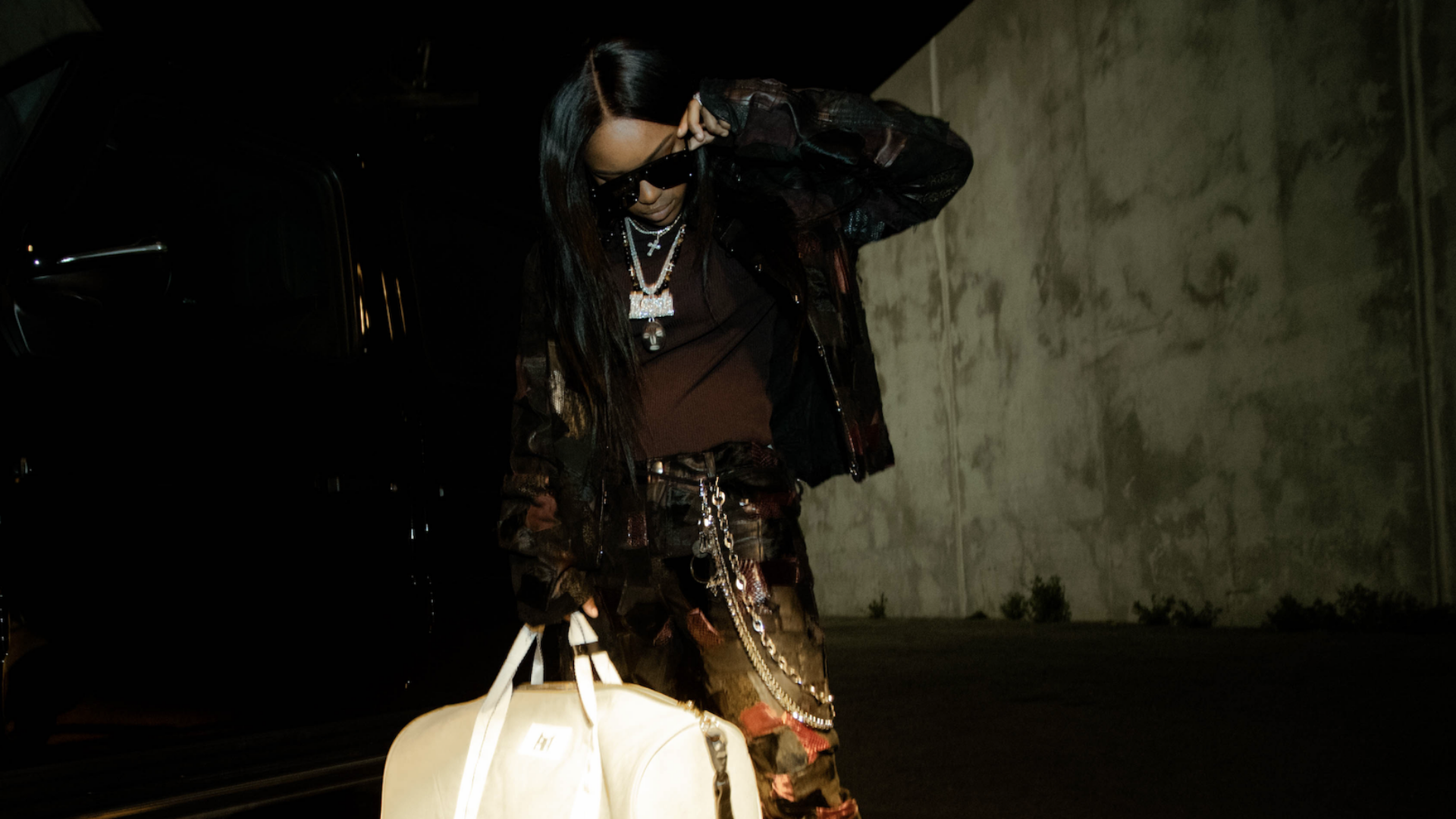 Kaash Paige Talks Her New Single '24 Hrs'
The single is from her forthcoming sophomore album.
"I think it's just about taking risks and knowing what you can do in 24 hours; linking up with a sneaky link or just doing whatever. It's whatever your 24 hours consists of," says Kaash Paige. The singer dropped her latest single, "24 Hrs" today—her second song release this year. Aside from collaborations, she's largely been in her own zone since her debut album, Teenage Fever, debuted in 2020.
She's readying her follow up project and doesn't mind taking the scenic route. As we talk via Zoom, I mention how it was once routine for artists to take hiatuses, even at the height of their fame. Some fans' incessant need for the "new" and "now" can make it difficult to pause. Paige, 21, isn't fazed.
"It's going to be crazy because I'm calling [my album] The Fall Off. It's like, not dropping in two years. People feel like you fell out the face of the earth," she says. "You see comments like, "ah, you fell off." And you see the comments like, "when you dropping this, this and that?'"
She says her upcoming effort will be the result of personal reflection.
"I felt as if I had to take time to myself to really understand what I wanted to do and who I wanted to be around me."
Paige also sets the record straight, letting me know she's not featured on Future's 2022 song, "VOODOO." There's a 4-bar bridge fans have incorrectly attributed to her. She's not pressed, especially because it helped put additional eyes on her song, "Girlfriend," which was released on the same day. "It brought a lot of attention towards my song that I dropped. But yeah, that's not me," she says coolly.
She knows she's developed a feel all her own.
We talked with the singer about her new music, must-visit food spots in Dallas, toxic maintaining joy on the internet and more. Read our conversation below.
ESSENCE GU: What was the writing process like for ["24 Hrs?"] What were the atmosphere and your mental state like?
Kaash Paige: I usually just freestyle, like whatever comes to my mind. I think I was probably going through it with a shorty. I made this a minute ago and I was just like, 'pick up the phone, pick up the phone, know you're home, know you're home, call on me.'
Say for instance, when you get lit and you already in somebody's city it's like, 'yo like what are we doing?' I'm not even trying to go home. So I feel like that was my writing process. I'm like, 'man I'm not trying to go home tonight. What are we doing? The day's already been lit. Let's keep it going. Let's make it everlasting.'
Were you looking to work with Lil TJay from the time you heard the beat? Or did you lay down your verse and then decide to bring him in?
Yeah. I laid down all my verses and I just decided to bring him in and was like, 'oh yeah, this is a perfect fit.'
How was working with him?
Honestly I just sent over the open and he just sent it back to ASAP. I was like, 'sheesh.' I remember the day I heard it, I was getting an IV drip. Almost pulled the IV out my arm jumping up in the air. It was too crazy. Because I feel like nowadays—its dope to get in the studio with artists—but also it's just sometimes you can just send it and they'll get it right back to you same day.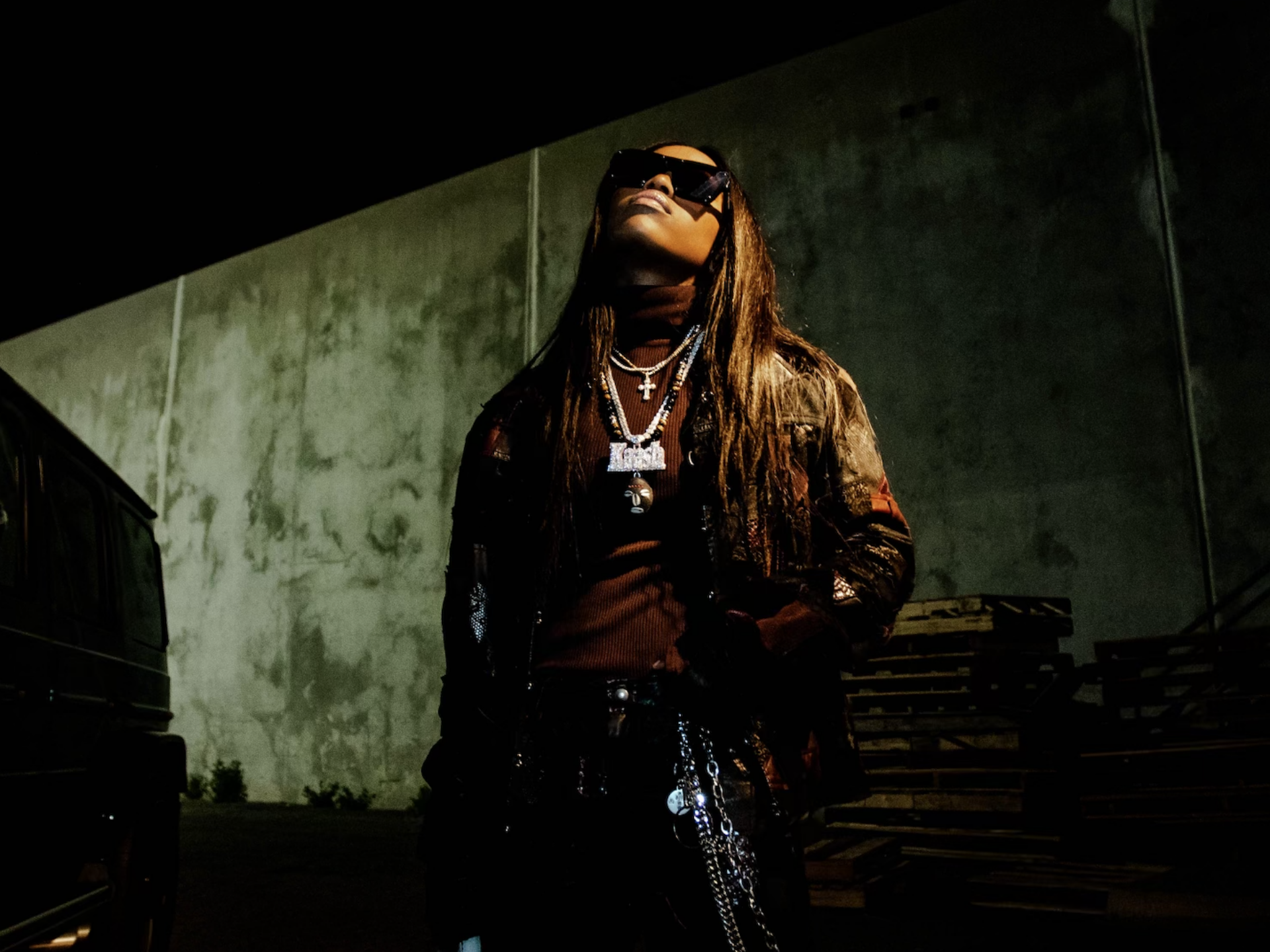 When you think about your inspirations and the artists who are some of earliest teachers, how do the stories you're telling through your music differ while maintaining the DNA of hip-hop and R&B?
I feel like, of course everybody has looked up to. Has a idol or influential person or that they always listen to and take inspo from. Growing up I was listening heavily on Erykah Badu. I was listening to SZA a lot.
A lot of Drake, a lot of The Weeknd. As as far as beat selection, making it feel like that time again and putting people in a nostalgic moment. I mix it in with my Generation Z-type music.
How do you make sure you're having a joyful experience on the internet? There have been so many recent conversations around Gen Z and mental health around social media in particular. How do you make sure that you keep your time on the internet fun?
I try to just look for the funniest videos. I love laughing so I just be replaying videos or just looking up funny stuff. I [also] look up a lot of houses, like mansions in different countries and stuff. Stuff that just stimulates my mind other than mess.
What role does Texas play in the music that you make and the person you are?
I would say just Southern hospitality, the culture and just, everybody from Texas [is] fly. We got a mouthpiece on us. So I feel I try to put that in my music and just keep it P as possible.
It's hard to explain it. You just got to keep it true. Keep it true to you, keep it real to you. I feel like a lot of people from Texas created their own sound. Chopped and screwed created a lot of down South, slow melodies.
If you're from the Deep South, you get it.
Do you listen to any Texas artists' or do you have any chopped and screwed songs on your phone?
Oh my gosh, yeah. I'm a huge DJ Screw fan. I feel like [he] got me through high school. I'm from Louisiana, but I moved to Texas when I was younger. So yeah, from DJ Screw to Trae tha Truth to Lil Flip — I love it all.
I remember I had a show with Lil Flip, what was it? Three years ago? It was me, Lil Flip and Tay Money and some other people, it was crazy.
What are some of your must-visit spots when you're home in Dallas?
For sure Rudy's. City View, that's my favorite taco spot that used to be 24 hours. I would say that's the best taco spot I've ever had. It's in Duncanville. Razzoo's is a Creole/cajun spot. They have "rat toes"— it sounds nasty, but it's deep fried jalapeño peppers with crab meat inside.
I'm ready to land to eat. That's my whole thing. I'm going to Rudy's as soon as I get off the plane. I'm trying to hit Pluckers. I'm trying to hit Golden Chick.
Golden Chick's rolls are undefeated.
That's what I'm saying. You already know. What do you be eating whenever you out there?
I live here. I'm up the street from an In-N-Out. Golden Chick is definitely my spot and since we're talking about chicken, I love Hall's. There's one in Oak Cliff.
Ooh. Yes, Hall's is so good. People sleep on Hall's. They be trying to say Henderson's is better.
So you've established a very loyal, young audience. Why do you think your work speaks to young people?
I feel I'm super relatable and I'm honest when it comes to my music. I know that what I'm making today is not going to sound like what I'm making to tomorrow or next week, because I'm going through so many different situations in life. My goal is to let people know that they're not alone, and that's not with toxic music or whatever. It's just about allowing your emotions to be seen and be heard.
Everybody's like, 'oh, you got to stay positive.' Yes, always be positive, but also, the world's not perfect. We're still going to have our emotions where we're sad, we're mad, whatever we are. I feel like there's nothing wrong with having that because we're humans.
I remember just being in the industry and popping off at a young age, being around old friends and seeing a lot of people change. Seeing a lot of people think that you're bragging whenever you say, 'oh, we're just in studio with so and so.' Your friends look at you different. I want to talk about stuff like that.
I love the point that you made about getting real about your emotions. I don't know if you've seen this concept called toxic positivity, but it's when you suppress any emotion that's not extreme joy. I feel like it can limit people and make it a little more difficult to connect with others.
Yeah, because say for instance, when your homegirl be crying over a guy and you keep telling her to leave him or whatever. Some girls be like, "I'm not finna be around you if you're going to be crying over a guy.' But it's like, let her be in that moment though. Be there for her, make sure that she's good because you're going to have a moment like that when you're upset about somebody because that's called love. People just need to be real with themselves and understand that it's okay to have those [feelings].
How have you evolved as an artist over the past few years?
I feel like just growing up and seeing different things and being around different people. Because it's like, you have to learn how to move around certain people. You got to learn how to move in different rooms and it's just like we all live in life. I feel like my whole goal is to grow every single day and learn from my mistakes.
Watch Kaash Paige and Lil TJay's video for "24 Hrs" below.