Exclusive Interview: Erykah Badu Has What You Need
We sat down with the soul legend as she prepped her new online store, Badu World Market.
When I arrived at the Dallas apartment Erykah Badu has been using to prep for Badu World Market, her new online store, the smell of incense was slowly filling the air. And no, it wasn't that incense either, (even though it sold out within minutes when the site launched.) Badu greeted me warmly and made sure that her team was taken care of before sitting down and enjoying a small plate of vegan lasagna. She's adhered to a plant-based diet for roughly two decades, and today isn't any different.
The apartment is a recent development, so sculptures were being hung. On the other side of the room, someone was mounting a television to the wall. Slowly, a team of Dallas' most creative minds gathered in the apartment's living room. "I want my kids to have their home," she said when asked about the new apartment's purpose. She's worked out of her home since she purchased it years ago, but wanted to go a different route for her store.
So, she got a new space.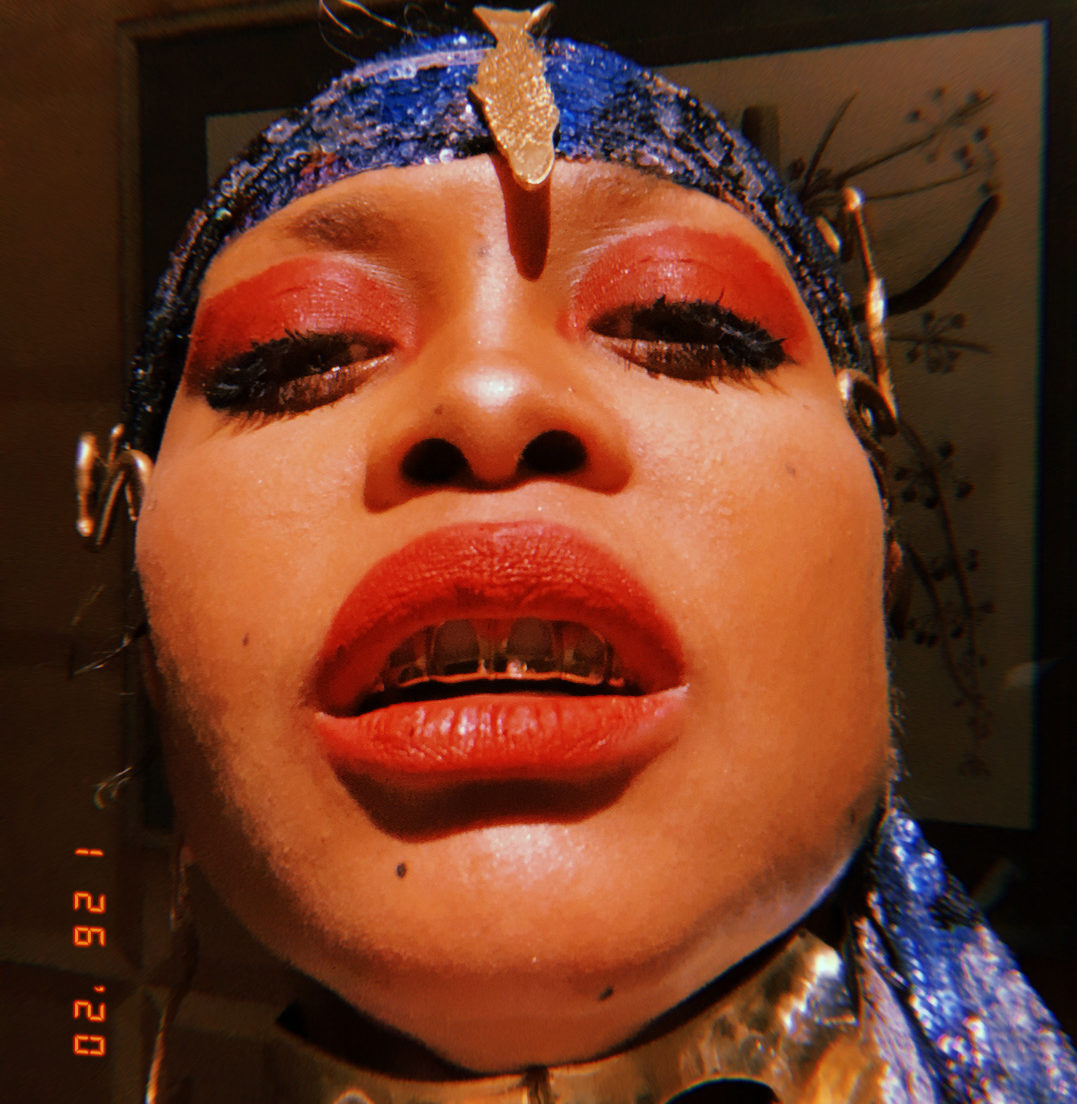 Erykah Badu rose to prominence in 1997 with the release of Baduizm, her debut project that would go on to define an era. Along with artists such as D'Angelo and Jill Scott, Badu tapped into the roots of 70s soul and funk with acute jazz and hip-hop sensibilities that have established her as one of the premiere talents of our time. Her eclectic sound was the score of her Afrocentric lifestyle, complete with high head wraps, copper jewelry, and an elevated consciousness that changed how Black women perceived themselves.
Since Badu's debut on the iconic Motown Records, she's toured extensively and released several critically acclaimed bodies of work, including Mama's Gun (which turns 20 in November), two installments of New Amerykah, and 2015's But You Caint Use My Phone. When a friend called to congratulate her on the launch of Badu World Market and asked when she would be releasing new music, she gave her famous answer— "soon."
Badu is just as mystical as one would imagine, but it is her humanity that makes her seem 20 feet tall, despite being small in stature. She's full of jokes, despite her tiredness. She's kind and considerate of others' time and emotions, and blunt when necessary.

Her right hand man, Cold Cris, serves as president of Badu World Market and handles the day-to-day operations. He first met the singer in the mid-1980s, when they were both focused on their respective rap careers, and they've been inseparable ever since. Badu even let me know that Cris is her hero, as he was the first Dallas rapper to be signed to a major record label. He humbly brushes off the compliment and gets back to work.
When it comes to Badu World Market, Cold Cris was excited, albeit a bit stressed, about the scope of the project. On our first night together, he and Badu analyzed individual pieces, down to the custom "BADU" drawstring on the Badu World Market's sweat pants. They proved to be a fun-loving, yet ultimately detail-oriented duo, with an almost supernatural ability to multitask. While they both tended to questions, locked in store prices, and directed movers, their phones buzzed with calls and texts throughout the night. They rarely declined a call, as the majority of them pertained to the store.
Vichi Ho, a young web developer, has been working on the back end of Badu World Market since September 2019. She's no stranger to long nights at Badu's home, and is completely relaxed, even as final details are being added. At the apartment, which feels like a sacred treehouse, Ho combed through the site with Badu, looking for photos that needed reworking. Badu's in-house photographer/videographer of two years, Tony Krash, quietly documented the entire exchange.
"I'm responsible for my own sh–."
About an hour into the session, Badu's middle child, Puma, walked up the stairs. She was accompanied by a few friends and her aunt, Koko. She giggled with her homies in one of the apartment's bedrooms until her mother put the young crew to work, asking them repurpose throwback merch. Every 20 minutes, they presented experimental outfits, like a hoodie that had been turned into pants, and a shirt with Badu's face on it, with a giant pin where her septum piercing would be. "Y'all are really f—ing amazing," Badu said to the kids with a big smile. This interaction unintentionally captured the essence of Badu World Market. Badu, an established tastemaker, uplifts young artists and empowering them to step into their own creative power.
"People always ask me, 'oh, where did you get that?' so this is my response," Badu said of the store. She's come across a number of artists, designers, and merchants over the past five years, which is about how long it's taken to develop and launch Badu World Market. The singer is also open about finding creatives on Instagram, saying that she roots for underdogs.
Stylist Diamond Mahone was among Badu's muses for Badu World Market, and is featured in many of the final product shots.
Badu also explained the meaning behind Badu World Market's seemingly simplistic logo. "This red [circle] is the one that became what we know as Badu World Market," she said. "This is actually the dung that goes on top of the dung beetle. The dung beetle pushes its own dung backwards, because symbolically, he's responsible for his own shit. 'I carry my own shit.' So, Badu World Market? That's my shit. I'm responsible for my own shit." Heavy symbolism has been a part of Badu's process, and appeal, for 25 years, so I'm not at all shocked by the sheer thought she's put into every aspect of her latest endeavor.
In addition to starting the store, which intentionally launched on February 20 at 2:22 p.m. (she's big on synchronicity,) Badu is also preparing for her birthday bash, a massive production with tons of moving parts.
In the past, the event has brought out big names like Will and Jada Smith, Dave Chapelle, and Mos Def. This year, an elaborate, 11 act dance party is in the works, and will be held at The Bomb Factory in Dallas. Dancers from Badu's alma mater, Booker T. Washington High School for the Performing and Visual Arts, (which also touts Norah Jones and Liv.e as successful alumni) were called on to perform, and viral sensation Super Bitch is slated to hit the stage as well. Badu is pumped about each performer. She delicately instructed them during a rehearsal, while also giving them space to express their visions for the party. She will also perform a set of her own and Puma is slated to make her formal debut, too.
"Hours before the soft launch, Badu was excited beyond belief, with a sprinkle of nervousness for balance."
The night before Badu World Market was made available to the public, her team sat barefoot (there's a strict "no shoes" policy in place) on the floor of her home, taking last minute notes on changes and rehearsing the official roll out plan. One of Badu's assistants, Mike, poured me a mason jar's worth of the clearest, purest tasting apple juice I've ever had.
Badu instructed everyone to meet her back at her home at 10 a.m. sharp the next day. She was exhausted from the hours-long rehearsal for the party.
Hours before the soft launch, Badu was excited beyond belief, with a sprinkle of nervousness for balance. Koko encouraged her, cracking jokes about the infamous incense after providing the team with a light breakfast. Badu's two birds took on the role of roosters, cawing seemingly every hour as a reminder of the shop's impending unveiling. There was talk about the fans on social media, and how ready they are for this launch. It's not quite like the old days, when kids would line up around the block for an opportunity to purchase a hot new album and matching merch. But these internet expectations are just as high, brick and mortar store or not.
At the aforementioned designated time, everyone zoned in on Badu as she pushed a button and made the online store go live. Badu and Ho watched as orders poured in, and her team soon regrouped and quickly restocked one of the most popular products. Even after the store had been set up and was proving to be successful, not a single person relaxed. The recording of promotional videos, calls with Badu's publicist, and planning for the birthday bash continued. Even in the midst of accomplishing a goal that had been years in the making, the music icon is much more focused on doing the work than reveling in the accolades. But even if her fast-paced world won't allow her a second to physically relax (at least not this week,) I can tell that Badu is teeming with joy.
The analogue girl has mastered the digital world.
Shop Badu World Market here.
Photo credit: Tony Krash/Source/Getty Images