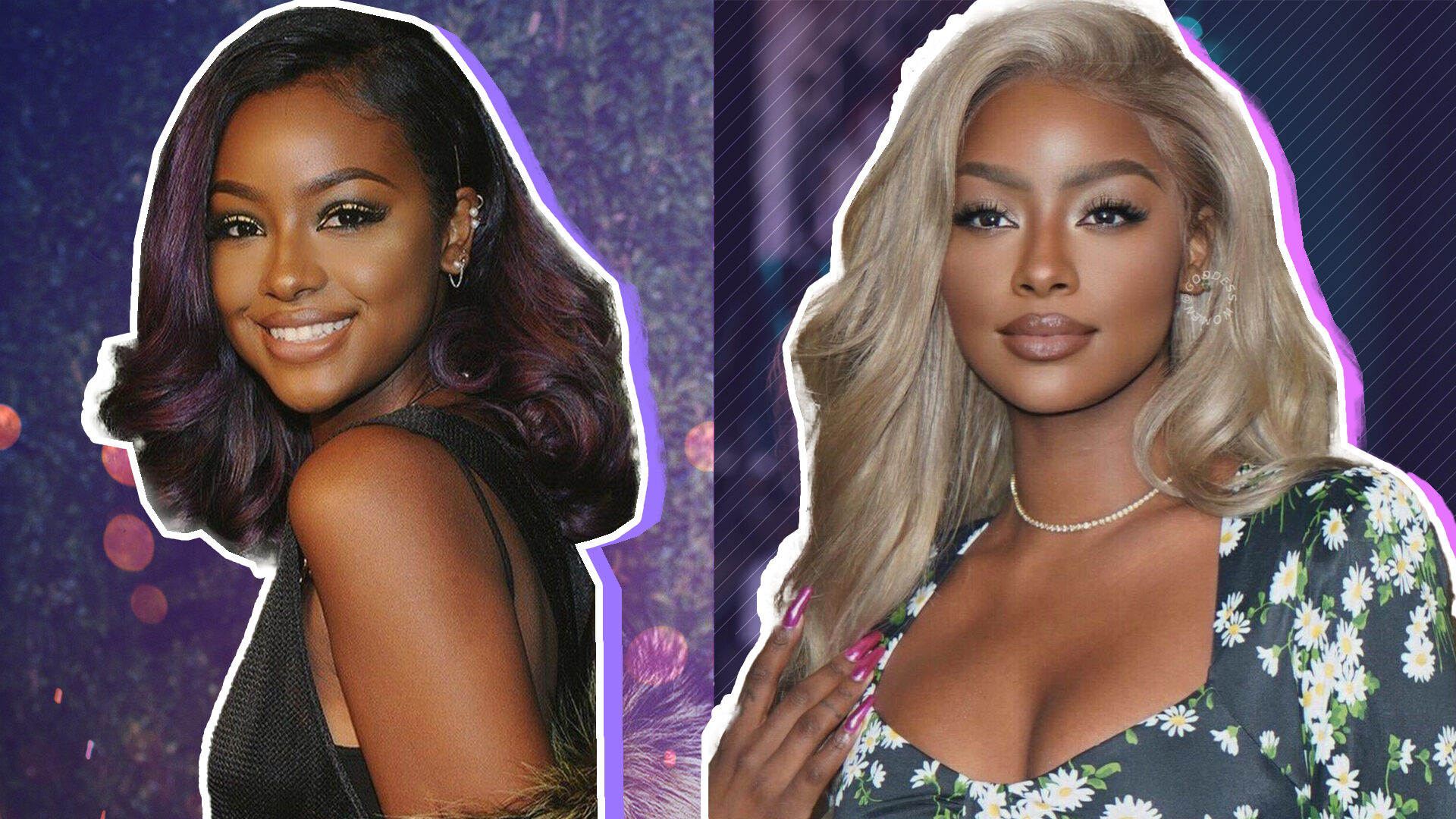 Justine Skye Thinks That People Who Can Lay Their Own Wigs Are 'Superheroes'
"My mission is to learn how to put on my own wig," the singer told GU.
Unfortunately, like most of us, Justine Skye's first wig experience was not a positive one. "I remember my first wig memory because it was traumatizing," the grown-ish star said in fear. "I think I tried to get a lace front – and I won't say who, but today, they're really big and they've grown – but it was like way, way, way back. When people are growing, everyone's getting used to it and how they do hair." Admittedly, younger Skye didn't know as much about wigs as she wanted to, especially because she would typically opt to get sew-in weaves. To this day, she confided in Girls United that she will ask to get her wig sewn down in an effort to keep it from sliding back.
"I'm so conscious of, 'What if somebody takes it?,'" Skye said laughing, but serious. "That's a fear of mine – getting snatched by accident. Sometimes people hug you or while you're on stage, that's definitely my worse fear."
Thankfully, the "Collide" singer's bad taste for wigs and fear of being snatched (in the worse way) is a thing of the past now that she has launched an exclusive partnership with Parfait, the first-ever direct-to-consumer wig customization platform. While accurately assessing its consumer, Parfait successfully virtually sizes the wig to your unique head shape and matches the lace to the user's skin tone. As the world's first artificially intelligent (AI)-powered hair -tech for Black women by Black women, which has been endorsed by tennis champion and style icon Serena Williams, Parfait prioritizes the cultivation of a symbiotic relationship between beauty and technology while creating an algorithm that will revolutionize the way tech interacts with communities of color. "What we really wanted to do was create the most simple, friction-less experience for people as you're looking for wigs because usually, you're searching for thousands of retailers while trying to figure out the right option for you," said co-founder and CEO Isoken Igbinedion, who created Parfait alongside CTO Ifueko Igbinedion, COO Marlyse Reeves, and CMO Simone Kendle. As opposed to the difficult process of searching through millions of options for capsizing, wig density, and styles that best fit your face, Parfait has the perfect solution for you with a customized e-commerce experience. "With your phone or your laptop, you take four really quick selfies [and] they will capture the circumference of your head measurements, understand the density of your hair based on the questions we provide for you, and the color palettes of your skintone."
As a proud Black woman, Skye proudly embraces the versatility of her hair including the number of various wigs of different styles, colors, and textures she can put on her head whether she's styling and profiling during New York Fashion Week or she's heading to set to shoot another season of the hit Freeform show with Slick Woods and Marcus Scribner. "What's so amazing about wigs [is] you can really put it on where you can just do-and-go for the day. Like, 'this is what I'm doing for the day and I'm just going to go. I don't need to put it on so securely.' If you're going to wear it for a while, then you can sew it down, glue it on, just use hairspray and melt it down, so it's not too intense."
During a private launch breakfast in New York City, Girls United had a chat with the Brooklyn-bred Ultraviolet singer about her partnership with Parfait, the secret to maintaining her hair, and if we'll ever get to see the Purple Unicorn make another appearance in the streets.
Girls United: What sold you on wanting to partner with Parfait for your own signature wig collection?
Justine Skye: "It was something that I was really fond of because I'm always getting my hair done, whether it's for a show, it's for a photo shoot, whether now TV and film. If you have been following my journey from before, I would dye my hair purple for a really long time. It really was damaging my hair a lot and then I went brown. I'm always trying to find ways to protect my hair, obviously, but sometimes you get tired of braids and I like to switch my hair up a lot and wigs give me the opportunity to do such a thing. When Parfait came to me with this idea and asked me to do a collection, I was like, 'This is sick.' All of my signature hairstyles I can create for people to have as well too, for myself and for everyone to have that versatility. It's really awesome." How do you maintain the health and integrity of your hair?
"I just keep it in braids, wigs, deep conditioning, and I'm on that journey right now. Wearing these protective hairstyles lets me still feel free and have the creativity of different hairstyles while getting my hair back to health. I did have to dye it very abruptly once I started grown-ish and it was really damaging to my hair. Then, every day there's just heat, heat, this, that. I'm like, 'No, thanks.'"
What are some things about wigs that you wish you knew back then, that you know now?
"I've never been one to know how to do their own hair. Makeup, got it. Hair, I'm still – I just know how to do a little slick back. My mission is to learn how to put my own wig on because I feel like people who know how to lay their own wig are superheroes. Like Simone [Kendle], I just watch videos of her doing her hair all the time and I'm fascinated. It's incredible. Your makeup, your hair, the way you dress, it is your art. It's the way you express yourself."
From your collection, which wig is your favorite? Is it the purple one?
"The purple is one of my favorites, but I do love a middle part black, straight, long. That's my signature. I'm a middle part girl. It just frames the face really great. went to a party last night with the middle part, long [hair], and this random girl came up to me and goes, 'All I see is your hair, just moving. Your hair was moving at party.' And I was like, 'Thank you. That means a lot to me. It's part of my collection.'" How hands-on were you with the development of your collection?
"Very hands-on. I know people talk a lot about my hair and I don't think I've ever dove into that category of this space. It was really exciting to be able to be like, 'These are my signature hairstyles. These are hairstyles I wear often and you can wear them too.' I can't wait to see everybody wearing them."
If you could tell young Black girls any piece of advice about wanting to experiment with colors, wigs, and weaves, what would you tell them?
"I would tell them to try everything. It's fun, and don't let anyone tell you you can't have fun. I remember people always being like, 'It's weird. You shouldn't dye your hair purple. You shouldn't try this, you shouldn't try that because it's ghetto.' This is how I feel and we should be able to express how we feel through ourselves."
Are we ever going to get the purple hair back?
"Well, yeah, with Parfait; not my hair. That's what's so awesome. I haven't done purple hair in so long. When I put on the purple wig for the first time, I felt like, 'Whoa, throwback.' Will I ever dye my actual hair purple again? Probably not, but I'm definitely going to be rocking the purple wig a lot because it's fun. When I got rid of that, it was getting rid of a phase of my life to move on, not needing to grow up, just move on from that." When it comes to being on set, traveling, and doing day-to-day Justine Skye stuff, what are some of your must-have hair care staples?
"Definitely one of my wigs because I feel like it's just the easy go-to hairstyle. Like I told you, the only thing that I do is slick back so having one of my wigs available is really helpful for whatever it is I want to wear, to dress up, dress down. I'm still also discovering new ways to wear these wigs, too. I'm on this journey so as I do different hairstyles with the collection, it's not just the middle parts. What else can I do with this? I always have to have edge control; I always need my edge control. You're just sitting there minding your biz and then you just apply the edge control and you're a whole different person. Sheen, I got to have some hair sheen because I love shiny hair."
Shop Justine Skye's official My Parfait collection on their official website, available now!
About D'Shonda: Born and raised in Brooklyn, NY, D'Shonda Brown is the Associate Editor at Girls United. When she's not interviewing or writing, she enjoys running, dancing, buying sneakers, and binge-watching Lifetime movies.