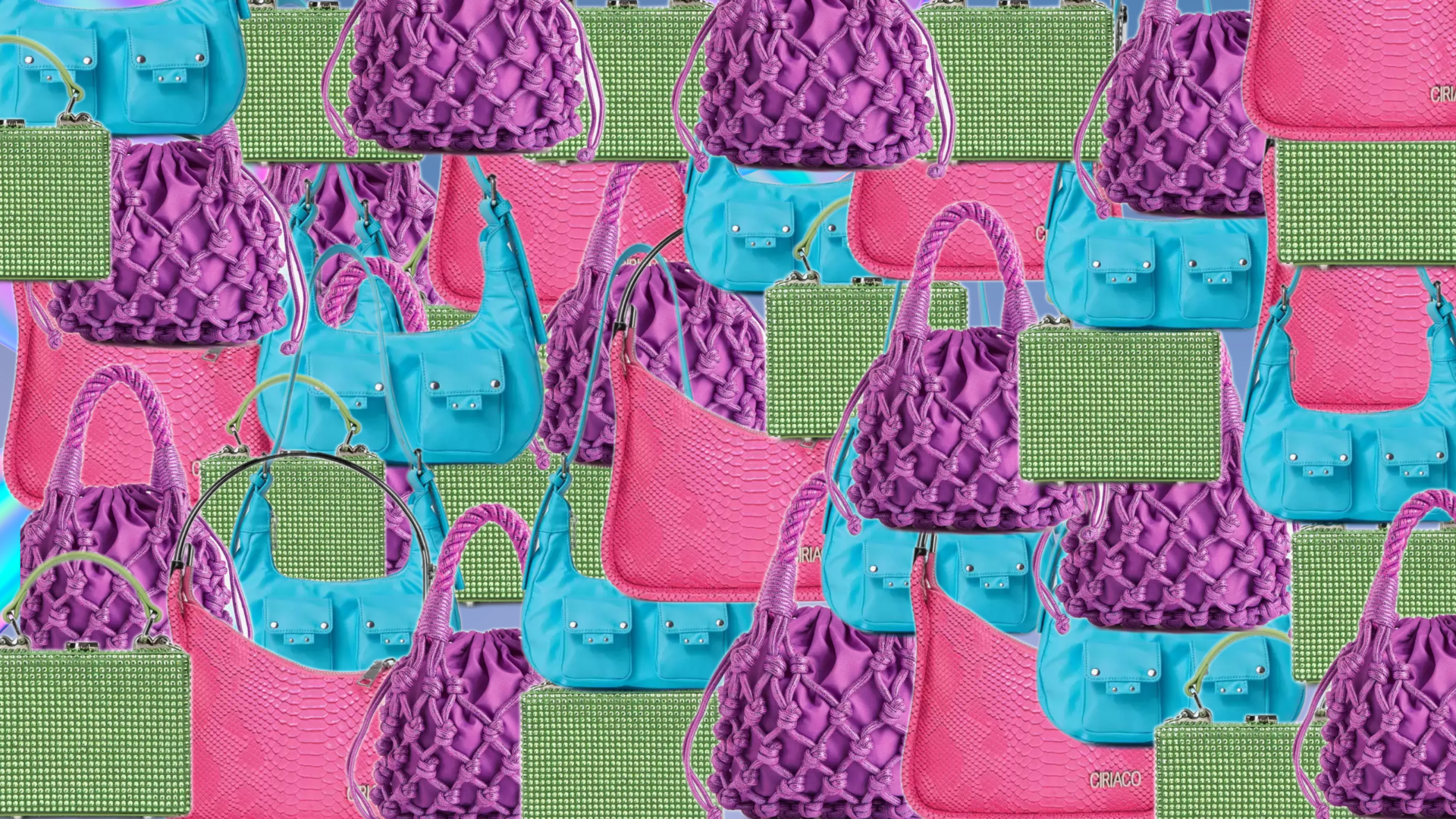 These Trendy Handbags Are Snag-Worthy For Spring
It's time to expand your accessory collection.
Nicer weather, sunnier days and budding flowers prepping for bloom are the early signs of Spring's upcoming arrival. With a new season upon us, what's better than shopping for new pieces to accompany cocktail mixers, brunches and a chilly night out? 
The March, April and May run is full of vivid pastels of blues, pinks and yellows. Before we reach Summer's warmer tones, you can embrace exhilaratory colorways through your handbag. 
Read "How To Get A New Spring Wardrobe On A Budget"
What's better company than a statement purse that seamlessly enhances your look. Whether you're aiming for something feminine like the J Marc Mini or light for a vacation like the Small Mesh Pouch by H&M, we've curated our must-haves for the Instagram-worthy season.
Scroll ahead and shop 10 trendy handbags that are snaggable for spring.
Shein Floral Pattern Chain Decor Fluffy Hobo Bag, $11
To become a Best Dressed Creative, having a statement bag is necessary. This affordable furry hobo from Shein, features an edgy combo of soft greens, striking blues and hints of black for the ultimate nighttime look.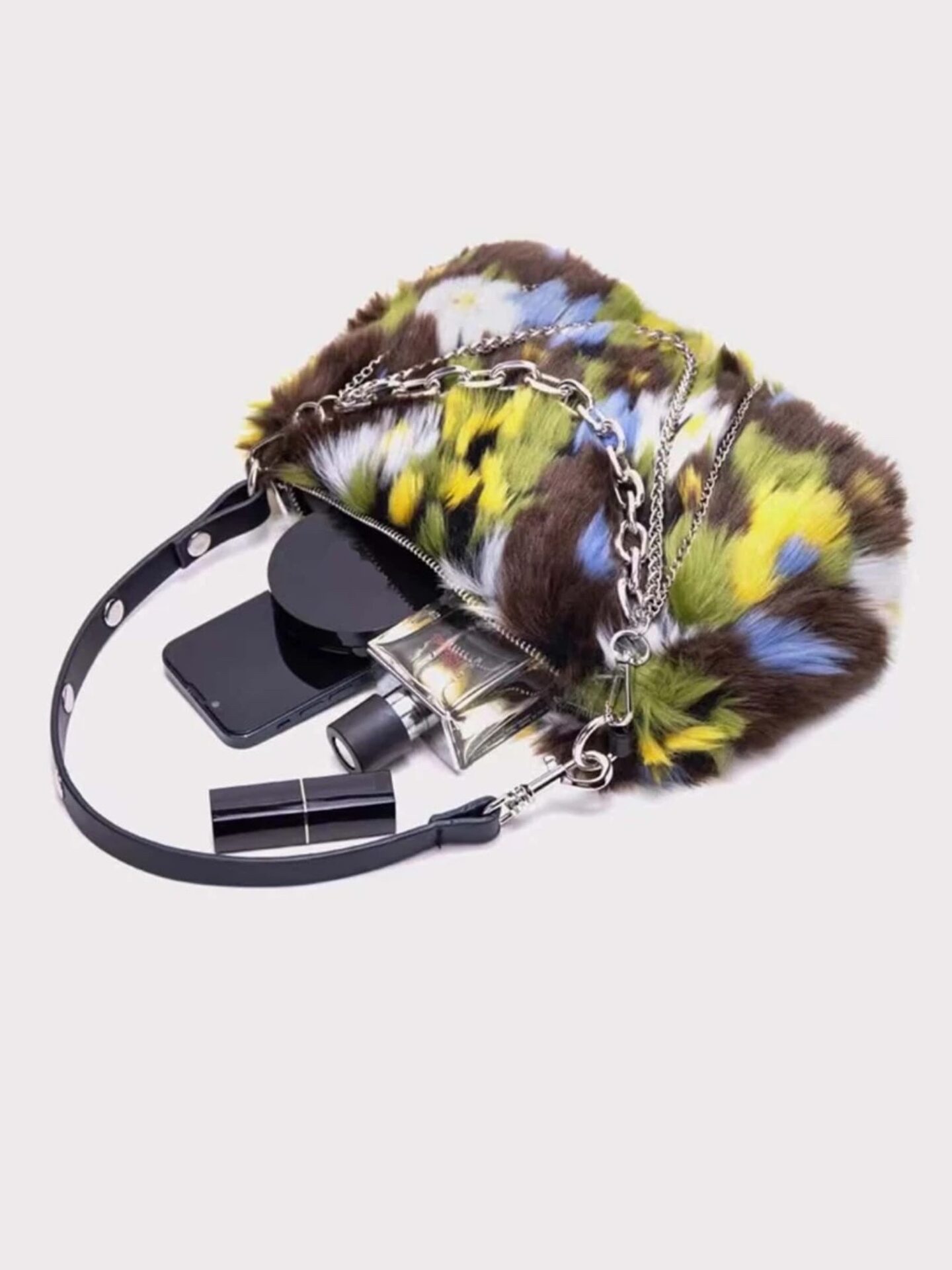 Forever21 Chevron Baguette Shoulder Bag, $18
Going on a vacay for Spring Break? The Chevron Baguette Shoulder Bag by F21 is a must. Constructed with multi-color straw, the classic chevron silhouette will give your colorful fit an accent boost.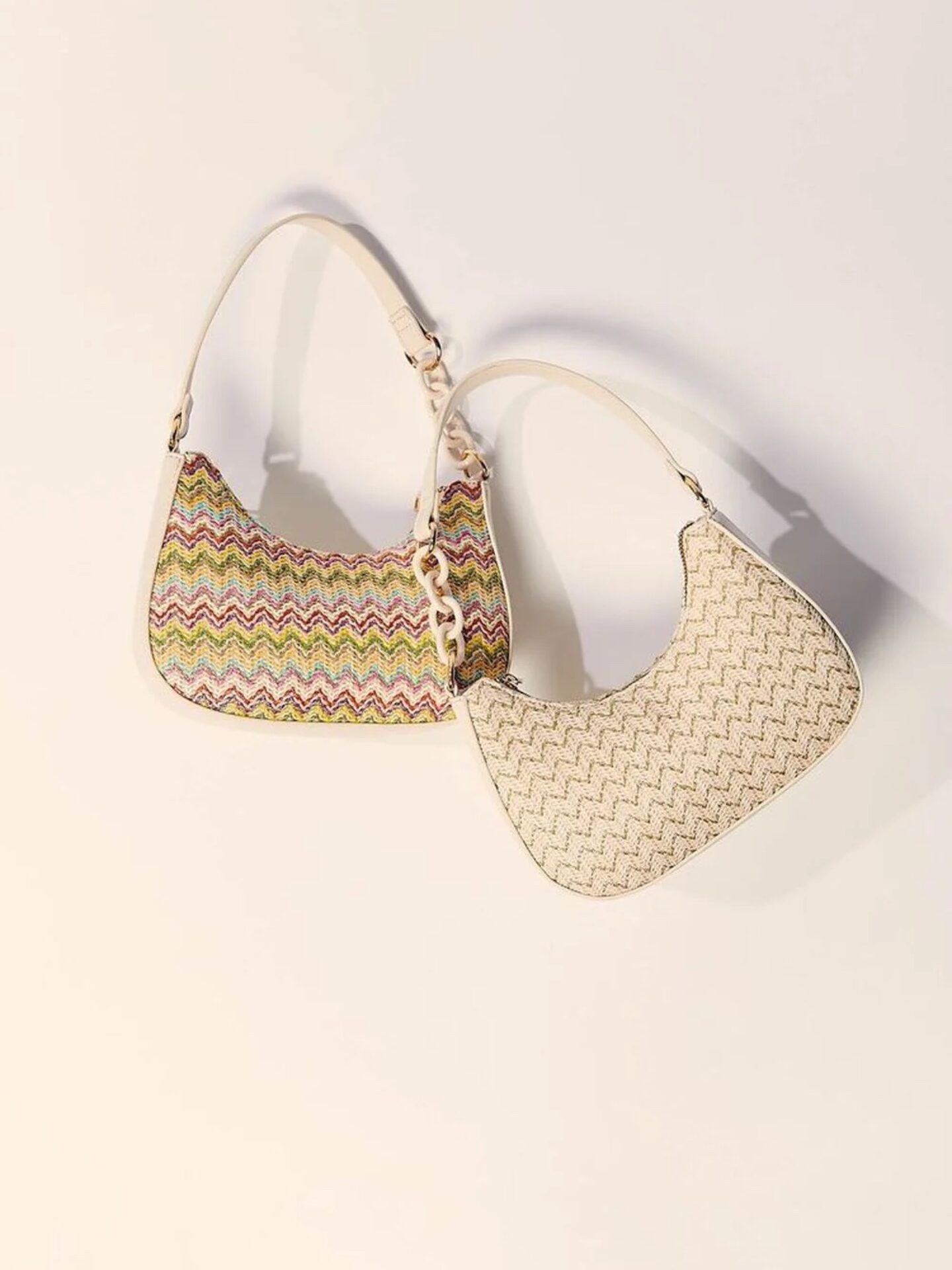 ENBEI Women's Crotched Shoulder Handbag, $22
Whether you're grabbing groceries, or a few tides at the beach, this super cute shoulder bag from Amazon will hold all your essentials. The whimsical flower design adds a 90s touch to the trendy sack.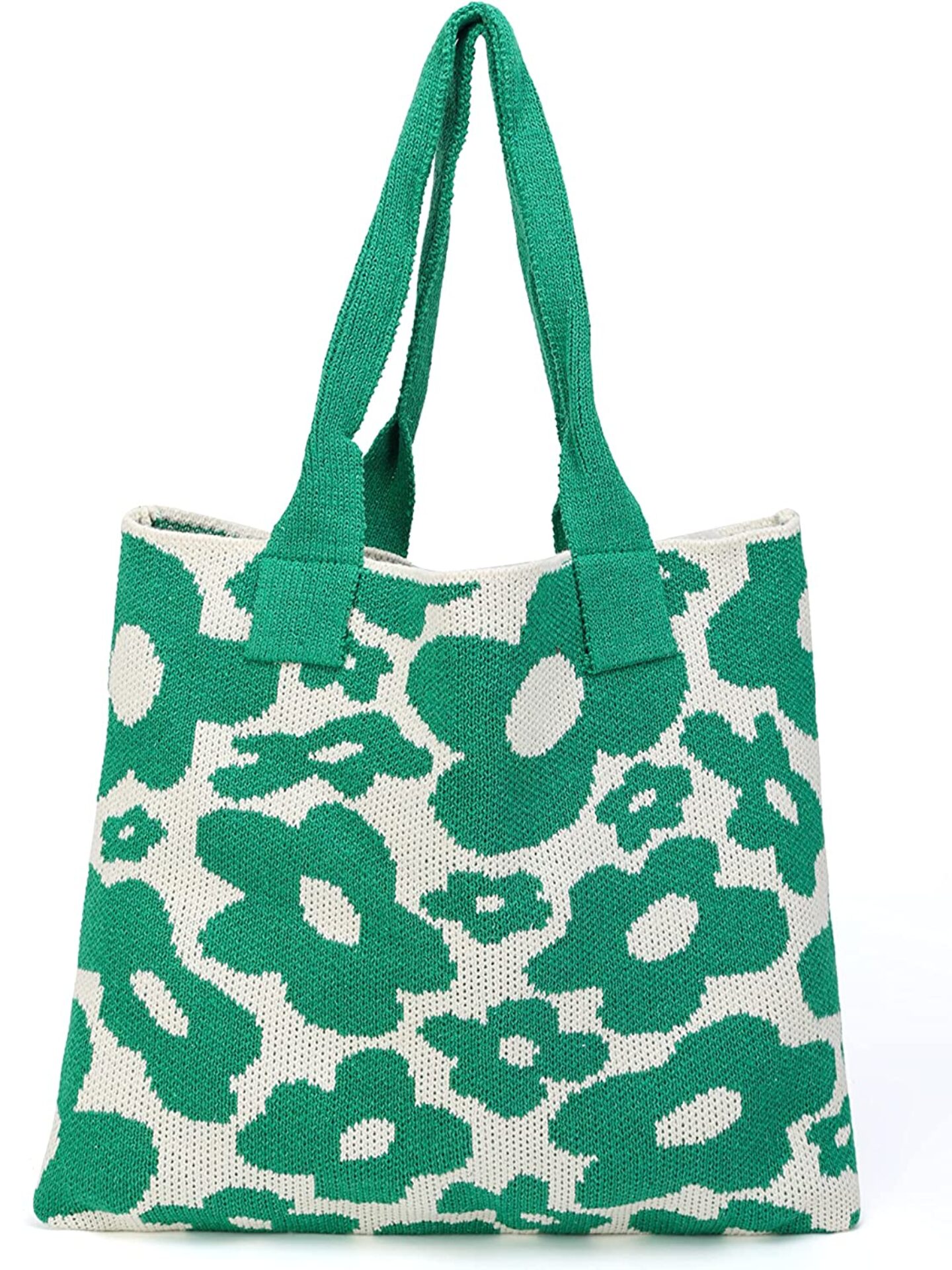 H&M Small Mesh Pouch Bag, $35
Who said micro bags are out of style? The Small Mesh Pouch from H&M is available in four vivid shades for the "pop of color" your mom tells you to add. The bag features a knotted exterior with a mini lining that'll fit cards, gloss, and lash glue.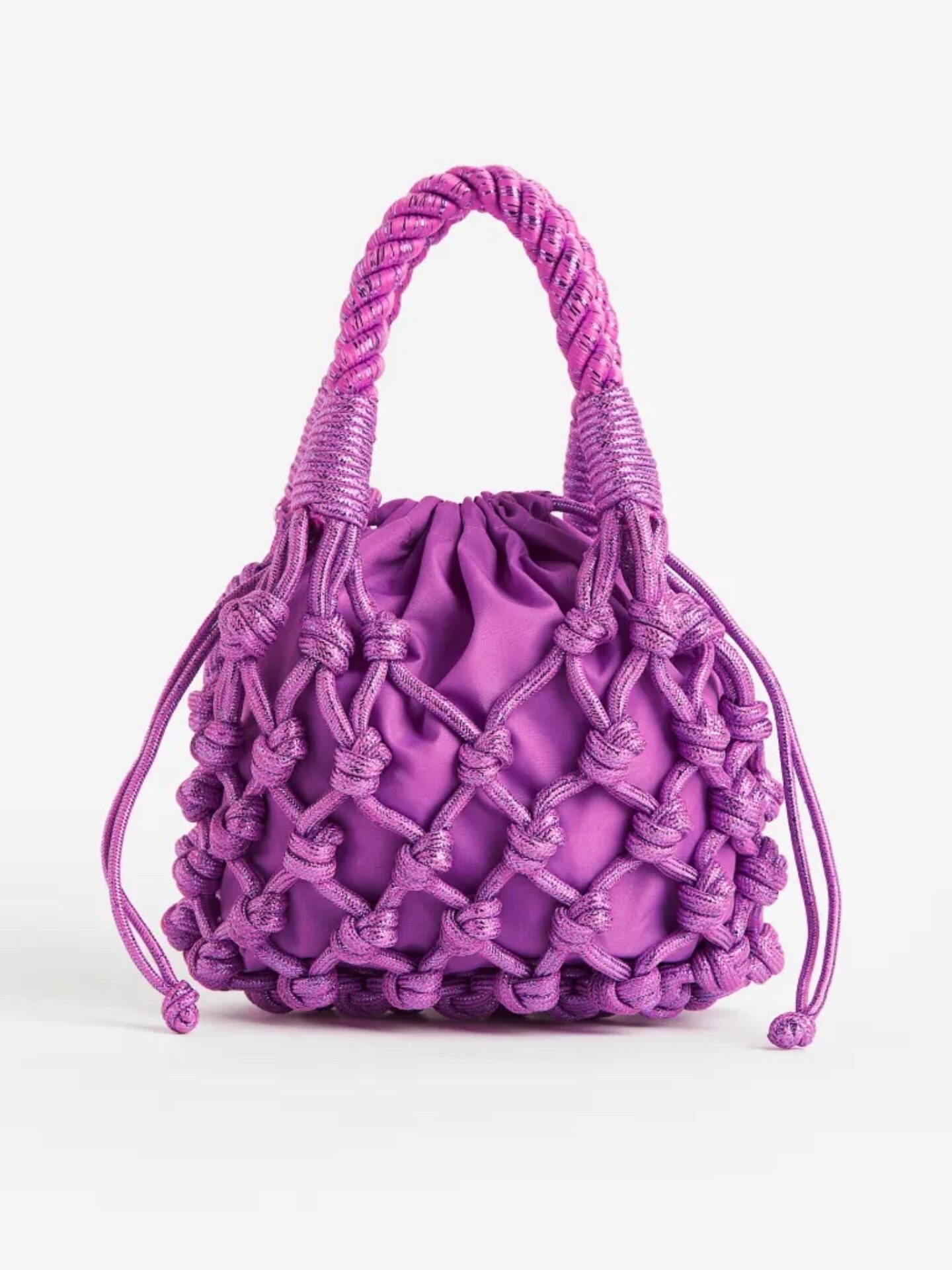 Reclaimed Vintage Y2K Denim Shoulder Bag, $47
The Y2K trend doesn't seem to be going away in 2023. The vintage takeover continues with the dark wash denim shoulder bag from ASOS, where belt buckles and a Balenciaga-like dupe meet.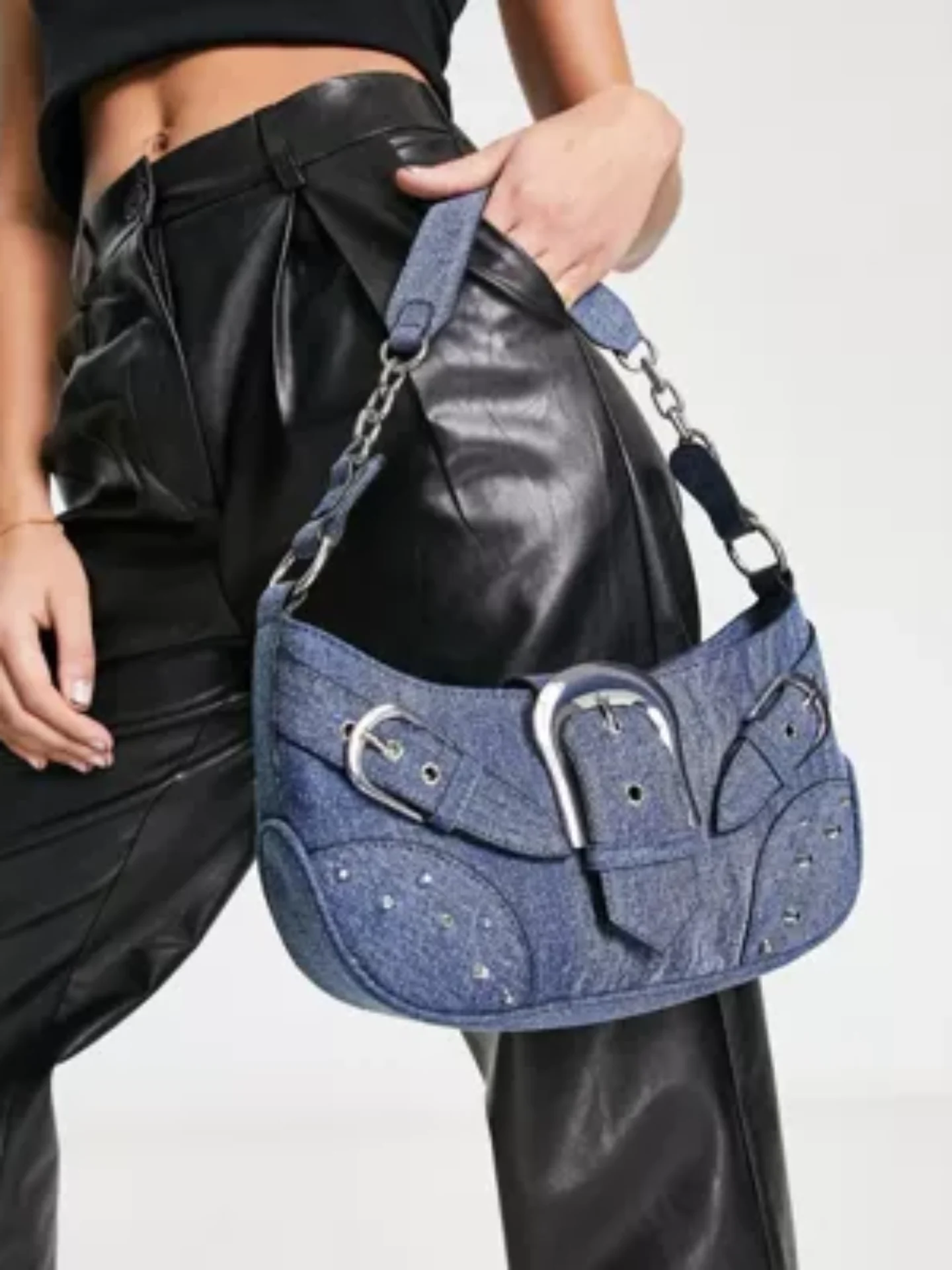 Núnoo Sally Small Recycled Nylon Bag, $95
It's not Spring without bright baby blue colorways coming out to play. This eco-friendly sporty bag uses recycled Nylon, extra pockets and an adjustable strap for a daytime bag to bring to Target or Six Flags.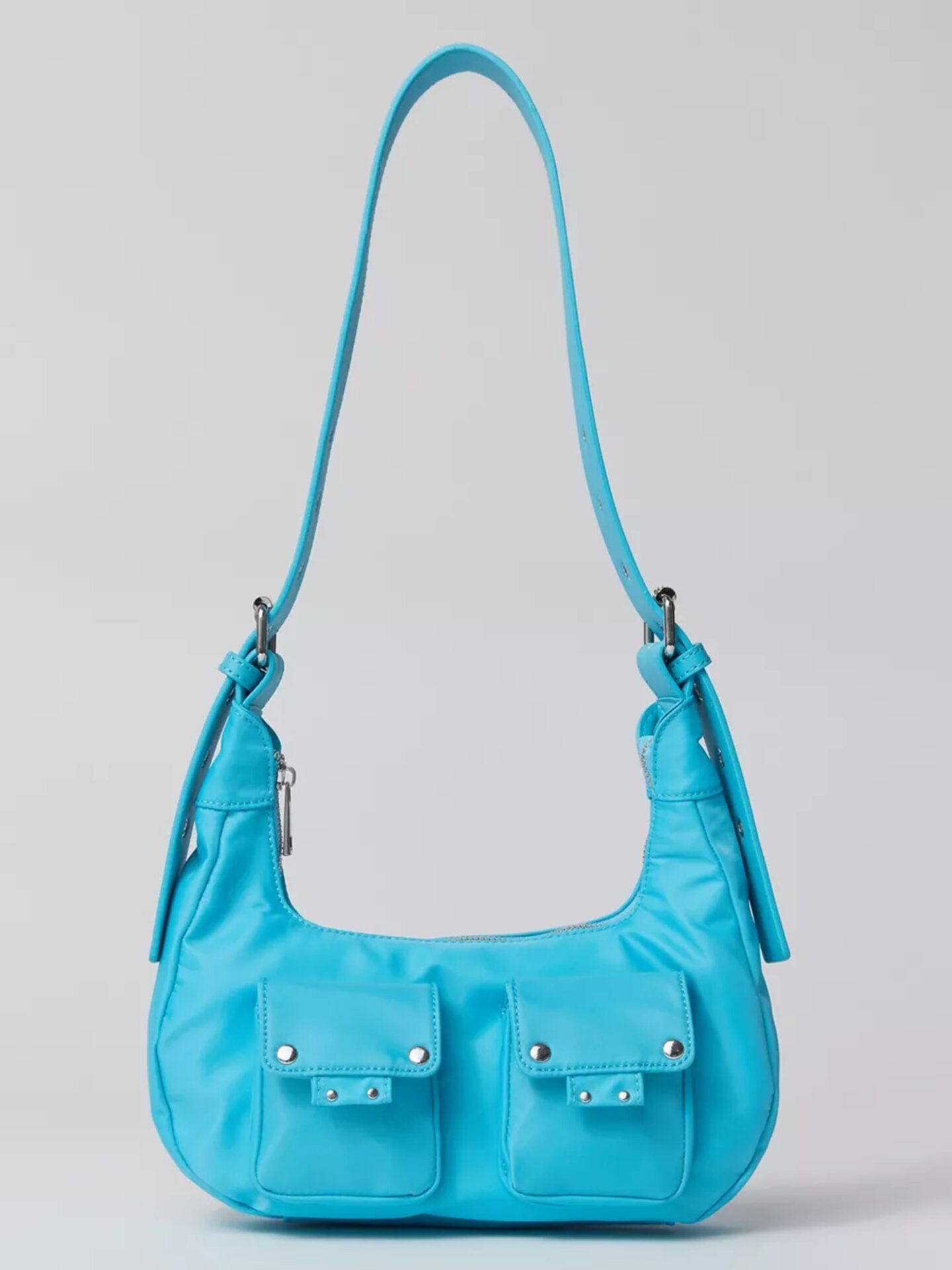 Brandon Blackwood Mini Kendrick Trunk, $250
No matter how many Blackwood Trunks you have stacked in your closet, there's always room for another. For a bag that'll glisten at brunch or shine during shopping, The Mini Kendrick embellished with peridot green rhinestones needs to be added to cart.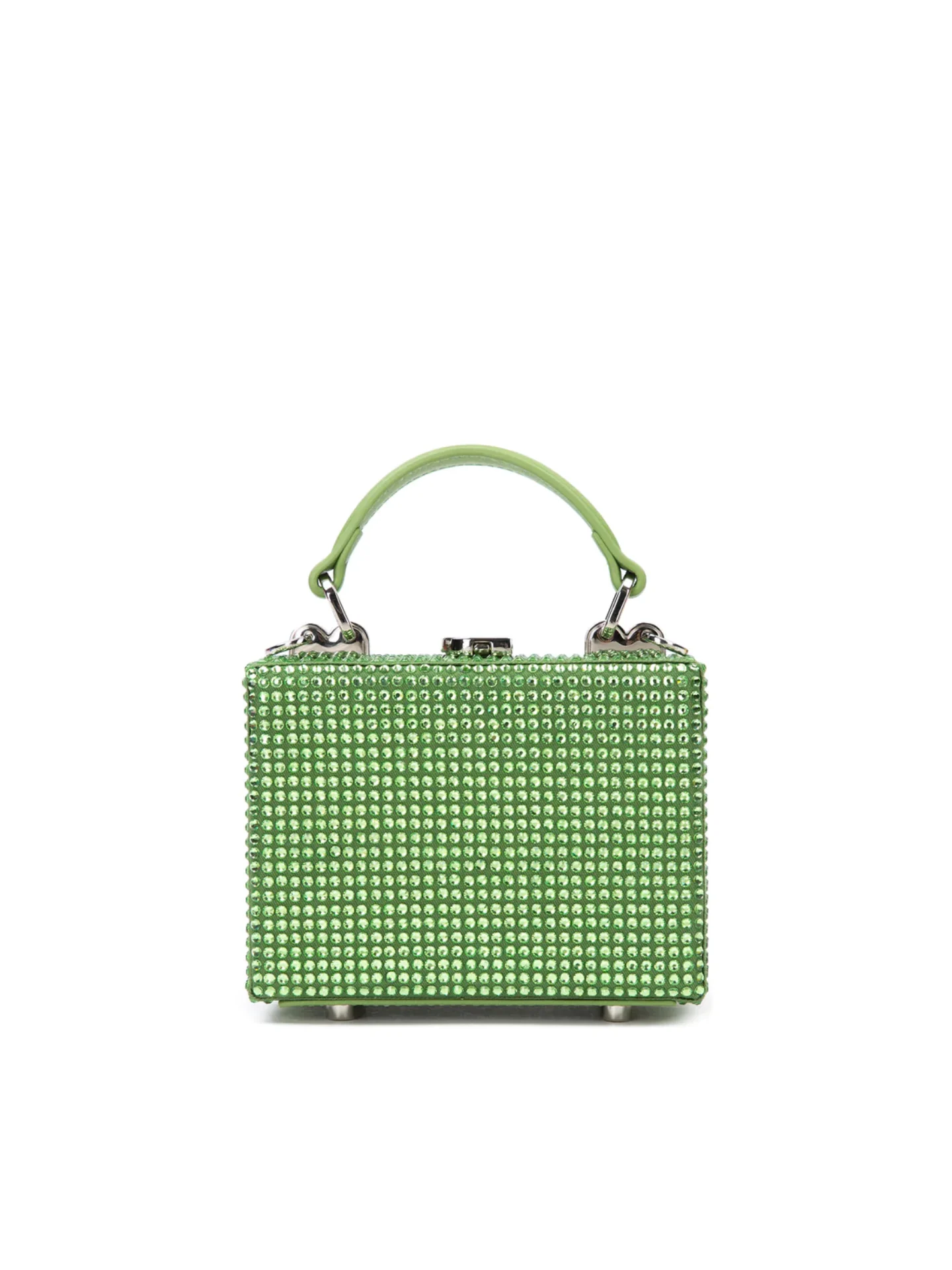 Coach Demi Bag In Signature Jacquard, $295
Coach's rebrand is an absolute standout in today's roaring 20s. Their vintage 2003 resurgence of the Demi Bag features their signature jacquard design in fun swatches, especially the sporty red.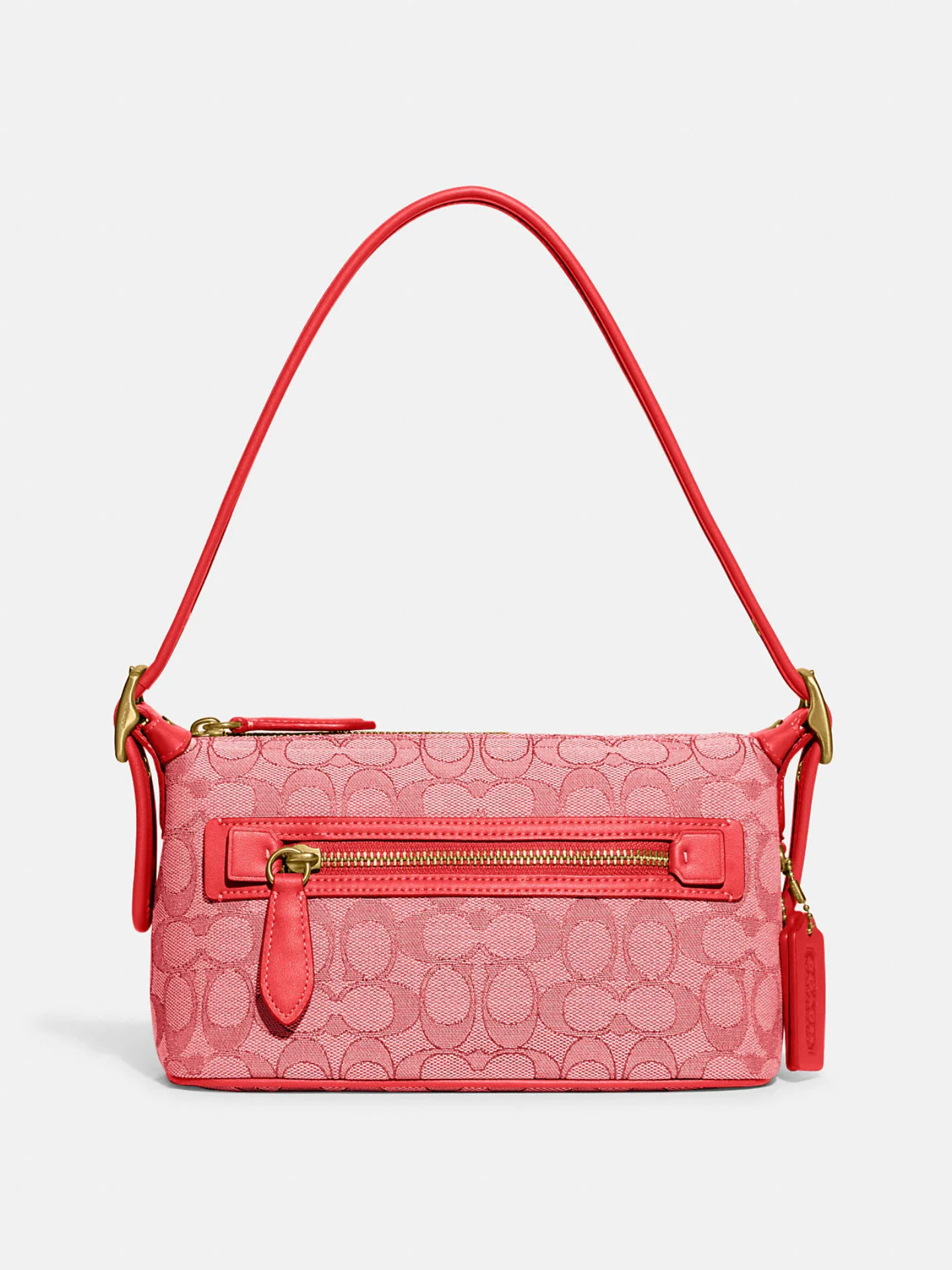 Marc Jacobs The J Marc Mini Shoulder Bag, $295
Any shade of purple is a must for the refreshing season. The J Marc Mini by Marc Jacobs features smooth leather accompanied by a removable silver chain to wear on the shoulder or as a clutch.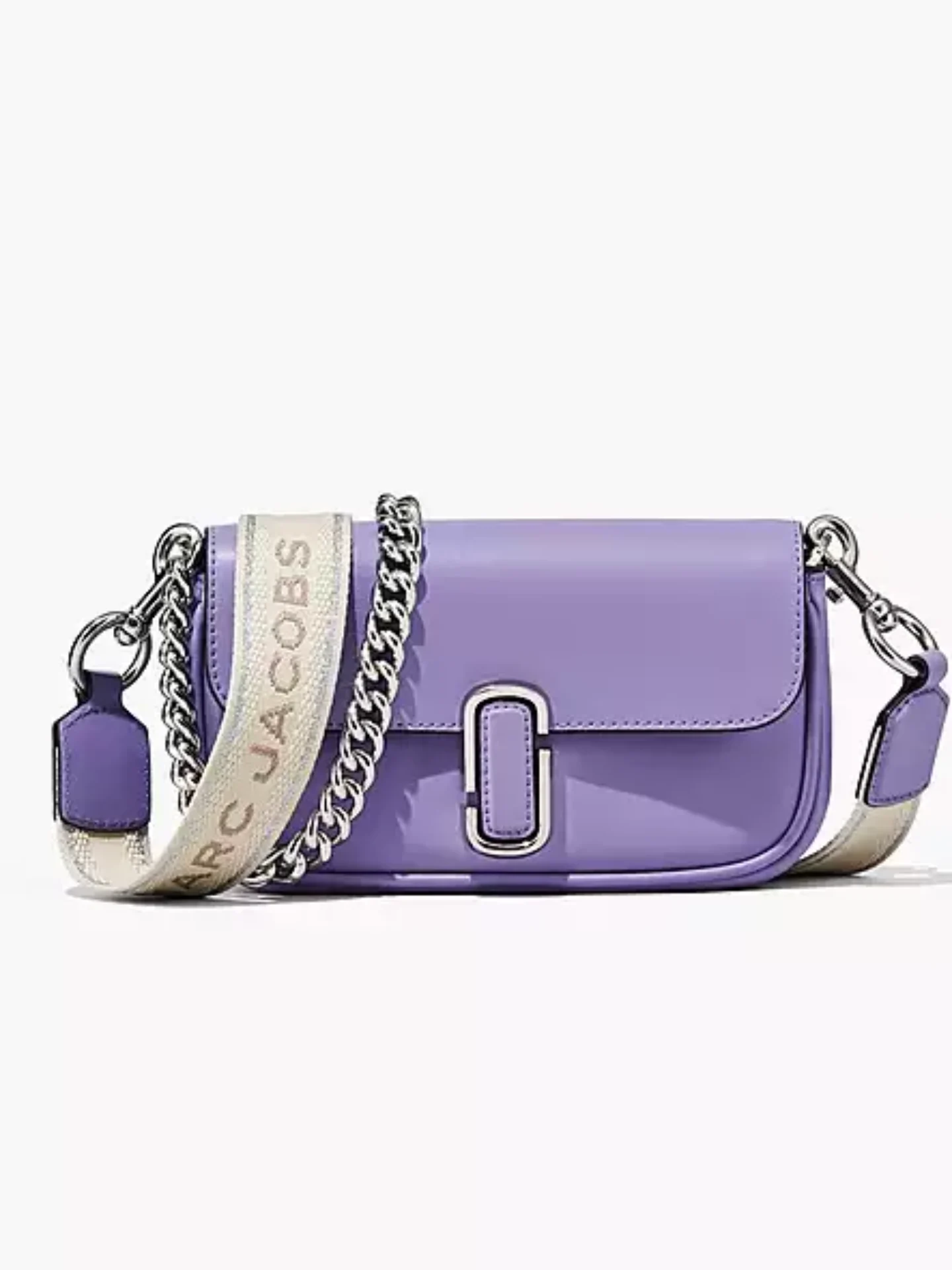 Ciriaco Ashley Minimalist Baguette Metal C Handle, $415
The "it" brand of the 20s has finally released their signature Ashley Minimalist Baguette in a luxury design. The latest edition includes a sleek metal c handle, with a hot pink viper snakeskin print.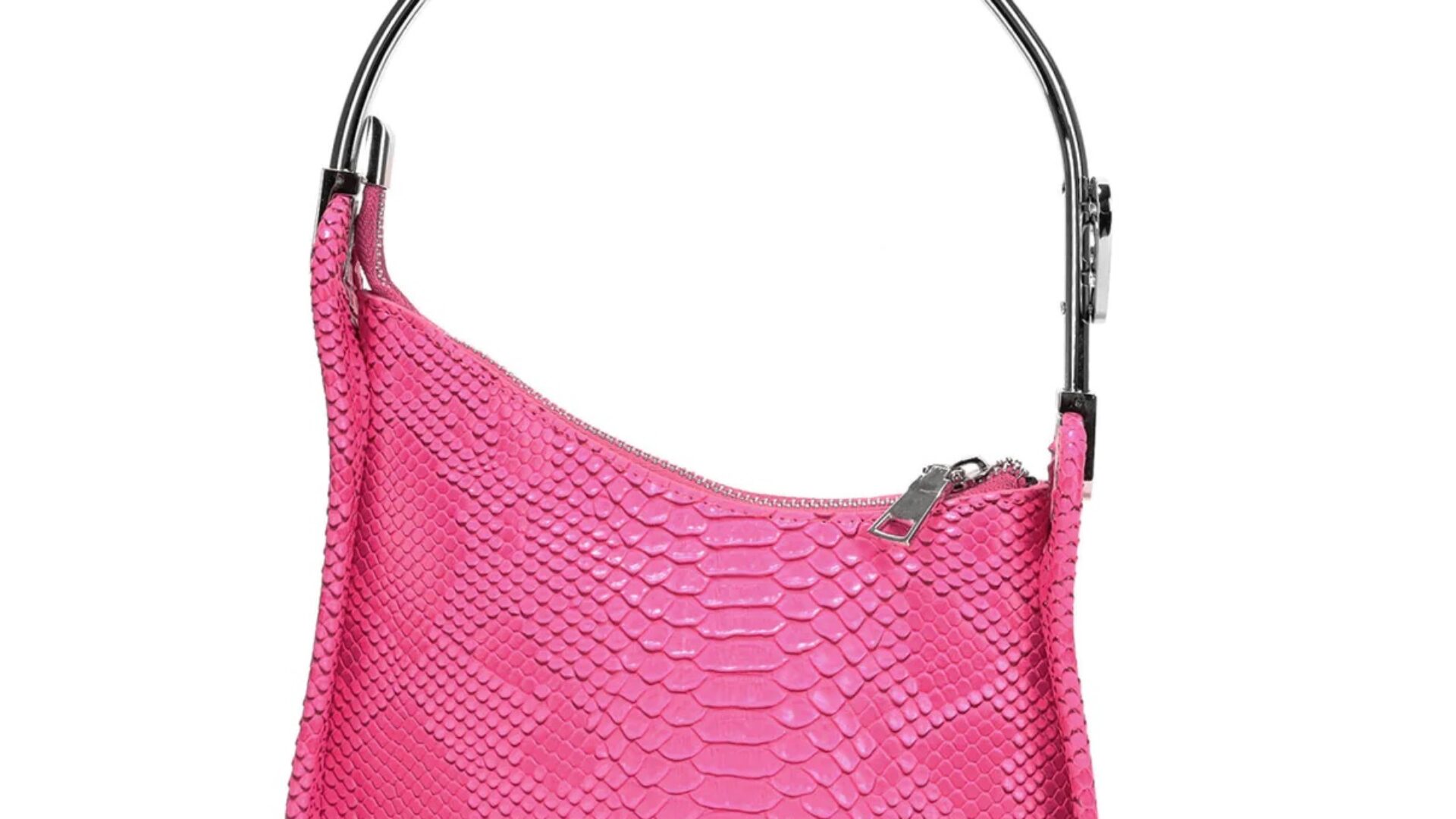 Read "Here's What Designer Collection You Are According To Your Venus Sign"