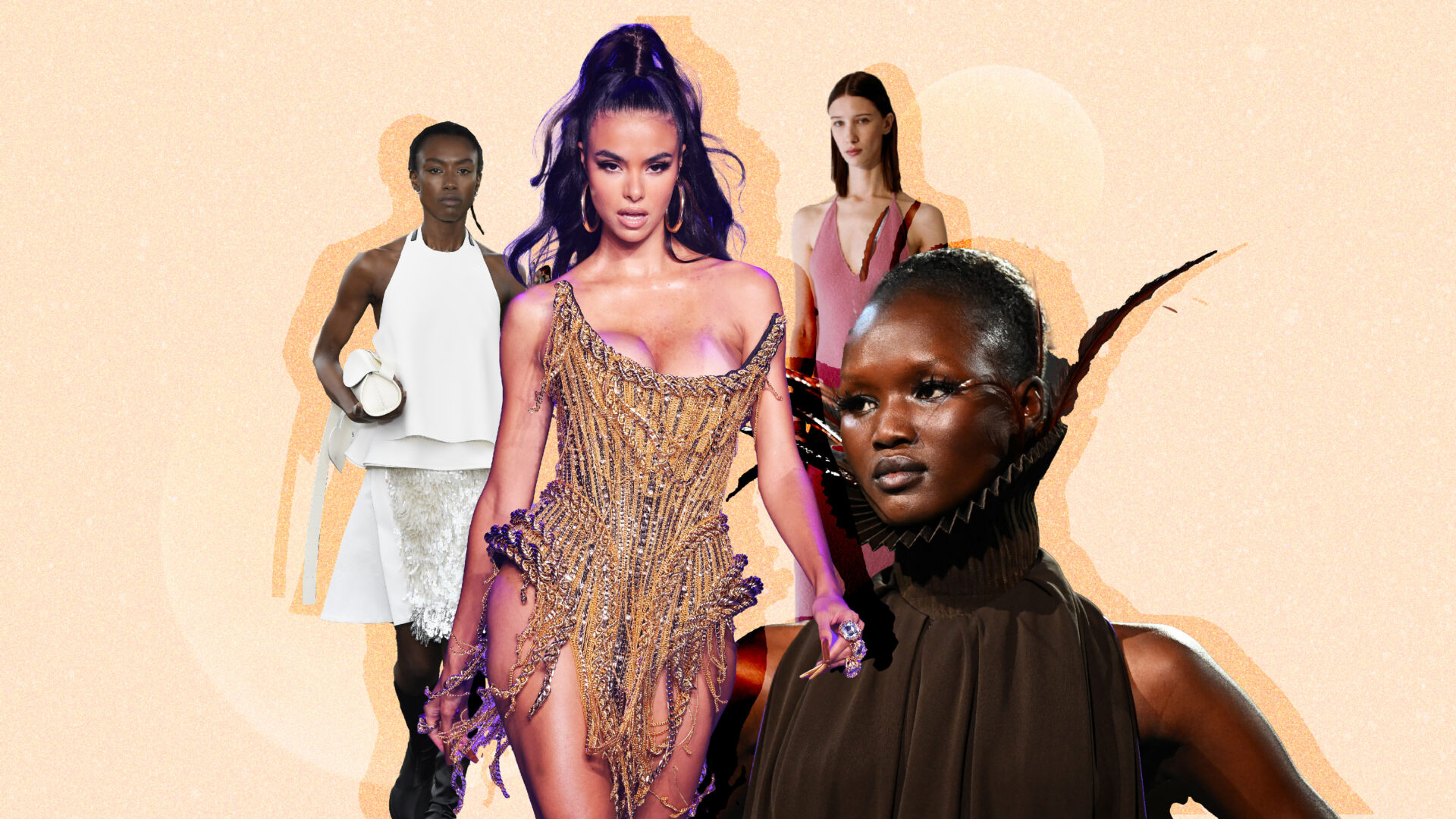 Here's What Designer Collection You Are According To Your Venus Sign
As spring fashion begins its takeover, these runway shows or dupes deserve to be in your closet.
Have you ever seen someone and noticed how their outfit matches their personality? Fashion can be interpreted as a guideline to whether you are going through a phase of your life or trying to convey a message to the world.
Everyone's sense of style is often associated with the blueprint of their personality traits. What would you say if I told you all of these trends that you may experience throughout your life are associated with your Venus sign?
Soon you might discover that your birth chart consists of several planet placements that are known to depict your personality, inner feelings, and attractiveness. Though you may be learning more about astrology, you will realize that some placements in our chart narrate our distinctiveness in beauty and style.
Venus represents the planet of power, beauty, and attraction. These zodiac placements may be a great guide to navigating what you are naturally attracted to. Try downloading the CHANI app to find out your placements. Chani will give you a detailed breakdown of your birth chart.
Once you have downloaded the app, it will ask you for your exact birth time, location, and date for complete accuracy. Now you can shop away!
Aries: The Blonds Spring/Summer 2023
An Aries Venus' sense of style challenges the normal by introducing a fearless and bold look to every piece of clothing they own. Blond once said, "we always want to be inclusive. We always want for anyone to feel like they can have fun with fashion and be glamorous." Whether you decide on a custom luxury piece or a casual fit, The Blonds Spring/Summer 2023 incorporates the freedom of pushing the boundaries of fashion with a glamorous twist.
Taurus: Jil Sander Fashion Week 2023 mixed with Alejandra Alonso Fall 2023
Alejandra Alonso Rojas's collection entered the fashion industry catering to modern women by injecting timeless apparel that fluctuates from silk and satin to chunky knitwear. The casual luxury look has a new meaning as she indulges in the multiple shades of pink this fall season. Furthermore, Jil Sanders Fashion Week 2023 Collection feeds into the Taurus energy of comfortability and style mixed with warm tones of bohemian theme suit pieces.
Gemini: Diesel's Glenn Martens Spring 2023
Gemini is associated with being the twin sign due to their synchronized masculine and feminine energy. There is no better way to indicate this theme than denim mixed with the edginess of the teenage era. Glenn Martens stated, "it's about personalizing your pieces — denim can become rough and masculine or sexy and feminine." This quality makes Gemini Venus versatile yet rough, as they tend to play with more mixed-match patterns and dark colors.
Cancer: Blumarine Spring & Fall 2023 mixed with Brandon Maxwell Fall 2023
Blumarine Spring and Summer collection double-crosses between girly denim attire from their long neckline gowns, thus highlighting the eloquence of the silhouette. Although Cancers often dabble with print and blousy looks, the versatility surpasses most designers as they coordinate various suit pieces and bright colors. Brandon Maxwell would make a superb duo for this cardinal sign with his collection of suit pieces and colorful variations of print dresses and blousy shirts.
Leo: Jean-Paul Couture Spring 2023 mixed with Christian Siriano
Jean-Paul Couture accentuates the Madonna era of bustiers and cigarette pants with overalls, along with its ability to embody the naturalness of a curvy silhouette with its' tailored dresses. These collection pieces possess the qualities of a Leo Venus. The range from masculine and feminine is so sharp and distinguished that it is almost impossible for it not to catch your eye. In addition, Christian Siriano's elegant yet bold gowns also showcase Leos's glamorous and flashy side that most people tend to miss.
Virgo: Moschino Fall 2023 mixed with Prada Spring 1993
Jeremy Scott challenges the Moschino signature look with his mesh underlayer shirts paired with their tailored suits. As he combines a variety of punk rock wardrobes, Moschino has been reborn and given an edgier look. Moschino combined with Prada's Spring collection in 1993, which incorporated two-piece lace sets, are the perfect duo for Virgo Venus. This mutable sign often has the desire to assimilate dark elements coordinated with a dash of color and sexiness.
Libra: Roberto Cavalli Fall 2023
Libra Venus' has an extremely doting passion for warm tones and trendy pop-girl outfits. Whether it is a crop or an elegant gown, these ensembles give a hence of warm and earthy tones to fulfill the desert themes of "No man's land".
Scorpio: Christian Dior Spring and Summer 2000 mixed with Han Kjobenhavn Fall 2023
Christian Dior's Spring and Summer 2000 collection portrayed the influence of the Lauryn Hill era with its ripped jeans and embodied the feminine quality of denim. The mysterious element of Scorpio Venus is eloquently incorporated through Han Kjøbenhavn's Fall Collection 2023. The Artistic Director, Jannik Wikkelsø Davidsen, stated "darkness evokes emotions. And then it is about shaping these emotions into fascinating and interesting objects." These two designers portray Scorpio's tendency to lean towards more dark and metallic tones.
Sagittarius: Claude Kameni 2023 mixed with Valentino Fall 2022
Claude Kameni's apparel is inspired by African designs that focus on an assortment of unique patterns and colors to emphasize everyone's skin tone and body type. Claude Kameni's collection consists of a multitude of statement pieces that are not ashamed of showing the girls a little skin to accentuate their natural curves. Moreover, Pierpaolo Piccioli's Valentino Fall 2022 collection provides us versatility in our ensemble with a vibrant display of pink gowns and suits. These two designers combined the caliber of eloquence, boldness, and versatility that creates Sagittarius Venus's exuberant style.
Aquarius: Schiaparelli mixed with Nensi Dojaka Spring and Summer 2023
Aquarius Venus is the mother of fashion zodiac signs. It is displayed in fashion by collaborating sexy lace undergarments with an assortment of bold colors. Schiaparelli was illustrated as an admirer of astrology, Botticelli paintings, and the circus. It is no surprise that she would agree that Schiaparelli's expressive outfits embody the essence of being the trendsetter of fashion. Nensi Dojaka's Spring and Summer 2023 collection introduces the 1990's aesthetic to lace-inspired dresses and generates a new wave of intimacy to fashion. These two designers combined are the flirty quintessence spirit of Aquarius Venus's fashion taste.
Pisces: Di Petsa Fashion Week Fall 2023
Di Petsa offers healing and the opportunity to be reborn, and this designer fits no other zodiac sign than Pisces. Its dreamy, mysterious, and alluring themes in vibrant colors of purple, blue, deep reds, browns, and golds into black and silver, and beautiful dawn captivates all admirers. Pisces' fairy tale element and their magic ability to offer inner strength as you go through a self-love journey is befitting to Di Petsa Fall 2023 collection.
Capricorn: Onalaja mixed with Bottega Veneta Fall and Winter 2023
Onalaja's deep tones emphasize the modern Yoruba and Ebo root trend patterns and elevate the fashion culture with its intricate usage of circles, spots and various shapes. This collection emphasizes girl power and femininity by using color and texture clashes to create a new concept for African fashion. Moreover, Bottega Veneta's collection utilized heavily neutral color patterns with a dash of color. Not to mention its attention-grabbing dinosaur scale long coat jacket that exemplifies the masculine energy that resides in Capricorn Venus. These two designers epitomize the unique characteristics that Capricorns possess along with their take-charge persona.
About Amber: Amber Little is a writer, astrologist, and digital content creator. Bred in East Atlanta, she has used her Journalism degree from Georgia State University to educate others on the spiritual aspect of Astrology. Her overall goal is to show others that we are all connected through spirituality and that we are individually made special