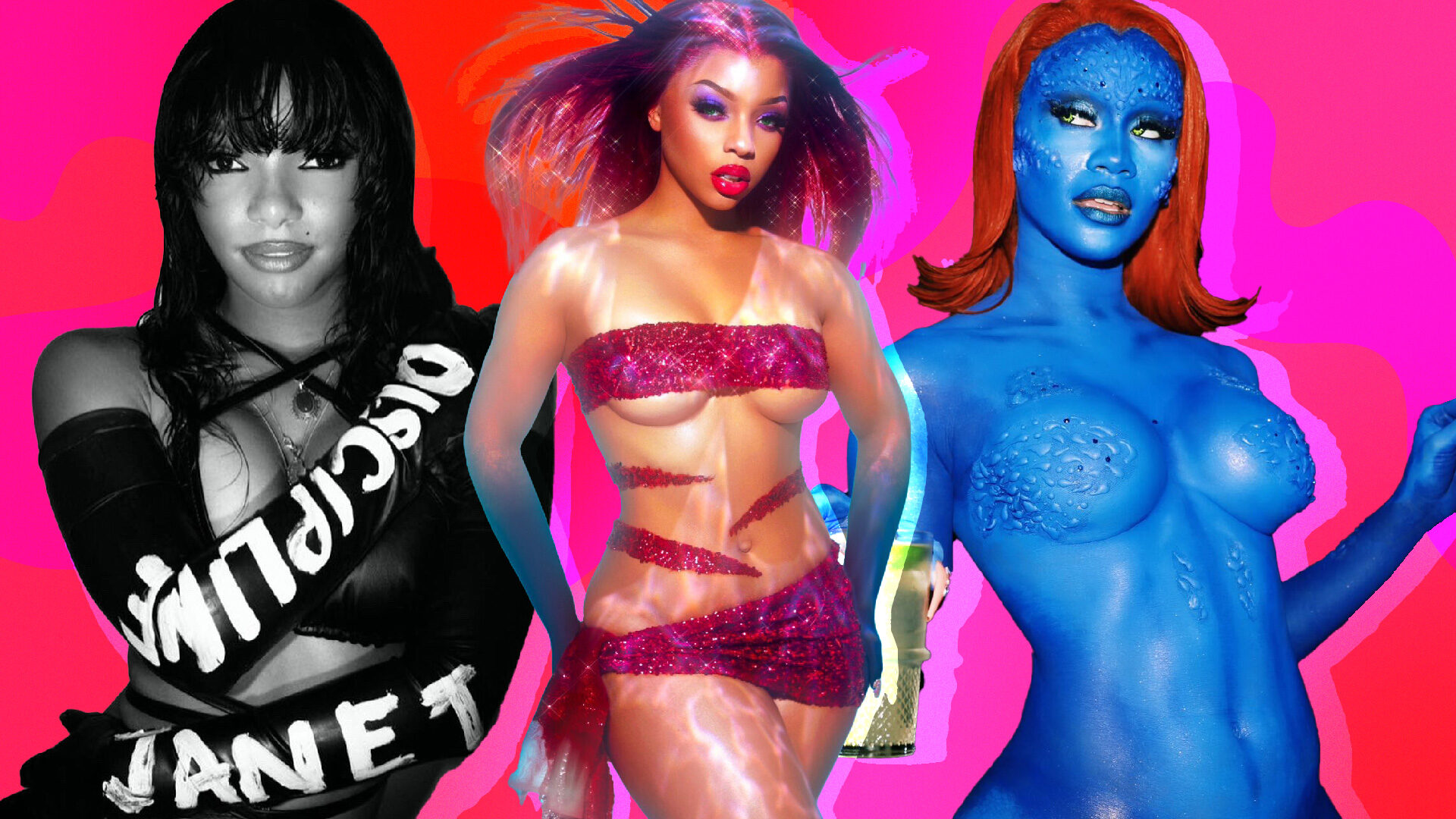 These Costumes Killed The Halloween Game In The Past, But We Had To Resurrect Them Again
Our favorite slay (scream) queens showed out during Halloween.
Every year when Halloween rolls around, people get excited for a multitude of reasons. Whether you're going to a costume party or sitting at home indulging in scary movies, many can agree that part of the fun is waiting to see the elaborate celebrity costumes. Before crossing over into Halloween weekend, we took a trip down memory lane to obsess over some of our favorite costumes of Halloween past. Grab some popcorn and get ready to have your life snatched all over again.
Chloe Bailey, Lola from Shark Tales
Chloe Bailey wore some enviable costumes in 2021, but her Lola from Shark Tales look was innovative and fashion-forward. The glitter. The red hair. The purple eyeshadow. The red lip. She truly is "dangerous, supa bad."
Halle Bailey, Janet Jackson
Halle Bailey seems low-key, but she always understands the assignment when she has to pop out. Although Janet Jackson's Discipline album cover is challenging to recreate, Bailey nailed Jackson's fierce facial expressions and poses.
Megan Thee Stallion, Pinhead 
Megan Thee Stallion is a cosplay fan and has dressed up as many characters, but her recreation of Hellraiser's Pinhead is equally artistic and horrifying. The costume is very detailed, so I know it took hours to execute. We'll have to wait and see what she has in store for this Hottieween.
Beyoncé, Lil Kim
I am a Beyonce stan, so all her costumes are number one in my eyes, but if I had to choose one, it would be her Lil' Kim tribute. The Chanel bangs – chefs kiss.
Justine Skye, Goth Bride
Justine Skye doesn't get enough credit for being a style star ahead of the fashion trends. Her 2021 goth bride costume included many elements trending this year, including black lipstick and moodier outfit aesthetics. White wedding dresses may be the popular choice, but on Halloween, anything goes.  
Saweetie, Mystique 
Saweetie is the queen of throwing parties and always delivers on her birthday themes. Even though Saweetie goes all out on her birthday, she rallies just in time to come up with a fly Halloween costume. It was hard to choose a favorite, but I will have to go with her 2020 Mystique from X-Men costume. Her team deserves all of their flowers for helping her put this together.
Normani, Cher 
If you're a Normani fan, then you know how much she puts into her craft, so it's not hard to believe that Halloween would be another day for her to shine. Her homage to Cher is hands down one of my favorite celebrity homages. Normani's artistry definitely sets the bar high.
Latto, Mariah Carey
Latto's homage to Mariah Carey's Rainbow album cover is the true definition of dreams becoming a reality. Few people can say they went from a Halloween costume to a feature.
Winnie Harlow, Cheetara
One would think Winnie Harlow's Instagram page is a costume mood board, but her Halloween outfits are in a league of their own. Every year she pushes the envelope and still impresses her followers. Although she killed this Cheetara from Thundercats look, I already know she'll deliver again this year.
Ryan Destiny, Lauryn Hill 
Ryan Destiny could easily play Lauryn Hill in a biopic, and even though this is a costume many people can recreate, Destiny nailed Hill's signature look.
About Allanah: Allanah Dykes is a freelance writer. Her work has appeared in NPR, Popsugar, Food52, and Complex publications. Raised on Long Island, NY, surrounded by diverse fashion, beauty, and culture, she prides herself on infusing her upbringing into every article she writes.