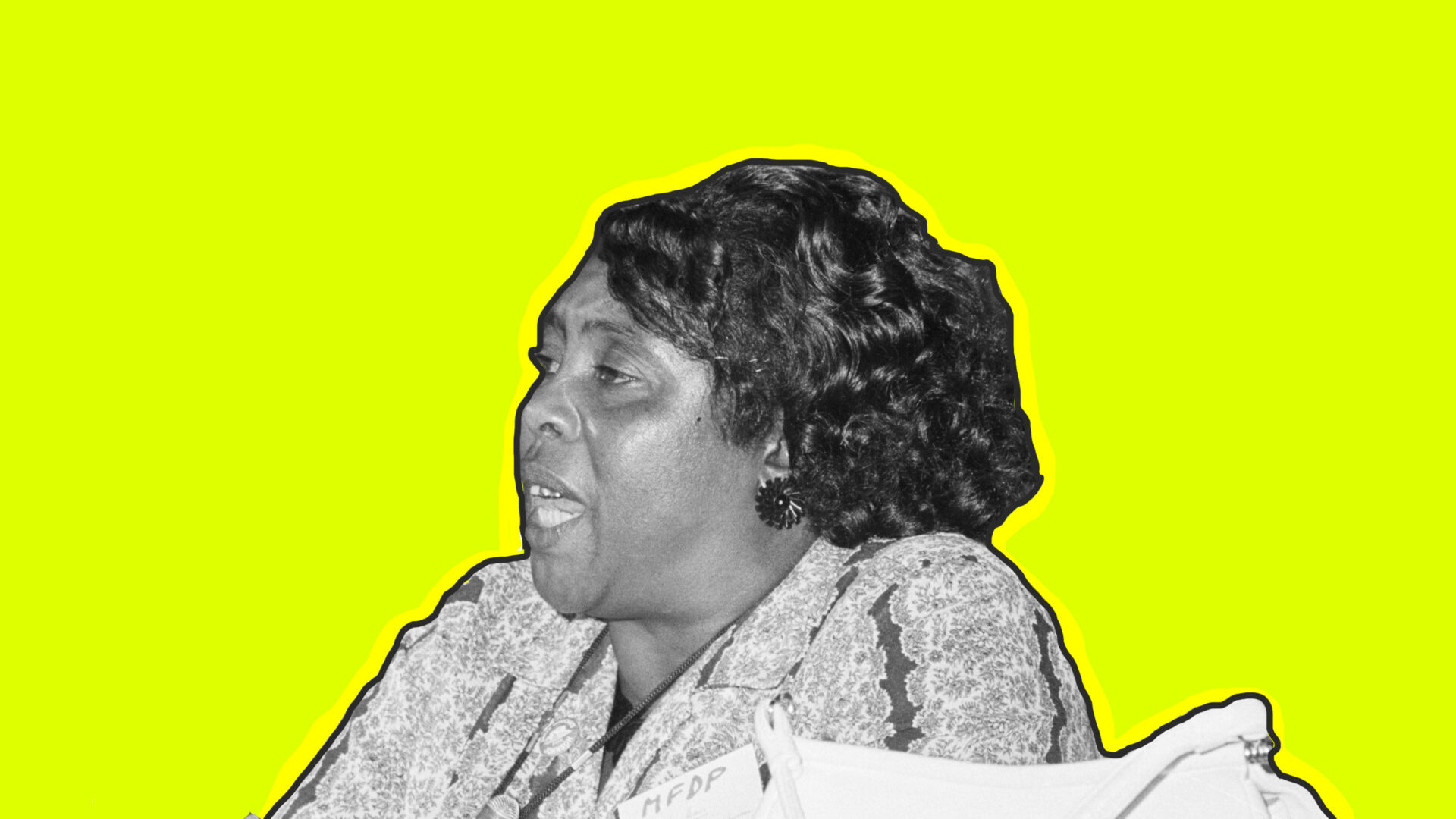 Fannie Lou Hamer Inspired Me To Learn More About Food Justice
The late civil rights activist was invested in ending Black hunger.
Since 2020, my family has been growing food. As a person invested in our health, I've encouraged us to have a relationship with what we're consuming. Since then, we've grown peppers, lettuce, greens, tomatoes, different herbs and more. As a Black woman, I knew our motivation—the inability to find certain foods in stores—was tied to race and class. This journey also encouraged me to seek out Black women throughout history who understood the role race played in food justice. One of those women is Fannie Lou Hamer.
Hamer was born to sharecroppers in 1917 and picked cotton as a small child. By the time she was a teen, she had left school to support her family. In 1930, her family's Mississippi land included livestock and tools to help facilitate a small farm. Though her family (including 19 older siblings) constantly worked, likely picking thousands of pounds of cotton weekly, they consistently went hungry. Little did they know that their misfortune was about to swell.
At the very top of the Great Depression, a White stranger poured poison into the family's animals' feeding trough, killing all of their livestock. Hamer never forgot the moment food injustice and racism intersected in an attempt to ruin her family.
She continued to sharecrop throughout her early adult years with her husband, Perry Hamer, on a Mississippi plantation. By the start of the 1960s, she was deeply involved in the civil rights movement. Serving as a predecessor to modern voter rights activists like Stacey Abrams and LaTosha Brown, Hamer learned more on the constitutionality of Black voters and began to raise awareness around the fact that we legally could.
After Hamer tried to register to vote in 1962, supremacists made attempts on her life. She was also beaten at the demand of police—the physical wounds from which she never recovered. After the Voting Rights Act of 1965 passed, she decided to focus on land ownership and food equity for the final years of her life.
I live in Dallas, Texas. Nearly half of a million of Dallas' dwellers live in food deserts. The nearest healthy, fresh food, like what you'd find in a grocery store or local farmer's market can be miles away. It can turn into people giving up on finding nutritious food and heading to quick restaurants, gas stations, and convenience shops to curb costs and fill up on attainable food. Also, in 2018, The Dallas Morning News published a story on "food swamps," an even scarier phenomenon wherein fast-food spots are more common than grocery stores. As a parent, I understand quick meals are easy, especially when money is tight and days are long. With that, food's inaccessibility feels intentional. Black people and people of color make up 51% of Dallas' population, and that number will continue to grow over the next two decades. In a city marred by racist violence with ongoing efforts to push Black people and people of color into designated areas, the idea that healthy food options are intentionally sliced doesn't seem unrealistic.
With gardening, my husband and I are starting small. In growing our vegetables, fruits and herbs, we've stayed within the boundaries of our family-owned backyard. Our longterm goal is to be able to purchase a plot of land and have it be a farm where we can expand and eventually raise animals. I come from a line of farmers and landowners, and my family is beyond supportive of our vision. When we do purchase land, we would like to be able to have neighbors and other community members use the space to grown their own food, too. Agricultural literacy is important, so we've built out a community where we can share our triumphs and failures, forming a symbiotic learning relationship with those interested in gardening and farming. I would not have established these goals had Fannie Lou Hamer not dedicated herself to food justice and education.
In 1967, after purchasing 40 acres in the Mississippi Delta, Hamer began the Freedom Farm Cooperative (FFC). The organization's purpose was to give Black residents of Sunflower County, Mississippi, the opportunity to cultivate their own crops and earn money for their labor. People would be able to escape her childhood fate of working hard and still not having enough to eat. Hamer had also organized a pig bank with an innovative approach to keeping citizens fed. An excerpt from Dr. Monica White's book Freedom Farmers: Agricultural Resistance and the Black Freedom Movement reads, "Families who participated in the project would raise a piglet for two years, bring it back to mate at the bank, and then replenish the bank with two pigs from every litter. The offspring could be sold or slaughtered or mated." It seemed Hamer cracked a code and was helping end Black hunger and empower her community.
Hamer believed being able to have your own was a necessity for living. We needed something White people couldn't fail to follow through on, snatch away, or take credit for. Of having our own crops, she once said, [it] "allows the sick one a chance for healing, the silent ones a chance to speak, the unlearned ones a chance to learn, and the dying ones a chance to live." By some, this is believed to be true for businesses, worship systems, banks, media and more. I'm sure Hamer knew some of that could come if we focused on the day to day. Ideally, nothing is more routine than eating.
The Freedom Farm Cooperative had a stretch of success. In less than a decade, they had greatly expanded their land ownership and were able to assist a greater number of families. They also established affordable housing (eventually providing over 50 families with safety), granted higher education scholarships, job opportunities and more. According to Atlas Obscura, this never-ending spirit of charity, as well as country-wide economic issues and terrible weather, contributed to the entity's downfall. So when Hamer died of breast cancer in 1977, the cooperative essentially died with her.
Still, Hamer's tenacity and commitment stay with me.
I am still learning about the Deep South's history of racially exclusionary practices. I am also discovering more about past efforts to help Black people be self-sufficient. There is much to explore regarding what I can do to support the health of those around me. I know my path is much clearer because of the work of Fannie Lou Hamer. Her fight for food justice was not in vain.