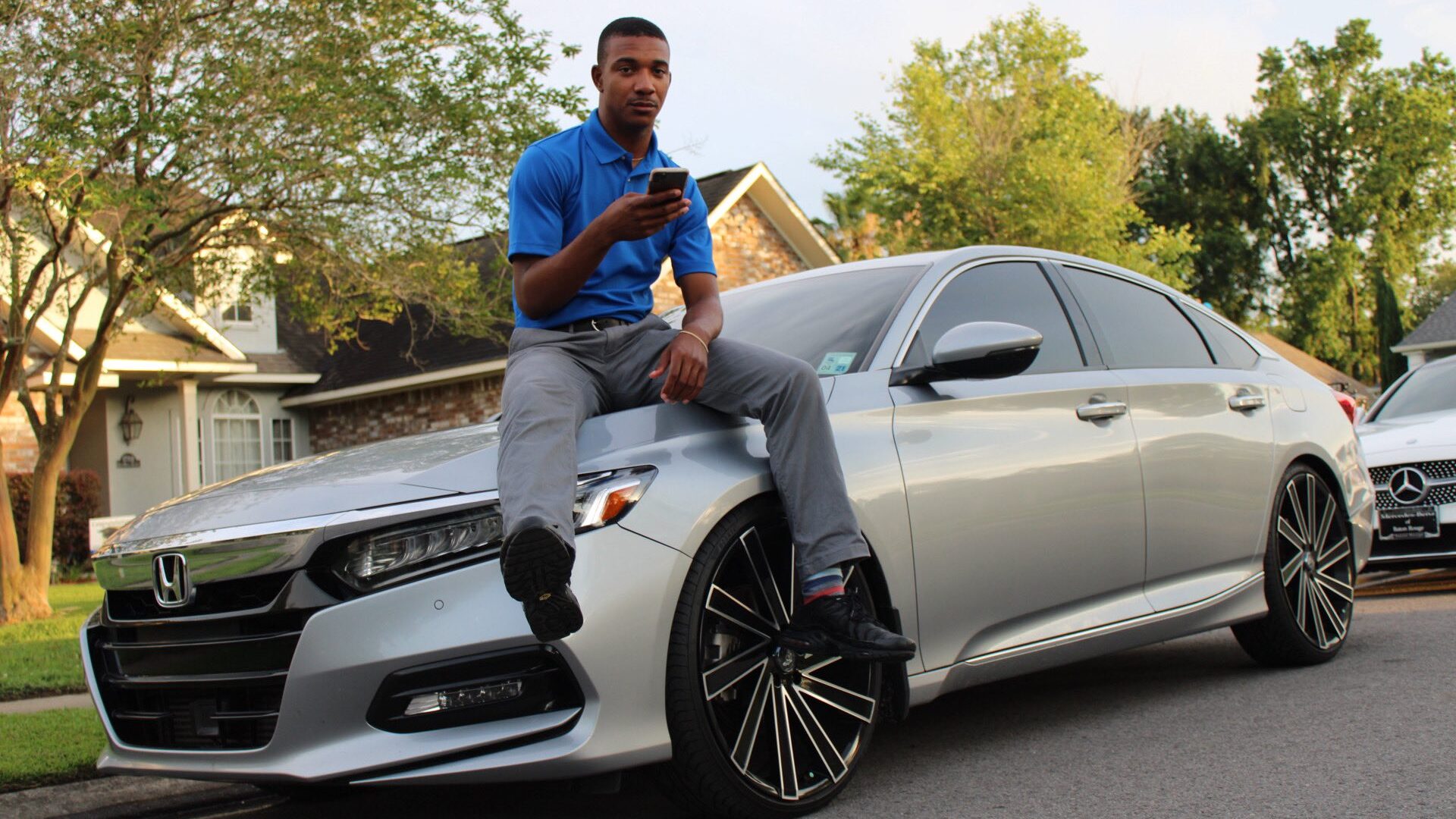 Meet Durell Smylie, The Salesman Behind "Where The Money Reside"
"I didn't have advertisement money, so I went to social media to do everything," he said.
For the past week, social media has been obsessed with car salesman Durell Smylie. Why? Because he's "where the money reside."
On December 14, Smylie did what he normally does—shared a clip of himself offering a deal to potential customers looking to invest in a car from Honda. This time though, he blew up after he was recorded saying "Because I'm at/Where the what?/Where the money reside/Where the money reside…" over the instrumental of "Salt Shaker" by the Ying Yang Twins and Lil Jon and The Eastside Boyz.
"I didn't have advertisement money, so I went to social media to do everything," Smylie said of his unique marketing approach. His video had been viewed over 1 million times on his Twitter alone before he deleted it, and it has been mentioned by Megan Thee Stallion and Saweetie.
Smylie admits that he was nervous when certain outlets began sharing the video. "I thought it was going to get a lot of negative attention," he shared exclusively with GU, but the response has been just the opposite. He spoke of recently being stopped in public and being told that he inspires people to hustle and keeps them inspired to continue pushing. With morale and motivation at an all-time low, he's providing encouragement and a much needed burst of energy.
When he realized the potential of the phrase "Where the money reside," the 23-year-old hurriedly moved to trademark it. After watching the social media landscape for years, Smylie knew how common it was for young, Black innovators to have their cultural contributions appropriated, and capitalized on, without their consent. "Peaches Monroe made the word 'fleek' and she did not get a trademark and that word has been used every day since that day," he said. "This woman could have been a millionaire but she did not trademark it."
Knowing that he didn't want that same fate, he reached out to an attorney for assistance. "I have celebrities saying this phrase, let me hurry up and get to an attorney and get this trademarked," Smylie says, referencing his thought process. In a little over a week, he has pushed out three clothing releases, consisting of t-shirts and hoodies,—and each one has sold out. The young video content creator has justifiably high hopes for this phase of his life, saying, "It's going to open many doors for me to have multiple streams of income."
Born and raised Sorento, Louisiana, a town with a population of 5,000 and situated between New Orleans and Baton Rouge, Smylie comes from a close family. "My auntie Terry and my grandmother Dora raised me," he said, adding that he was brought up alongside his sister and cousins. He explains his bubbly personality by noting that he grew up in a fun environment. Yet, even with him enjoying his childhood though, there were rules to be followed.
"My grandmother was the hard stern one and my aunty was stern but fun," he says, echoing the sentiments of many a southerner. Smylie relocated to Baton Rouge less than a year ago to work at the Honda dealership, but location wise, he wants to move somewhere that will allow him to fully actualize his dreams. "Louisiana is a great place but it's not opening as many doors to stardom," he says of staying near home. "I would be limiting myself."
With 2020 winding down, Smylie has big goals for the incoming year. "I want to collab with Saweetie, I wanna see Nicki Minaj," he says. Smylie is also interested in diving more into his passion for acting. "I would love to collaborate with P Valley and work with Uncle Clifford himself or Nicco," he said. "I hope to get movie roles."
In a time when it's become increasingly difficult to scroll on social media without becoming overwhelmed, Smylie is providing much-needed entertainment and focus. His latest major creation is also a reminder not to doubt the impact that social media may have, because after one quick post, you too can be where the money reside.
Photo credit: Source