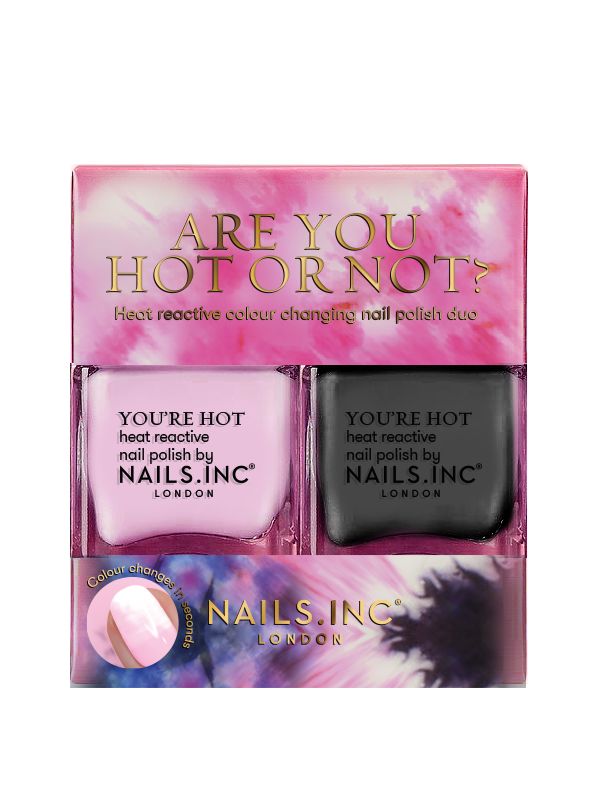 This Color-Changing Polish Will Have Your Nails On Fleek This Spring
Nails.INC's latest innovation will be available for online purchase in April.
Color-changing apparel and accessories are taking over in 2020. From outfits, to beverage holders, brands are sharing their latest thermochromatic inventions. Next up? Nails.INC's nail polish that's perfect for some fun in the sun, literally.
"Are You Hot Or Not?" is the name of color-changing nail polish duo that will soon be available in a two-shade kit. Nails.INC is both vegan and cruelty free, making this the perfect self-care gift for the eco-feminist in your life, or yourself, of course.
Nails.INC isn't a new kid on the block. The U.K. based brand, which was founded by former fashion editor Thea Green has been around for over 20 years. Their cocoa-scented polish was recently rocked by singer Lizzo at the 2020 Brit Awards.
As for the color-changing shades, "once applied, both shades leave you with an intense full pigment coverage with a matte finish," Nails.INC said in a press release.
Wearers are encouraged to begin with a base coat, Nail Kale Base Coat, to be specific. They are then to add two coats of the full coverage polish. The look is best when finished off with Nails.INC's Retinol 45 Second Top Coat for some extra gloss. Running your nails under cold or hot water, or stepping into the sun, will showcase the polish's unique property.
The polish kit is available in two colors — Hotter Than Hot (a light pink that turns white) and You're Hot Then You're Cold (a dark grey that will change into warm pinkish nude.)
Kits are $15 and will be available for purchase on Sephora and Nails.INC's respective websites.