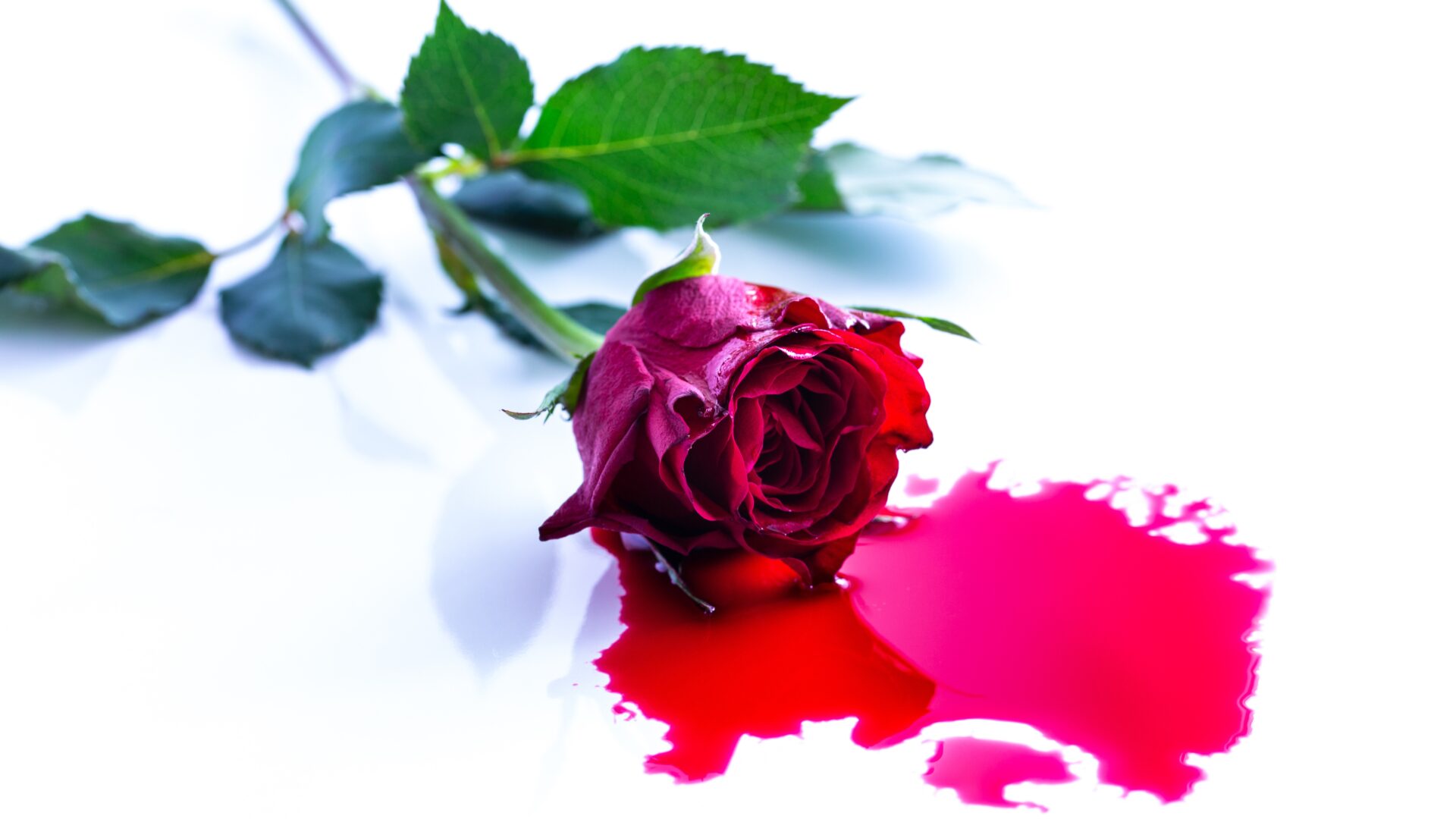 This 'Carrie' Inspired Makeup Trend Will Make You The Bloodiest Baddie At The Monster Mash
Blood never looked so beautiful
The killer Carrie prom queen costume is one of Halloween's easiest, most popular looks. Most of the time, the costume is centered around the bloody hair and prom dress, but this year we're seeing a glam pivot with this traditional style. Don't worry, though. You're still going to look like a bloody mess. 
TikTok is usually the crime scene for many trends, and while I was researching Halloween makeup, I ran across the Carrie makeup hashtag. Typically there's an emphasis on how plain the character is in the movie, so a makeup tutorial seemed out of place. With over 48 million views on the hashtag, I wasn't the only curious one. The gist of the Carrie makeup trend is that instead of throwing regular blood on yourself, the look is a glamorized version with rhinestone blood trails. 
 TikToker user @tiffanydaviesfx features her Carrie character makeup in a series where zodiac signs are characters, and her Carrie symbolizes Pisces. @tiffanydaviesfx starts the video doing her regular makeup routine with the background music singing, "it's my party, and I'll cry if I want to." As the video progresses, she begins to paint red water-activated face paint on her face and neck. There are a couple of ways you can do this. Some TikTokers start at their hairline and water down their face paint enough so that it can drip down their face naturally. 
This video shows that she controlled the lines more, which I prefer. The video then cuts to red rhinestones covering the lines. Obsession is an understatement when it comes to this little detail. It immediately enhances the face. To get the rhinestones to stick, use skin-friendly glue. Even if the rhinestones have adhesive, the glue will ensure that the rhinestones stay on your face longer. Eyelash glue also works if you have that in your makeup kit. When applying the rhinestones to your face, use tweezers for easier application. 
An essential tip is that you want to use a heavy concentration of face paint across your hairline. Depending on where your crown sits, you can add more blood/face paint to the front of your hair and the middle part of your scalp. Some people even add a concentration of rhinestones across their hairline. With this glam makeup, it will be a night you'll never forget.
About Allanah: Allanah Dykes is a freelance writer. Her work has appeared in NPR, Popsugar, Food52, and Complex publications. Raised on Long Island, NY, surrounded by diverse fashion, beauty, and culture, she prides herself on infusing her upbringing into every article she writes.