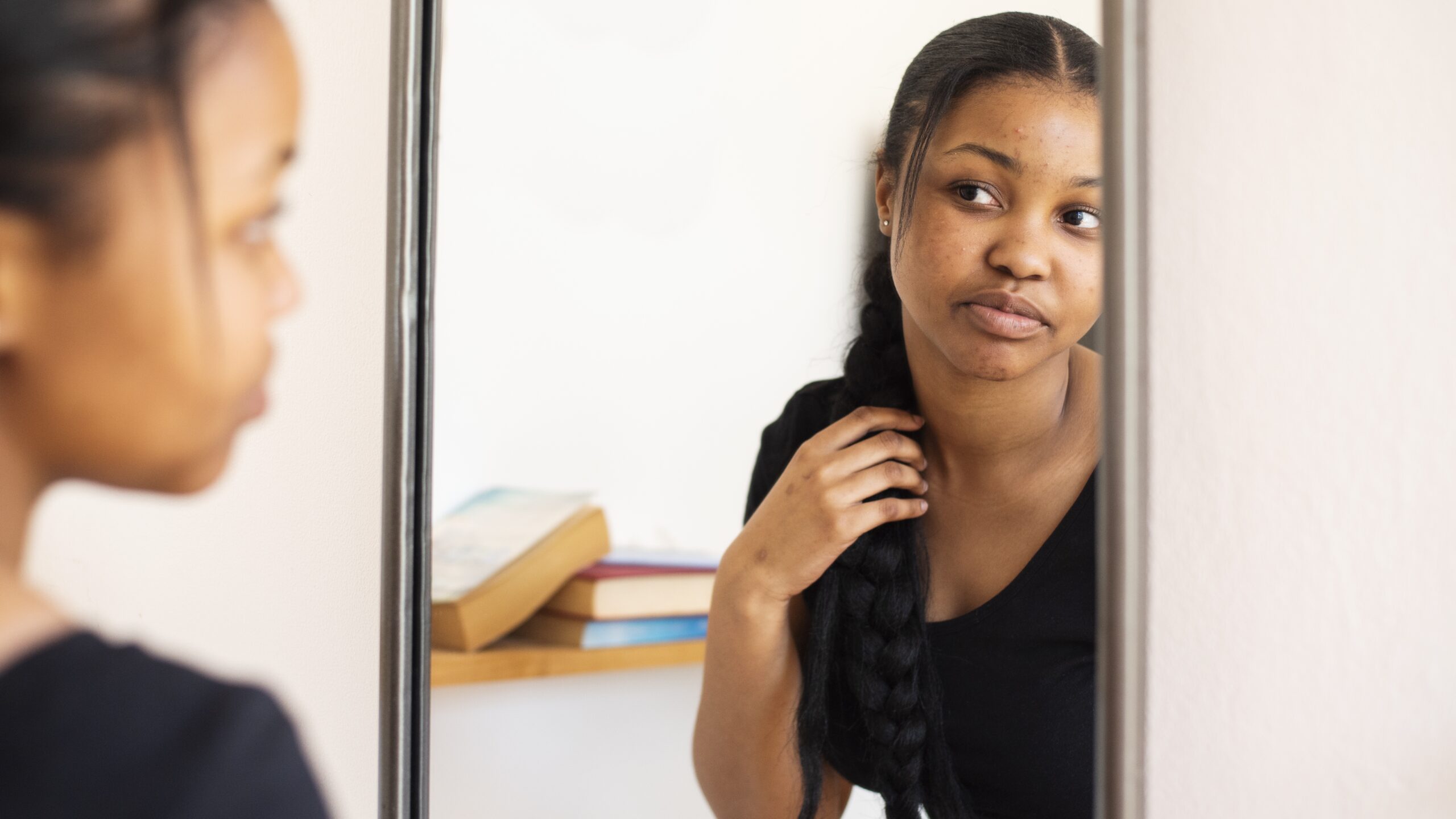 Body-Checking Trends Are Infiltrating TikTok And It's Very Concerning
A psychologist weighs in with their expertise about the trend of promoting unhealth beauty standards.
Trigger warning: This article discusses disordered eating.
TikTok can be an entertaining space, but unfortunately, there is always a dark side to social media. Although highlighting the trends are fun, we must discuss the not-so-positive ones. As body checking dominates the platform, we know we must inform our readers about this dangerous craze. 
Body checking (BC) is actually not a new concept, but it has been popping up a ton on our FYP, also known as the specially cultivated explore page, #ForYouPage. According to a study done in 2019, BC is a behavior aimed at gaining information on your body shape, size, or weight, and it is specifically associated with body dissatisfaction.
"When we body check offline, it's the elements of our body we dislike that we normally focus on," Dr. Lara Zibarras, a psychologist and food freedom coach, told Dazed Beauty. "Ultimately this results in a distorted perception of our body. It's this distorted perception, along with continuous negative thoughts about our bodies, that take up a lot of mental capacity which negatively impacts our ability to concentrate or think clearly."
Body checking on TikTok is dangerous because although the specific hashtag has millions of views, it's challenging to pin down how widespread this trend is taking over the platform. Going back to the 2010s, Tumblr users can remember that the glamorization of disordered eating content wasn't subtle at all. On TikTok, it's difficult to flag covert body-checking content such as jawline checks or people using filters to create thinspo videos. Offline body checking, though, can look like constantly going on the scale, mirror checking and fixating on specific areas of your body. 
Body checking has popped up in other niches, such as the food and exercise community, under the umbrella of healthy living and wellness trends. So it's difficult to say how this trend can be slowed down when it's ever-evolving. Personally, I and many others have echoed that TikTok can make it easier for users to have more control over the videos we consume on the platform. Although they try to flag harmful content, it's nearly impossible to mass-block the covert videos that have now taken over the platform. 
Until users have more control over what they are seeing, if you or someone you know is dealing with body checking or eating disorders, please seek professional support. It is easy to sit behind a computer and wax poetic about loving yourself, but a trend should never convince you you are not beautiful as you are, no matter your body shape, size, or weight. You are seen, and you are beautiful as you are.
If you or someone you know is struggling with body image or eating concerns, the National Eating Disorders Association's toll-free and confidential helpline is available by phone or text at 1-800-931-2237 or by click-to-chat message at nationaleatingdisorders.org/helpline. For 24/7 crisis situations, text "NEDA" to 741-741.
About Allanah: Allanah Dykes is a freelance writer. Her work has appeared in NPR, Popsugar, Food52, and Complex publications. Raised on Long Island, NY, surrounded by diverse fashion, beauty, and culture, she prides herself on infusing her upbringing into every article she writes.