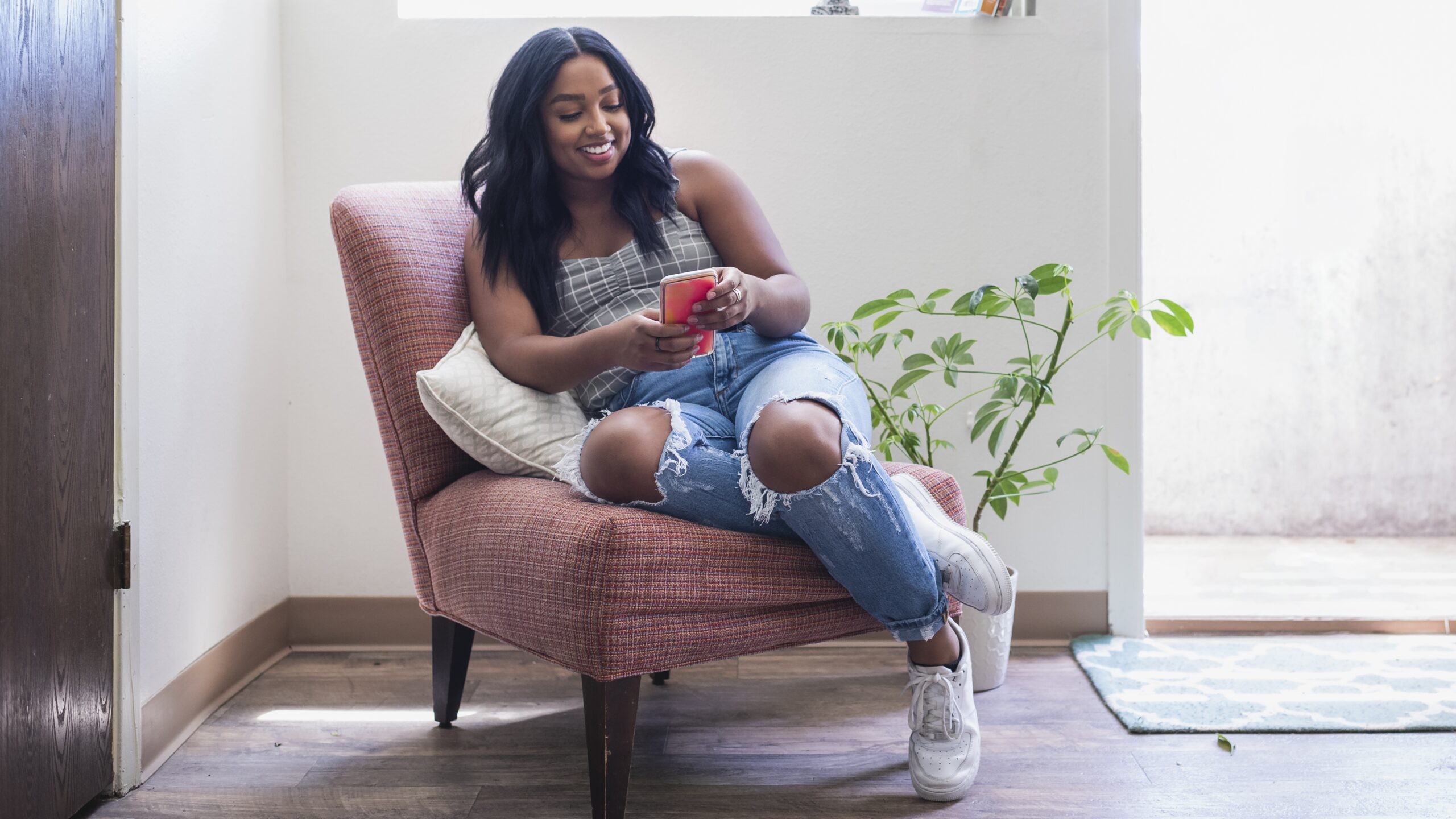 The Latest TikTok Hack To Fitting Jeans Without Trying Them On
Evading the dreaded fitting room just got a lil' easier.
TikTok's newest craze has cropped up in its whirlpool of fashion trends. And it has set a pretty lofty expectation: selecting the perfect pair of denim bottoms sans the anxiety of the fitting room.
In a recent video, TikTok user @halleykate posted a video of her instructing her friend to wrap the waistband of her jeans around the nape of her neck in a retail store. "If you do not feel like trying on pants in the store, all you have to do is wrap them around your neck like this," the user says.
The arbitrary sizing technique is dependent on the space left between the ends of the waistband — an overlapped end is too big, a gap is too small and touching without strain is the ideal fit.

Nabbing over 1.4 million likes in her viral video, user Nicole Fay put her skepticism to the test and tried the seemingly clever trick. To her surprise, her trial proved the fashion hypothesis to be true. "How do you guys come up with this?," she jokingly questions. 
Like many momentary phenomenons that enjoy a heyday on short-form video app, content creators from the African and Latinx diaspora note that the virality is partially unwarranted as the supposedly new hack has existed in their communities long before TikTok's arrival in 2016.
The ingenious measuring tool has also spiraled through the fashion arena over the years, further debunking it as a contemporary invention. "The circumference of your neck is about half the size of your waist so if the jeans wrap around then that means they are going to fit around your waist," Lauren Messiah, a style creator, says in a 2015 YouTube video.
Moreover, many creators questioned the wide-spread efficacy, especially as plus-sized women often face the fashion industry's sizeism when discovering many hacks. "If you are like me and have an apron belly, this little hack is not for us ladies," @_finallylosingweight says of the spurious claims. The user says the supposed fool-proof method failed as she wrapped a pair of pants that no longer fit around her neck yet it shockingly met the metric of a relaxed touch.
According to MelodyNoteVintage, shape (100% cotton is undoubtedly a stricter material) and fit are the determining factors. "If you're curvy like me or if you've got a little bit in the caboose, it tends to not work as well," she says. She explains that the neck trick has a higher probability of effectiveness for average-sized, younger women — eliminating waif waistlines and wider hips from its model group.
About Mia: Mia Uzzell is a culture documentarian covering Black womanhood with bylines in Glamour, Teen Vogue, Grazia USA, and more. You can keep up with her discourse surrounding the intersection of race and gender on Instagram @originalmiadiamond