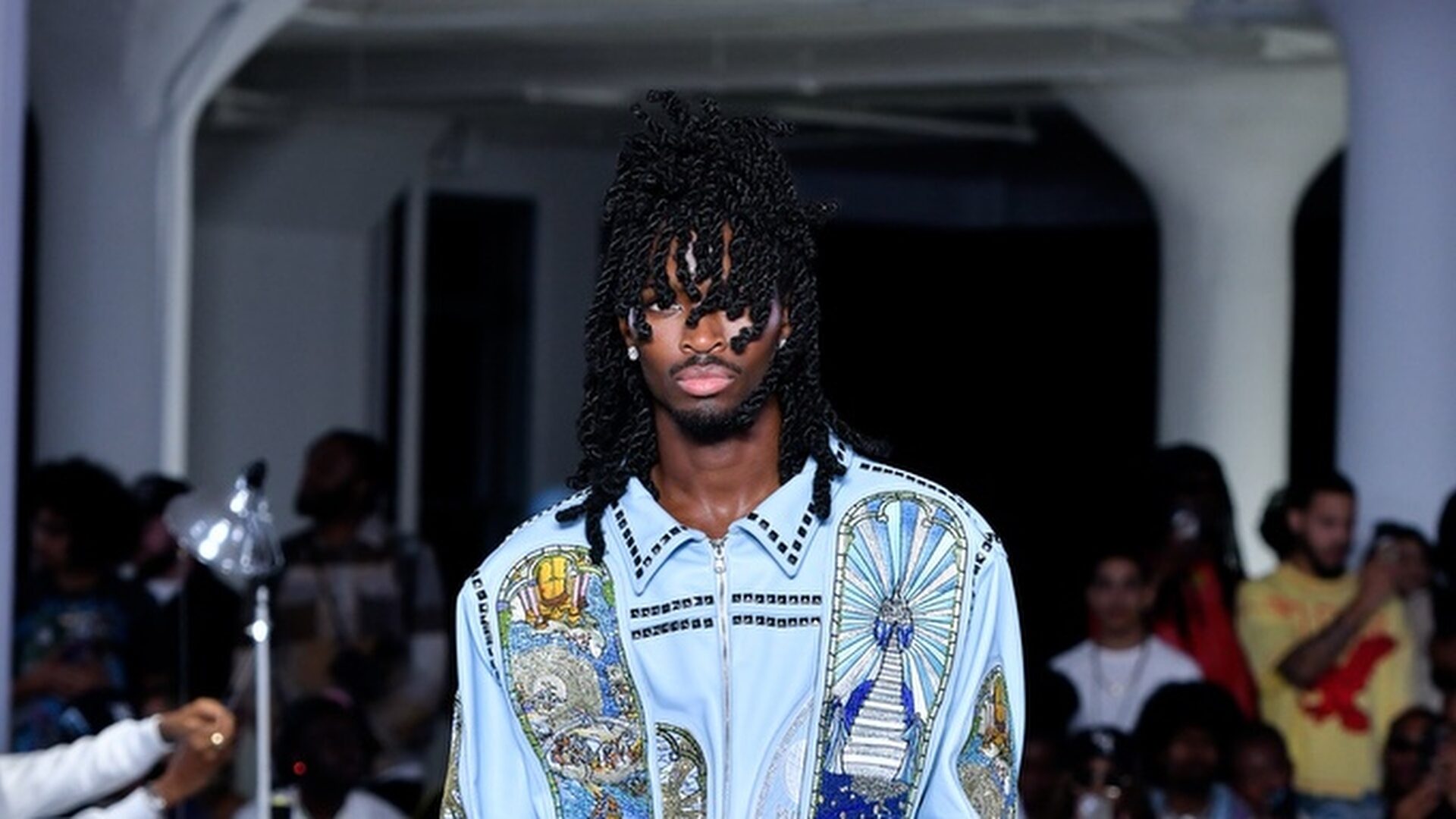 Who Decides War's Star-Studded SS24 Runway Show "Alteration Consultants"
Founders Ev Bravado and Tela D'Amore take us back to the drawing board.
This season, luxury brand Who Decides War has somehow outdone itself again. The collection, Alterations Consultants, displayed the importance of some of the brand's values: handcrafting, detailing, and timelessness.
The runway show took place in a high-rise warehouse where every seat was the best seat in the house. Bits and fabric pieces were sprinkled throughout the showroom, as well as a backdrop of a designer's workspace with an analog TV displaying throwback shows. Amongst the perfectly structured runway and scattered fabrics were six people sewing on machines wearing Who Decides War lab coats because the craft is taken down to a science.
If it's one thing Who Decides War is known for, it's their denim. Musicians, athletes, and influencers never hesitate to rock a pair of pants that read "WHO DECIDES WAR" or "MRDR BRVDO" all over them. The show began with Alton Mason wearing a light blue studded leather jacket with a sparkly patchwork of staple arches throughout, marrying the look with light wash jeans with blue detailing and additional emblems. Each look after the next was cohesive with the last regarding color scheme, material, and garment type.
Read 'Black In Fashion Council Shows Our Roots During NYFW'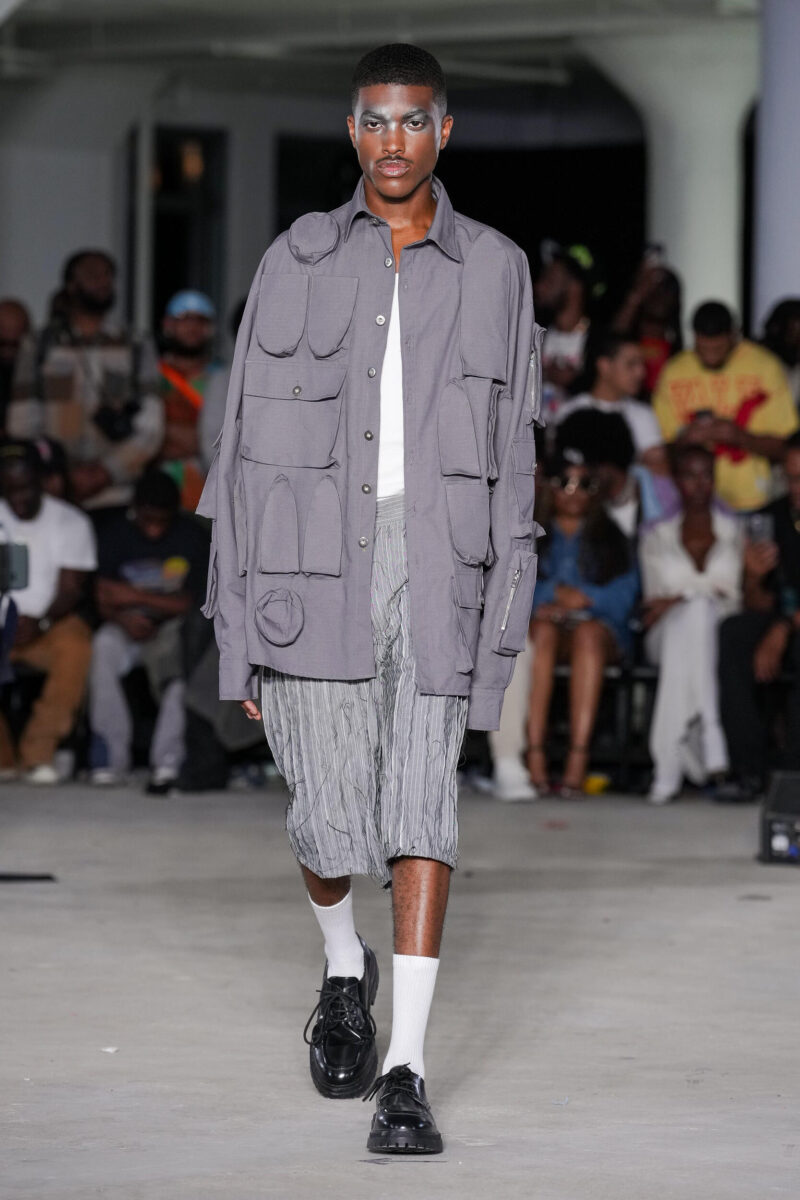 The brand's iconic themes of arches and stained glass were throughout the collection. Paying attention to detail, there were a lot more of the signature arches on belts, buckles, and pins on the garments. There were also jaw-dropping deconstructed pieces in the form of skirt and pant suits, slacks, hoodies, and tops. The Victorian era style is returning, and we have Who Decides War to thank. Alterations Consultants also featured corsets with lace, gloves and arm sleeves, bell-shaped skirts, and dresses.
Founders Ev Bravado and Téla D'Amore never hesitate to one-up each season. In the past, they've offered chic hats and an arch bag. However, like most of their products, they've emerged with new bags that will sell out quickly. The crowd swooned over the black arch bag with lace detailing and a messenger-inspired leather bag. Displayed lowkey was a debuted cowboy boot. The two-toned, calf-length boot is half python on the feet and black from the ankle up. The black part of the boot is embossed with the arch.
Leather and tweed were also having their moments in Alterations Consultants. There was a wide variety of leather jackets and vests with exaggerated shoulders, many of which had either patchwork arches or puffy arch pockets. Tweed appeared in two-piece sets, trench coats, and hooded zip-ups, also with 3D arch pockets.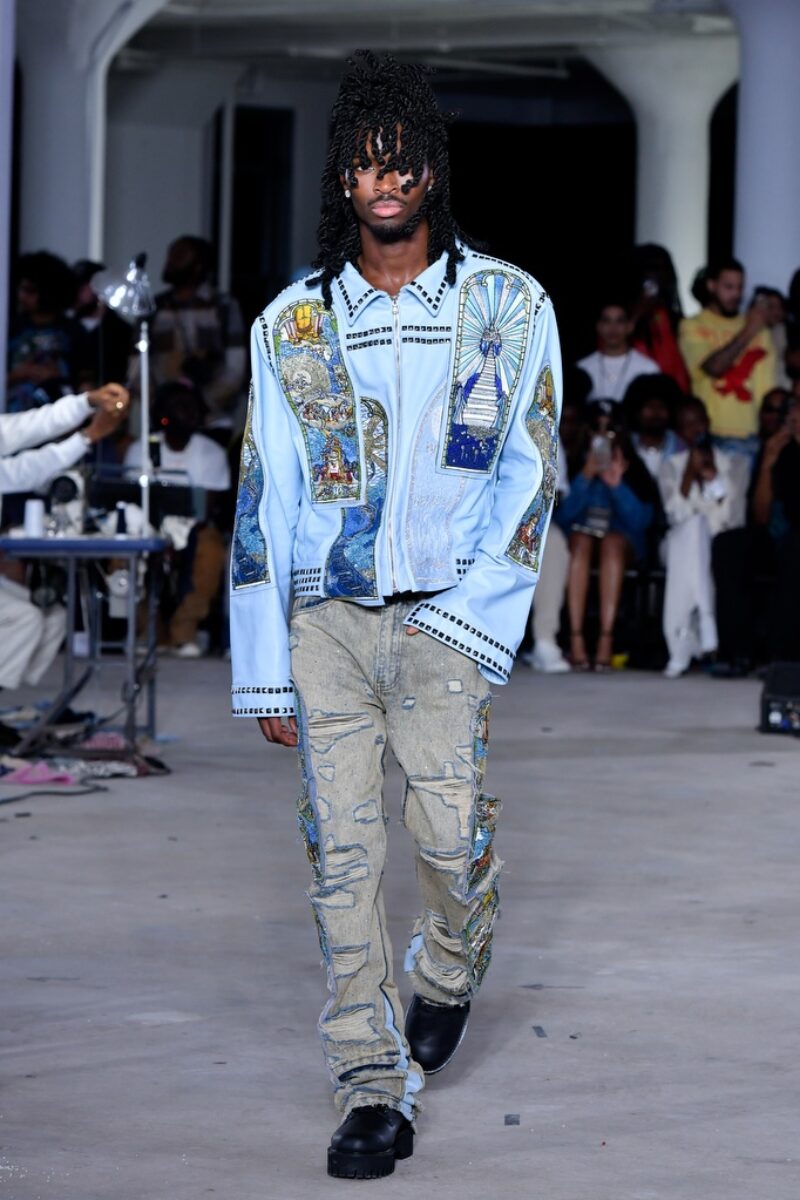 A Boogie Wit Da Hoodie closed the show with a sparkly suit with a pattern resembling steel diamond plates with diamond lugs seen in construction environments. As the lights went up, photographers scrambled to capture more photos of the celebrities and athletes in attendance, like Ice Spice, Teyana Taylor, Central Cee, the Woods family, Jalen Green, Dave East, Fabolous, Lala Anthony, Draya Michele, Quavo, PJ Tucker, Swae Lee, and more. Because the show occurred on the 11th floor, attendees waited impatiently for the freight elevator to walk outside in the rain to the chaos of people who couldn't get in.