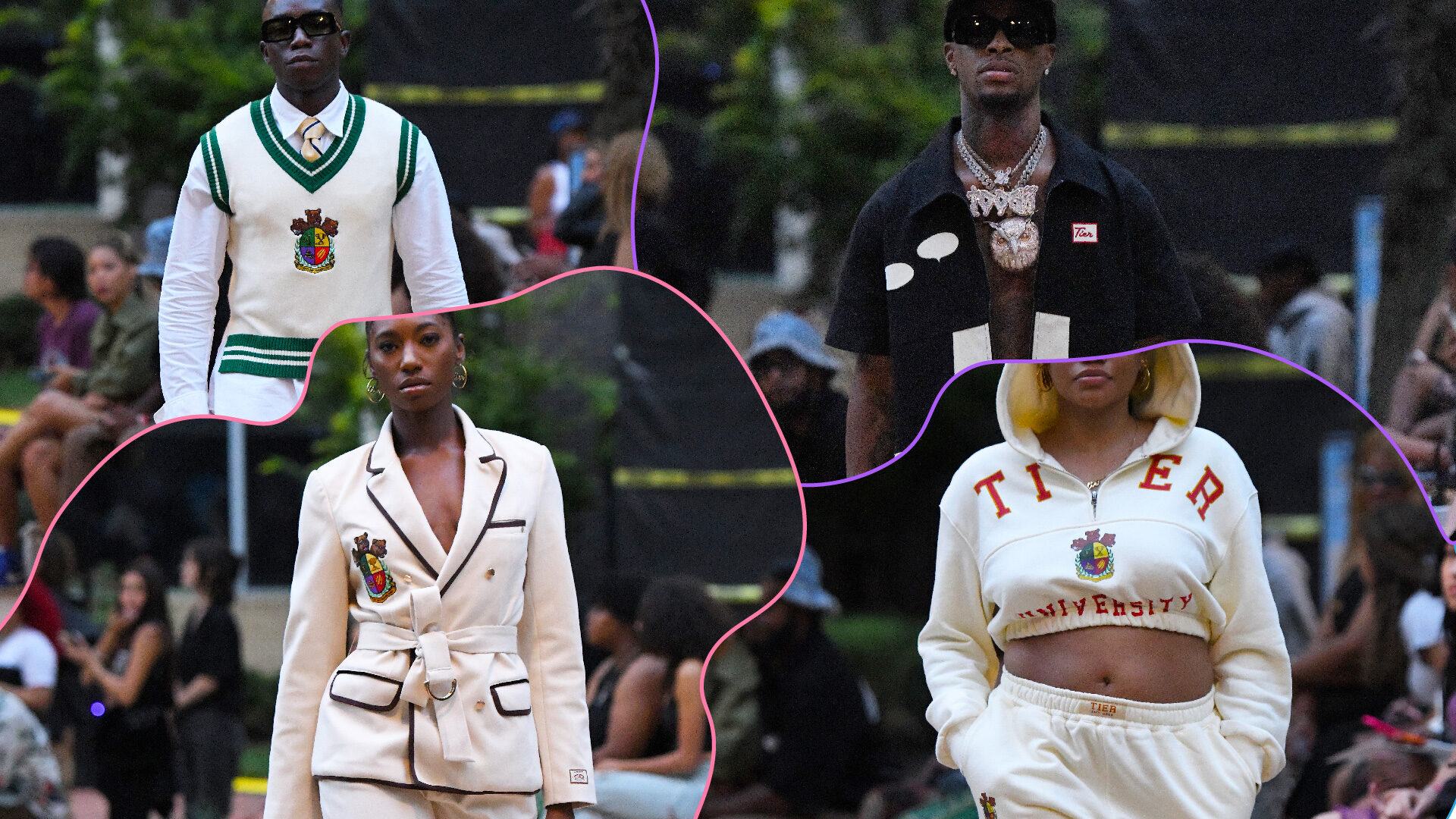 Class Is Now In Session: Welcome To TIER University
Their SS23 presentation made its debut at Long Island University's Brooklyn campus.
Get out your pens, open your notebooks, and pay attention because TIER's latest project is one that you're going to want to take notes on. Unapologetically Black while always keeping their thumbs on the pulse of the culture, TIER founders Nigeria Ealey, Esaïe Jean Simon, and Victor James live by the motto "Art Never Dies," which illustrates their brand mission of growth, creativity, and using fashion and innovation and a vehicle for expression. For this year's New York Fashion Week, the brand shut down the Brooklyn campus of Long Island University to bring TIER University to life.
"Art Never Dies to me represents unbounded creativity and expression in the face of really anything. I love working with TIER as a brand because they really embody that motto," Peacock's Bel-Air breakout star Olly Sholoton told Girls United, who also walked in the show. "It's a self-funded, Black-owned clothing brand and they make absolutely dope shit. I'm honored to walk for them about be a part of the TIER family."
Viral rap sensation Toosii, who was also featured in the Project 5: TIER University show, also showed love and admiration for the rising brand. "It's like it's a mix between designer and street apparel, so I feel like they got a perfect balance for when it comes to that, just finding the median with something that people could wear on a daily and feel comfortable." In fact, when asked about his personal style, the "Love Is" rapper, who is gearing up to release his own merchandise line soon, Toosii defined it as "exactly what TIER brings to the table – a little bit of designer with streetwear."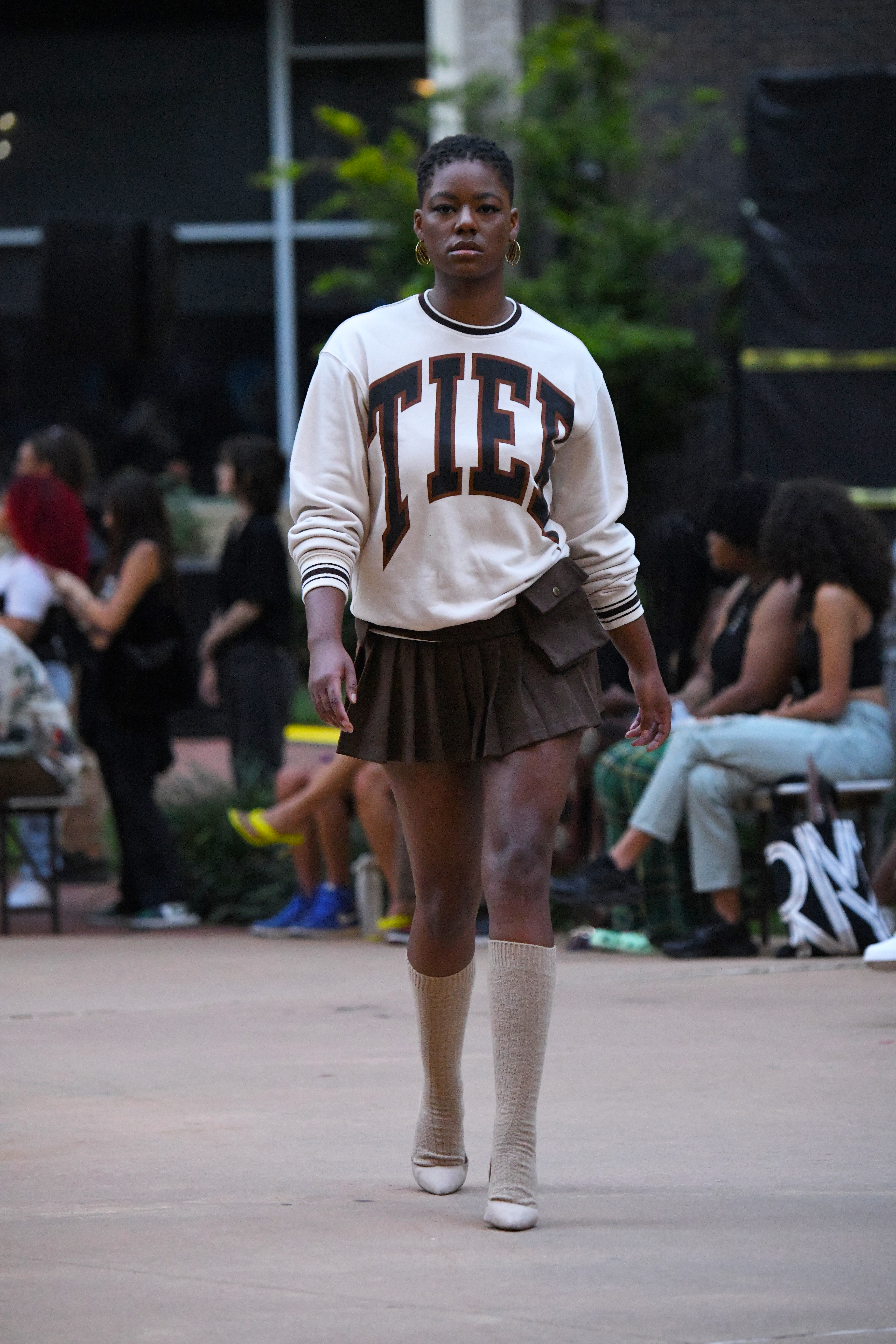 With 40 looks making its way through the roundabout, Project 5: TIER University flawlessly illustrated the educational, economic and social needs within the American schooling system through its collegiate and spirit inspired garments and accessories with doses of new age nostalgia and New York
antidotal fashions. Broken up into the four houses of School of Art & Design, School of Generational Wealth, School of Tech & Innovation and School of Awareness, TIER University addresses the core focuses of what the founders believe should be enhanced within the foundational structure of education.
Before heading to their official New York Fashion Week after party at SNS Bar, in collaboration with MEFeater Magazine, co-founder and Creative Director Nigeria Ealey caught up with Girls United backstage about the growth of TIER, the inspiration behind TIER University, and the significance and full-circle moment of choosing the LIU Brooklyn campus as its location.
Girls United: How do you feel knowing that the big day for TIER University is finally here?
Nigeria Ealey: "I'm excited. I'm happy. I'm grateful. It took a lot to put this polar project together, especially as an independent brand. We really did this, and [I'm] grateful for those on my team that really helped pull this through. Tameka [Abraham], would be the person but, I'm super happy. I don't have a lot of words to describe how happy I am because I feel like the best is still yet to come in the next couple minutes or the next hour. This has been a long time coming. We've been working on this project since early last year, so since early 2001. While we were doing Project Four, we was mood boarding, figuring out the types of garments, act like we're spending, and just adding to our resume in general. Even in this collection, we're about to release eyewear, handbags, and just things like that. Super excited for the expansion of TIER, within this project as well, but I definitely feel good. I feel good above it all."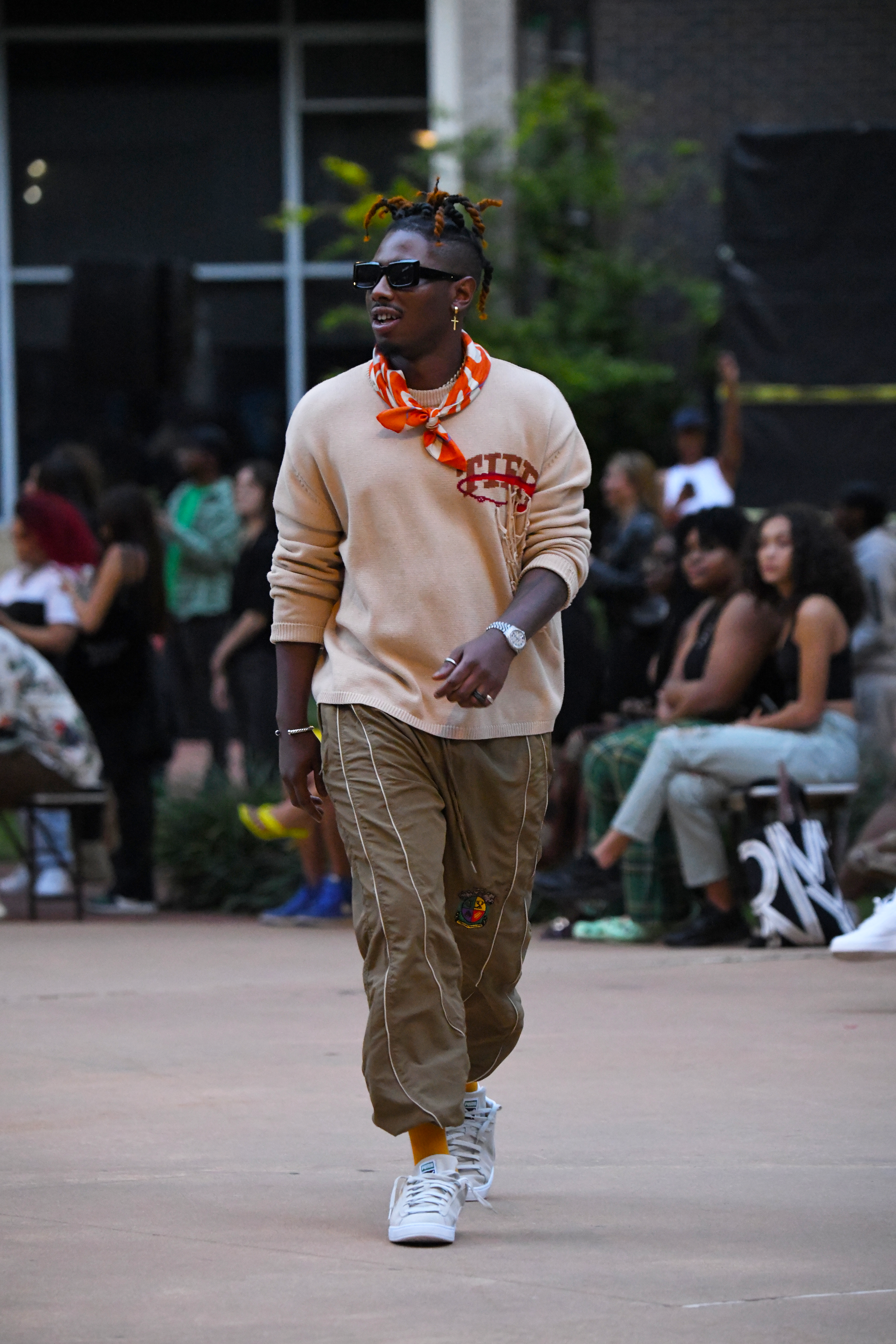 Speaking of expansion, retrospectively, when you look at how far the brand has come from when you first started it, what are your thoughts?
"My first fashion show for TIER was in this auditorium in 2015. Outside on this courtyard, I spent all my college years. I got my bachelor's and Master's here at LIU. [This was] very intentional because my mom went here. My mom passed away when I started college. I had started here, my sister went here, [and] my brother started LIU yesterday. Yesterday was his first day of school. The amount of joy I feel right now in this exact moment is crazy. I don't know how to explain it yet because the show didn't even happen yet so, it's definitely exciting though."
What can we expect from Project 5: TIER University?
"Colors is very, very intentional. We wanted the university colors to be like the university brown, the university cream to really just represent us. Then we get into the different schools, like the School of Art and Design, which is burgundy and gold. Then we get into the School of Awareness, which is yellow and brown. The school of Generational Wealth is a nice blue and green. Then, the School of Tech and Innovation, which is purple and orange. [We're] just really being intentional with those rich colors to represent these different schools within the university. I think what I'm excited for is definitely just how the project is going to represent itself. I think the project is going to represent itself well.
"The new looks, I think we can definitely expect a lot of new knitwear. I love all the new knitwear that we have. I love our new sweatsuits. I love our more upscale pieces. There was a lot of stuff that wasn't ready that didn't get the chance to make the show, but even those are great pieces. I'm most excited for my handbags. I've been working on handbags for over the last year. I've designed 12 to 13 bags, and I made one for Simple and Bags for an egregious amount of money, but I'm excited."
Obviously, you've gotten the support of the Black community, but beyond us, you've gotten the support. from people of all races, all sizes, and all regions. You've got influencers and celebrities backing you. How does it feel knowing that all eyes are on TIER?
"It feels good. For me, I tell everybody this. It's one of my quotes, 'No matter what happens, I do what I love every day, so I just take everything as it comes.' I really do it because I genuinely love it and I genuinely want to make an impact. I genuinely want to see people be better. I genuinely want to see TIER and how to light it as one of those paving paths for that. Through art and through fashion, we're just able to tell our stories. I'm happy [about] the reach that it's got. Moving back from Los Angeles after five months of doing a whole pop-up shop on a different coast, there's even support out there. I literally moved to a whole 'nother coast and was successful in doing the pop-up that we had.
"A lot of times it doesn't really hit me because I'm so used to just doing it, but I'm definitely happy. It definitely feels good. I don't take nothing for granted. That's one of my main things. I live every day as if it's my last. Even though it's not, I plan to be here for a while. I just want to make sure that I'm always putting my best foot forward. Once again, I'm super grateful for the people who are on my team that really keep me motivated and keep me confident, both mentally and physically, because it does become overwhelming and a lot but we just go with the motions.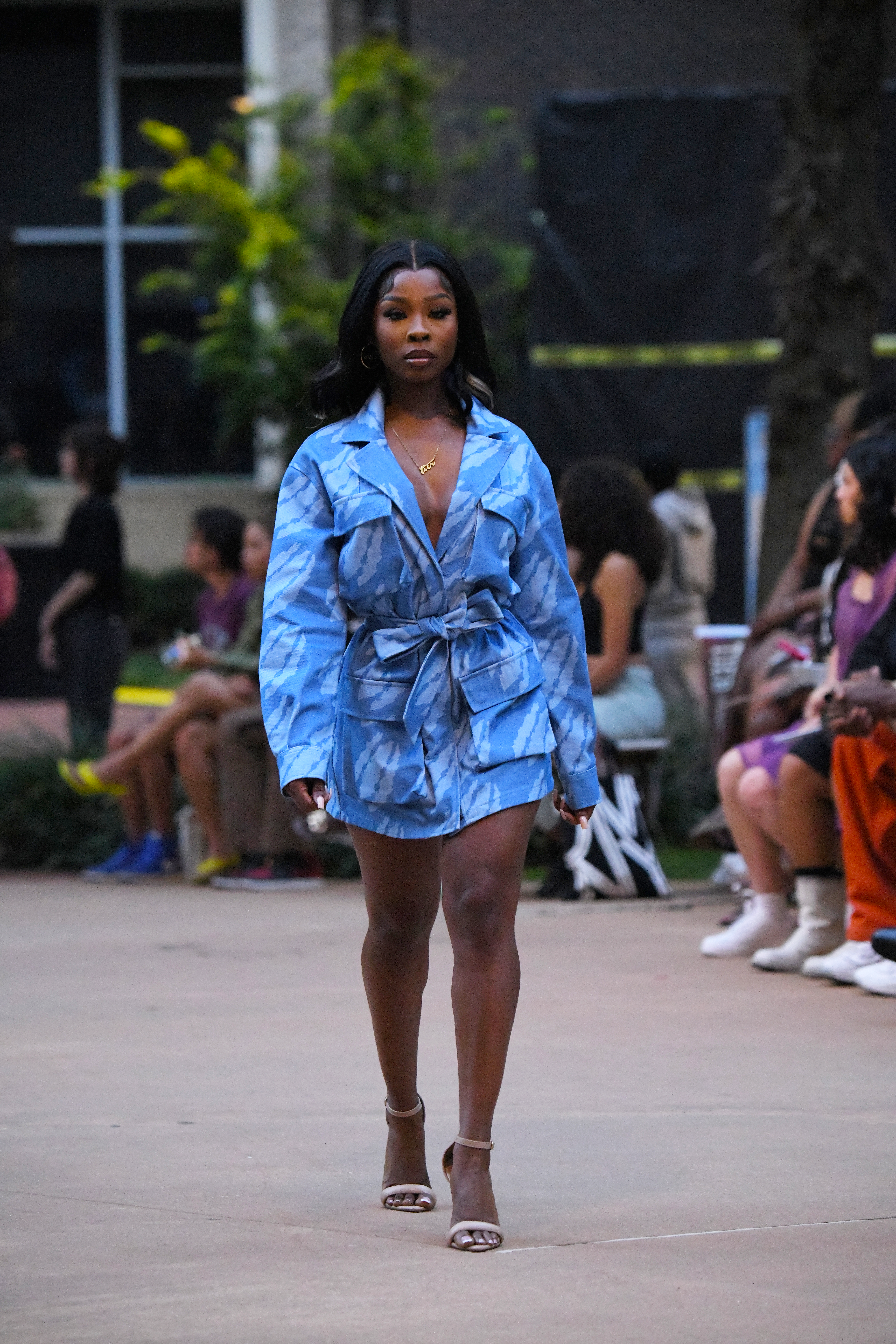 We know the fashion show is today, but what else do you want to bring to TIER? What do you want TIER to bring to us?
"A lot more experiences. This is just the beginning. I can walk outside right now and see all the flag posts changed out with TIER banners. That's crazy. If you go outside right now, they're on all the flag poles on the courtyard and they're changed out to TIER flags so it's legit TIER University. We've been working on the banners for a while because you got to get approval from the university [and] everything. I walked outside and the security guard was like, 'Yo, I remember when you were just a freshman here,' because I've been here for years. It's like, yo, look at you now. They're taking pictures with me [and] all that. It feels crazy and that's why I'm super happy because these are people that saw me when I was just a child. I was 18 years old, and I'm 29 right now. That were people that saw me when I was 18, 19, 20, and just figuring out life. When I was not liking people or bad or dealing with stuff that I was going through because my mom had this past and things like that. For them to see now, it's such a great moment."
About D'Shonda: Born and raised in Brooklyn, NY, D'Shonda Brown is the Associate Editor at Girls United. When she's not interviewing or writing, she enjoys running, dancing, buying sneakers, and binge-watching Lifetime movies.