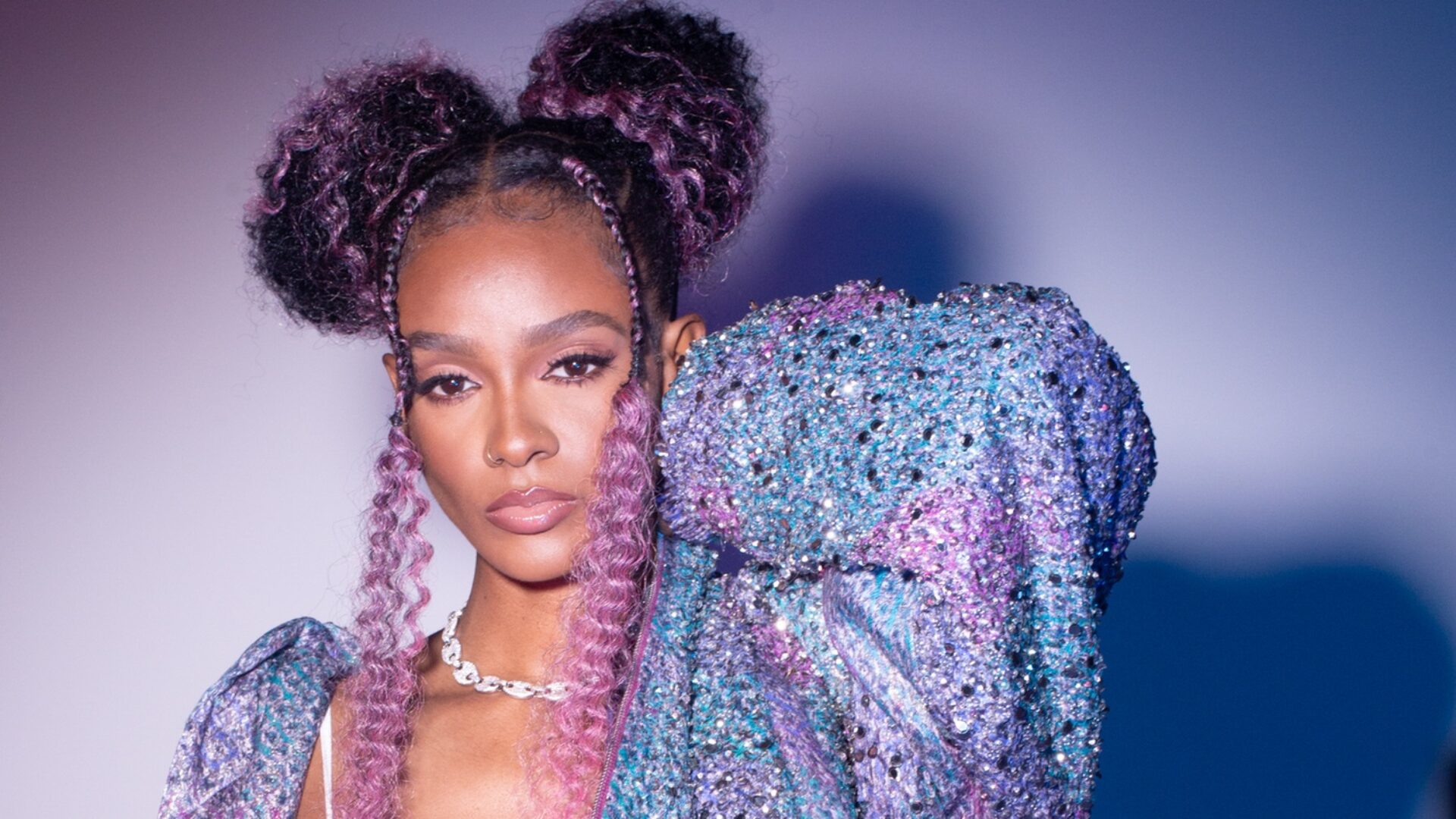 Tiara Thomas Reflects On Her Growth Through Songwriting
She reflects on her journey through music as she ventures back into artistry
As you shuffle through your R&B playlists, singing along to H.E.R., there's one talent in the studio crucial to making our favorite jams happen: Tiara Thomas. With credits on songs like H.E.R.'s " Avenue," and most recently, Mary J. Blige's "Good Morning Gorgeous," Thomas has proved herself to be a powerhouse in the slow jam genre. 
What started off as a free-time hobby, has quickly turned into second nature. While attending Ball State University in Muncie, Indiana, Thomas began developing tracks, including the triple-platinum song "Bad" by Wale featuring herself released in 2013.
"I became a songwriter by accident. I didn't mean to write the song for a Wale," Thomas tells GU. "Growing up, I never thought, 'oh, I want to write songs for other people.' I didn't know that was something that you could do."
Shortly after the release of Bad, Thomas met 15-year-old Gabrielle (Gabi) Wilson, who the world later was (re)introduced to as H.E.R.; through their shared management company, MBK Entertainment. "I wrote with her before 'H.E.R.' was even thought of," said Thomas, who refers to H.E.R. as more than a co-writer, but a little sister. "I would just write songs with her, and then her stuff started popping off. And it just so happened that we organically would make songs together…and once that started happening, I [decided to] embrace songwriting."
Read '5 Things To Know About Tiara Thomas'
Building on their relationship in and out of the studio, in the summer of 2020, Thomas and H.E.R. went to a few protests and made donations in lieu of George Floyd and Breonna Taylor who died at the hands of police. The two still did not feel that they were doing enough, though, so they turned to music. H.E.R. texted Thomas one summer morning with a question.
"She was like, 'hey, do you want to FaceTime later? I've just been feeling really heavy about everything that's going on in the world, and I want to write something about it,'" Thomas said.
Like many Black Americans, H.E.R. and Thomas had a series of rhetorical questions about continued police brutalities in the country. While on FaceTime, the duo turned the questions into lyrics.
Read 'H.E.R. Announces 'Back Of My Mind' U.S. Tour'
"What is a gun to a man that surrenders? / What's it gonna take for someone to defend her? /If we all agree that we're equal as people, then why can't we see what is evil? / I can't breathe / you're taking my life from me." H.E.R. sings on I Can't Breathe.
The song went from one FaceTime call to being released, to winning the 2021 Grammy Award for Song of the Year. "I've written literally hundreds of songs with H.E.R., so I didn't think anything about it when we got off the phone," Thomas told GU. "I obviously thought the song was amazing, and I felt a release after that, but I didn't think it was going to, I don't know, come out; and we'd be nominated for a Grammy and then, win a Grammy for Song of the Year. That was unbelievable." 
Over the next year, the two made more meaningful music, in 2021 releasing Fight for You, for the film Judas and the Black Messiah. The song speaks to police brutality and received a 2021 Academy Award for Best Original Song. 
Thomas, who became a first-time Grammy and Oscar Award-winning songwriter in the same year, was shocked to quickly be categorized with some of the biggest names in film. "It's crazy having an Oscar. Just thinking about how Denzel got one. Leonardo got one. I got one."
She expressed gratitude for songwriting because it helped her articulate her emotions during difficult times in her personal life. With signs of depression becoming apparent in her mental health, she decided to pivot from being an artist. Instead, she embraced songwriting as her outlet, forming "Come Through" by H.E.R. featuring Chris Brown. 
"I think I wrote that song in my closet, in the dark," Thomas expressed. "It's so funny because, in the words of that song, I'm saying, 'you should come through tonight, I'm chilling on the west side…' but really, I was depressed."
In 2022, "Fight for You" won a Grammy for Best Traditional R&B Performance. As if winning two of the highest awards in the entertainment industry isn't career-topping, Thomas has collaborated with some of her favorite artists and fellow songwriters like Mary J. Blige and John Legend. 
"I think about [those moments] a lot. Like damn, John Legend wanted to write a song with me. He was really nice, and you can tell he really respects other creatives; other songwriters," Thomas said. "I'm so inspired by John Legend. He really inspired me to want to play music and play piano and I remember covering his songs, and I sang one of his songs at my friend's wedding, and now I'm writing a song with him."
After writing for some of the biggest names in entertainment, Thomas is ready to jump back into her own artistry.
"Sometimes, as artists, I feel like we get so stuck on trying to make a radio hit or trying to make the type of song that fits into what people are going to like. Then, someone comes out and changes the vibe, and then everybody's looking to do something different," Thomas said. "So I just wanted to make the kind of stuff that I wanted to make and be experimental with different sounds and different vibes that I like, so I decided to come out with "Don't Talk Back." 
Thomas' new single, "Don't Talk Back" was released in October 2022 after sitting on the song for over a year. "It's fun and sexy. And that's where I'm at right now," Thomas told GU. "A lot of my fans remember me from when I had songs like "Bad," and "Nikki," and they want you to be sad. And I was sad for a long time, so you know, I be on my happy stuff now. Trying to be more up – I've grown up a little bit." 
Through Thomas' growth, she often reminisces on her beginnings, from teaching herself music at 12 to her early music. Now, as a multi-award-winning songwriter, she still cherishes her start and encourages her fans to do the same.
"Sometimes I listen to [my music], and I view myself as someone who doesn't know [me]; like as a fan," Thomas said. "That helps you better see who someone is as an artist because an artist doesn't just stay the same and just put out the same type of albums – at least they shouldn't. I think that would help people get to know me more."
About Kyla L. Wright: Kyla L. Wright is a contributing writer at Girls United and was born and raised in Detroit, Michigan. She is a proud graduate of Hampton University and Syracuse University and her beats include opinion, entertainment, sports, and lifestyle.