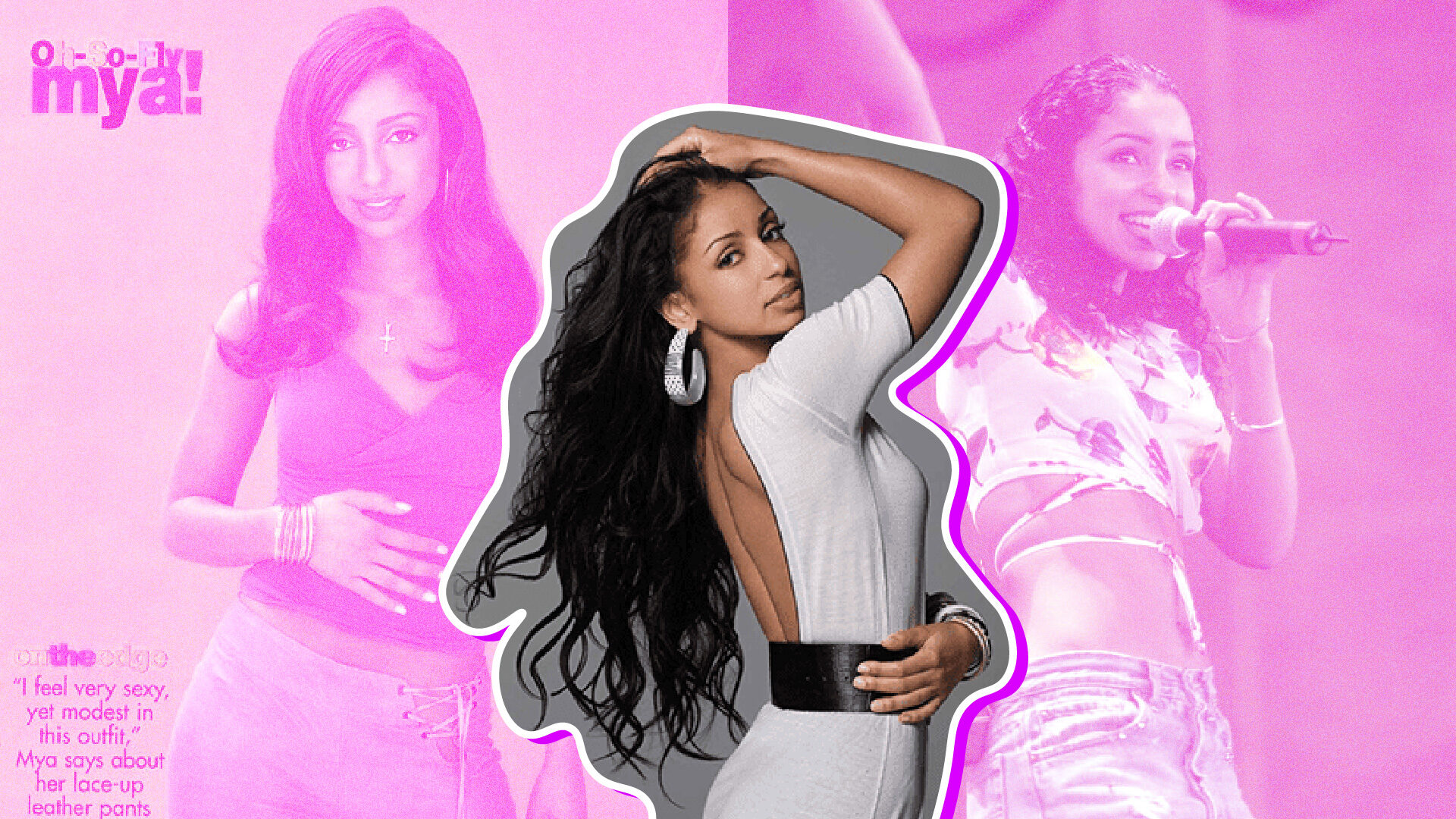 The Ultimate Throwback Mýa Playlist That'll Be Sure To Take You There
The 43-year-old singer understands the epitome of love songs.
Mýa's star power is all-encompassing. Her soothing vocals provide ample melancholy to any pensive love song and her musicality perfectly articulates the fascination with soulmates that was bred in the early aughts. Since signing to Interscope Records in 1996 and releasing her eponymous debut studio album, Mýa swiftly ascended to chart success. From there, she cemented herself amongst the pantheon of R&B female greats.
Her acclaimed rendition of Patti LaBelle's 1975 hit "Lady Marmalade" — an explosive, cross-genre collaboration with Lil' Kim, Pink and Christina Aguilera –– welcomed her to global domain. The rendition was an avenue for her to secure her first Grammy in the category of Best Pop Collaboration with Vocals. Although she reveled in much commercial prosperity, she ventured into independent artistry — an apprehensive undertaking.
However, her stardom underneath a label wasn't simply fortuitous. It's intrinsic to her nature. Starting in 2014, she released an album tetralogy catapulting us all into a new scope of love. Whether it's on our screens with VH1's Girls Cruise or in our hearts through her exploration of love, we are forever in awe of Mýa. In honor of her 43rd birthday, Girls United has rounded up our top picks from her eminent artistry.
"Take Me There" (1998)
Originally made for the Rugrats Movie soundtrack, this collaboration with Blackstreet, Mase, and Blinky Blink quickly became a song that became more popular than the animated blockbuster premiere.
"It's All About Me (ft. Dru Hill)" (1998)
The debut single of her debut album is a slow jam evoking the emotions to remain selfish and in control. "It's not a conceited thing. Basically, I'm speaking for people who are in relationships but aren't getting their fifty percent," she said to Rolling Stone. "The song is about taking control. Personally, I'm not trying to get into relationships right now. But when I do, it's fifty-fifty."
"My First Night With You" (1998)
This single, a rendition of Deborah Cox's original song, derives from Mýa's self-titled debut album and divulges the first touch of love. With the backing of Kenneth "Babyface" Edmond's and Diane Warren's lyrical ingenuity, the ballad carried Mýa into mainstream territory.
"The Best of Me (ft. Jadakiss)" (2000)
In this song, she discusses the fiery impulsiveness that comes with the heat of love. "The song talks about thinking about consequences before you make a decision, especially decisions made when you're in a situation of the heat of the moment," she explained to Yahoo! Music. "However, as a female, things do happen to you that you must carry on after the fact, so you're trying to weigh the consequences and make a decision based on what you know, and you may not know much about this person. It's just about setting standards for yourself and what you want."
"Case of the Ex (Whatcha Gonna Do)" (2000)
As a top five hit on Billboard Hot 100, this release came as her career began to climb to veteran status. "I was just so busy I really didn't pay attention too much. Touring constantly, doing what I was supposed to do. It wasn't ever a matter when those types of things happened and celebrating. It was rehearsing for the next show or traveling here and there and doing interviews, and doing the free shows you need to do," she said to You Know I Got Soul, reminiscing on her early aughts height.
"I'm so thankful and grateful. I was built for the grind of it. I love to perform but I can't really speak on anything negative, I was just making sure I made my stamp and that I was proving as the first R&B artist on Interscope that belonged there and I was just as tough as the rap and rock guys."
"Free" (2000)
"Free… single, sexy and sweet / Makin' my own money," she croons over this anthemic track. It's the sort've empowerment track that all female R&B singers have in their arsenal. Think, Destiny Child's "Jumpin,' Jumpin.'"
"Lady Marmalade (ft. P!nk, Christina Aguilera, Lil' Kim)" (2001)
This powerhouse union secured many of the collaborators their first Grammy award, including Mya. The artist has often reflected on how the impact of witnessing women attain such a coveted achievement together.
"I think I'm very proud of the "Lady Marmalade" collaboration that I did with Christina, Lil Kim, Pink and Missy. That was the first time and probably one of the only times that I've worked with so many females at once and we were able to accomplish so many great things," she said to Ok! Magazine. "I don't see females in the industry collaborating as much as guys do so I really would love to entertain more of that. I think that in itself I was so proud of and was one of the biggest moments as a single.
"My Love Is Like… Wo" ( 2003)
As the lead single of her third studio album Moodring, the explosive sexually liberating lyricism garnered massive positive reception. From the pen of Missy Elliot, this song transitions Mya's appeal from a guileless flirt to a woman steering her own sexual endeavors. It landed as a top 20 hit on the Billboard Hot 100 and the Hot R&B/Hip Hop songs chart.
"Fallen" (2003)
"Fallen" is the second single from Moodring, an album infused with the heavy percussion, go-go, and funk sounds of her D.C. roots. "D.C. being a go-go cultured city has definitely played a part in me being a percussion driven person and knowing how to dance and just knowing rhythm," she said to Rated R&B of her musical origins.
"Lock U Down (ft. Lil Wayne)" (2007)
Coming from her fourth studio album, this collaboration with Lil Wayne amidst Young Money's seismic impact continued the glorified merger between soulful rhythm and the rigidity of hip hop.
"Ready For Whatever" (2017)
As the lead single of her eighth studio album TKO, "Ready For Whatever" is a sensual declaration of her willingness to discover the next level of love with her pursuiter. "So I've put all of that energy from all the other three projects into just TKO to make sure that it was right and tight and that there were visuals to support it and that there's a publicist to support it and to be invited to great spaces like Billboard," the singer told Billboard of TKO's craftmanship.
"G.M.O. (Get My Own) (ft. Tink)" (2019)
In a collaboration with Tink's novel sound, this club bop is an entrance into a new sound driven by synth and booming bass for an upbeat feel.
"Just Call My Name" (2020)
Every singer with longevity in the music arena bolsters their legendary stature with a ballad and this 80s inspired hit of restoration and healing does just that.
"Worth It" (2021)
"Worth It" is an introduction alter ego Mya Lan$ky with her rap skills. "My independent journey has placed me on a path to becoming a better version of myself, redefining success and happiness that does not always coincide with the world's definition," she said in an official statement of the single. "So when people hear 'Worth It,' I want them to feel strength and courage to leave any situation that does not enhance their lives."
About Mia: Mia Uzzell is a culture documentarian covering Black womanhood with bylines in Glamour, Teen Vogue, Grazia USA, and more. You can keep up with her discourse surrounding the intersection of race and gender on Instagram @originalmiadiamond