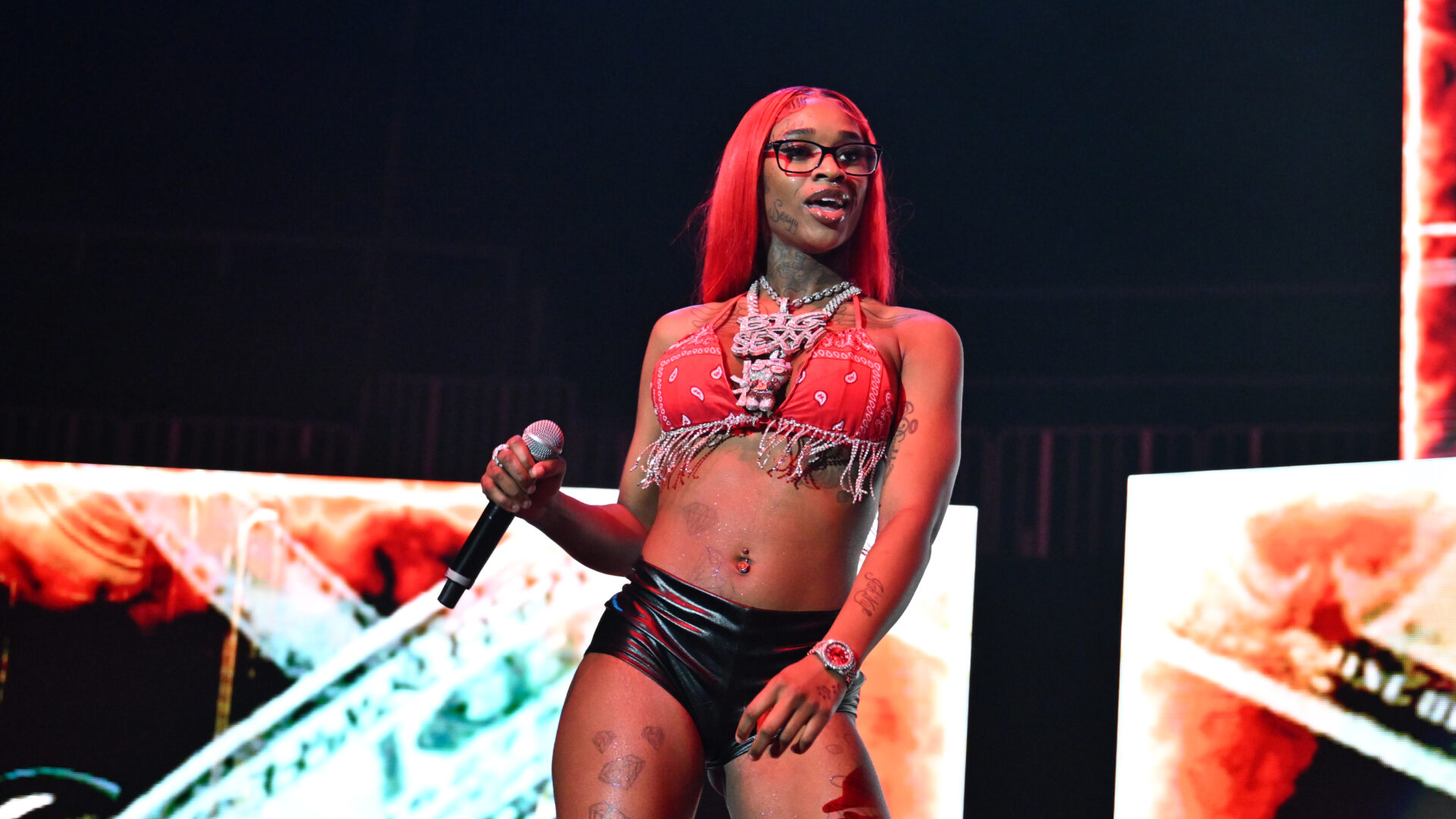 The Authenticity And Grit Of Sexyy Red: She Is Who She Says She Is
The Drake-approved rapper is rewriting the rules of empowerment
What happens when rap songs so infectious become the soundtrack to summer is equal parts refreshing and exciting. Even more so, when Billboard reported that no hip-hop songs or albums had charted No. 1 this year in June. For rapper Sexyy Red, the numbers don't matter, because her authenticity far outshines the validation of any music chart.
Today, Red is recovering from a wild night out with friends Suki Hana, Saucy Santana, and Summer Walker. The day started off as a video shoot for Red and Suki's upcoming release "Hood Rats," and the night concluded with twerking on top of cars, Walker doing a headstand in the club, and Red with a swollen lip. She calls it, a "Sexyy Summer," which simply means that you're carefree, you're having fun, not worried about what nobody got to say, and you're confident. Needless to say, it was one for the books. "We all left from the video shoot, and went to the club. I got my lip busted, cause Summer accidentally hit me in the face, we were having too much fun," Red tells GU.
The 25-year-old St. Louis femcee has taken the industry by storm with her raunchy raps, being embraced by some of hip-hop's elite—Nicki Minaj, Travis Scott, Drake, and Lil Boosie, just to name a few. With her new album, Hood's Hottest Princess, released in June, she's quickly become the industry's ghetto superstar, and she has no qualms about it. Her authenticity emanates so strongly, that you come to understand every aspect of her is genuine. Her looks and poses are late 2000s hoochie mama coded, which resonates with her St. Louis roots—echoing the infamous credit card butt crack swipe from Nelly's "Tip Drill."
"I feel like my city is fun because it's ghetto," Red says. Currently, St. Louis ranks as one of the nation's most dangerous cities. "I have a house out there, but when I go visit, my team doesn't even want me stepping outside because they already know what type of time it is."
Read "How TikTok Propels The Career Of A Rapstress"
She's witnessed a lot of treachery firsthand while growing up in St. Louis, and these experiences are embedded into the fabric of her sound. It's what gives her music that on-the-block identity, because she's rapping about her own experiences."That's where a lot of my influence comes from," she says. "When I'm making songs and I'm talking about high speed [chases], n—s, and all that, I take it from s–t that's going on in my city."
Where the ghetto girl aesthetic fits for some, it's not something Red takes off at the end of the day. She's the real round-the-way girl, always carrying a stack of money, with bars reminiscent of a '09 Gucci Mane that you can hear when she adlibs "yoooom" mimicking fast cars on "Hellcats SRTs." In her high pitched voice, she's unashamed of her sensuality and she isn't one for sugarcoating who she is. Red loves being ghetto fabulous, and her music mirrors that. Songs like "Sexyy Walk" and "Skee Yee," may make some clutch their pearls, (queue her impromptu performance near Bobby Jones at the BET Awards) however, Red's risqué sound has amassed her a following of 1.3 million on Instagram. "I just be telling the truth and being myself, and it's not a lot of people that are just going to keep it raw and cut like me," she says candidly. "I literally don't have no filter."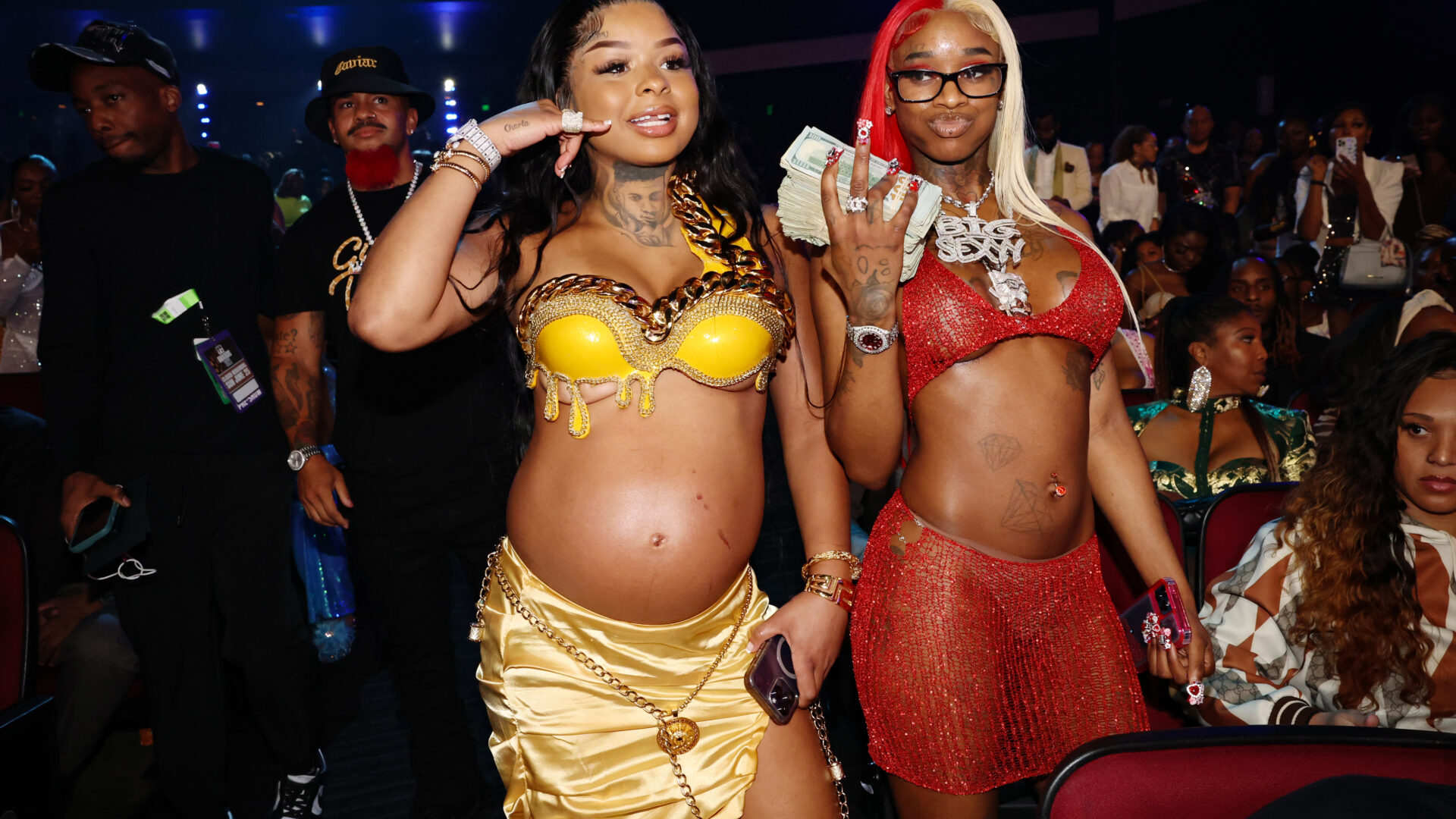 It was her Nicki Minaj and Tay Keith assisted track, "Pound Town 2," a catchy, sex-positive anthem that propelled her into the spotlight. The track has 2.5 million views on Youtube, and is currently eligible for gold status.The song was Red's first Billboard Hot 100-charting song, debuting at No. 66. With the release of Hood's Hottest Princess, Red reaches a new level. The album is a culmination of her previous releases, Ghetto Superstar (2021), and her debut single "Ah Thousand Jugs."
Prior to becoming the Hood's Hottest Princess, the "Female Gucci Mane" rapstress was born Jenae Wherry, who was what she likes to call, the "hood's hottest hair stylist." Red was known for doing hair, and she recalls the moment her mom went to work, she was sneaking girls in the house to do sew-ins and braids, just to make some quick cash.
Her background in hairstyling makes it unsurprising that she pushes the boundaries with her own hair. She's rocking a half-red-half-black wig, the colors separated by a middle part embellished with diamonds. Her hair has become a large part of her identity—her red hairdos date back to her pre-teen years when she would experiment with hair dye. Red quickly became her color, earning her the affectionate nickname "Red" from her circle of friends. Her love for the color also stems from her desire to challenge its stigma, particularly for young Black girls who love the color and were told that it's "too fast," a feeling she knows all too well. "The teachers and lunch ladies at school told me I was grown for having red hair. But I didn't see it as that, and my mama didn't either. I wasn't a fast girl, I just liked hair."
Her signature look also includes her glasses, no matter the outfit—whether she's in the club or onstage. It's sending a message to prescription lens baddies that they can be sexy, too. "I was supposed to have glasses a long time ago, but I just felt like I was too cute and hip for that. What I look like wearing glasses?" Red questioned. "As I got older, I just stopped giving a f–k. I need my motherf—-g glasses. Now people tell me that I make them more confident in wearing their glasses."
In the booth, Red is fluid. She says what comes to mind and lays it out on wax. It's precisely how "Pound Town" came about. "'Pound Town' was made because I didn't have anything to write about for real. They forced me to get in the booth," she says of her team. "And told me to freestyle. I was just feeling the beat. I don't know how I thought of that. I was just going with my mood." She didn't anticipate the song doing as well as it did, and for what it's worth, neither did her team. However, Red had a strong sense of confidence from the start.
It's yet another example of her rebellious nature pointing her in the right direction. "I don't care about what people say. That doesn't phase me. People talk about me everyday, saying I'm ugly, I'm dirty, I'm skinny. They say a lot of stuff, and if you let people get to you, you become whatever they say about you."
Amidst the resurgence of women in rap, Sexyy Red has the right attitude, especially with the amount of scrutiny women rappers receive today. Nonetheless, she says she's grateful to be in this renaissance of women in the music industry, because let's face it—the rap girls are running circles around the men these days. She's not wrong either, for the first time ever, only female artists are nominated for "Artist of the Year" at the upcoming VMAs. "Everything is about the women these days, we're taking over for real," Red says.
Read "How Female Rap Alter Egos Saved Hip-Hop"
With a middle finger to the haters, she doesn't plan on slowing down. Her next move includes dropping a deluxe version of Hood's Hottest Princess, more music videos, and a television show. In the meantime though, she's just enjoying the fame that simply being herself has brought her.