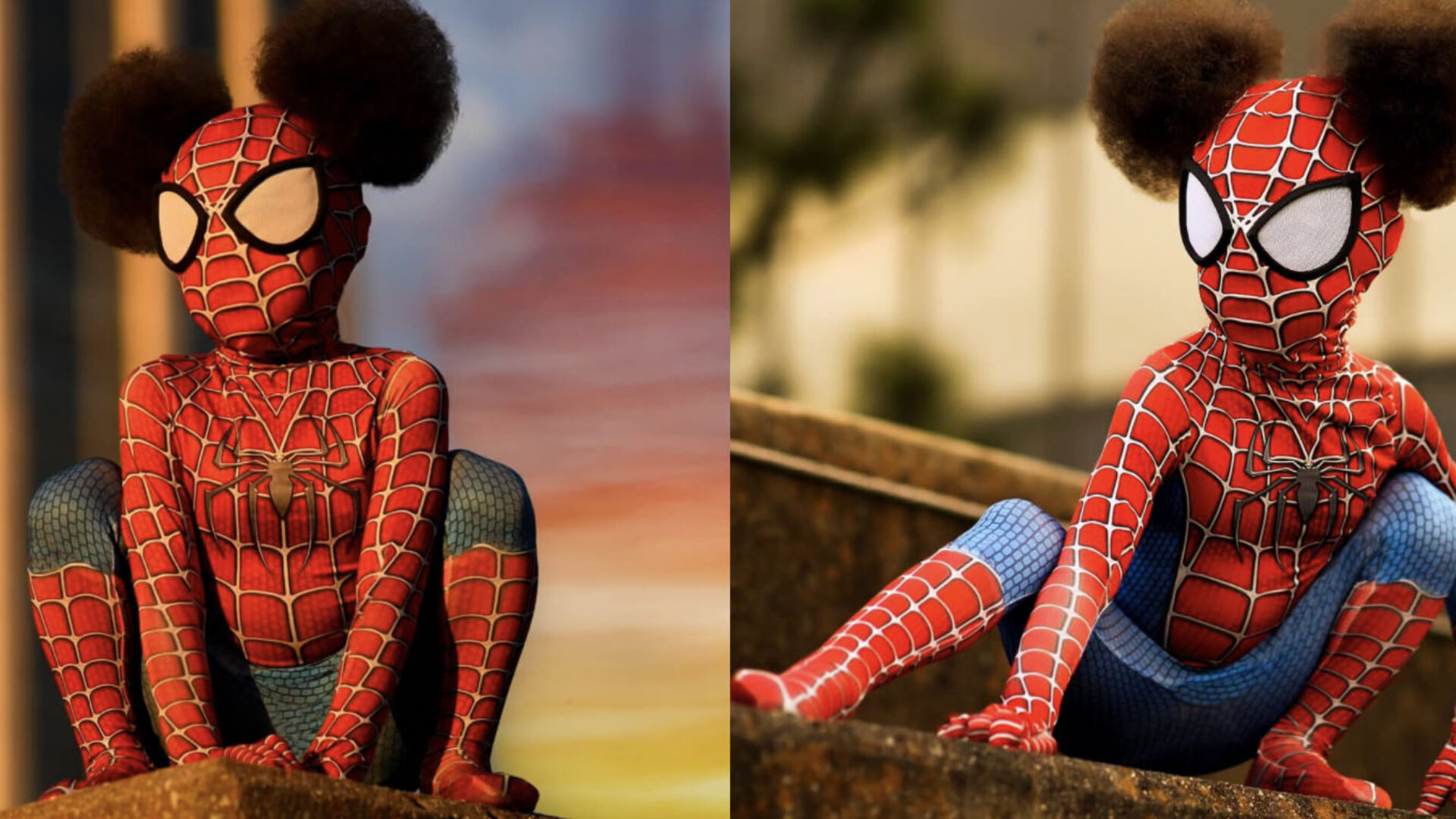 Mom Who Took Photos Of Daughter In Spider-Man Costume Says, 'You Can Be Whatever You Want To Be'
Diamond Jackson and her daughter, Rose, went viral with a superhero-inspired birthday shoot.
Diamond Jackson didn't know a birthday shoot for her daughter's 3rd birthday would go viral.
Jackson, a photographer based in Mobile, Alabama, uploaded the shots of her daughter, Rose, wearing a Spider-Man costume to her social profiles. What inspired people most were the little girl's adorable afro puffs poking through the top of the the mask. "[M]y daughter is just really into Spider-Man," Jackson said to Girls United. She wanted to give her daughter a moment that she could look back on and see her genuine interests reflected. After the post gained instant attention on Facebook (it has nearly 80,000 shares so far), she realized that she had helped fuel Black social media users to go for their dreams.
"I went into it just because she loves Spider-Man, however everyone took a different look at it, like, 'Oh my God, she's giving us so much inspiration to let us know that little Black girls can be whatever they want to be.'"
Courtesy of Diamond Jackson, Rae's Bleu Rose Photography.
Black women and girls have long participated in cosplay (short for "costume play") but have not always been able to portray certain characters without scrutiny. In 2021, 26-year-old Kierra Please sat down for an interview with Input Mag and revealed that she receives negative comments for cosplaying strictly because she is a Black woman.
"That character isn't Black" is among the responses Please has garnered. "In the last couple years, anime cartoons and comics have become mainstream," she said to Input. "It's cool that people are getting involved, but more people means more ignorance…where people aren't familiar with the community." That doesn't stop her, and other Black cosplayers, from donning styles that bring them joy though. Ironically, the hairstyles in particular are communal, and positive, conversation starters.
"I feel like Black girls, especially when I was younger, we didn't really get to see ourselves in that light," Jackson notes, before underscoring the beauty of natural hair. "I just want to teach my daughter and all of the Black girls around the world to express yourself, love yourself.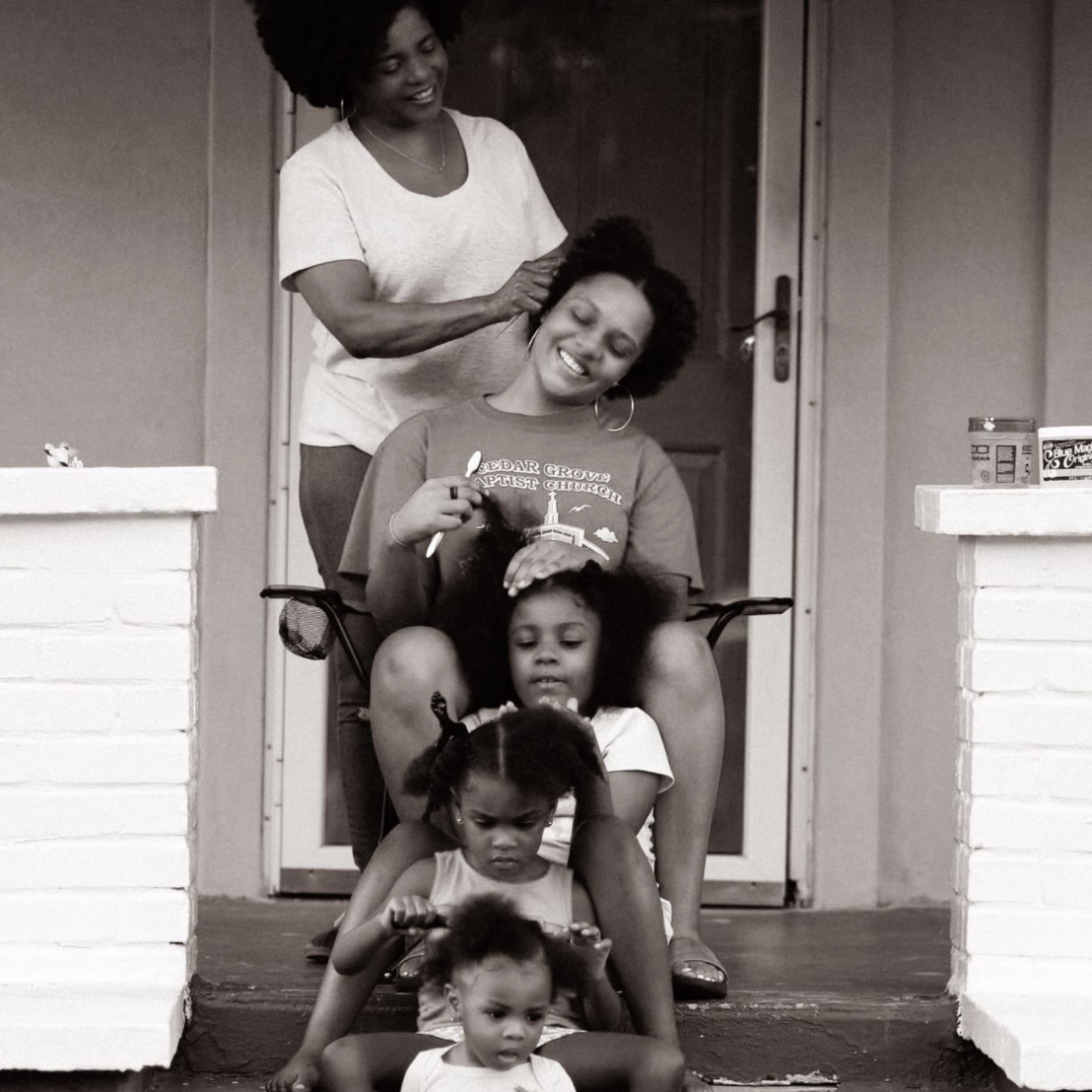 Diamond Jackson, her mother, and Jackson's daughters. Courtesy of Diamond Jackson, Rae's Bleu Rose Photography.
Read our history of natural hair here.
Additionally, Black women as superheroes are nearly contemporary. The first was Marian "The Butterfly" Michaels, who debuted in 1971, 35 years after superpower-endowed figures emerged. Michaels, who had a jetpack that enabled her to fly and could scale buildings with the help of suctions, was featured in the two magazine issues of Greg Freidrich's "Hell Rider." Ororo "Storm" Munroe appeared in the pages of X-Men a few years later in 1975 and for two decades, she was a main character in the X-Men films.
Today, you can find some on television and in film—Javicia Leslie became the first Black Batwoman in the 2019 The CW show of the same name, Letitia Wright will revive the role of "Shuri" in Black Panther 2 and Zoe Kravitz's Catwoman will be in The Batman in 2022. "Having strong, inspiring Black superheroes and characters is a great start and I'm glad to be a part of that journey," Olivia Swann of DC's Legends of Tomorrow told Girls United in a 2021 interview. It is key that they continue to move beyond novelty and continue to be prevalent in media, so Black girls have a presence in the content they consume.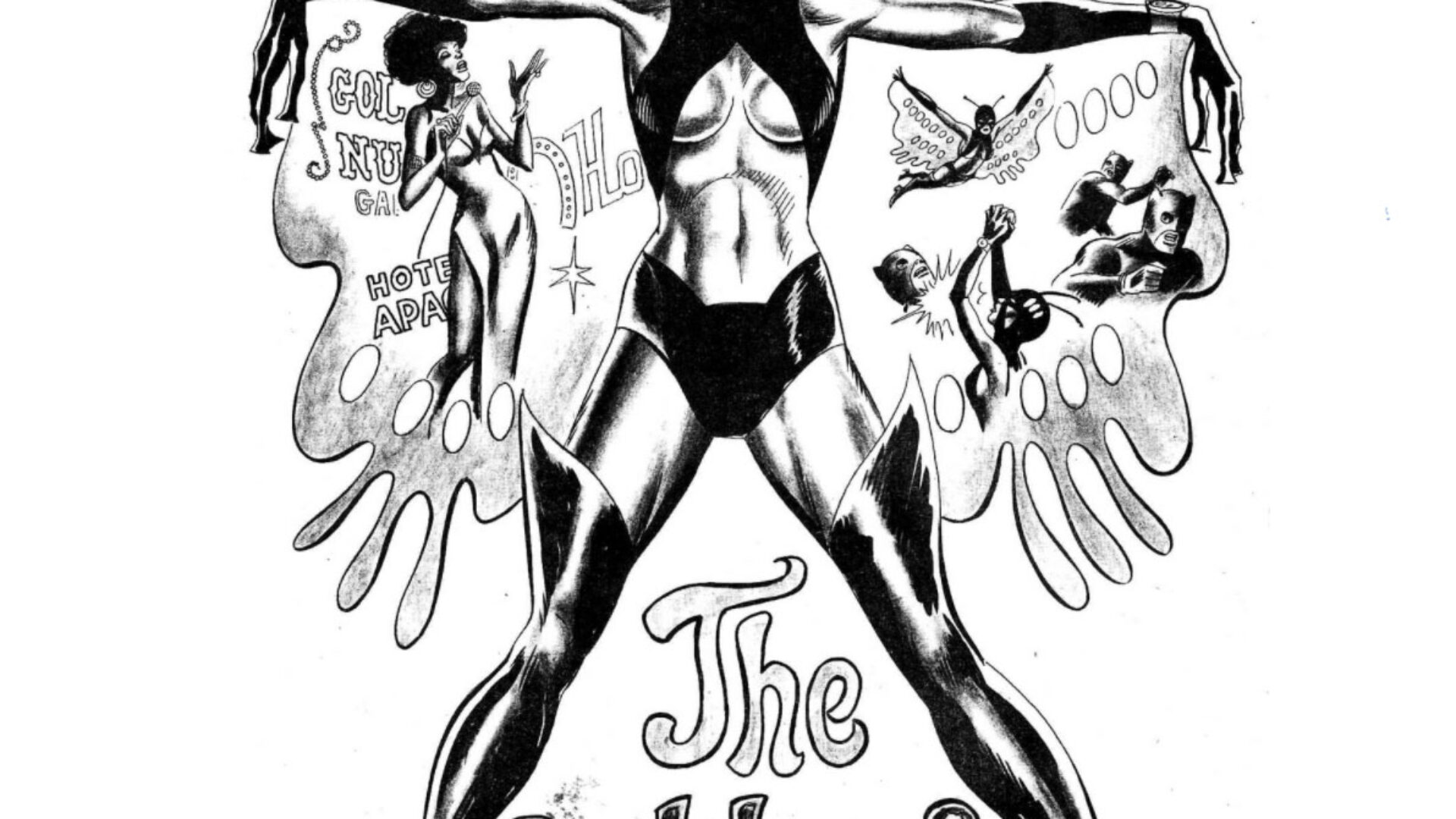 Jackson was especially shocked to receive love from Viola Davis (her "favorite actress") and Kerry Washington, who both shared images from the shoot on Instagram and Twitter, respectively. "When Viola Davis shared, I was super excited because I just started binge-watching 'How to Get Away with Murder' for the fifth time," she said as her inflection lightened. "Those are Black women I actually love and look up to myself."
The boom in visibility has also been great for business. "People really just want me to get out and travel—of course, they want me to hold an event where I do the Spider-Man photoshoot," Jackson said. Her Facebook page now has over 20,000 followers. She's embracing being a vehicle for motivation and wants the young girls looking to her daughter to know that the sky is the limit. "Be whatever you put your mind to," she said.
As for little Rose? She has no idea that she's a budding star. "She thinks everything is as it was," Jackson said with a laugh. Meanwhile, she's taken over the web.