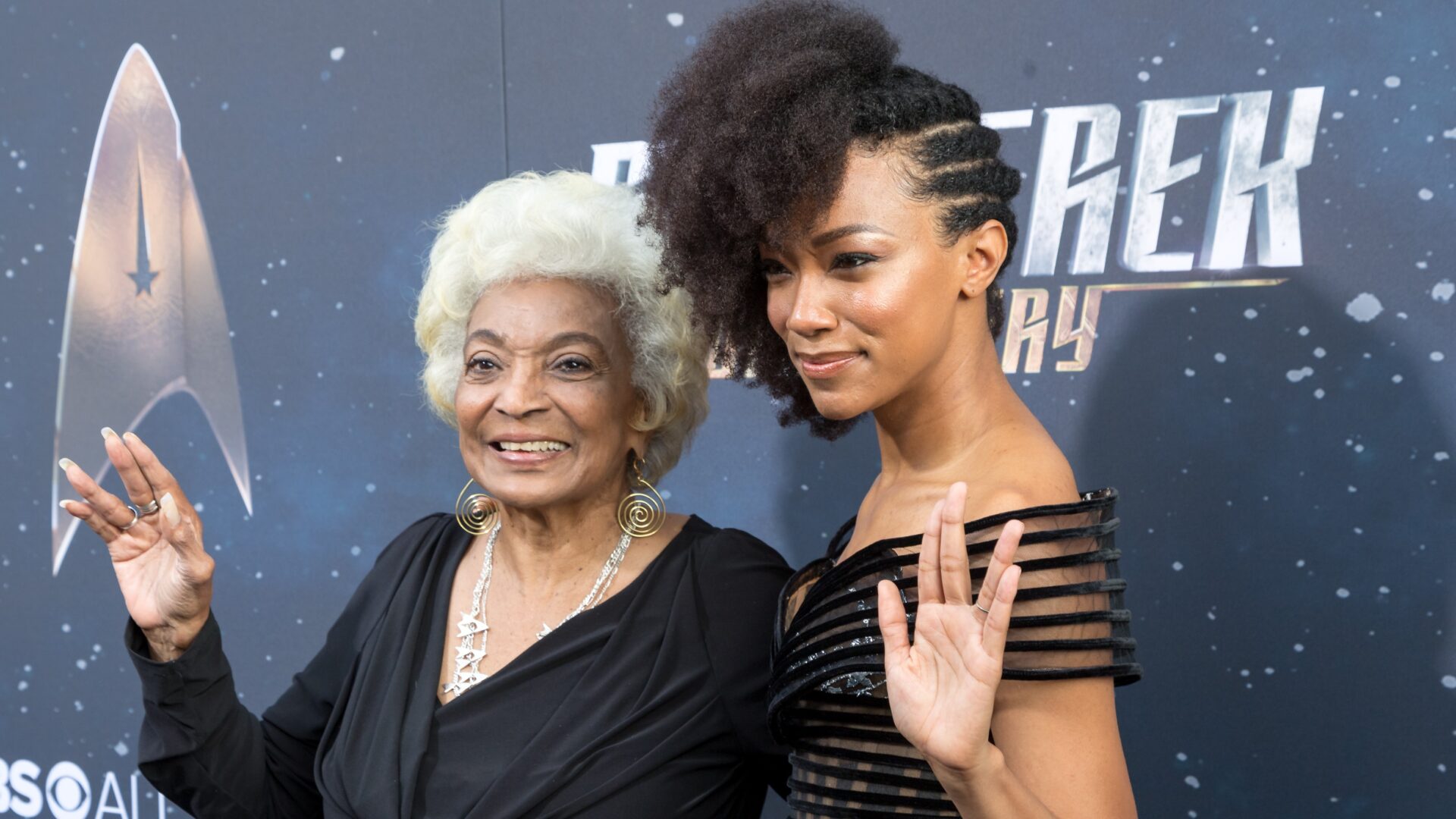 Sonequa Martin-Green Wants To 'Lay The Groundwork' For Black Girls Like Late Nichelle Nichols Did For Her
The 'Star Trek: Discovery' star talks about the legacy and impact of the late trailblazing 'Star Trek' actress
When Sonequa Martin-Green was presented with the opportunity to support young Black girls in the sciences and STEM-related careers, she jumped at the chance. It's no surprise considering the science fiction star is best known for her role as Michael Burnham, the lead in sci-fi series Star Trek: Discovery.
Iconic household Frito-Lay Variety Packs has teamed up with the Space Jam: A New Legacy actress for the return of its Back-to-School Blast Off program as part of its commitment to "fueling those dreams of exploration, discovery, and achievement," according to a press release sent to Girls United. In partnership with STEM Next's Million Girls Moonshot – an initiative that seeks to engage one million more girls in STEM learning opportunities through afterschool and summer programs by 2025 – Frito-Lay has pledged $100,000 to help facilitate the initiative send girls to NASA for a once-in-a-lifetime space camp experience.
"These are girls that are interested in careers in STEM so they hopefully will be encouraged and emboldened from this experience," Martin-Green told Girls United as she gushed in excitement for the 16 chosen girls. "I really hope that they take it with them, remember it forever, and that it lights the flame or fans the flame for some of them, because some want to be astronauts as well."
Not only will these aspiring space explorers be launched into Space Camp®, but they also have the chance to have a ceremonial star named after a girl they know who is passionate about STEM. "I had the honor of delivering that news to them virtually, which is really dope, and I really hope I get to meet them face-to-face sometime soon," she added.
Martin-Green continued to champion the Million Girls Moonshot for its prioritization of young girls who take an interest in science, math, engineering and technology. "It's pretty amazing because it's really encouraging these girls to get involved in STEM," she said. "There's such a dearth of representation of women and of people of color and especially women of color in STEM careers so we've really got to encourage these girls that they are worthy and that they are necessary."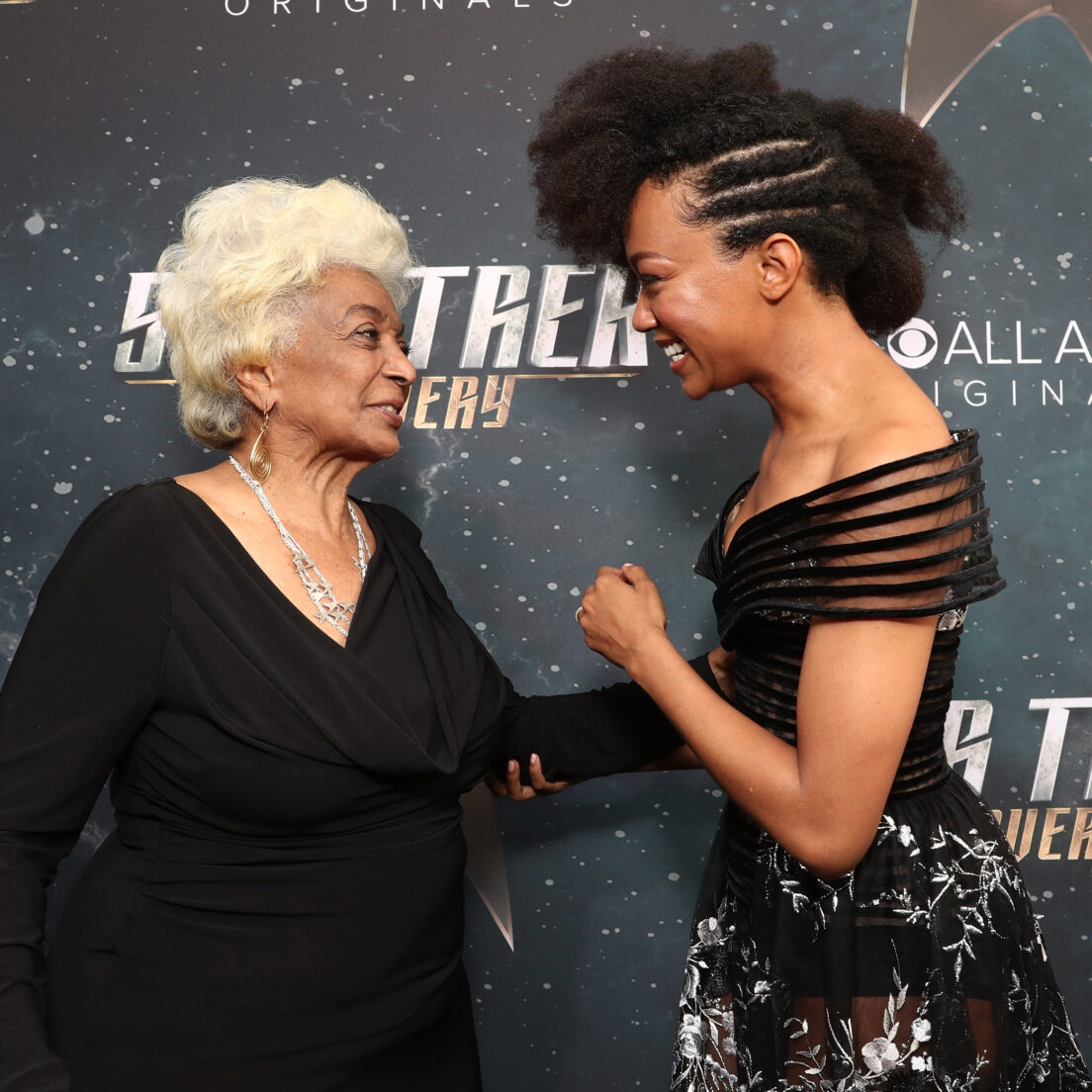 LOS ANGELES, CA – SEPTEMBER 19: Nichelle Nichols and Sonequa Martin attend the premiere of CBS's "Star Trek: Discovery" at The Cinerama Dome on September 19, 2017 in Los Angeles, California. (Photo by Todd Williamson/Getty Images)
Though she is in the entertainment arena, the Walking Dead actress acknowledged the future lies in the hands of STEM-related careers and endeavors. "I think that's where we're headed as a society, so it would be remiss of us to not have diversity and inclusion in these fields. The way the world looks is the way it should look in every field, especially in STEM because we are advancing more and more technologically as we go on," Martin-Green said.
In the same breath, the actress gave a nod to Nichelle Nichols, who passed away on Saturday at the age of 89. Nichols portrayed Nyota Uhuru in the original Star Trek series and its film sequels, while Martin-Green took on the role of Captain Michael Burnham in the Star Trek: Discovery spinoff, making her the first Black female captain in the franchise's history. Just as young women and girls need others to see for that spark of representation in their fields, Nichols did the same thing for young Martin-Green.
"Being that I stand on the shoulders of those who came before me, like Nichelle, I certainly wouldn't be here if it wasn't for her," she told Girls United passionately. "I just want to do whatever I can in whatever small ways that I can or big ways that I can to lay the groundwork for those coming after me like it was laid for me by Nichelle and by others."
Martin-Green also said that she wants to "serve as much as she can" with young girls in the STEM field, especially because of the impact that Nichelle had beyond the television screen. She continued, "Now with Nichelle's passing, an initiative like this with Frito-Lay, Million Girls Moonshot, and NASA just wouldn't be possible without what she did in the 70's to integrate NASA through her company, Women in Motion. That affiliation led to the integration of NASA and here we are in 2022 with initiatives like this because of the work that she did. So I want to do my part and I'm still learning what that even is."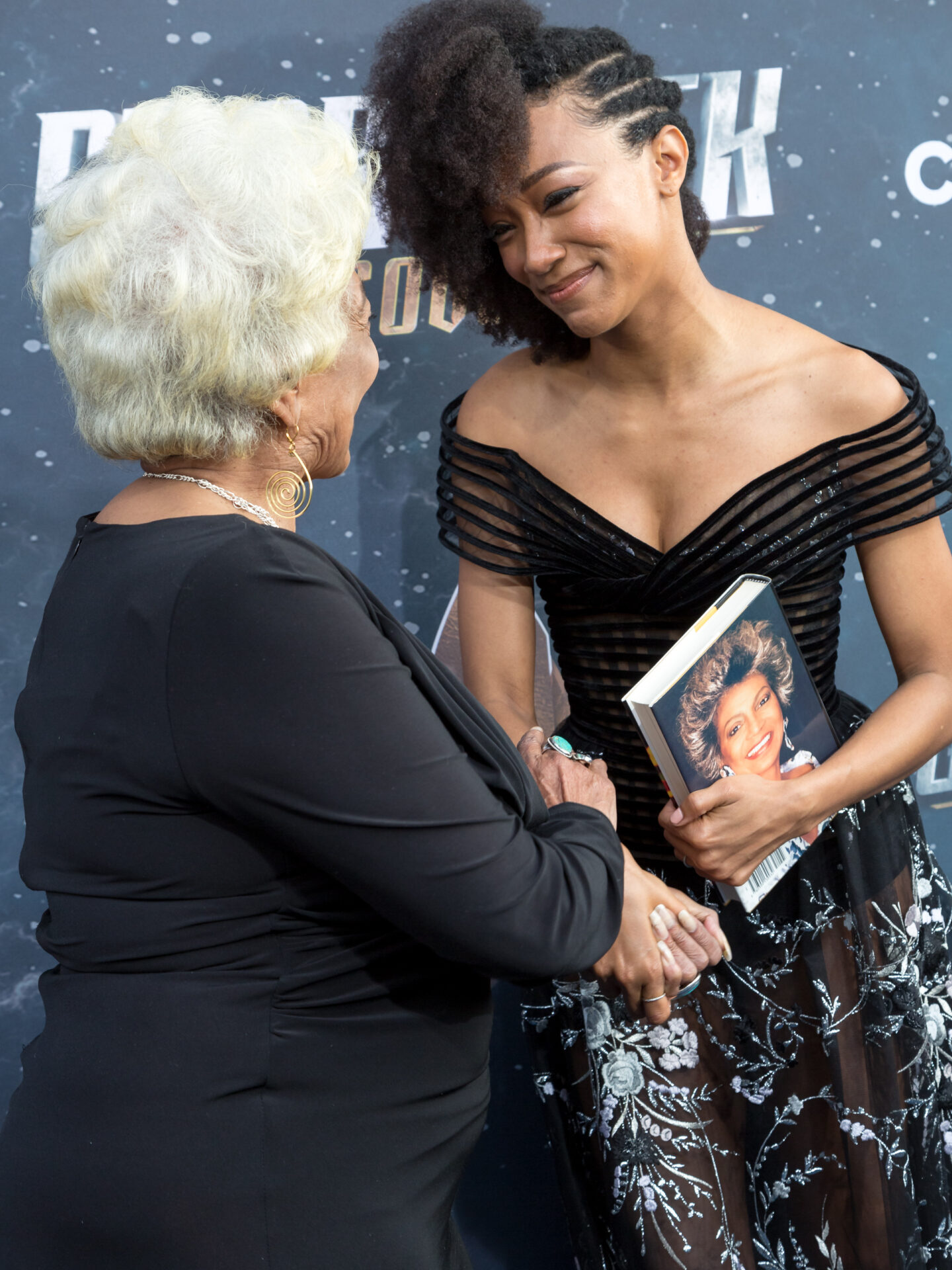 LOS ANGELES, CA – SEPTEMBER 19: (L-R) Actresses Nichelle Nichols and Sonequa Martin-Green arrive for the Premiere Of CBS's "Star Trek: Discovery" at The Cinerama Dome on September 19, 2017 in Los Angeles, California. (Photo by Greg Doherty/Patrick McMullan via Getty Images)
Through her role as Captain Burnham, Martin-Green's eyes have open and her range of appreciation has expanded in the world of STEM because she recognizes the genius, sensitivity, empathy, and power required to succeed in the line of work. She added that there is a "need for a mastermind" while also being solution-oriented with the ability to grow with one another as a team.
"It's been such an honor and privilege and blessing to play a Black woman, who is a genius, who is also a leader, but who is a leader through sacrifice, and who understands that you have to give your all for the greater good and for the future and whose contribution is heard, seen, and applied, and actually leads to the victory," Martin-Green said powerfully. "These girls need to know that they're going into work that is very important and very impactful. I just hope that I can show [with] what they see in Michael Burnham, I hope that they see themselves and see that they can do that too. Just like how I look to Nichelle, I hope that they can look to Burnham in the same way."
For official rules and more details on the interactive map, STEM activities and the overall Back to School Blast Off campaign, please visit FritoLayVarietyPacks.com/BlastOff. You can also stay connected to the campaign by following Frito-Lay Variety Packs on Instagram and Facebook. 
Photo Credit: LOS ANGELES, CA – SEPTEMBER 19: (L-R) Actresses Nichelle Nichols and Sonequa Martin-Green arrive for the Premiere Of CBS's "Star Trek: Discovery" at The Cinerama Dome on September 19, 2017 in Los Angeles, California. (Photo by Greg Doherty/Patrick McMullan via Getty Images)