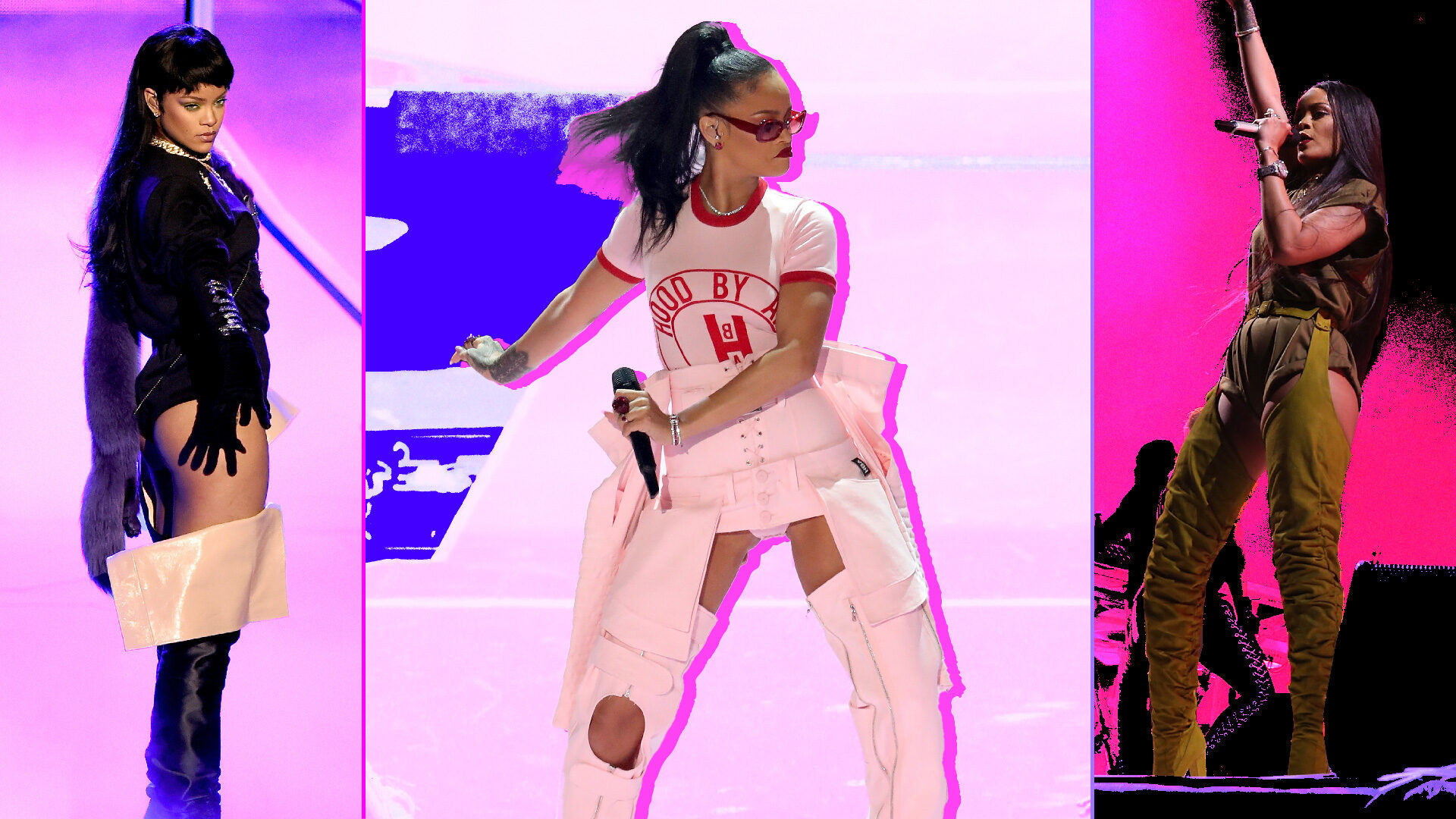 14 Songs Rihanna Should Perform During Her Super Bowl Set
We'll take the whole 'ANTI' album, please and thank you.
2022 was a big year for Rihanna. She announced her pregnancy and gave birth to her first child with her longtime boyfriend, rapper A$AP Rocky. With a net worth of $1.7 billion, the Fenty Beauty CEO was placed on Forbes' annual list of America's richest self-made women for the third year in a row. Now, she'll be performing at next year's halftime show during the 2023 Superbowl. How philanthropic of her to give a whole performance during a football game, right?
"Rihanna is a generational talent, a woman of humble beginnings who has surpassed expectations at every turn," Jay-Z said in a press release. "A person born on the small island of Barbados who became one of the most prominent artists ever. Self-made in business and entertainment." The Super Bowl will take place at State Farm Stadium in Glendale, Arizona, on February 12, 2023, with Apple Music as the official halftime show sponsor, removing Pepsi from its original spot.
"I'm nervous, but I'm excited," Rihanna exclusively told TMZ on her way out of the supermarket. When asked who the special guests would be, the singer gave an ambiguous shrug and chucked up the deuces. When asked more specifically if she would bring out the father of her child to grace the stage, she playfully replied, "Maybe, girl."
While Rih Rih isn't budging on who's going to be her guest appearance, which can range anywhere from 50 possible performers to none at all, we're grateful to see Rihanna hit the stage for the first time in six years since the 2016 MTV Video Music Awards. Here's a list of songs that we hope the Savage x Fenty founder will pull out of her roladex to create the perfect musical medley in 2023.
"Love On The Brain"
This fan-favorite from the ANTI album is one to get everyone in the stadium in their feelings. No guest necessary, just pure vocal abilities.
"Hard"
True fans remember this gem from the Rated R album. The Jeezy-featured single will make Rihanna's Navy truly feel powerful. That Rihanna reign just won't let up!
"Work"
Rihanna and Drake reunited on the same stage? Yes, please! With over 1.2 billion views on YouTube alone, this song is a must-have for her set list.
"Pon De Replay"
The song that started it all. "Pon De Replay" will remind fans why we fell in love with the Bajan beauty in the first place back in 2006.
"Umbrella"
A sweet surprise would be if Rihanna brought out her Roc Nation mentor and champion Jay-Z for this classic from her Good Girl Gone Bad era.
"Shut Up And Drive"
The asymmetrical bob was bobbing and the leather was leathering. "Shut Up and Drive" made everyone want to hitch themselves on the backseat of a hot ride and burn some serious rubber.
"Only Girl (In The World)"
Everyone in the audience will be singing this 2010 EDM-pop Rihanna smash hit. Remember her iconic red hair era from her Loud era? It's no wonder the song went on to earn a Grammy nomination for Best Electronic/Dance Recording!
"S.O.S."
Hot off her A Girl Like Me album, the singer was newly signed to The Island Def Jam Music Group and making a name for herself in the industry as someone who's here to stay.
"Diamonds"
The 2012 single went on to win Billboard Music Award for Top R&B Song, and we understand why. With this song, Rihanna will be sure to shine bright like a diamond under the flourescent lights of the Superbowl stage.
"Disturbia"
The unofficial Halloween anthem dubbed by the Rihanna Navy will send chills down our spines with the equally creepy and alluring single.
"Bitch Better Have My Money"
If you didn't get an invoice paid on time or your friends owe you money for the Superbowl tickets that you copped, you'll be sure to be singing the lyrics of this Rihanna single at the top of your lungs once the beat drops!
"Wild Thoughts"
Everyone remembers when this song had us in a chokehold and honestly, it still does. Rihanna could possibly bring out Bryson Tiller and DJ Khaled out as her special guests for this one!
"Rude Boy"
Rihanna tapped back into her Carribean roots with "Rude Boy" back in 2010 and if she performs this, we're positive that she'll bring Carnival back to Arizona.
"Pour It Up"
Ain't no party like a Rihanna party, which, according to this single, includes strip clubs, dollar bills, and bottles on bottles. Sounds like she could be bringing the party to the Superbowl and we can't wait to see!
About D'Shonda: Born and raised in Brooklyn, NY, D'Shonda Brown is the Associate Editor at Girls United. When she's not interviewing or writing, she enjoys running, dancing, buying sneakers, and binge-watching Lifetime movies.