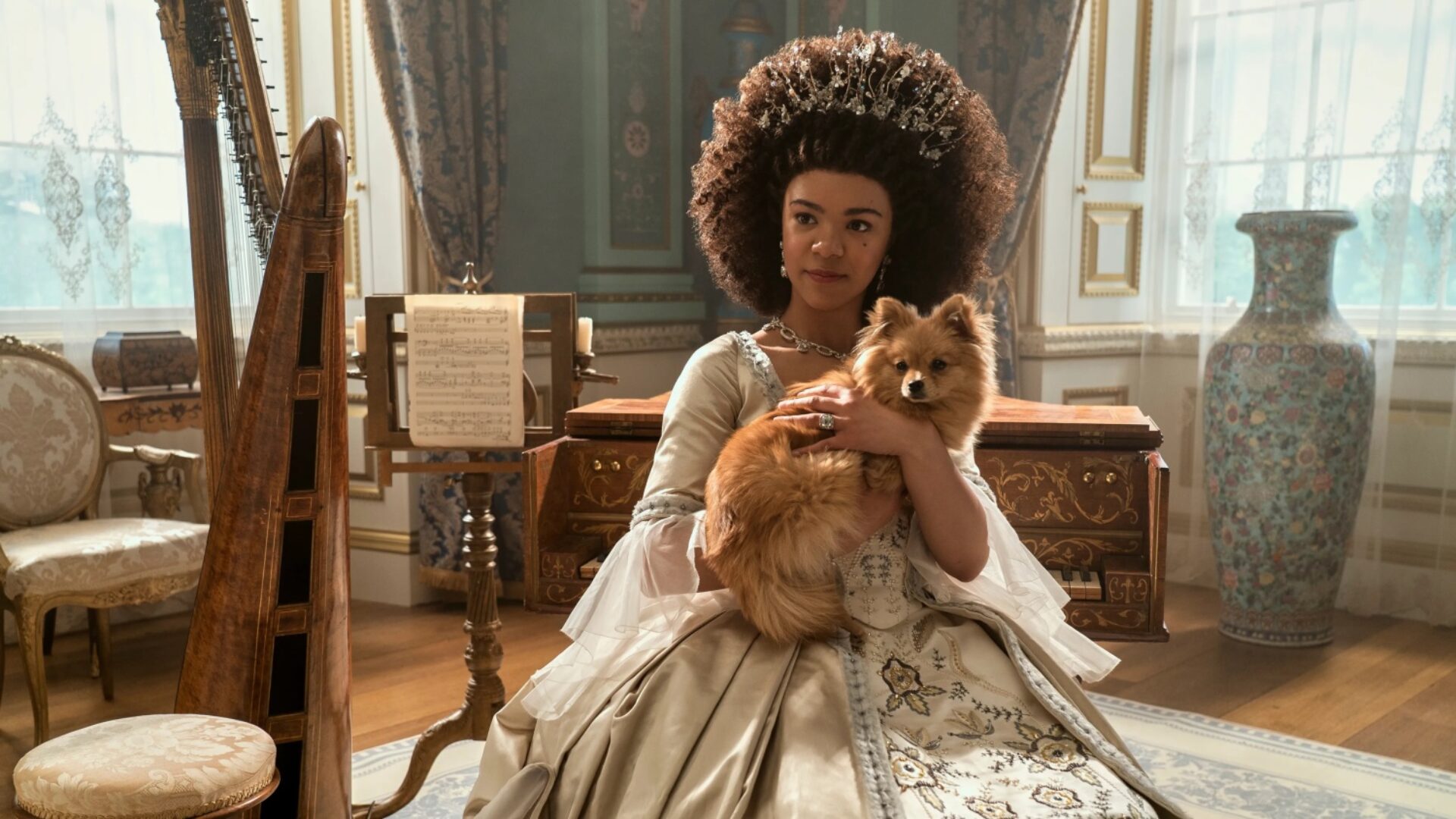 The Un-Credited Main Character of Queen Charlotte: The Black Hair
Finally, a rare celebration of black hair on television.
Right now, the limited six-episode series Queen Charlotte IS the moment. Being a spinoff of the highly successful Netflix show, Bridgerton, there were such high expectations, and it is safe to say those expectations were met and surpassed. It took us through a rollercoaster of emotions with an incredible cast that made us tear up at times and filled our hearts with joy. But there was another main character that deserves many accolades as well, the Black hair. 
Natural Black hair has made such a very prominent appearance on television, but it is often in an afro. While it is nice to see natural Black hair featured more, there has frequently been a disappointment with the lack of different styles. That was not a problem at all on Queen Charlotte. 
Young Queen Charlotte Gave Us Countless Flawless Hairstyles 
Young Queen Charlotte, played by India Ria Amarteifio, gave us looks upon looks. She was a confirmed fashionista, and her hair was another fantastic accessory. During the wedding scene, it seemed as if the palace was trying to dim her light and make her appear less Black by pulling back her curls into a plain updo and having her wear a simple wedding dress. She took back the spotlight by wearing a gorgeous custom-made wedding gown from Paris and flaunting her gorgeous curls in a huge afro styled with an elaborate tiara. That scene embodied embracing her blackness instead of trying to conform to the palace's wishes. 
Black Hair Care Properly Portrayed 
For Black women, going to sleep with your hair in a bonnet or wrapped in a satin scarf is not a suggestion; it's a necessity. Young and Older Queen Charlotte (Golda Rosheuvel) had scenes where their hair was wrapped in silk scarves before bed. It was not simply going to bed and waking up as is. It just doesn't work that way with natural black hair. Queen Charlotte showed not the beauty of Black hair but also the realness. Young Charlotte had strips of paper wrapped around her hair in an old-school method of maintaining her curls overnight. It was a genius way to showcase to various forms Black women go through in supporting their hair. 
Real Representation 
It is so important for Black women to see the characters on television as black women. For Black women, our hair is a part of our personality and identity. According to Nielsen, "hair care is the top category for Black consumers, with approximately $2.29B in annual sales." Black women spend so much on black hair care because of the uniqueness and importance of our hair. It isn't right that it isn't accurately portrayed on television. These shows can give the beauty of Black hair the platform it needs. Another show, Will Trent, has a main character, Faith Mitchell, played by Lantha Richardson, with many different hairstyles. From locs to stitched braids to curls, her hair never disappoints. It highlights the real versatility of Black hair that Black women love. 
Too many talented Black actors and actresses with natural hair have to suffer through bad wigs. There have been many instances on television where we have been left wondering what happened to the character's hair. For most Black people, their hair is a part of them; it is an extension of them. It is unacceptable that so many shows don't do better. Rosheuvel as a veteran actress has had to deal with countless hairstyles on set. However, she revealed on The View that working on Bridgerton was the first time she had a conversation about her natural hair being worked in as part of her character. A celebration that she had to wait far too long for. An acknowledgment of her being embraced. 
An Afro Doesn't Always Have to Be an Afro: Queen Charlotte showcases the opportunity of doing more. 
While Young Queen Charlotte did have afros occasionally, it was always challenging. The afros grew in height as well as extravagance. Accessories were added to the afros in a brilliant way that did not take away from her hair but somehow managed to highlight its beauty. Queen Charlotte allowed black women to feel that they were seen. Natural hair was put at the forefront. It wasn't just a gimmick on the show that was executed as an afterthought; it was a character that uniquely added to its authenticity.