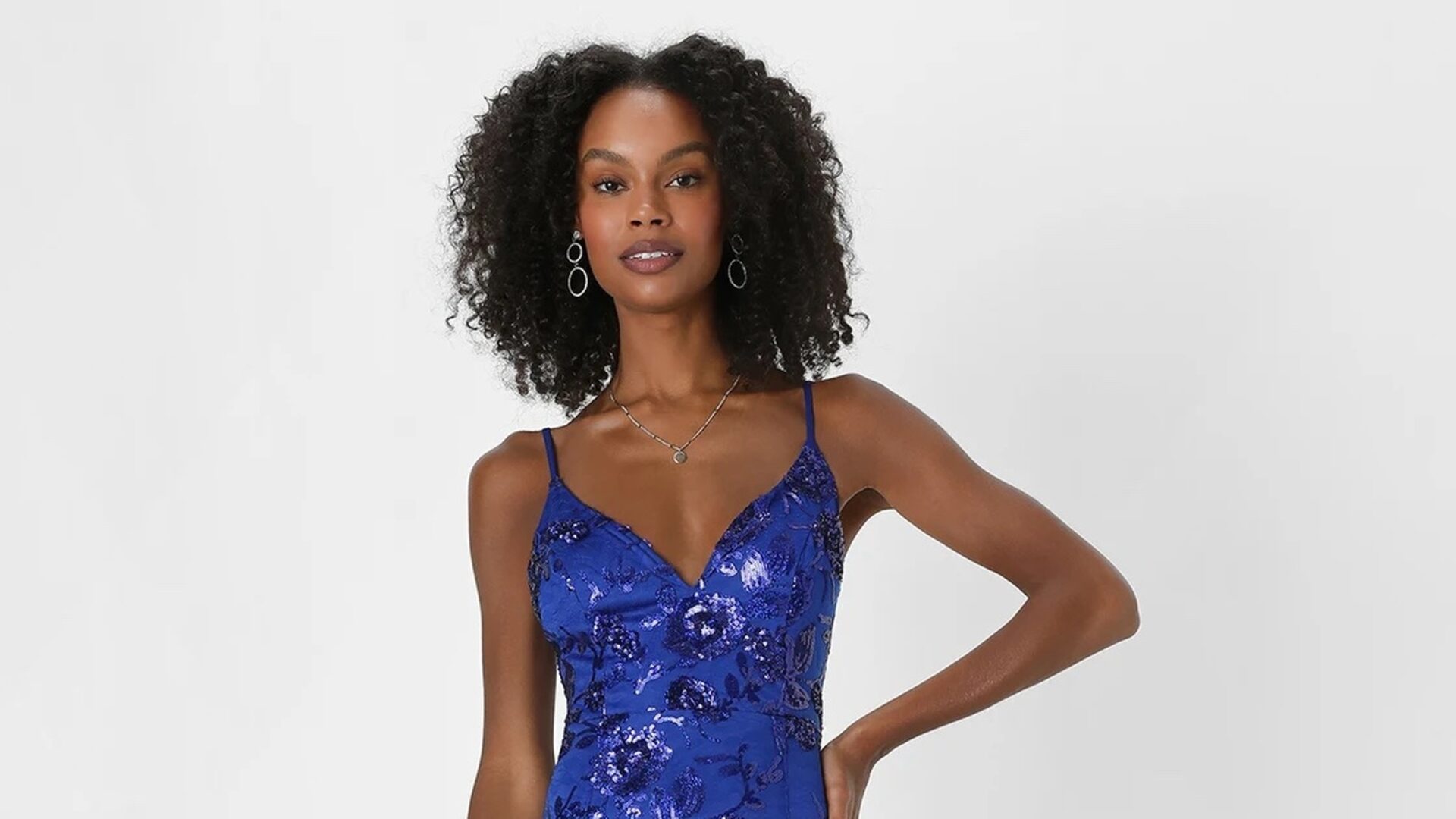 15 Prom Dresses To Snag Before The Big Day
Spring has sprung, and it's time to indulge in the irresistible charm of special occasion dresses. Whether you're a high schooler gearing up for prom or someone's hot date revisiting their old stomping grounds, prom is nothing short of the academic version of the "Met Gala." 
The special night of glitz and glam is a grand occasion that demands an air of sophistication, garnished with killer looks. But let's face it, the excitement of preparation for prom season can be overshadowed by the tedious process of choosing the perfect outfit! Luckily, GU has your back with the ultimate guide to 15 show-stopping prom dresses that are guaranteed to turn heads and make you the shining star of the ball.
LULUS Promenade with Me Sequin Mermaid Gown, $52.80
This glittering sequined gown is perfect for a glamorous, shimmery night. With a sleek mermaid silhouette and alluring shine, it's made to eye-catching standards that will dazzle you all day and night. Whether in the sunlight or on the dance floor in the ballroom, this sparkling number will surely steal the spotlight at your formal event.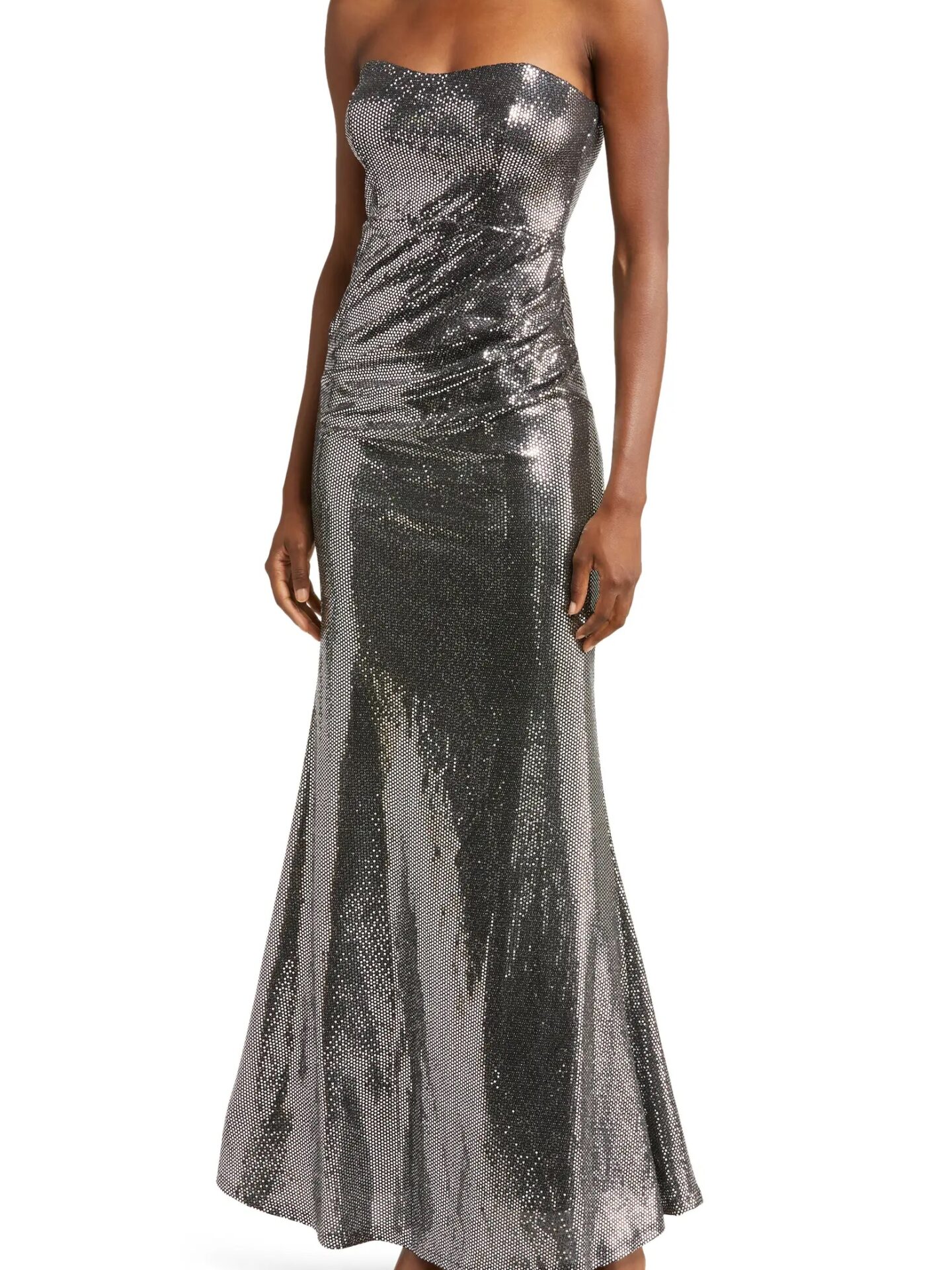 J.Angelique Mahala Dress, $295
Light up the night with this blazing, daring, cut-out dress that will have your spot on with this spring's fashion trends. If you're looking for a statement piece that does all the talking for you, try the "Mahala Dress" by J. Angelique.
LULUS Shine Language Royal Blue Sequin Mermaid Maxi Dress, $69
This royal blue dress with intricate beading is the ideal choice for those who appreciate minimalist fashion with a touch of over-the-top flair. The embellished details on this alluring mermaid gown create a harmonious blend of classic and glamorous styles.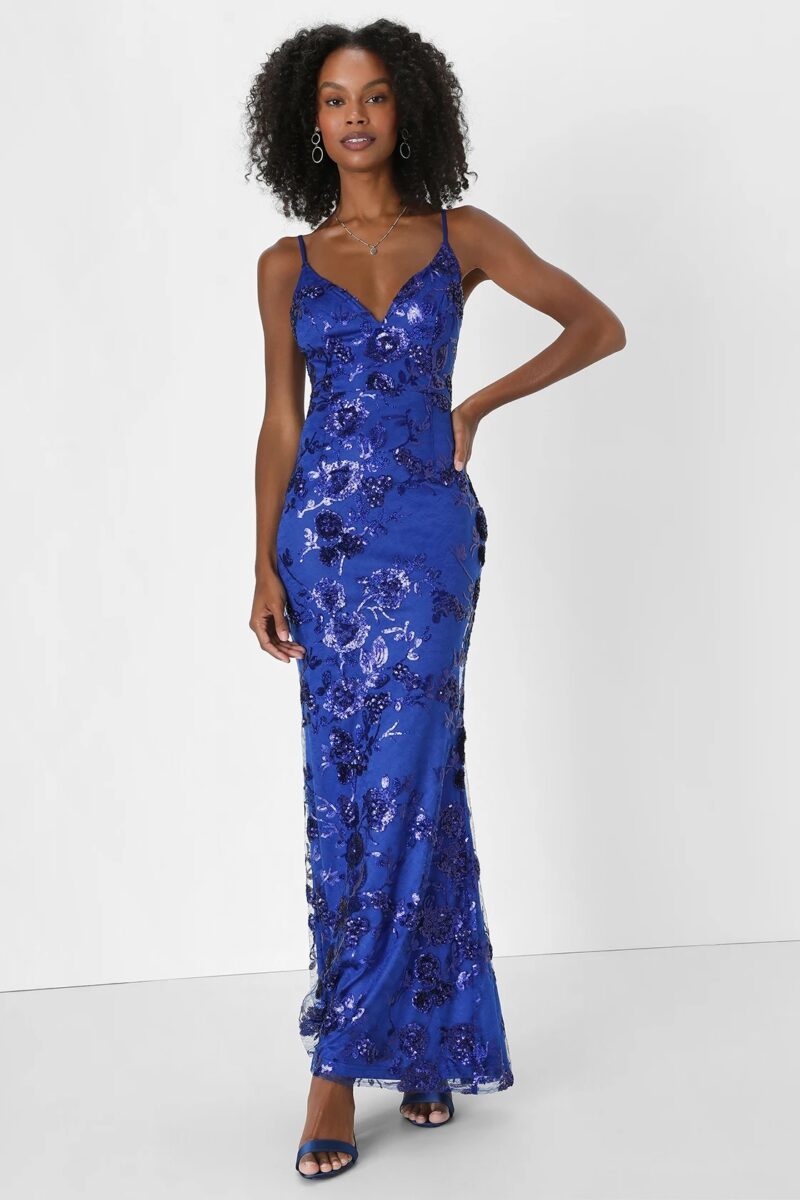 Lucy in the Sky Razz Gathered Back Halter BodyCon Maxi Dress, $85
Exude effortless elegance in this halter maxi dress! This timeless design is the choice for the simply-stated yet luxurious prom queen. Elevate this quintessential look with a pop of color in your accessories for an added element of charm.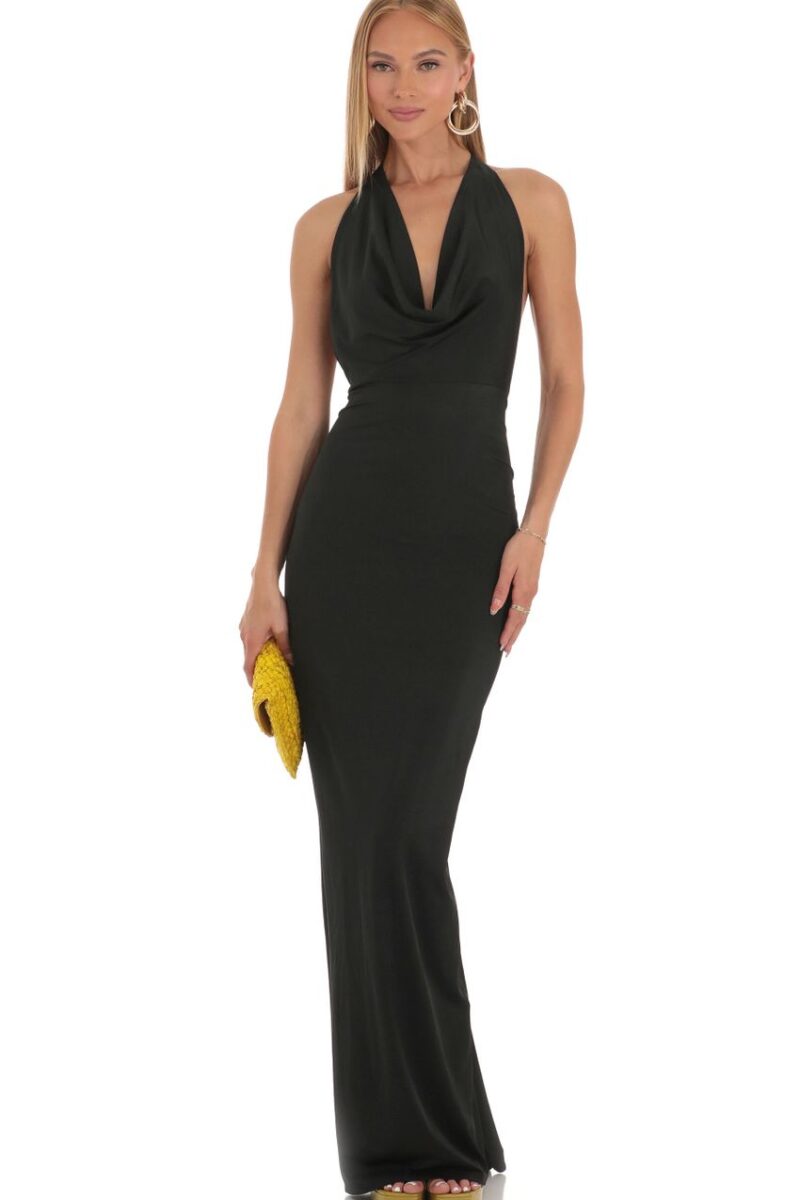 Windsor Lo Formal One-Shoulder Satin Corset Dress, $99.90
Create a buzz with this alluring ensemble that will complement almost every body type! The "Lo Formal One-Shoulder Satin Corset Dress" combines a captivating high-slit with a contrast-piping corset, resulting in a memorable dress that will stun everyone at prom.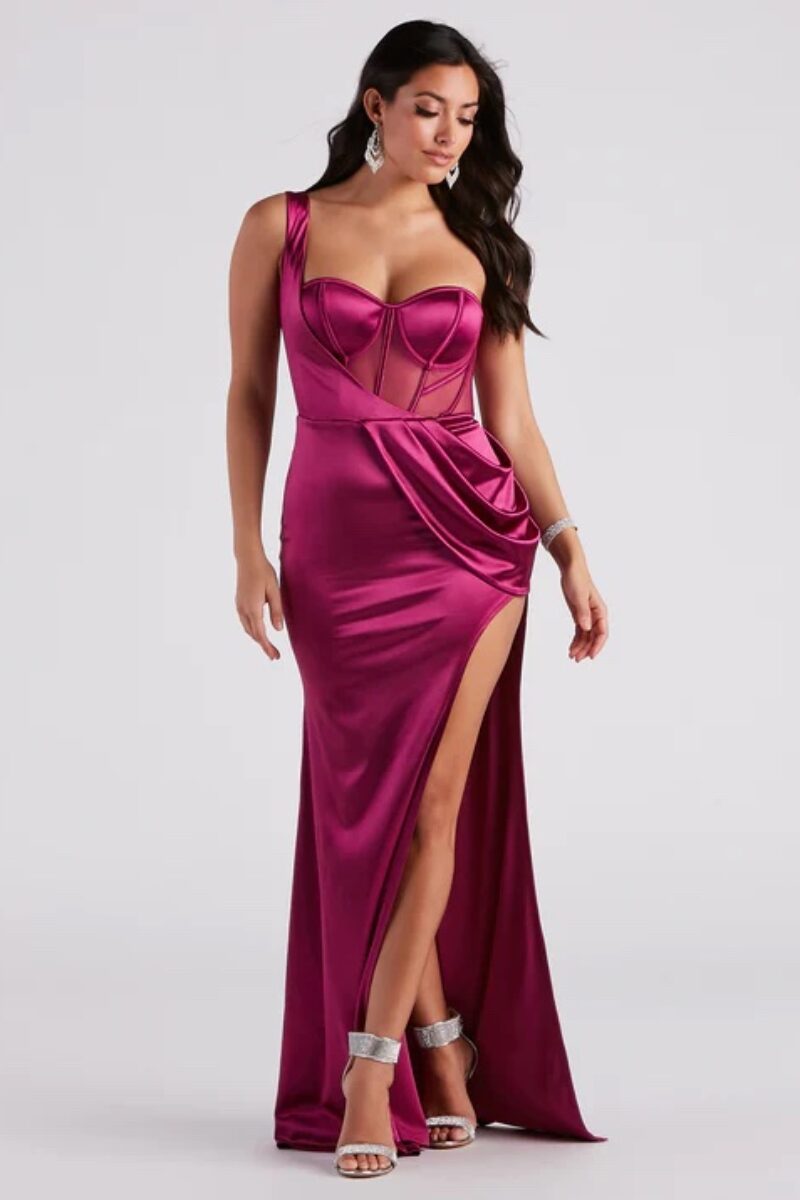 Macy's Trendy Plus Size Satin Sleeveless Gown, $70.99
Straightforward yet bold, this satin gown is an enduring ode to traditional prom fashion. You could never go wrong with a subtle v-neck cut; it has pockets! Transform this dress by adding exquisite rhinestones or pearls for an authentic luxury look.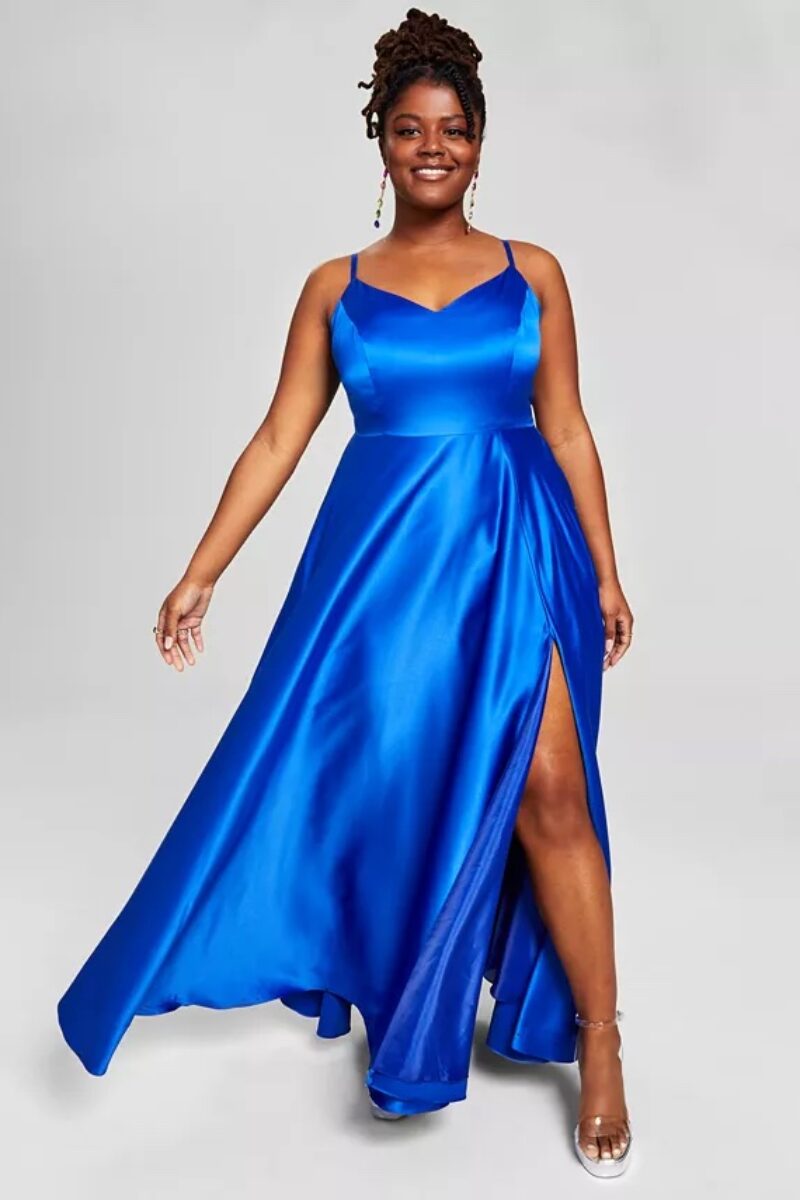 Lovers and Friends Elsa Dress, $798
Command the room's attention with the "Elsa Dress," a reimagined approach to your typical tulle prom dress. The unique high-low feature effortlessly adds an element of variation to your ensemble, allowing you to make a bold and confident statement while exuding a playful flair.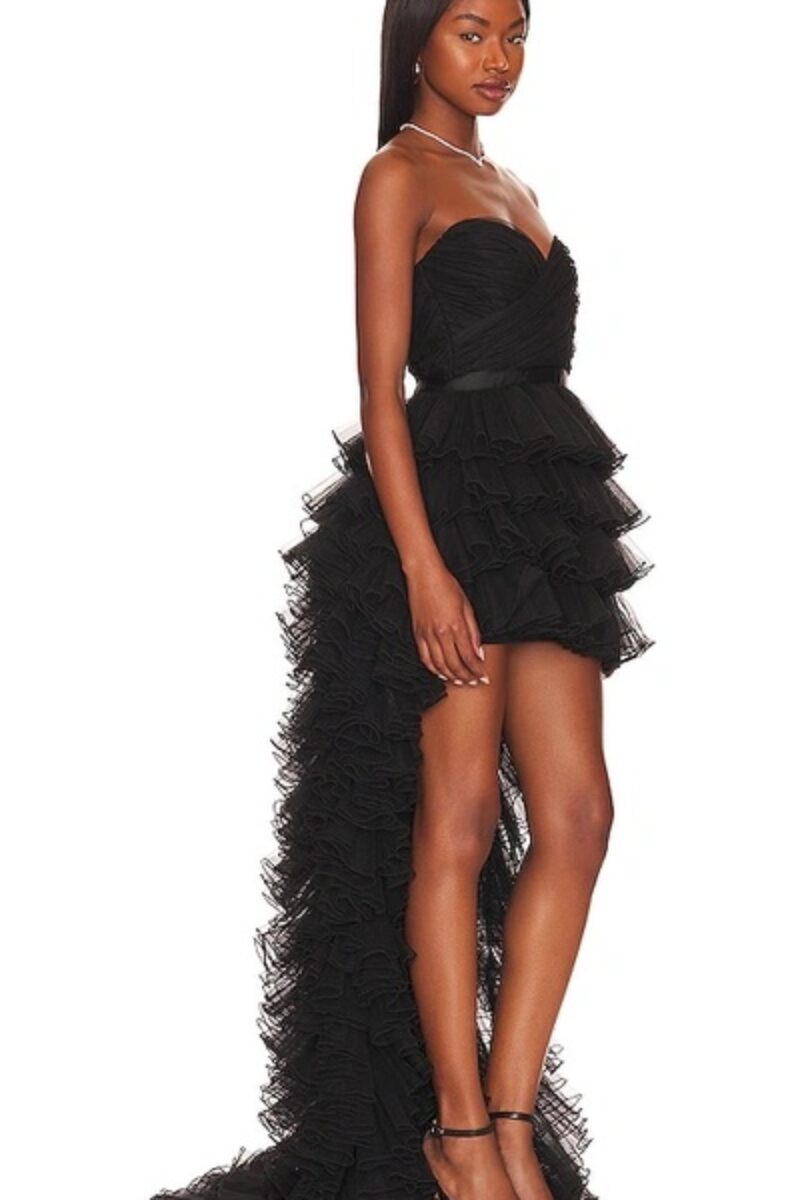 ASOS DESIGN Twist Front Bandeau Maxi Dress, $95.00
Color Blocking is still in, and this two-toned dress is perfect for your spring formal. This dress's color-blocking design, coupled with its glossy finish and romantic hues, will showcase your impeccable taste and enhance your beauty, making you look utterly irresistible on prom night.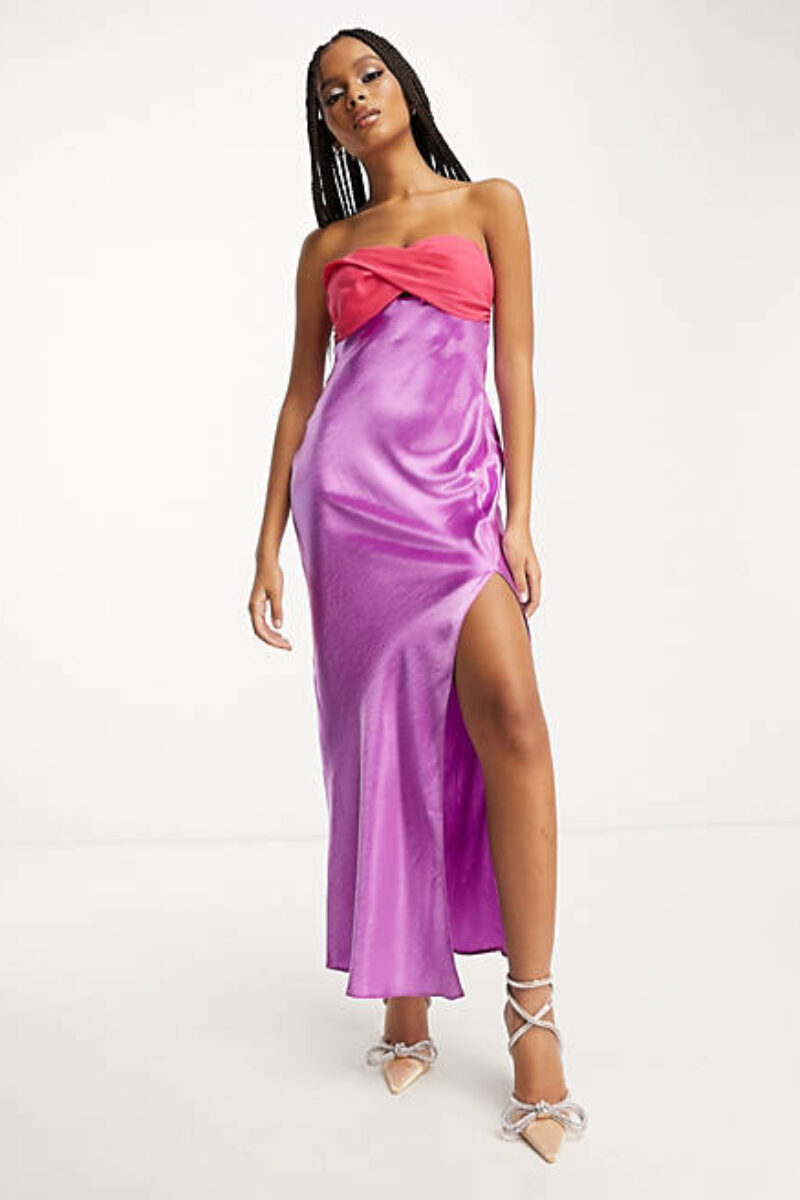 ASOS DESIGN Petite Satin Ruffle Maxi Dress, $105.00
Lightweight and sheer is everything you need to know about the "Satin bias ruffle maxi dress." Make a dramatic entrance as you sashay into the ballroom on prom night, with your frilly dress swaying in the breeze. Heads will swivel as you take everyone's breath away on your special night.
Mac Duggal Satin Embellished Sweetheart Gown, $498
Everyone needs a touch of pink! The "Satin Embellished Sweetheart Gown" is the perfect dress if you're looking to channel "Barbie-core" this season. The electric pink tone paired with the dress's glimmering stones will make you look as radiant as ever.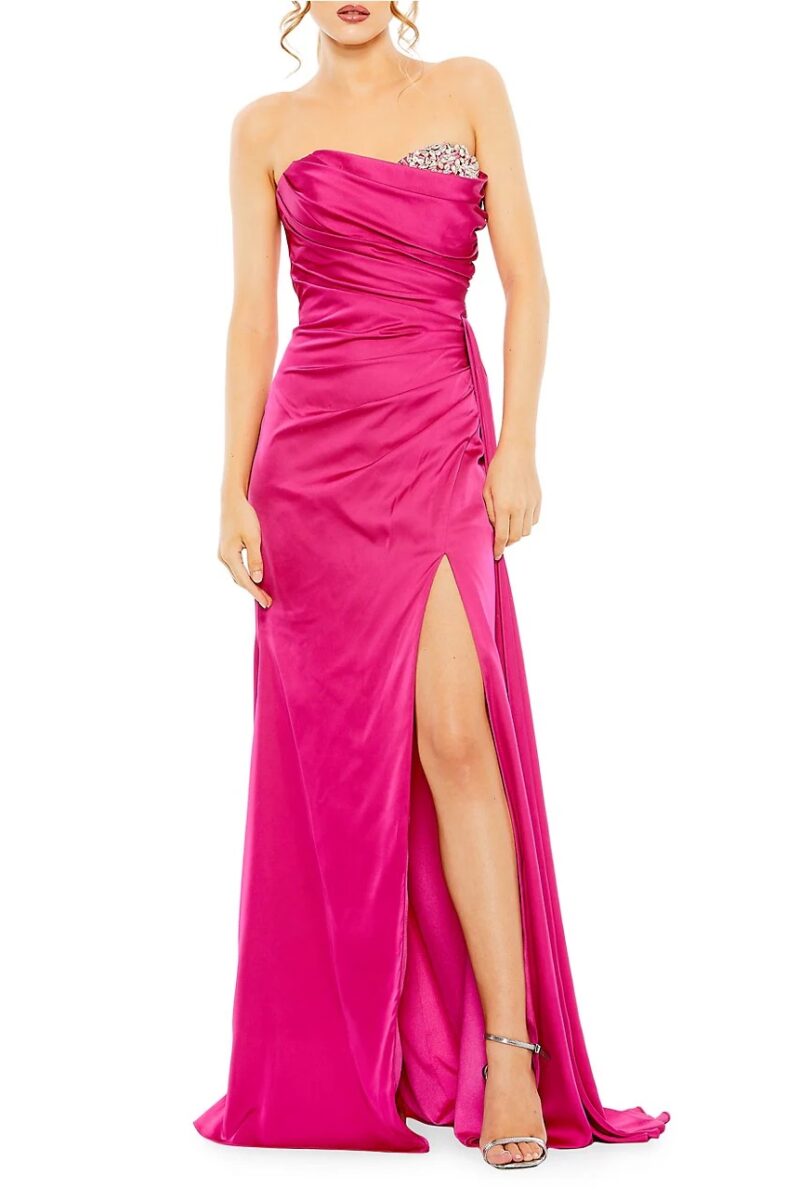 Needle & Thread Lisette Ruffle Off Shoulder Gown, $789.00
Step into a fairytale with this exquisite champagne-toned strapless dress adorned with a whimsical ruffle trim that adds magic to your prom night. The "Lisette Ruffle Off Shoulder Gown" will make you feel like an actual princess with its ethereal charm and elegant silhouette, making you look stunningly angelic.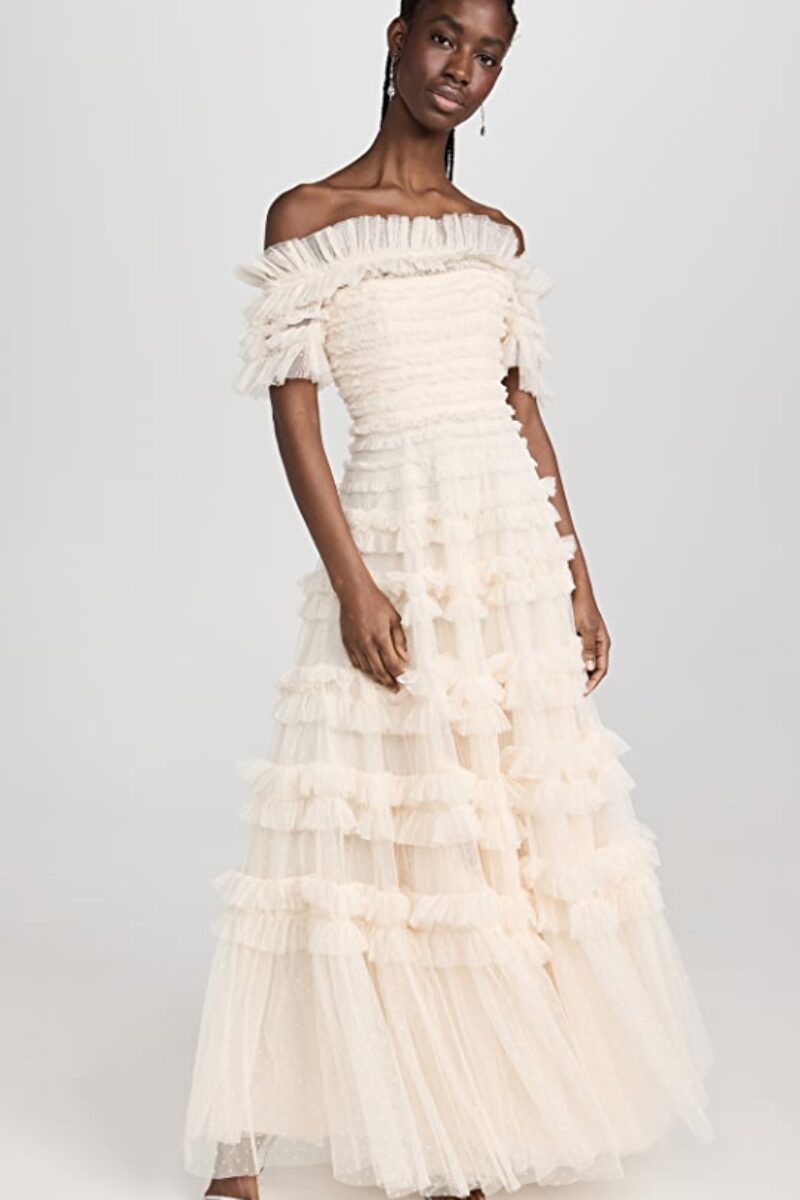 HELSI Norah Sequin Deep V-Neck Applique Gown, $675
Set hearts aflutter on your big night with this figure-hugging bodycon number. Step into the spotlight with this stunning bodycon dress, featuring delicate 3D flowers throughout its stunning silhouette.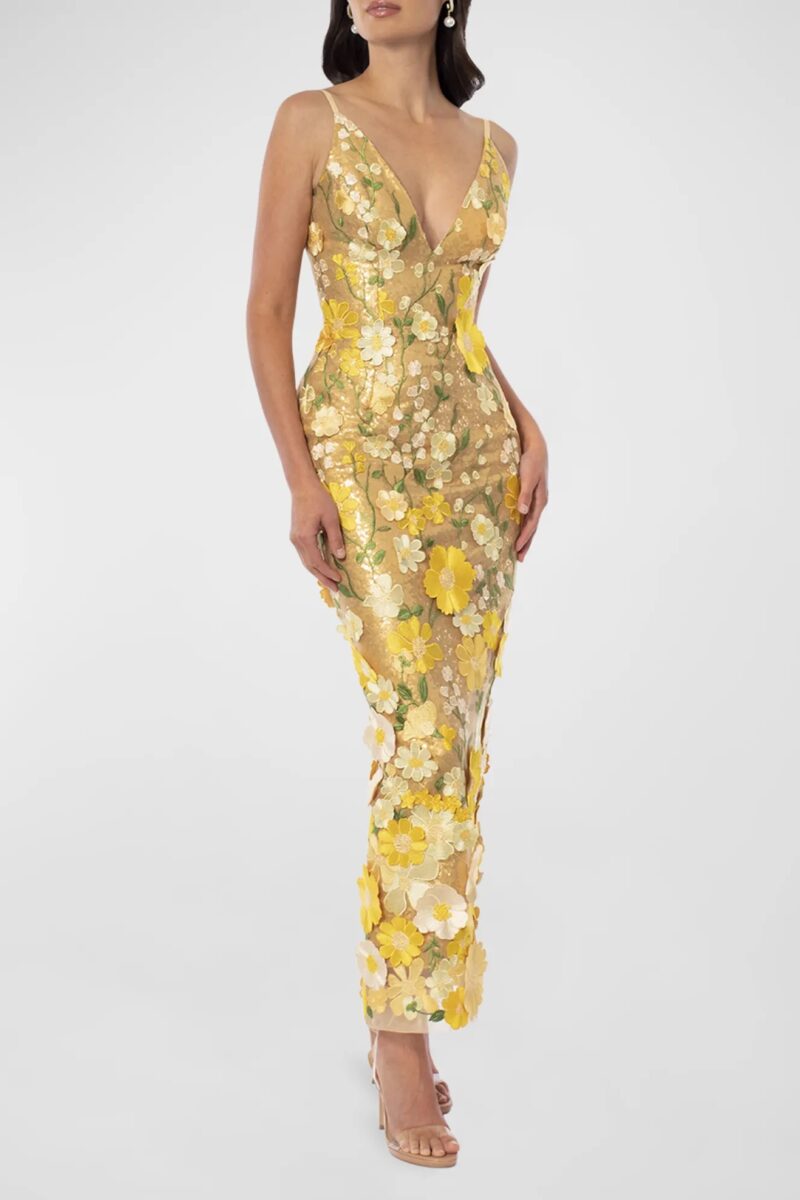 Reformation Alani Silk Dress, $398
Prepare to be swept off your feet by the "Alani Sleeveless Maxi Dress," a true masterpiece of classic and understated beauty. This dress highlights natural elegance and charm with a timeless halter neckline that delicately ties at the neck and waist. This charming dress flatters your figure, accentuating your curves and creating a chic and feminine silhouette perfect for fashion minimalists.
Line & Dot Adelyn Bias Dress, $118
Set hearts aflutter on your big night with this figure-hugging bodycon number. Step into the spotlight with this stunning bodycon dress, featuring delicate 3D flowers throughout its stunning silhouette.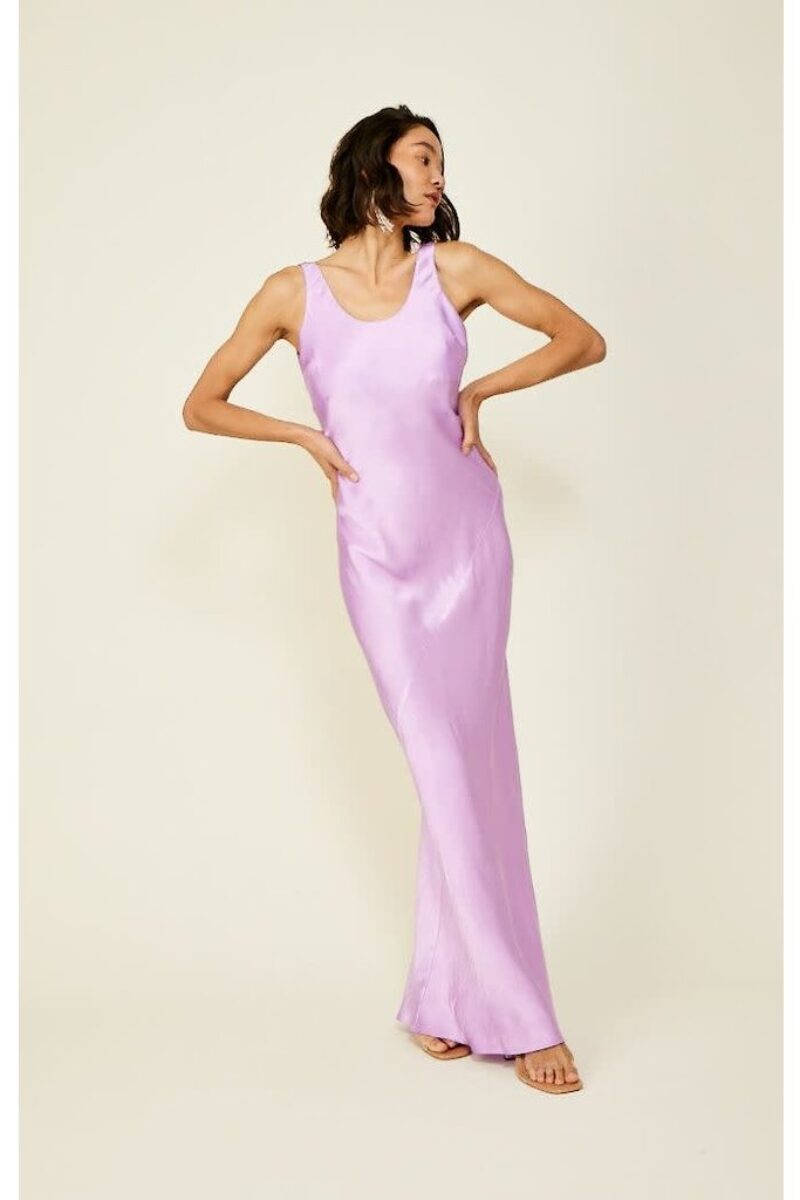 Rotate Puff-Sleeve Sequin Fringed Dress, $481
Step out of your comfort zone and into something special with this daring and unconventional dress! If you like taking risks, the "Puff-sleeve Sequin Fringed Dress" boasts stylishness and high fashion. This midi-dress will make for a superstar moment at your prom night, allowing you to stand out from the crowd.