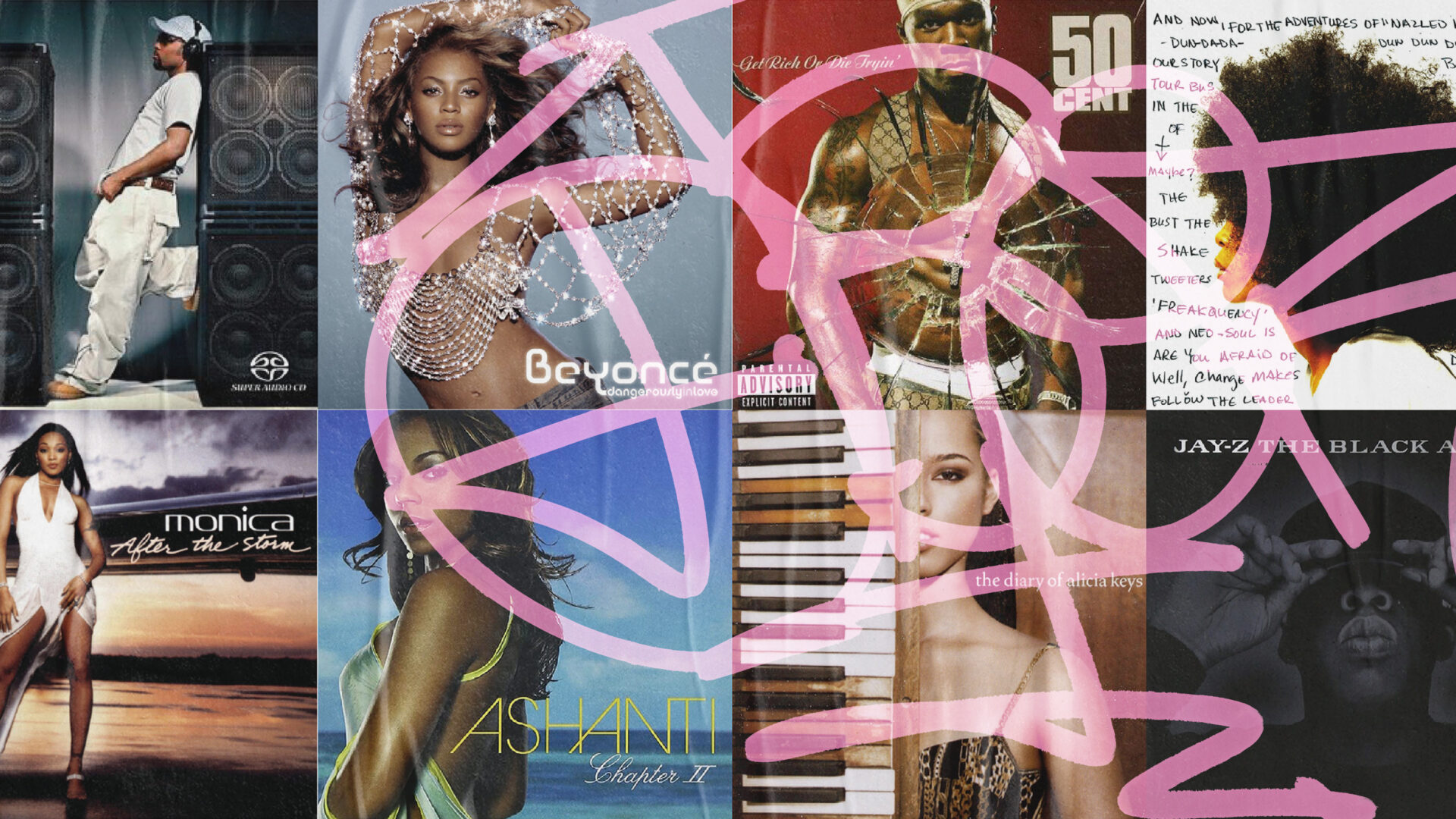 These Nostalgic Albums Turn 20 This Year
Can you believe it's 2023 already? It feels like just yesterday we were body-rolling to Beyoncė's "Baby Boy" and hearing Mos Def order the fish special with hot chocolate in Alicia Keys' "You Don't Know My Name." There are so many classic records that came from the year 2003, so much so we're still blasting them today. Here are 10 of our favorite albums that turn 20 this year.
Dangerously In Love
On June 20, 2003, our good sis Beyoncé Knowles-Carter released her debut solo studio album, Dangerously Love. The album awarded the singer five Grammys and produced hits like "Dangerously in Love," "Naughty Girl," "Me, Myself and I," "Baby Boy," and "Crazy in Love." According to a concert review on Rap-Up, Beyoncé said, "[The label] told me I didn't have one hit song on my album." She adds, "I guess they were kinda right. I had five." 
Love & Life
In her sixth studio album, Love & Life, Mary J. Blige delivers beautiful melodies on "Love @ 1st Sight" featuring Method Man, "Message In Our Music," and "All My Love." The album's fourth international single, "Whenever I Say Your Name," featuring Sting won the singer a Grammy Award for Best Pop Collaboration with Vocals.
Moodring
Moodring is the third studio album made by our favorite R&B songstress, Mya. The singer released the project on June 26, 2003, and gave us hit singles like "My Love Is Like…Wo" and "Fallen." Before working on the album, Mya lent her vocals to the 2001 blockbuster success "Lady Marmalade," on the Moulin Rouge! Soundtrack. She also had a supporting role in the 2002 film Chicago.
Tasty
On December 5, 2003, Kelis released her third studio album, Tasty. Not only is the album a certified banger but it also produced the global hit, "Milkshake" – Kelis' highest-peaking single on the chart to date.
After the Storm
In her fourth studio album, After the Storm, Monica (aka Goonica), delivers hit after hit with the lead single, "So Gone," followed by "Knock Knock," and "U Should've Known Better." The album, which was released on June 17, 2003, debuted at number one on the US Billboard 200 chart. This was the first album of Monica's to do so.
La Bella Mafia
Named after the 1997 film of the same name, Lil' Kim's third studio album La Bella Mafia, was released on March 4, 2003. The OG Queen Bee gave us hit records like "Jump Off" and "Magic Stick," which featured 50 Cent. In an interview with MTV, Kim expressed that, "any girl who's strong and very dedicated to what they do and don't take no mess, they can be part of La Bella Mafia."
Chapter II
Hit singles like "Rock wit U (Awww Baby)" and "Rain on Me" were born on Ashanti's second studio album, Chapter II. The album, which was released on July 1, 2003, debuted at number one on the Billboard 200. The Murder Inc. princess earned herself three Grammy nominations under the category Best Contemporary R&B Album, Best Female R&B Vocal Performance, and Best R&B Song.
Worldwide Underground
On September 16, 2003, Erykah Badu released Worldwide Underground, her third studio album. The project consisted of a combination of old-school hip-hop, soul, R&B, and funk. Its first single, "Love of My Life (An Ode to Hip Hop)" featuring Common, peaked at number nine on the Billboard Hot 100 and at number one on the Hot R&B/Hip-Hop Songs chart.
This Is Not a Test!
Missy Elliot's fifth studio album, This Is Not a Test! was released on November 25, 2003. The project gave us the Mean Girls anthem, "Pass That Dutch," and another classic record, "Ragtime Interlude/I'm Really Hot."
The Diary of Alicia Keys
Alicia Keys debuted her second studio album, The Diary of Alicia Keys on December 2, 2003. The album gave us dreamy records like "You Don't Know My Name," "If I Ain't Got You," and "Diary." It also awarded Keys with three Grammys, three Soul Train awards and ranked number 277 on the 2020 revision of Rolling Stone's 500 Greatest Albums of All Time list.