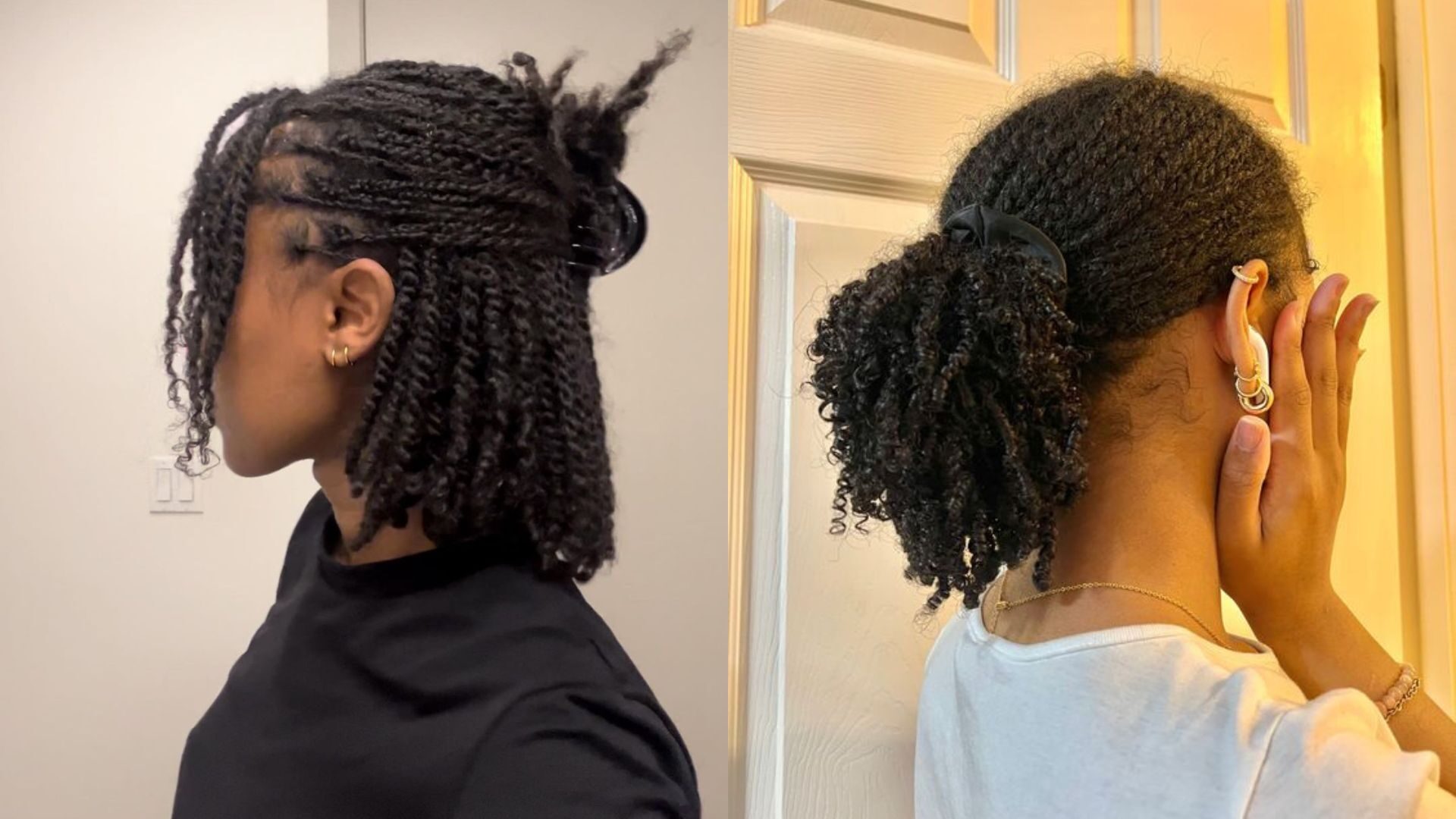 Naturalistas Have Picked The New Summer Style: Mini Twists
Read about the newest trend taking over natural hair TikTok
The verdict is in, and the natural hair community found its next go-to style of the summer: mini twists. The style is flooding the feeds of natural hair TikTok, with its hashtag reaching over 190 million views. 
The style, which is far from new in the Black community, is small, defined two-strand twists. While the installation process may take some time, the end result is a low-maintenance and long-term protective style. The style can work on many different hair types, textures and lengths. 
"[Mini twists] make me feel pretty in my natural hair," said Arsema Ameya, a 28-year-old naturalista. "It's hard to maintain a specific style and feel good in it for a really long time with natural hair, at least for me personally. I like changing up my hair a lot, so before I did the mini twist, I was doing different protective styles all the time. With the mini twists, I didn't feel like I had to do that. I could still style them in many different ways, but still feel like my hair is done."
Ameya believes that mini twists are the perfect summer style because of their versatility and compatibility. She said that people could wear the style in multiple scenarios, like on vacation or swimming, which makes it ideal for the summer.
Princess Phillips, a 24-year-old naturalista, shared the same sentiments as Ameya. She described the style as "cute" and "gorgeous," adding that her fellow naturalistas could even put a wig on top of the twists. "Mini twists [are] the best thing that happened to natural hair," Phillips told GU. "We've been doing it since we were kids, but we never really focused on the benefits of having it."
The natural hair community on TikTok is raving about the benefits of the style and claims that it is helping their hair grow. "I have beef with natural girls right now," @brethawriter on TikTok said. "Why didn't y'all tell me that mini twists grow your hair so much? Why?"
While the style could lead to hair growth, Carmen Veal Conway, a tight curl specialist and owner of the Brown Skin Women salon in Connecticut, expressed that having the style is not the only thing that causes the hair to grow. According to Conway, mini twists do not directly impact hair growth, but instead, they could be one of the factors of length retention.
"Hair growth is just how well the hair grows through the body, which is not controlled by what happens on the outside of the body," Conway told GU. "Length retention, which is often confused for hair growth, is what's going to help keep the ends and the hair as healthy as possible."
There is a fine line between any hairstyle being protective, according to Conway. Whether it is a wig, braids or mini twists, the scalp needs to be cleaned and the hair needs to be moisturized. She agrees that mini twists can be a low manipulation style; however, if people are too hands-off, it may compromise the hair's ends, causing breakage.
The most important thing that Conway recommends is having a trim within three months of installing the mini twists. Maintaining quarterly trims will help with the overall maintenance and health of the hair.
Conway, Ameya and Phillips agree that moisture is key to achieving the desired mini twist look. While Conway typically uses mouses or foams to style her mini twists, her recommendation is to find a product that is going to aid in helping the hair transition from wet to dry.
Phillips achieves her mini twists by starting on clean, damp hair and adding her favorite leave-in conditioner. Then, she will lock in the moisture with gel and oil before twisting her hair and curling the ends. She tops off the style by spreading her favorite mousse on her hair.
Like Phillips, Ameya starts her mini twist on clean, damp hair. After parting her hair into big sections, she goes in with a leave-in conditioner and gel. Then, using her three-way mirror, she parts her hair into smaller sections to install each twist. Ameya starts her twists by braiding the roots about an inch before two-strand twisting them the rest of the way down.
With proper maintenance, mini twists can last for a long time. Phillips keeps her twists in for weeks, while Ameya keeps them in for months. Conway does not recommend keeping the style in for longer than a month.
Mini twists are not only beneficial for the physical effects that they may have on a naturalista. The summer style also has a direct impact on self-confidence and self-love. The trend is empowering the community to prioritize their self-care, walk confidently in their skin and fall in love with their natural curls.
About Kayla: Kayla Grant is a multimedia journalist with bylines in Business Insider, Shondaland, theGrio, Oz Magazine, Prism, Rolling Out and more. She writes about culture, books and entertainment news. Follow her on Twitter: @TheKaylaGrant.