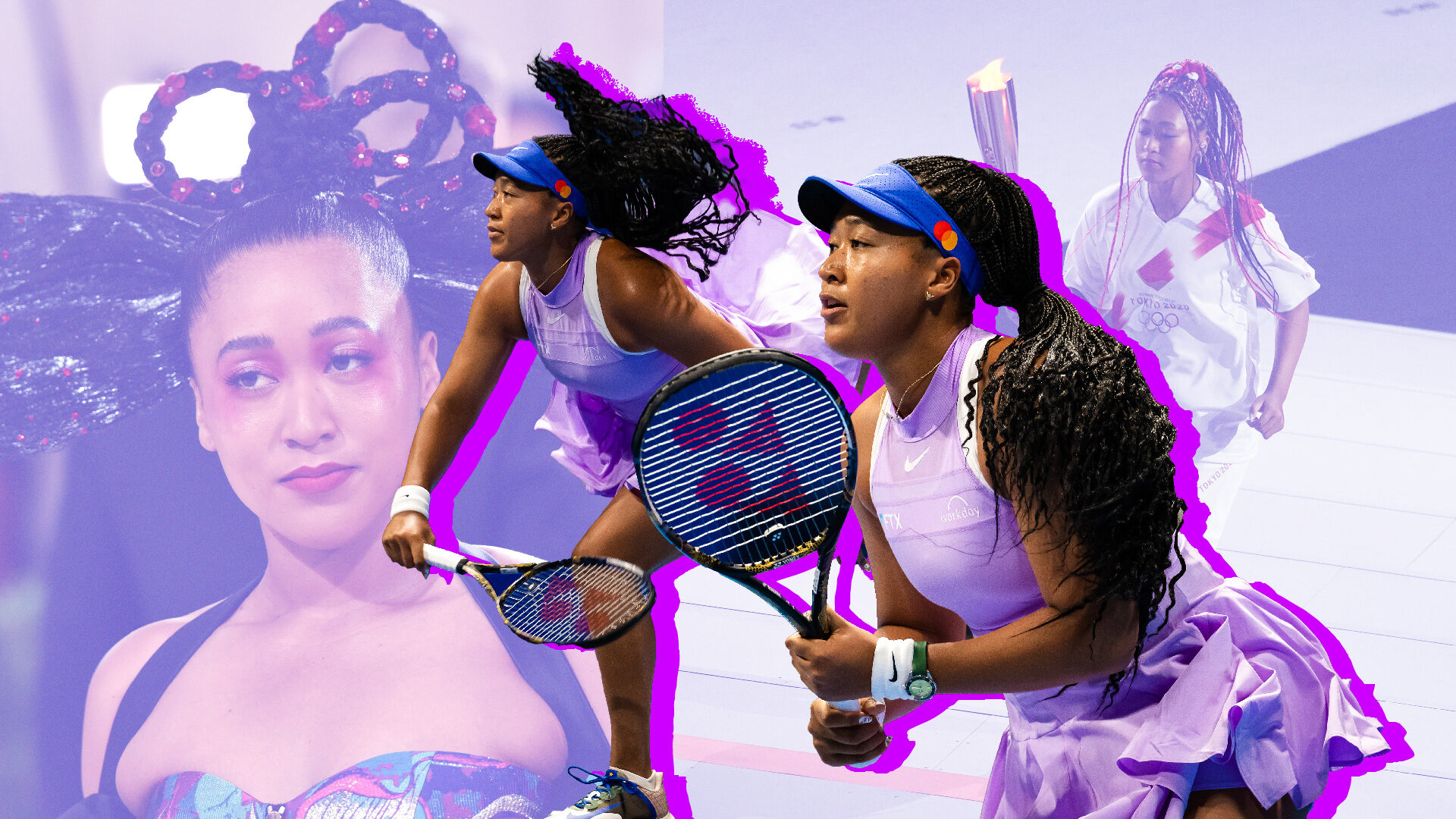 Happy Birthday, Naomi Osaka! The Tennis Star's Bossiest Moves On And Off The Court
One time for the birthday tennis star, two times for the birthday tennis star! As Naomi Osaka gears up to celebrate her 25th birthday, we want to honor her quarter-century on this earth and give Osaka her flowers. Every birthday is a significant milestone, but to kick off her 25th year in style, I culled some of Osaka's bossiest moves to date. We wish you a year filled with happiness, good health, adventure, and moments to remember with family and friends.
Her Nike Partnership
In 2019, Osaka signed a $10 million per year partnership with the sneaker brand. Since then, she has come out with several fire collaborations with the brand. With her launch in May, the Nike team took to Instagram to explain that Osaka's collections are multifaceted because she has created a line where the styling process is in the consumer's hands. 
"From the tennis courts to the streets, @Naomiosaka isn't afraid to take some risks. And neither should you," said @nikewomen's Instagram caption. "The inspiration behind her new collection was to create a collection for anyone, and everyone. With bold colors and silhouettes, Naomi hopes to inspire people to take chances with their style and try something new."
The Time She Launched KINLÒ
Launched in 2021, Osaka brought functional and affordable suncare to people of color. Inspired by her own time in the sun while on tennis courts, Osaka sought to dispel myths that our melanin-rich skin didn't need sun protection. Not only is the packaging beautiful, and the brand aims to educate people of color about the dangers of sun damage, but the line is super affordable. You can shop KINLÒ at Walmart, on Walmart.com, or Kinlo.com. 
Her Sesame Street Episode
Before giving the muppets a tennis lesson, Osaka took the time to educate them on the importance of sun safety precautions, such as wearing a visor and sunscreen. "See, everybody's skin has something called melanin in it," Osaka explained in her January 2022 episode. Segi, a Black muppet, asked whether she also needed sunscreen, and Osaka responded, "People with dark skin like you and me have lots of it… We all have different amounts of melanin in our skin. That's why our skin comes with so many different colors."
This episode was and is so important for a variety of reasons. Not only did she take the time to educate children about wearing sunscreen while playing outside, but she also educated them about taking that extra step while being away from their parents when they engage in sports. Osaka also subtlety explained the diaspora in the black community without othering one tone of black skin. Especially on a platform such as Sesame Street, children seeing and hearing these conversations is beyond major.
When She Took A Mental Health Break From Tennis
The saying "it's okay not to be okay" is often heard, but there isn't a blueprint on what life looks like after someone steps up when they say, "I need help." After the U.S. Open, she took a break from tennis after revealing that she was suffering from bouts of depression.
"Just saying out loud that I'll take a break and I will come back when I am truly in love with the sport and I know what I want to do here… it gave me time to reset myself," Osaka said on ABC's Good Morning America. "I think it was important for me to be public because I would always feel the need to put my thoughts out there. I think it gives me more clarity. I feel like being honest to everyone is really important."
The Time She Penned An Op-ed In TIME
If you haven't read her op-ed, we highly recommend you do. The clarity and depth that she used to pen about the various topics that were going on during that time are refreshing. The care and grace she used to write this op-ed is something I hope that she not only looks back on and is proud of but that people can look back on and think about what society was like during this period.
The Time She Became The First Japanese Player To Ever Win A Grand Slam Title
It's not every day one can say they surpassed someone they have looked up to in their career field. Osaka did just that after beating Serena Williams in the women's final of the 2018 U.S. Open tennis tournament. By doing this, she became the first Japanese player to win a Grand Slam Title. After winning, she mentioned how honored she was to win against William. "When I step on the court, I'm not a Serena fan — I'm just a tennis player playing another tennis player," said Osaka. "But when I hugged her at the net, I felt like a little kid again." Osaka now has four Grand Slam Titles. 
The Time She Paid Homage To Her Roots At The MET Gala 
Rapper and BF Cordae coined Osaka Ms. Put Dat Ish On, I think we can all agree that she can dress as well as play on the tennis court. In 2021 Osaka was named one of the co-chairs of the MET Gala, and it's safe to say she showed up and showed out. The tennis star partnered with Louis Vuitton's creative director, Nicolas Ghesquière, and her sister, artist, and designer Mari Osaka, to design a look that paid homage to her Japanese and Haitian roots. I'm not just saying this because we are celebrating her birthday, but she honestly had one of my favorite looks of the night.
About Allanah: Allanah Dykes is a freelance writer. Her work has appeared in NPR, Popsugar, Food52, and Complex publications. Raised on Long Island, NY, surrounded by diverse fashion, beauty, and culture, she prides herself on infusing her upbringing into every article she writes.