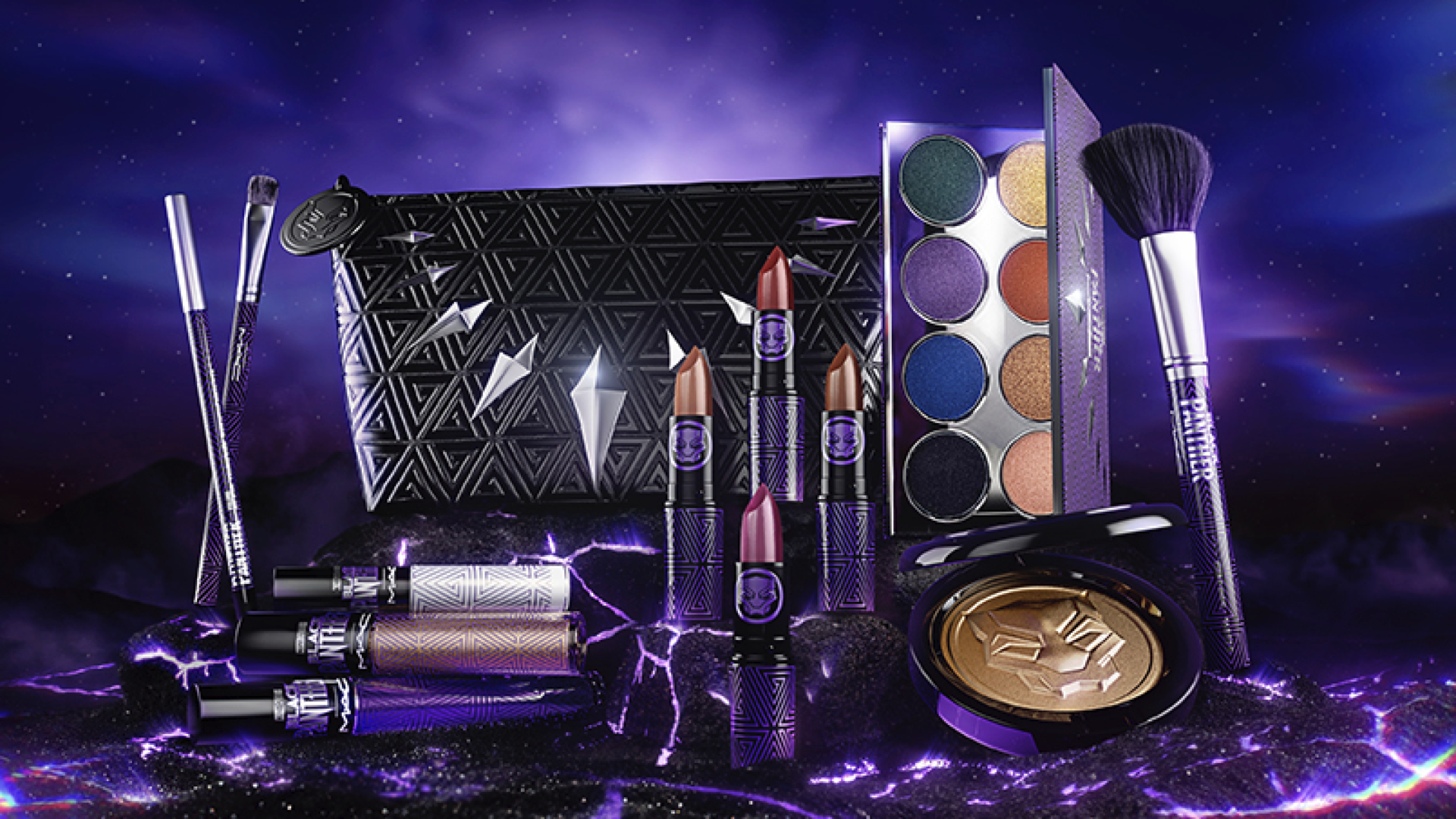 MAC Cosmetics x 'Black Panther: Wakanda Forever' Collection Is Out So Show Off Your Royal Makeup Looks This Release Weekend
'Black Panther: Wakanda Forever' is set for release on November 11, 2022.
As the world counts down the days to Marvel Studios' premiere of Black Panther: Wakanda Forever, brands are launching exciting collections and collaborations left and right. MAC Cosmetics has thrown its makeup brushes into the ring. Not only are critics saying this movie is one of the best in the Marvel Universe, but this makeup collaboration is also getting raving reviews. If you're a Black Panther and MAC Cosmetics fan, try to skip the movie theater snacks and splash out on this limited-edition collection instead.
Inspired by some of the character's looks in the movie, the MAC Cosmetics x Black Panther: Wakanda Forever collection has 18 pieces that include four lipsticks (Royal Integrity, Wakandan Sunset, Story Of Home and Dora Milaje), four Love Me Liquid Lipcolours (Show Off, The Shadows, Wakanda Forever and Thicker Than Water), a gold-flecked lip-glass (Feelin'-It), an eight-pan eye-shadow, black eye kohl (Feline), a white waterproof liquid liner (Wakandan Tradition), a black waterproof liquid liner (Wakanda Proud), two highlighters (Royal Vibrancy and Royal Challenge) a face brush, an eye brush and a makeup bag.
The anchoring color palette of this collection is jewel tones, matte finishes, and shimmering metallics. They took further attention to detail with the packaging, which mimics Black Panther's signature superhero suit. My favorite part of the packaging is the purple accents representing the power of the Heart-Shaped Herb (the plant that only grows in the nation of Wakanda.)
I love this collection because you can create Wakanda-inspired makeup and rock super-wearable everyday looks. If you want to buy the collection, videos have exploded on Tiktok. There are a couple of hashtags you can look to for inspiration. The maccosmetic x black panther hashtag has over 728 million views, the mac x black panther makeup hashtag has over 320 billion views, and the black panther mac cosmetics hashtag has over 723 million views.
Tiktoker @bexcxmpbell used the collection to create a black and blue wing with a gold lid. It's so important that she pointed out that although she is lighter in tone, this collection is perfect for darker skin tones because it is made for all skin tones. She finished the look with the Wakandan Tradition liquid liner to do floating dots above her eyes, Royal Challenge highlighter and The Shadows Love Me Liquid Lipcolour.
Tiktoker @cassiie_mua showed off her "inner African Queen" by creating a traditional Wakandan makeup look with face gems. She beautifully showcased the shadow's deep pigment.
If you want a makeup tutorial that you can wear to an important event, Tiktoker @joyjah showcased the look she wore to a Black Panther: Wakanda Forever premiere. Her orange and brown combination is the definition of fall. This look shows that although the eye-shadow palette has an interesting color combination, there are many wearable options.
Grace Amaku's (grace_africa) Black Panther: Wakanda Forever premiere dress has been all over social media, but her natural makeup look using the collection also takes the cake. The Feelin' It Lip Glass looks like it would have more sparkly flecks in the finish, but this gloss has a high sheen with a subdued finish.
Prices range from $23 to $39, and you can purchase the collection on the MAC Cosmetics website. If the movie theater security guard catches you sneaking popcorn from home and dollar store candy, please don't blame me. Tell them you had to get your hands on this collection to show up in style.
About Allanah: Allanah Dykes is a freelance writer. Her work has appeared in NPR, Popsugar, Food52, and Complex publications. Raised on Long Island, NY, surrounded by diverse fashion, beauty, and culture, she prides herself on infusing her upbringing into every article she writes.