Kim Shui's Playful SS24 Show Was A Poetic Nod To Her Upbringing In Italy
The designer tapped into her heritage and her past to bring the fashion world a new collection to undoubtedly set the trends for the upcoming year.
Kim Shui's latest runway show was a whole new take on the looks she designed last season. The show included vibrant hues of pinks and reds and whimsical silhouettes that felt reminiscent of the designer's Italian upbringing. While Shui was born in the U.S. most of her childhood memories are found in Italy. She reimagined her memories in an Italian restaurant and New York staple, Barbetta. Models sashayed displaying a variety of flirty personalities.
The star-studded affair included rappers Doechii and Saweetie, Dreya Michelle, and Suki Baby, the cover star of Drake's Her Loss, walk the show. TikToker Antoni Bumba made her New York Fashion Week modeling debut on the runway among the diverse models.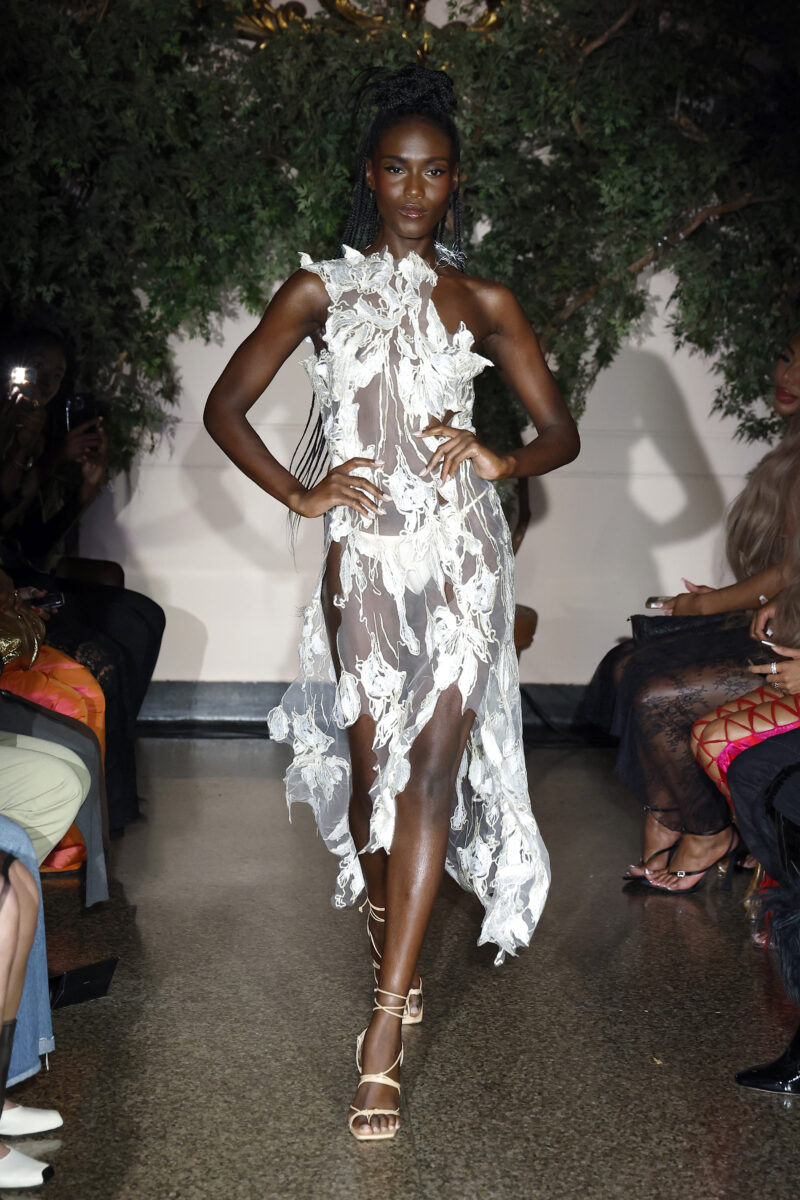 The 37-piece collection features corsets, sexy off-the-shoulder silhouettes, and silky textures made from mud silk. Shui grew up feeling not Chinese or Italian enough throughout her childhood and this collection was a way to turn those feelings into "power, joy, and ultimately celebration," said in a statement on the show.
These pieces are made to reimagine what it means to be "feminine" and explore the identities of "otherness" in tandem. Shui is storytelling with flamboyant shapes and vibrant colors, which is sort of a nod to the healing of her inner child. She grew up feeling othered and on this night everyone felt like they belonged. The runway collection was inspired by childhood stories she grew up on and visually from artists Hannah Lim and Faye Wei Wei's themes of mythology and womanhood. Fabrics like sequins, tulle, lace, and taffeta filled the collection and reflected those stories seamlessly.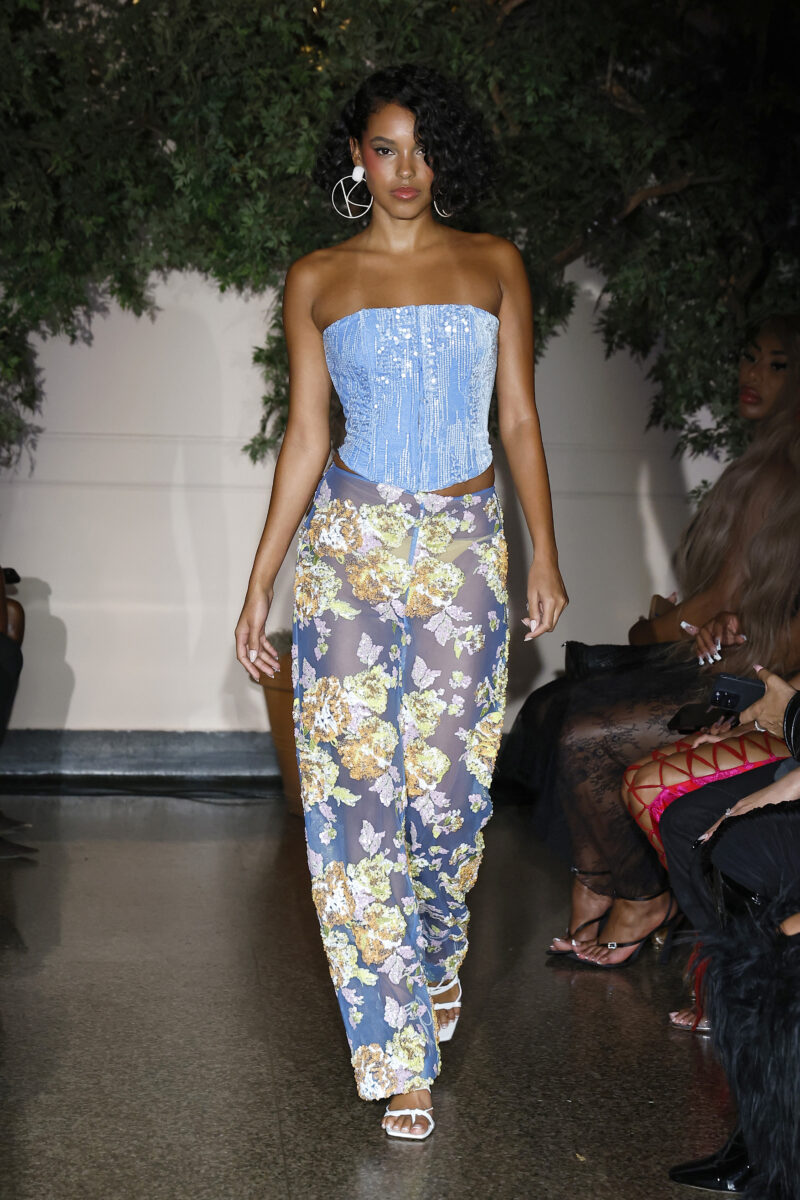 This runway felt like the perfect blend between Shui's Asian heritage and her Italian youth as the silk the designer used is a sacred Chinese fabric. The mud silk Shui used is 100% biodegradable and dyed with natural plant dye from Chinese Yam.
A red and pink qipaos, a very popular silhouette in Chinese fashion, was made of silk with a sexy chest cutout detail. Other stand-out pieces were the bright floral dresses made of a sheen fabric. The two styles came in a longer, more conservative-leaning length and a shorter dress that barely grazes the knees.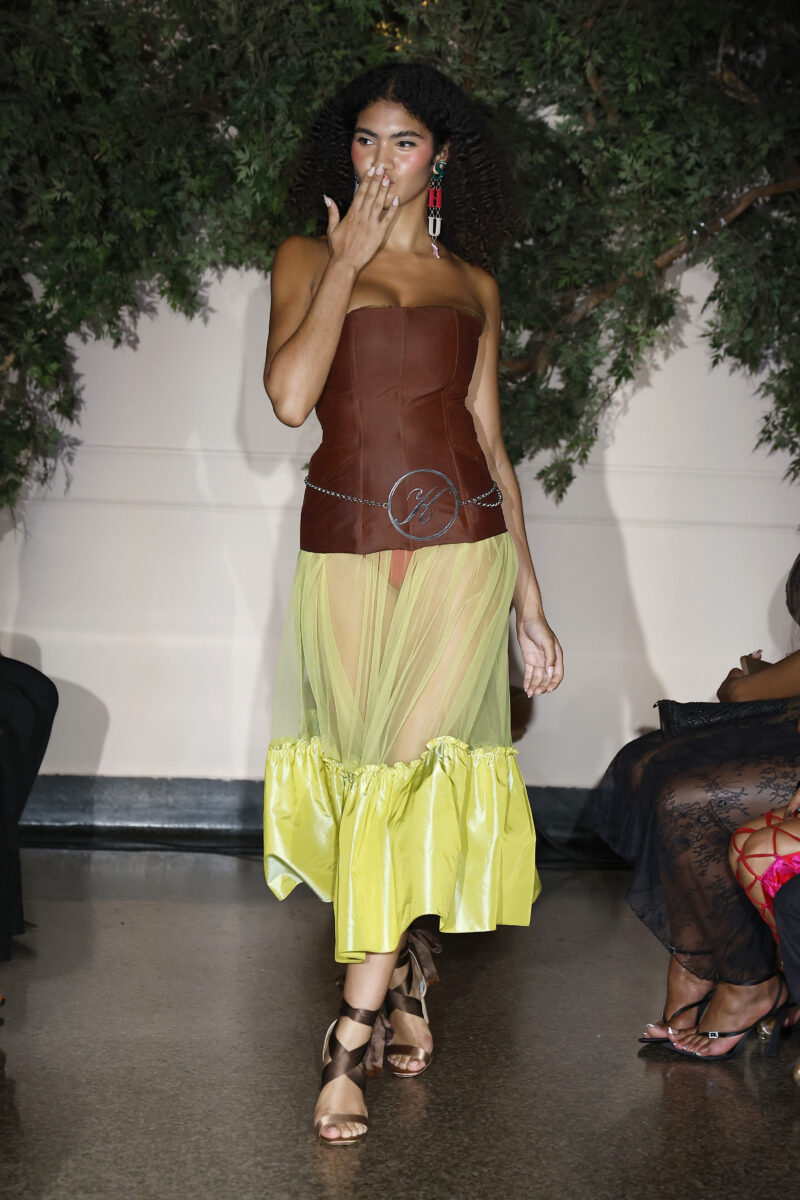 Some looks were very true to Kim Shui's barely-there signature designs like her super cropped tops, miniskirts, and sheer fabrics.
However, in comparison to last year, she's catering to the girls who like a bit more coverage. Either way, she's making it known that you can go to her for a plethora of looks. Kim Shui isn't just for one kind of girl. She's for everyone.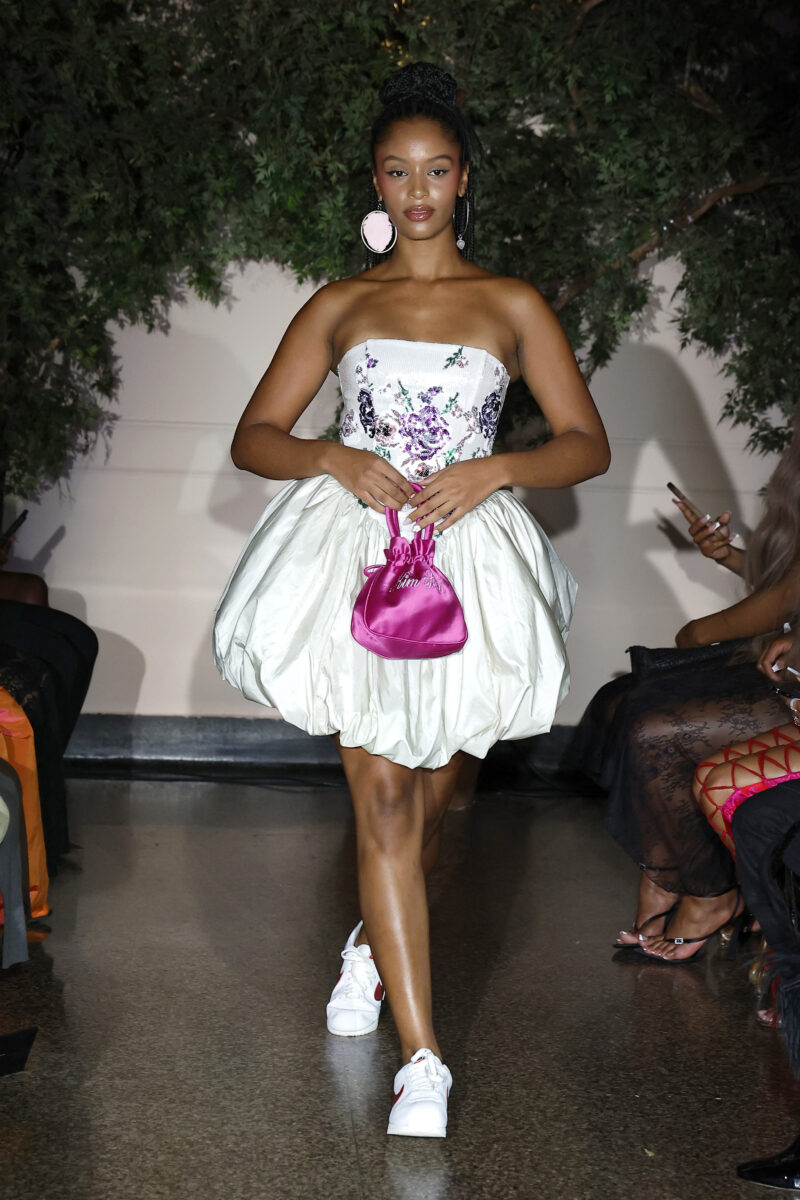 Photo Courtesy of Francesc Ten