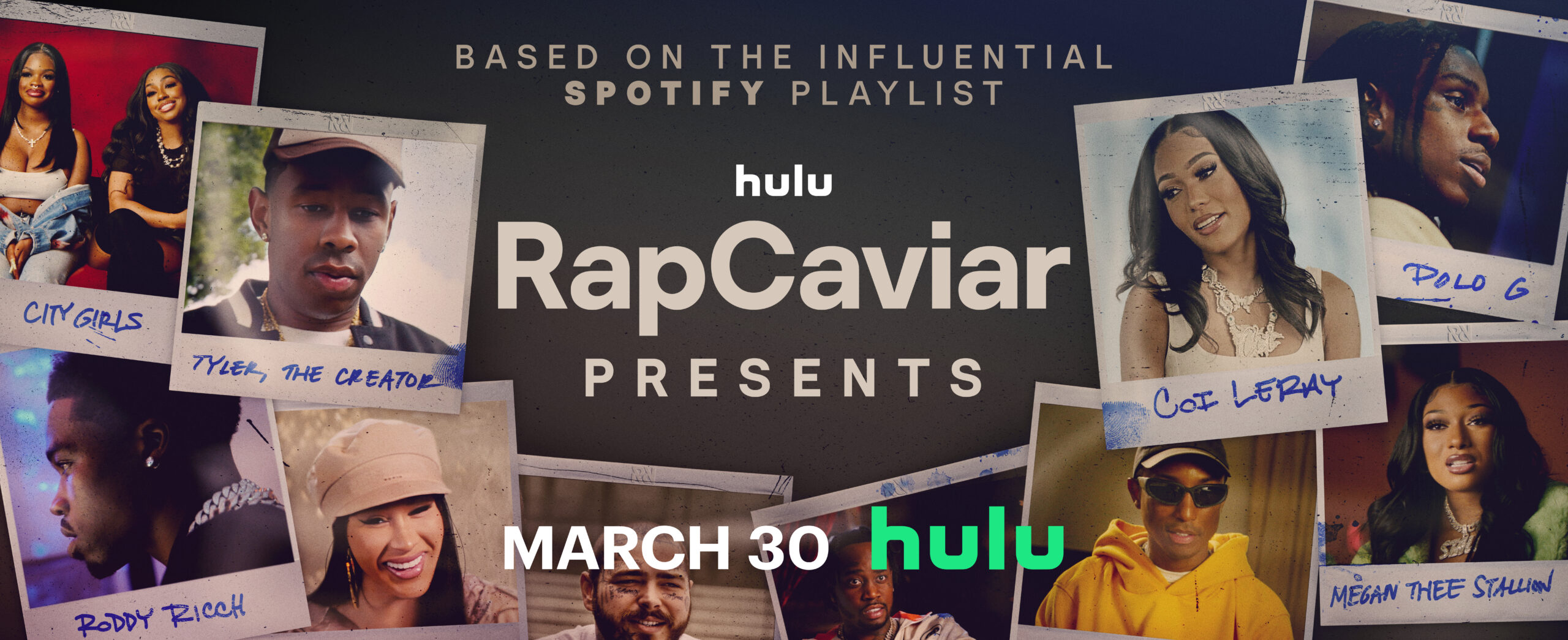 Hulu And Spotify Team Up For RapCaviar DocuSeries
The women behind the camera are ready for a new era in the music industry
In celebration of 50 years of hip-hop, the time to touch on societal issues in the community is more prevalent than ever. This is why Hulu and Spotify are teaming up to bring the streaming service's beloved playlist RapCaviar to life with a new docuseries.
RapCaviar Presents is a captivating story that dives into some of today's issues through the stories of hip-hop figures and emerging stars leading the charts and impacting the culture, focusing on stories from the City Girls, Tyler The Creator, Polo G, Roddy Ricch, and Coi Leray. Based on the influential Spotify playlist launched in 2015, the six-part series visualizes current events that untangle important subjects and offer an artist's perspective.
"I got so excited to see what they were doing to represent these rap artists but show them in light of humanity and delve into issues that all artists face," Director Farah X told GU. "It was really such an exciting project, and I was thrilled to be able to work on an episode that was female issue-driven."
X's episode titled "Hate Me Now" focused on the body image issues hip-hop places on Black women and spotlighted Coi Leray. While men can become stars of talent and artistry alone, women in hip-hop encounter expectations to conform. Leray is battling social media and societal norms to create space for new beauty standards while proving she's not just a TikTok artist.
"The pressures on women to do things, look certain ways and act certain ways in comparison to the pressures that men don't feel for that, it's like women have to go 1000 steps further for each step their male counterpart takes," X said.
The docuseries touches on misogyny, body image, drug abuse and online harassment. Wendy J.N. Lee and Quan Lateef-Hill, the director and supervising producer of "Money, Power & Respect," had one sole motive for this episode: change.
"The world has changed drastically [regarding] social change, social awareness and social consciousness," Lee told GU. "It's not just that people are activating, it's that on the other end, people are activating to listen in a new way."
Lee and Hill's episode is told from the perspective of the City Girls and the new wave they created with their Miami flavor and women empowerment in their music. "There was great intentionality from us to kind of narrow that episode's focus into a conversation around agency, ownership, who gets to tell our stories, who gets to represent us and classify us as women and as human beings, period," Hill said.
These women-curated episodes bring necessary representation in front of the camera and behind the scenes. Through the docuseries, the creators hope to start a new conversation surrounding the perception of rap artists, but specifically, women being at the forefront of the discourse.
About Kenyatta: Clark Atlanta University and Medill School alumna Kenyatta Victoria is the Girls United writer covering everything from news, pop culture, lifestyle, and investigative stories. When not reporting, she's diving deep into her curated playlists or binging her favorite comfort shows.