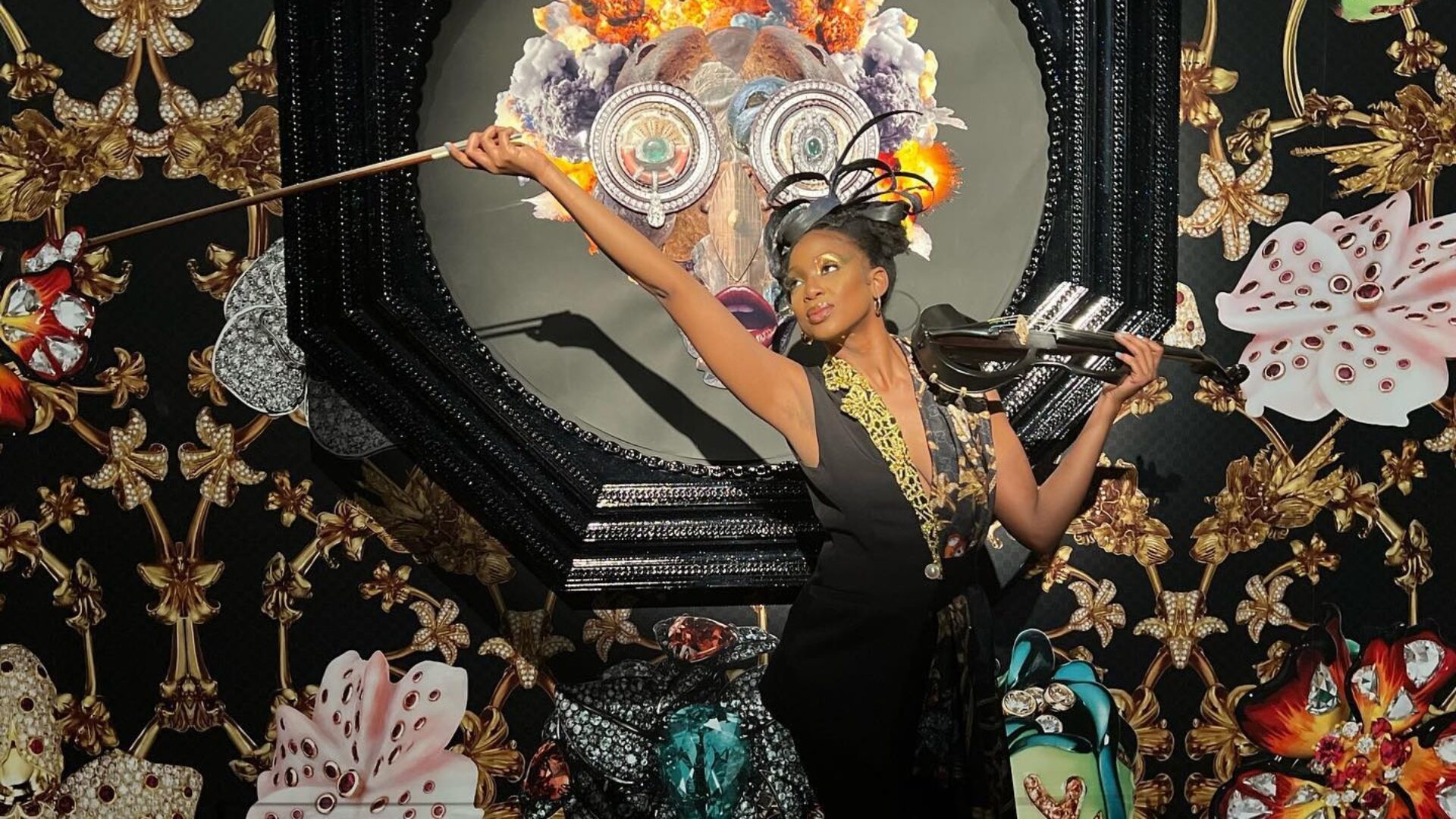 Gen Z & Millennial Black Women Are Changing The Arts
The ultimate goal is to create a more inclusive future.
Gen Zers and Millennials never allow themselves to be placed into a box. This is especially true in the classical arts world, which historically and institutionally does not welcome Black creatives.
Nationwide, only six percent of all students who earn bachelor's degrees in music are Black, according to an article published in January 2021 by The Journal of Blacks in Higher Education. From the color of the tights and pointe shoes in ballet to the erasure of Black instrumentalists' history, these disciplines are geared toward a Eurocentric lens.
With the rise of new Black instrumentalists, opera singers and ballerinas, Gen-Z and Millennials are shattering the glass ceilings and forcing the pre-existing landscape to shift. They are carving a space for themselves in these art forms and crafting a more inclusive future.
Taylor Edwards – Hiplet Ballerina
Since Taylor Edwards was a little girl she knew she was put on Earth to fulfill her purpose through dance.
The 27-year-old Chicago native trained at the Sammy Dyer School of Theatre, where she learned one of the most valuable characteristics a dancer could have: versatility. She perfected multiple styles of dance, including tap, ballet and jazz. However, her extraordinary talent alone couldn't shield her from discrimination.
Read "Lizzo Plays Former President James Madison's 200-Year-Old Crystal Flute"
Edwards didn't fit into the societal ballerina body standard due to her short and thick stature. "It can be very hard when you don't have a sense of who you are as a person, but I've always had a sense of who I was and it didn't break me at all," she told GU.
The highly skilled dancer and choreographer is changing the landscape of the industry as both a solo performer and with her fellow Hiplet Ballerinas. Created by Homer Hans Bryant in the 1990s, hiplet (pronounced hip-lay) combines different dance styles, such as hip-hop and jazz, and has dancers perform the moves on pointe. "Homer has this thing, and he says, 'We're trained in tradition, but we're dipped in versatility,' [and] my gift in dance has always been that I'm a very versatile dancer," Edwards said.
Being a member of Hiplet Ballerinas allows her to do what she loves and fully be herself. When she started her journey at the Chicago Multicultural Dance Center, the home of the Hiplet Ballerinas, she didn't imagine that she would be where she is now. When she began her journey with the dance company at 13 years old, it was her first time seeing Black people in her field. She wants the future of ballet to be more inclusive and indicative of the possibilities.
"People should see heavy chested ballerinas," Edwards told GU. "People should see big booty ballerinas. People should see thick thigh ballerinas, so that they know that the goal is achievable."
Bri Blvck – Trap Violinist
When Bri Blvck was in the sixth grade, she decided that the clarinet would be her instrument of choice; however, the universe had other plans. She ended up in an orchestra class with a violin in her hands, and instantly fell in love.
Growing up in North Carolina she couldn't even imagine playing anything outside of the sheet music until a few of the orchestra kids suggested an improv session.
A combination of watching Black instrumentalists on YouTube and that initial jam session led the 26-year-old to where she is today: a violinist who can blend classical tunes with music that connects with her culture. "A lot of the classical music spaces aren't looking for specifically what I do, so I choose to not be there," she said.
She creates safe spaces for people in the industry by hosting multiple jam sessions a year. There, creatives get together and create live art in the moment.
The New Jersey-based violinist also makes it a point to increase the visibility of Black instrumentalists in less fortunate communities by picking a spot and simply playing her violin in public. "It's important that we see people doing things we've never imagined people doing before," she said. "It broadens … our pathways of thinking and what's possible."
Sydnee Johnson – Opera Singer
Sydnee Johnson didn't always want to be an opera singer; however, when she heard the power of her own voice, she fell in love with the art and the way it sounded.
Her journey trying to break into the industry has not been easy. Johnson is pre-judged and underestimated before she even steps foot into any audition room. For each audition, she is asked to submit, at least, a headshot and a résumé. "I've gone to some auditions and had some people say, 'you're not what we're looking for physically,' [or] 'you're not going to fit our role ethically,'" Johnson told GU.
She also experienced pianists refusing to play for her because they were either intimidated by or unprepared for her talent.
"It's just been a sensitive game because sometimes people don't know how to navigate working with people of color, especially because there's not a lot of African American pianists [and] not a lot of African American directors," she said.
The Dallas native relies heavily on the community that she formed during her undergraduate experience at Clark Atlanta University. For the 24-year-old, that community is her very own safe space within the classical arts.
In order to stay true to her roots, Johnson takes it upon herself to study the Black imprint in opera. She researches composers, stays up-to-date on new operas and keeps abreast on the current landscape of the industry. The vocalist puts in extra hours to be prepared with all of the things that are required for her to know and the things that she feels like she needs to know for herself and her culture.
She wants there to be more unity amongst the Black creatives in opera and more diversity in the education of it in the years to come. "I would love for us to get more coaching and more lessons from people who look like us," she told GU. "I would love to be taught by someone who looks like me and understands what I'm going through on a daily basis."
Yanna Cello – Trap Cellist
Esperanza Spalding was Yanna Cello's first inspiration in the classical world. After her mother brought home a CD with the bassist on the cover surrounded by string instruments with a big afro, she knew that was what she wanted to do. When her composer told her that girls can't play the bass, the Chicago native decided to pick the second largest instrument in the room: the cello.
"Thank God, it worked out," she said, laughing as she looked back on the memory. The cellist boasts on Instagram that she is classically trained and trapfully raised. She began playing at 10 years old, and after moving back to Chicago, she continued taking private lessons at Hyde Park Suzuki Institute, a Black-women owned music school. She kept playing until she went to college; however, she didn't stay away for long.
She decided to pick up the instrument again after graduating graduate school in 2017 with a new revived passion to relearn the instrument. "I was extremely rusty," she said. "It was pretty much being a new student all over again, so I posted a cover on Instagram to Mask Off by Future." After the cover went live, people began reaching out to her to perform.
"It has been very refreshing to play music I love [for] the crowd I identify with the most and that has the utmost appreciation for it because growing up classical, I was always surrounded by Asians and white people, and it's hard not to feel inferior and inadequate in those settings." she said. "Now, I'm just able to be myself."
Read Have You Heard Of Black, Gay Jazz Musician Gladys Bentley?
In the classical space, she wants to see more representation and better music education programs in public schools in inner cities. "There are so many amazing drummers, guitars, bass players, [and] pianists, but when it comes to just Black string players that actually have quality music, education and are good, [it's] just probably lacking in Chicago," she said. "If it's lacking in Chicago, I know it's lacking in other major cities too."
About Kayla: Kayla Grant is a multimedia journalist with bylines in Business Insider, Shondaland, theGrio, Oz Magazine, Prism, Rolling Out and more. She writes about culture, books and entertainment news. Follow her on Twitter: @TheKaylaGrant.