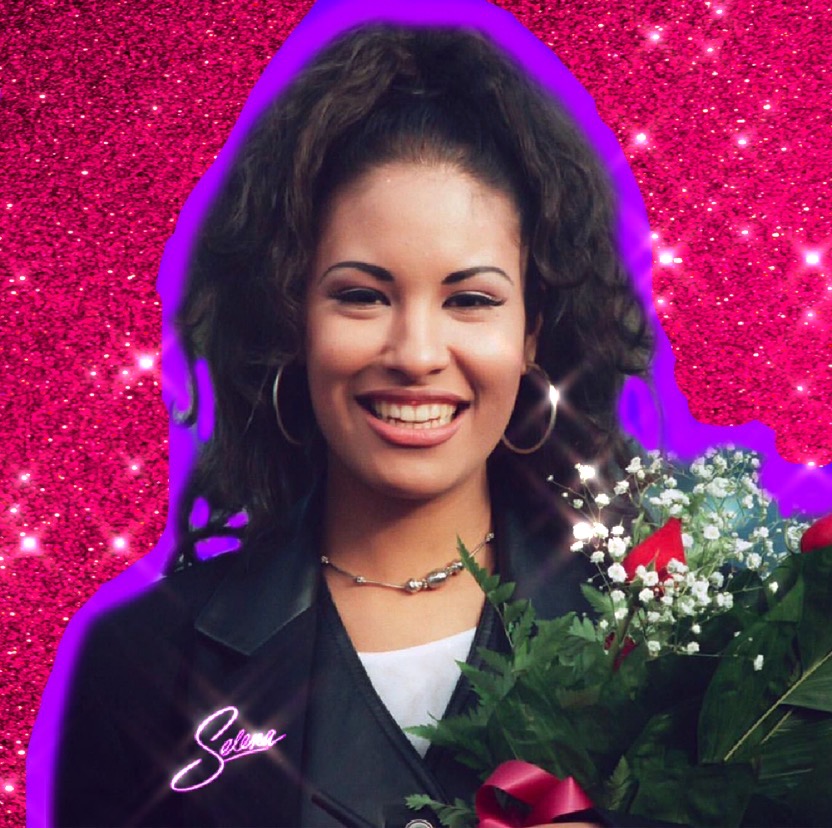 How Selena Impacted The Black Community
It's been 27 years since the Tejano singer was killed at age 23.
The name Selena means "moon" in Greek.
The moon is an intriguing celestial object—it's a constant reminder of the cyclical nature of life, while it also serves as an indicator of the changes we experience.
At the time of her death in the spring of 1995, Selena Quintanilla's life was rapidly changing. One year prior, she had received a Grammy award for Selena Live!, which was the first Tejano album ever to do so. Quintanilla had also ventured into the worlds of fashion and acting — the singer had established two boutiques, Selena Etc., in her native Texas, and had a small cameo in the 1994 film Don Juan DeMarco. After years of putting in work while touring alongside her family, it seemed as if Selena was primed to become one of the biggest stars of the tail end of the 20th century.
When Selena was gunned down in Corpus Christi, TX by the president of the San Antonio chapter of her fan club, Yolanda Saldívar, the world halted. In the hours after her death, dark clouds filled the sky, and by the time the barely-there new moon emerged, it had begun to rain.
Fans wondered how someone so beautiful, talented and energetic could be taken without a moment's notice. It was jarring, as those who loved Selena honored her memory through the experiences she had given them, but they were also engulfed by grief. The fans mourning her were not just Mexican Americans. The Black, non-latinx, community had come to love and support the young singer, too.
I remember the first time I heard of Selena. Jennifer Lopez had been selected to portray her in the 1997 eponymous biopic. I quietly sat on the floor of my aunt's apartment and watched it in full. By the time it ended, I was enamored by her sense of style and musicality. I knew that our cultures were different, but I was inspired by her nonetheless.
In recent years, I've come to realize that there are multitudes of Black people who feel the same way. For Halloween in 2019, fellow Texan Normani dressed up as Selena for a party.
Keke Palmer is also a big fan of Selena. She has shared more than one rendition of some of the Tejano singer's biggest hits. Most recently, Palmer sat down with Jennifer Lopez for an interview in 2019, and together they sang Selena's "Amor Prohibido."
"Maaaaaaaan I got to sing 'Amor Prohibido' for my girl [Jennifer Lopez] and she joined in with me! 😩😭❤️" Palmer wrote on Instagram. "[A] gag in a half honey! That movie was so special and still is. Long live Selena and all the hearts she touched."
A part of Selena's legacy is the fact that she touched all kinds of people all over the world. Even now, 25 years after her untimely death, Selena continues to inspire multiple generations within the Black community.
For the anniversary of Selena's passing, we spoke with a number of young Black fans about how the singer impacted their lives.
_______________________________________________________
Erica Spears, mother
I'm a HUGE Selena Quintanilla Perez fan. Selena was beautiful, humble and took to everyone. Her style was one of a kind and she was very versatile, when it came to music and clothes, one of her biggest inspirations was Janet Jackson. Her impact was significant to the Black community because other than being Mexican, Selena could relate to us, she didn't come from money and literally started from the bottom to become a successful full on entertainer, I admired that about her.
Tahirah Jarrett, founder of Just Tea
I was about the age of 6/7 when I was introduced to Selena's music. I vividly remember turning the channel and watching the movie for the first time. After that it came on every weekend for a month and I'd ask my mom every weekend to check to see if it was coming on for me to tune in.
"A few months later, my parents divorced and we moved to Florida. It [was] Christmas time…and all I wanted was to listen to "Como La Flor" and "Dreaming of You," while singing to my teddy bear audience. Because I wouldn't stop begging my mom to watch the movie, she bought the VHS and all of Selena's CDs for Christmas. Absolutely no one could tell me I wasn't [Mexican.] I would sing and dance Cumbia, and scream "anything for Selennnaaassss" when I got my way. Her work moved me…..physically, mentally, and emotionally as a kid. Her records also taught me culture and how to appreciate similar ethnic backgrounds to my own. I still throw her music on from time to time to evoke my younger self, my safe space.
Fat Tony, rap artist
I love Selena because I'm a Houstonian. When I hear her songs, I think of my childhood. Anytime I DJ in Texas, her songs get the biggest reaction, no matter who is in the audience. Swipe to the second video in this Instagram post for proof. She's the ultimate crossover artist for Texans.
In 1995, over 61,000 people watched her perform at the Houston Livestock Show & Rodeo at the Astrodome. This was one of her last concerts before she passed, and my first memory of her. Although her hometown is Corpus Christi, this performance made her an honorary Houstonian, in our eyes. I still remember my mother picking me up in elementary school and telling me about her death. We even watched her biopic film in my high school psychology class as part of our curriculum.
Selena, like most American artists, was clearly influenced by Black pop music. On YouTube, you'll find videos of her performing Janet Jackson, Michael Jackson, Black Box, and Ralph Tresvant. In this clip, she lists Janet, Michael, Whitney, and Mariah as some of her biggest influences. She even did a disco medley at her iconic Houston Rodeo performance.
Her look, style, and fashion sense have been an influence on singers ever since, from R&B to Pop… The sound of the synthesizers and drum machines have been an influence in my music, especially on my upcoming album "Exotica." Those classic synthesizers that instantly remind you of the 80s and 90s. Her music will always feel like my home.
Pheolyn Allen Hayes, writer and educator
Growing up in Dallas, Selena's impact was literally everywhere. I couldn't count the amount of times I've walked down a street corner and heard someone blasting Como La Flor" or "Amor Prohibido".
I became fascinated with Selena when I randomly heard "Dreaming of You" on the radio and became enraptured by the woman singing. Eventually, my cousin showed me the biopic starring Jennifer Lopez, and I was hooked and inspired by her perseverance and the success she achieved despite all the odds stacked against her.
Her music has really become the soul of underrepresented Texans. Typically, when people think of us, they only picture white cowboys and dairy farms. Selena was a girl from the barrio, the hood, like many of us and she became a star. She's been a beacon for many of us Texas dreamers. An example that not only can we come from very humble beginnings and achieve our greatest dreams, but that where we come from is something to be proud of. She's one of the first that showed the world, that the Texas spirit can make legends, especially legends of color.
Autumn Raynor, Professor of Speech Communication at Houston Community College
My friends and I were crushed when she passed. Unexpectedly (to us as naive kids) our high school's Black-brown coalition went through some turbulence when it was time to honor her. We wanted to put up posters of our condolences for her just like our Latinx friends planned.
The school admin approved the requests immediately and gave us supplies. But some of us Black Selena fans were also fans of Eazy-E. [He] passed March 26th of '95, Selena passed away on that March 31st.
Those same administrators had immediately rejected our tributes to Eazy-E earlier that same week. They eventually relented and allowed us space for both artists, but we learned a lesson about how adults measure who is, and who is not, an 'appropriate' person for kids to mourn.
We grew up and still love, and miss, Selena. Our daughters wake up to Selena on Saturdays and know it's time to clean. We always stop at the Selena Museum in Corpus when we're there.
Tag us on Twitter to tell us about how Selena impacted your life.