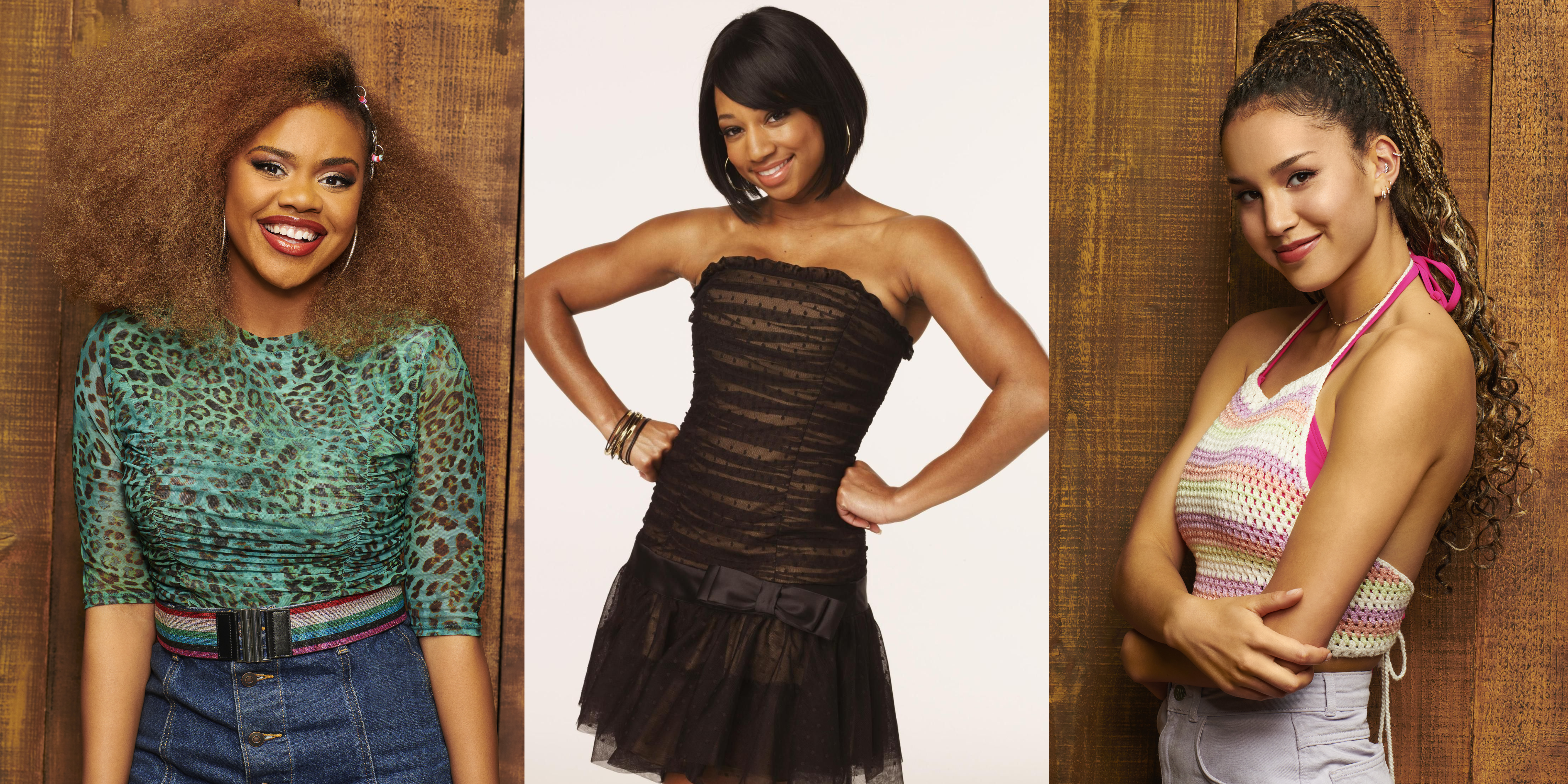 Dara Reneé Says Monique Coleman 'Absolutely Slayed' As 'High School Musical's Taylor McKessie
Reneé and co-star Sofia Wylie spoke to GU about all things 'High School Musical: The Musical: The Series'
Alexa, play "We're All In This Together" by the cast of High School Musical!
Remember when we all ran to our televisions at 8 PM Eastern Standard Time just to catch the opening scene of the lodge in the winter break when Gabriella and Troy first meet? Times sure have changed since 2006 when the first installment of the High School Musical franchise launched and changed our childhoods forever. We were first introduced to Troy, Gabriella, Sharpay, Ryan, Chad, and Taylor as the original HSM characters but a few sequels and spinoffs later, Disney Plus has given us a new gang of teens to love, appreciate, and grow with.
"That was very much a different time. I feel like we're trying to work out of different things and we're still working on how to better our representation," actress Dara Reneé, who plays Kourtney Greene in High School Musical: The Musical: The Series, told Girls United.
As she recalled her experience expounding on the storyline of a Black girl main character in the Disney Plus series, Reneé also paid homage to an original HSM castmate. "Monique Coleman absolutely slayed as Taylor – I look up to her so much and she's giving me so much advice. To be able to continue that story and tell more of our story, it was really fun and I'm really grateful."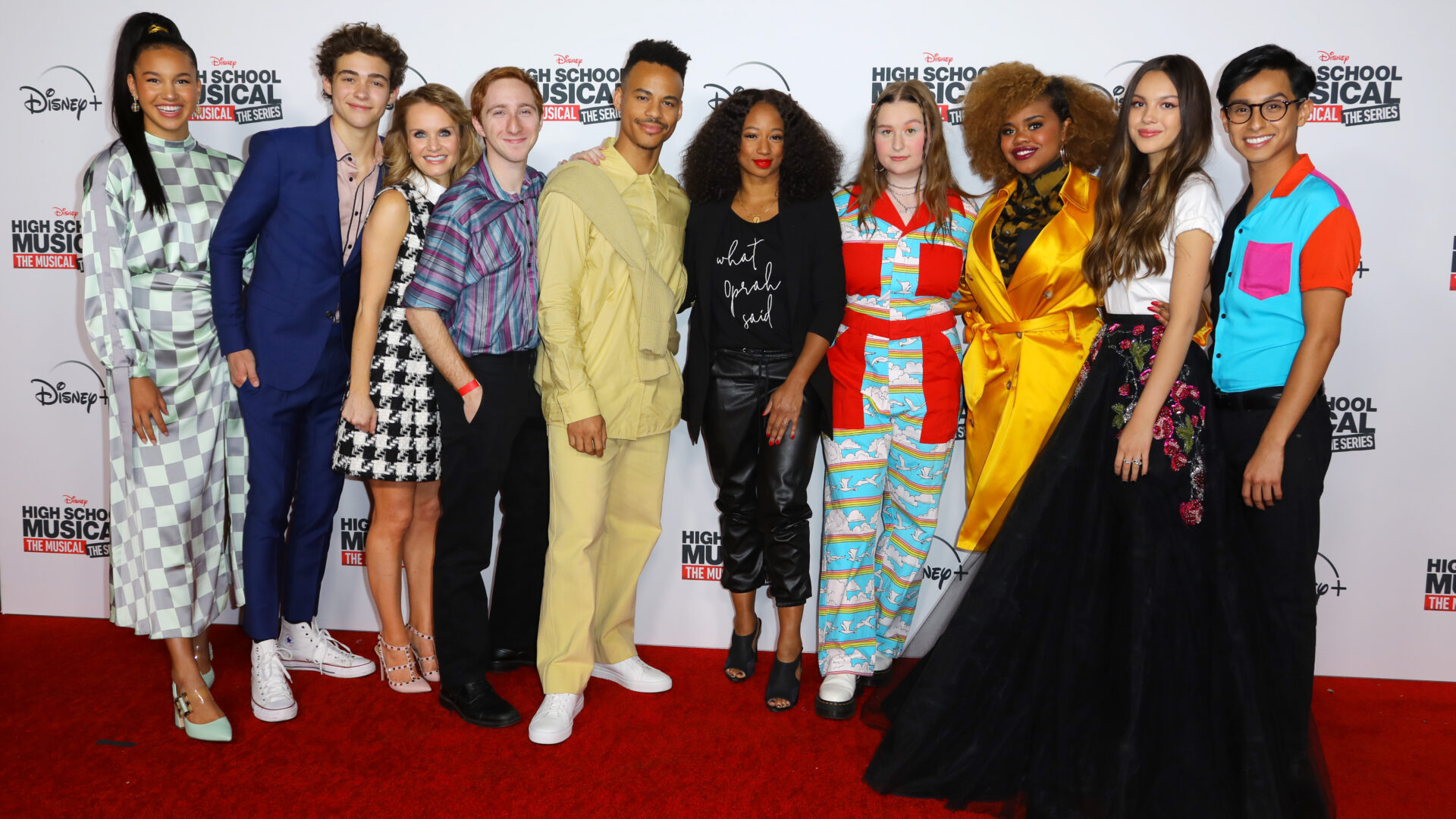 BURBANK, CALIFORNIA – NOVEMBER 01: (L-R) Actors Sofia Wyle, Joshua Bassett, Kate Reinders, Larry Saperstein, Mark St. Cyr, Monique Coleman, Julia Lester, Dara Renee, Olivia Rodrigo, and Frankie Rodriguez, attend the premiere of Disney+'s 'High School Musical: The Musical: The Series' at Walt Disney Studio Lot on November 01, 2019 in Burbank, California. (Photo by JC Olivera/WireImage)
Co-star Sofia Wylie, who plays Gina Porter, chimed in to the conversation to express the importance of Black girl representation in the Disney+ series in comparison to the original HSM films. As a young Black woman herself, Wylie acknowledges the need for the normalization of diversity across race, gender, sexual orientation, and ethnic background within mainstream media.
Wylie added, "We're definitely getting to a place where it is more normal to see people like Dara and I as leads and not just as the best friend, or something behind the scenes, or B storyline. We can have an A storyline and we can kill it because it doesn't matter what our race is; it matters who we are, the type of actresses we are, and what we can bring to the table." She teased that the forthcoming season of High School Musical: The Musical: The Series highlights the importance of sisterhood and "female friendship." In fact, Wylie was particularly excited about the opportunity to work more closely with Reneé in comparison to previous seasons.
Both Reneé and Wylie are admittedly huge fans of the High School Musical franchise – even before they were cast in the Disney+ spinoff. Reneé described her experience working with original cast members such as Corbin Bleu and Lucas Grabeel as a "dream come true" and noted that she "couldn't have asked for a better experience."
"It was the first time I saw performing arts as kids my age. Most Broadway shows are adults or little kids like Annie, so when I saw teenagers doing it, I was like, 'Oh, okay. Period,'" Reneé said of the impact of the representation of theatre kids in High School Musical. Wylie echoed the same sentiments as her co-star, saying that the Disney Channel movie made her who she is today as an actress, singer, dancer, and multi-hyphenated young woman.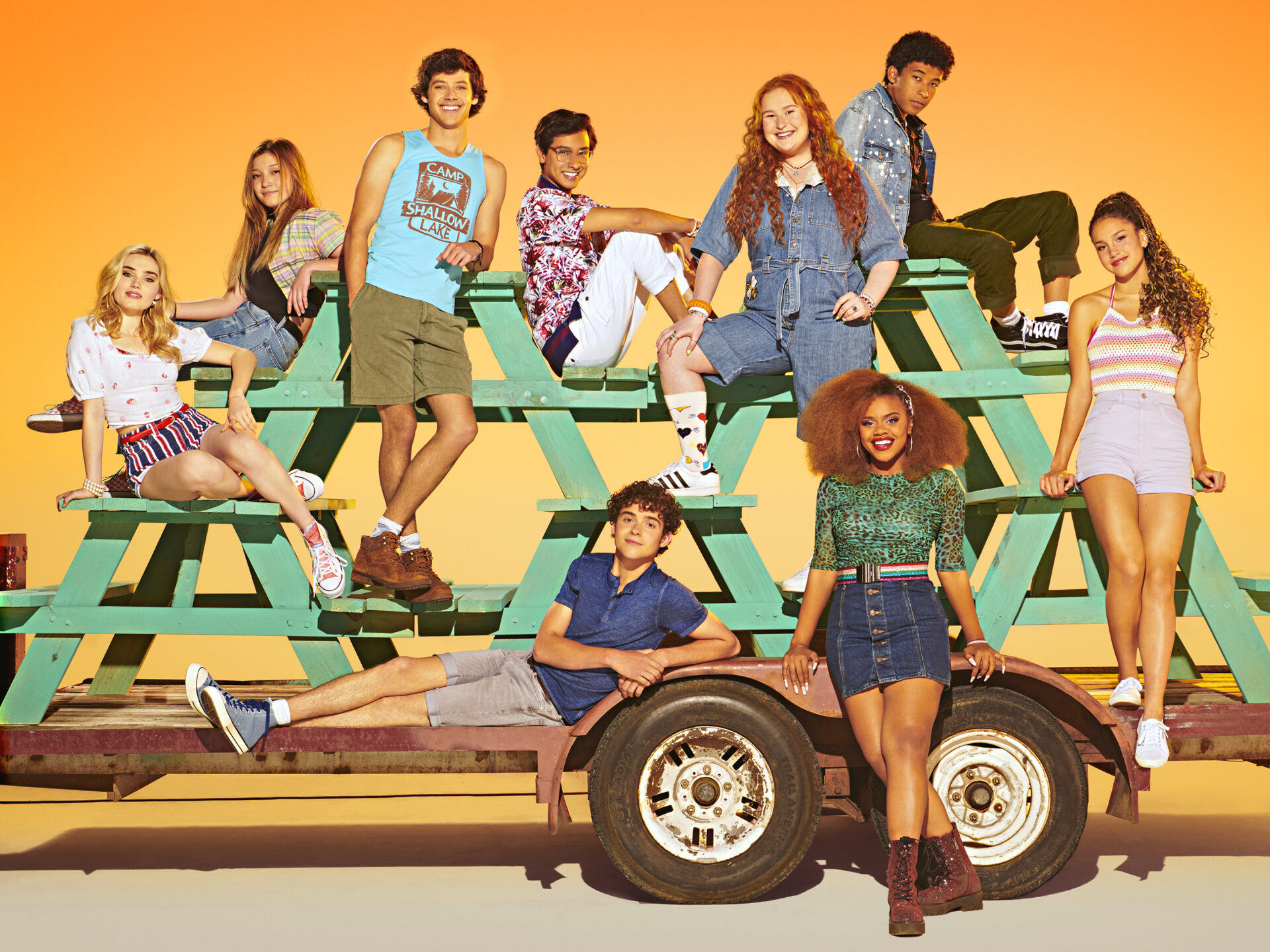 Photo Credit: HIGH SCHOOL MUSICAL: THE MUSICAL: THE SERIES – Disney's "High School Musical: The Musical: The Series" stars Joshua Bassett as Ricky, Sofia Wylie as Gina, Matt Cornett as E.J., Julia Lester as Ashlyn, Dara Reneé as Kourtney, Frankie Rodriguez as Carlos, Saylor Bell Curda as Maddox, Adrian Lyles as Jet, and Meg Donnelly as Val. (Disney/Sheryl Nields)
Wylie continued, "I feel like, without it, I literally would be a different version of who I am. I learned all of the dances. Seeing musicals like that growing up was definitely the reason why I am doing what I'm doing right now. I'm very thankful for High School Musical and thankful to be a part of the new generation of Wildcats."
With the new generation of East High Wildcats being ushered into Generation Z, Wylie and Reneé admitted that there has been some pressure to perform and live up to the standards of Zac Efron, Vanessa Hudgens, and the original High School Musical cast that millennials were introduced to nearly fourteen years ago.
"I definitely think there was a level of pressure, but also the fact that our show is so different than the movies I think relieved a lot of that pressure," Wylie explained. While, yes, the series has the name of the original franchise in the title, she assures fans that these are completely different characters with completely different storylines. "There's not much of a comparison level there, which is amazing, and I think it allows us to just be unique and focus on what we do best, rather than trying to recreate the magic of something else."
Reneé confided in Girls United about being nervous about living up to the expectations of the film franchise, especially because she didn't know that High School Musical was involved when she auditioned. "I just knew it was a theater kids show for Disney+," she laughed. She appreciates the show's ability to "bring that nostalgia" and "touching my childhood" through its usage of Disney Channel classics such as Demi Lovato's Camp Rock and the cult-favorite Frozen.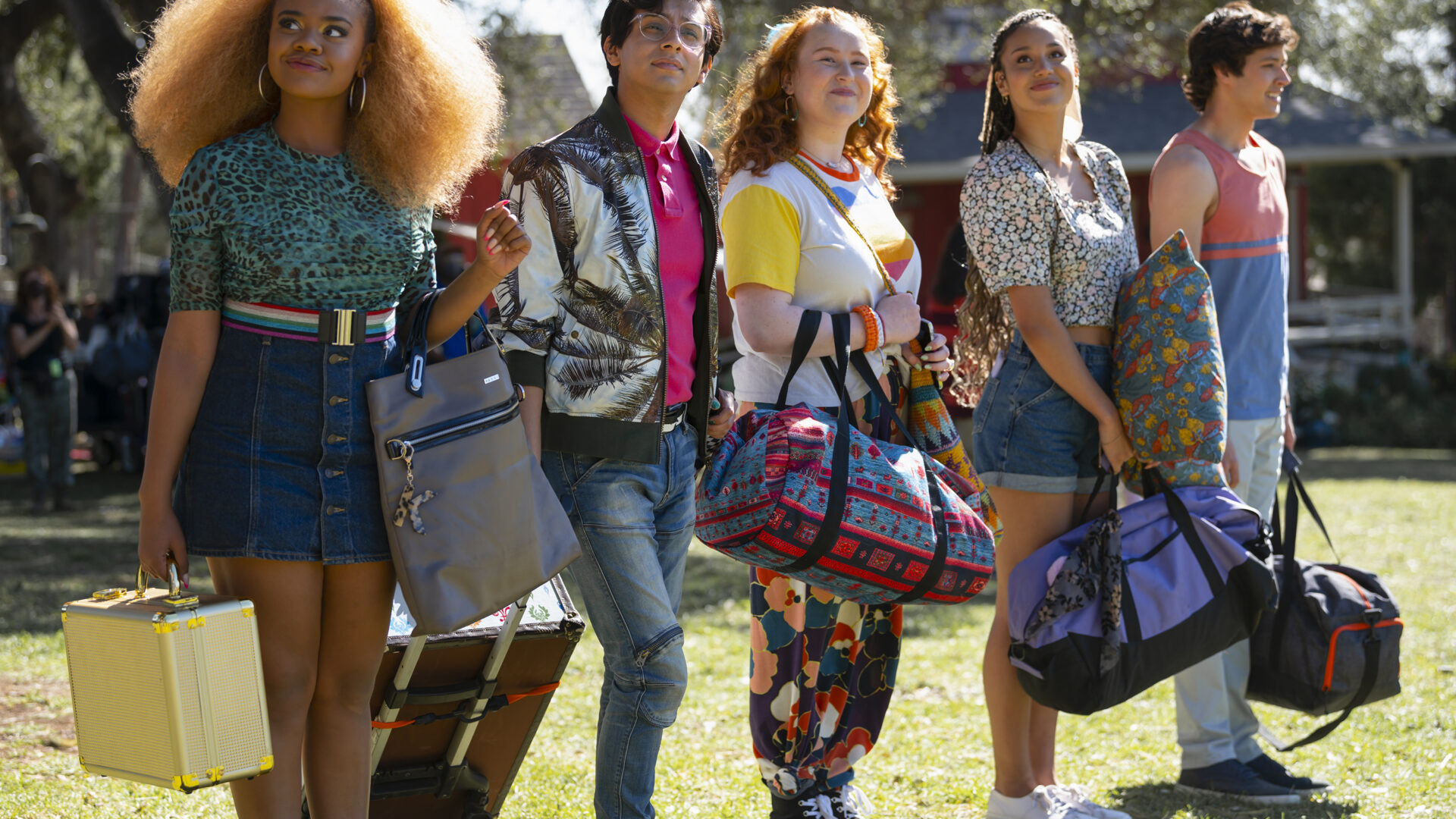 Before these two leading ladies stepped on the scene, there was an OG Wildcat that paved the way for Black girls to feel seen in the halls of East High – Taylor McKessie. In previous interviews, actress Monique Coleman expressed her disappointment with the film industry for their lack of understanding and care for Black girls hair maintenance. In fact, Coleman revealed during an interview with Insider that she had to wear headbands to cover up the visible mistakes done due to lack of poor hair care and style.
"We've grown a lot in this industry and we've grown a lot in representation and we've grown a lot in terms of understanding the needs of an African American actress," Coleman told Insider. "But the truth is, is that they had done my hair, and they had done it very poorly in the front." In comparison to Coleman's previous on-set experience, Reneé and Wylie have had an amazing experience with the stylists they've worked with.
As a contributor to The CROWN Act and advocate for wearing your natural hair wherever and however you want, Reneé is grateful for the opportunity to work with "people who helped me grow [my hair]" and "who helped me learn different styles." She reminisced about when she and Wylie first approached this season's showrunner about hairstyles for Kourtney and Gina, and thanked them for how "supportive" they were. "They were like, 'Of course,' and so we were like, 'Okay, period. I'm going crazy'."
Reneé continued, "I'm so grateful to finally be able to, this season, experiment as much as we do now being in LA and working with people who teach me why these styles are important. I've learned so much about my culture and I love being a representation. It's the best thing I could have asked for. It's what I'm working for, and to be even better than what I am now."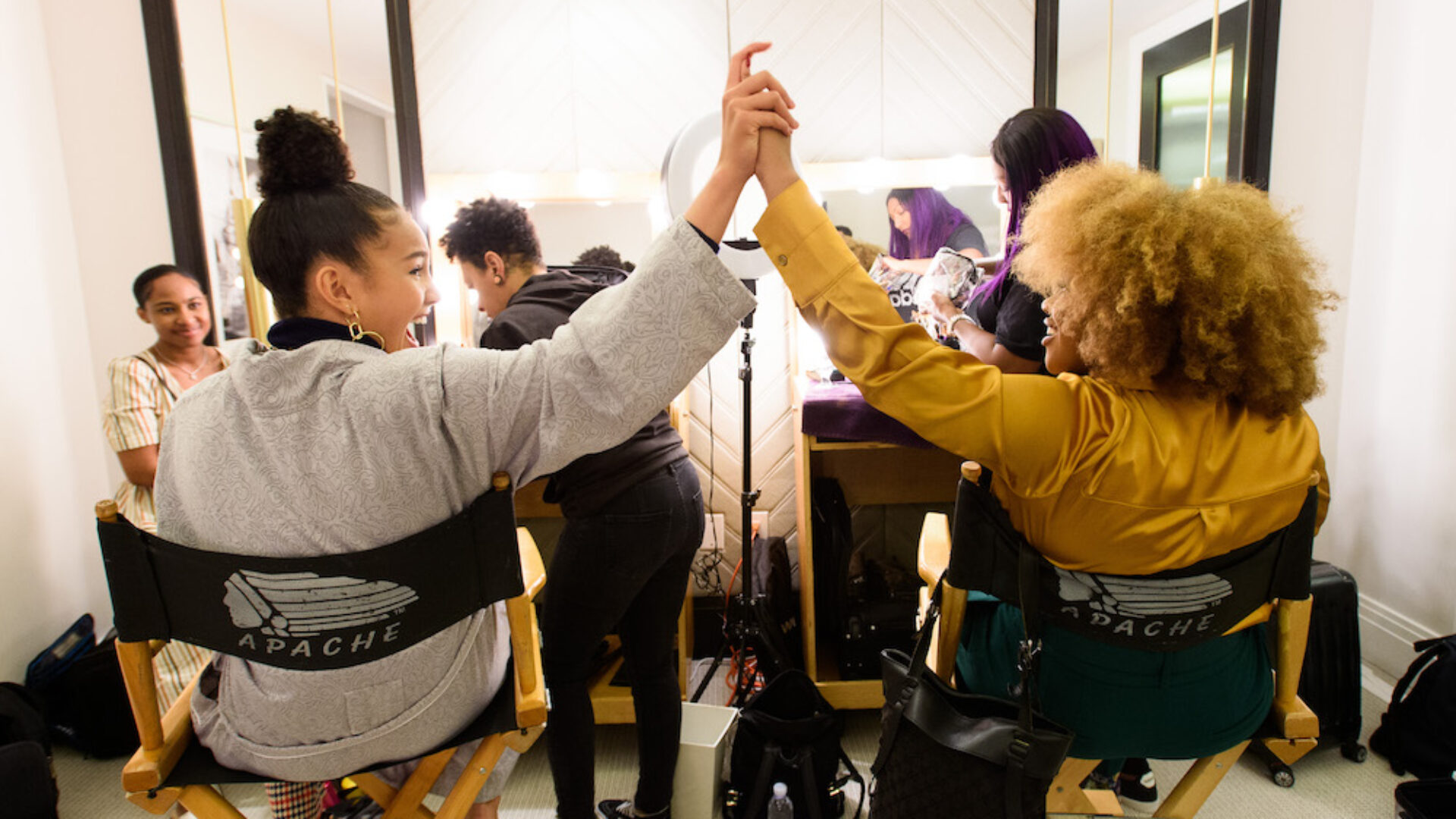 Photo Credit:HIGH SCHOOL MUSICAL: THE MUSICAL: THE SERIES – The cast of High School Musical: The Musical: The Series participate in a Disney+ press junket on Saturday, November 19 at The London West Hollywood. (Image Group LA/Disney Channel via Getty Images)SOFIA WYLIE, DARA RENEÉe Series" stars Dara Reneé as Kourtney. (Disney/Sheryl Nields)
"Growing up, I don't think I got to see my hair or my race or any other mixed girls really on TV and movies represented," Wylie added. As a kid, when she saw that not many people on her television screen looked like her, it made her want to change her appearance in order to fit in. Now as a popular actress with the younger generation, she knows that she has a duty and responsibility to show kids who watch her the importance and impact of representation and diversity when done right.
Wylie even praised her co-star for having some of the most versatile hairstyles of the entire HSMTMTS cast this season. "Dara has the best looks this season. Her hair is different in every episode [and] that's so amazing," she said excitedly. Back in the day, Wylie explained how stylists would oftentimes throw a Black girl's hair in a bun or leave it down in curls because they didn't "know how to deal with your hair," but now times have changed and the possibilities with our hair on and off screen are endless.
"There are different types of curly hair. There's so many things that aren't shown, and the fact that we got to do that this season is really special and close to my heart," Wylie added. "I just feel really proud to be able to represent that for other girls out there."
High School Musical: The Musical: The Series premieres today, July 27 on Disney Plus. If you haven't already, make sure to check out the official trailer below!
Photo Credit: HIGH SCHOOL MUSICAL: THE MUSICAL: THE SERIES – Disney's "High School Musical: The Musical: The Series" stars Dara Reneé as Kourtney and Sofia Wylie as Gina. (Disney/Sheryl Nields)