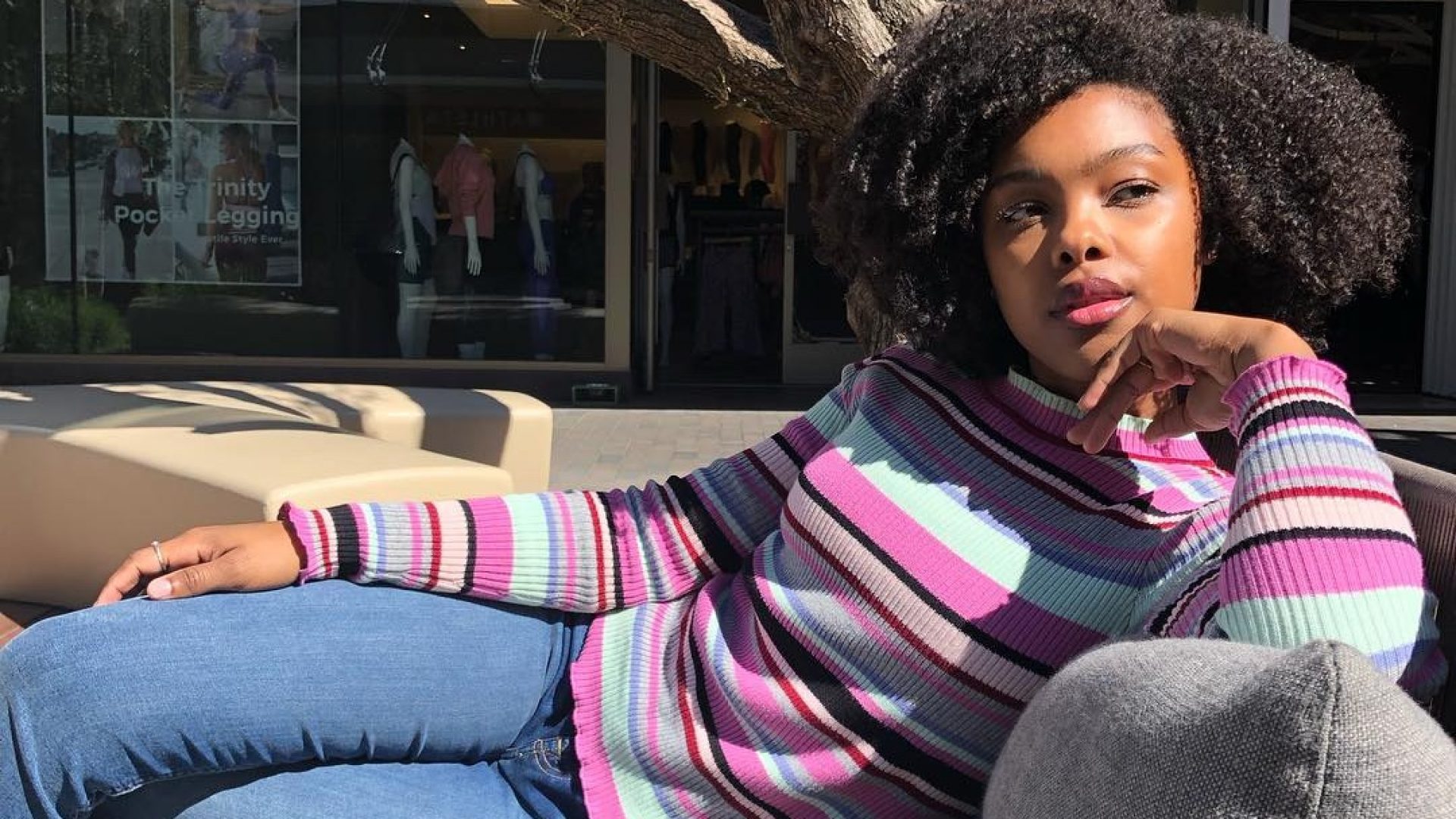 Here's How Monique Green Manifested Her 'Big Shot'
The budding actress talks about her breakout role on Disney+'s 'Big Shot'.
When you come from an NBA superstar father and model-actress mother, it's a fair guess to say that you've hit the entertainment gene jackpot at birth. Monique Green-Smith, whose parents are Inside The NBA Analyst Kenny Smith and Wonder Woman: 1984 actress Gwendolyn Osborne-Smith, is a triple threat in acting, singing, and dancing. During her freshman year of high school, Monique participated in a showcase when she found her management. Once she began to step into the world of auditioning, she's been hooked and securing the bag ever since.
With a college degree in Mandarin and recurring roles on black-ish, Fuller House, and I Am the Night, Monique has proven to be a star on the rise and has curated a well-balanced resume for her first big series regular role. Now, the Gen Z actress has secured a role in Disney+ original series Big Shot starring familiar faces including Yvette Nicole Brown and Full House's John Stamos. "It was my decision to continue doing school while I auditioned. You could choose to do homeschooling, but I've always been really interested in knowing things," Monique told ESSENCE. "I feel going to school helps open your mind to certain things and critical thinking."
Check out the full conversation below with Monique and ESSENCE Girls United about Big Shot, which premiered on Friday, April 16, the best lessons that her entertainment vet parents have taught her, and how her natural hair ties into her character Olive's storyline!
Do you ever feel any pressure in your career because of the celebrity status of your parents?
I think my parents have always done a really good job at making sure I find my own path and do the things that I really want and love to do. I've always been interested in staying in school and auditioning, and my parents have always been super understanding that there's a lot that comes with trying to balance school and work life at that age. They've done a good job at uplifting me, building me up, and making sure I find the things that I want to do and that I love doing.
What are some of the key lessons that your parents have taught you while embarking on this journey in entertainment?
The audition process is really hard. You get a lot of non-answers. You do a lot of hard work and then you don't really get a lot of feedback back all the time. Something my mum always said to me was, "You're enough." No matter what auditions you get called back for or what type of feedback, if you get any back at all, you're enough and what you're doing is enough. Whatever you do, you're enough. You are worthy. Whatever is yours won't miss you and whatever misses you wasn't meant for you. My dad has always done a good job at allowing me to dream. No dream is too small. If you want that, go get it. Don't let money be a factor in your decisions and whatever you want to do, you can do it.
What was your audition process like for Big Shot, and what was the moment when you found out that you secured the role?
I graduated college and when you graduate, it's like, what do I do now? How do I do things that I want to do? How do I get there? What are the things I need to change in order to get where I see myself going? It was a transitional period of time for me, but I knew that I wanted to act. I thought, "Now I can give a hundred percent of my time and my effort to this." I gave myself like a year to get all my things in order, get an acting class and focus on booking a job. I wanted to book not only a series regular role but also a series order because I've booked a series regular role before.
All of the girls on the show auditioned for one role and we all had the same sides. When we got the callback, that's when I got the opportunity to see who is this Olive character that they're thinking about and what can I bring to her. How can I make her different? How can I make her unique? There are parts of Olive that I've created, but it also comes from the balance of being around the other girls that are also on the show because we're all supposed to be so close anyway.
When you're around friends, different parts of your personality come out, and I feel like that's what helps Olive's character come into fruition. When I first booked this role, I was auditioning a lot. I was actually up for another role and testing at the time. The day after I finished testing for the other show, I got a call that I booked Big Shot. It was like I manifested where I'm at right now, I got to where I'm going and I think I cried.
It was just so overwhelming in the moment of having what you wanted to come into your life, and I've always been very poignant with that. I write in journals and I've always said that I need to be in gratitude and I need to be in thankfulness for the stuff that may not necessarily be in my reality at this moment, but it's coming to me.
What can we expect to see in Big Shot?
I personally think the show's really funny. It has a lot of different characters that everybody will be able to see and enjoy, especially with John [Stamos]. He does a really, really great job at playing Marvyn Korn and I don't want to spoil anything, but there's definitely a transformation that John is able to pick up and carry out through the first season that's amazing. He's a joy to work with and very good at collaborating and bouncing off other people. Yvette Nicole Brown definitely is a heavy hitter when it comes to her work and her comedy. She's always willing to give advice. She's always willing to give advice and she's really there for you. If you have an idea that you want to bring out into the scene, she's very open to that.
Tell us about Olive, her personality, and how her natural hair ties into her storyline of the show?
We're in high school and we wear uniforms. The only place I'm really able to express my creativity and how unique I am is either through my hair or through my accessories. Olive is very, very into her hair and to the accessories. The hairstylist and I really try to plan out what hairstyles we have and make them creative, interesting, and particular to who Olive is because as Black girls we wear our hair different all the time so it's important to show that on screen.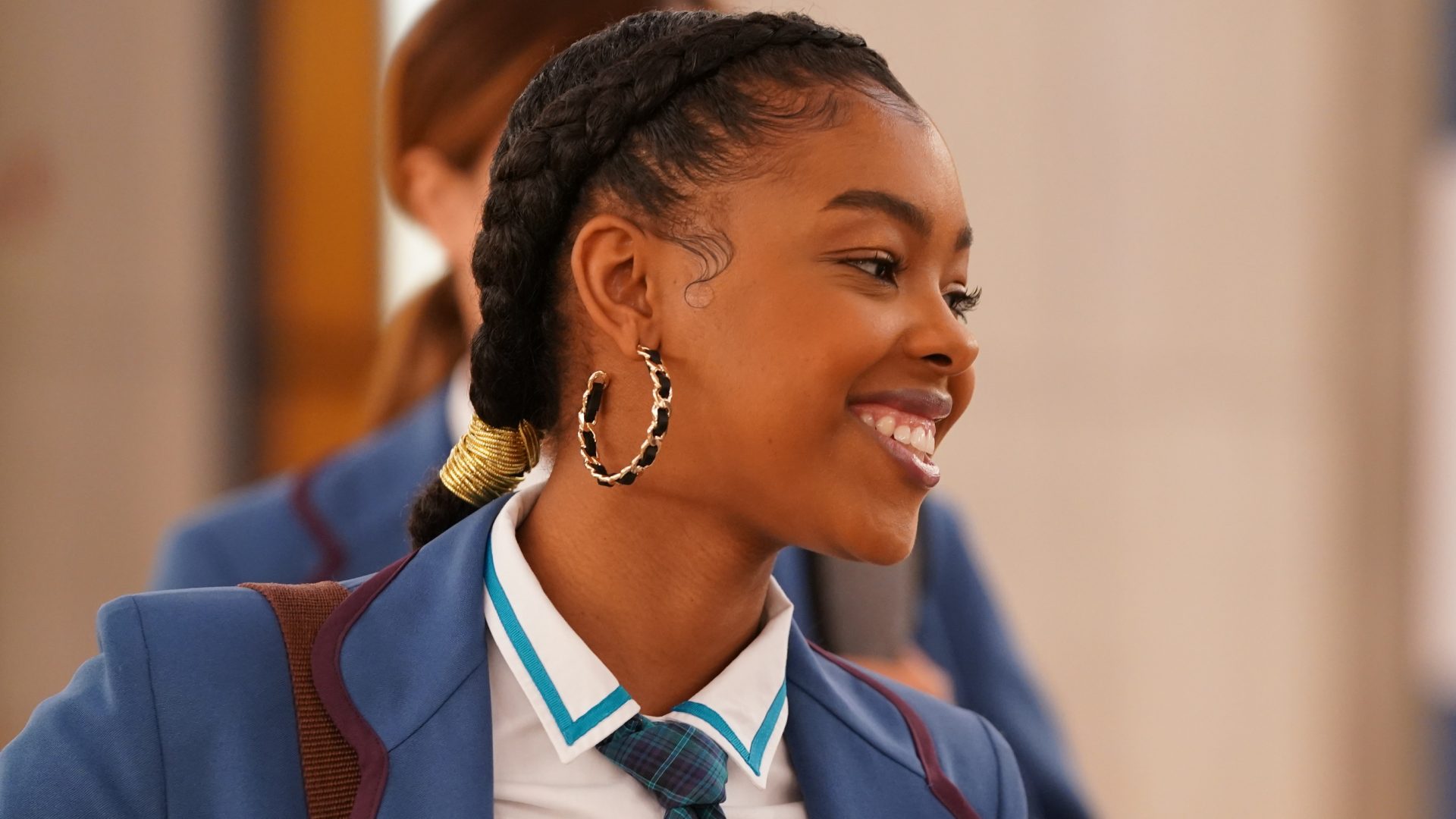 What have you learned about yourself from playing Olive?
It's always important to stay true to who you are and allow that essence to come through. I feel like that's what grounds me and what makes her more real. It makes you think that you could just see her walking down the street or you could bump into her at the grocery store. I feel like I try to make her as real as I possibly can for other viewers to ground her.
What advice do you have for young girls who are waiting for their "big shot" in the entertainment industry but don't know where to start?
Write your dreams down because there's something about writing what you want to happen in your life. I feel like there's something to writing it into life right now and having a sense of confidence in yourself where you know that all of what you're seeing for yourself is going to come. It's on its way. It's not necessarily here right now, but that doesn't mean it's not coming to you. Things come at different moments in time for different reasons, and I'm a firm believer in that.
A very big part of where I'm at right now is because I journal every single day to this day about my goals and my dreams, how I feel about the day, and what can I do better. Doing that gives you a perspective shift. That's your focus. That's what you're looking towards. You're speaking life into yourself every single day. That's what will get you closer to your dreams, and it'll help you stay the course because it definitely gets hard.
Photo Credit: Disney/Gilles Mingasson