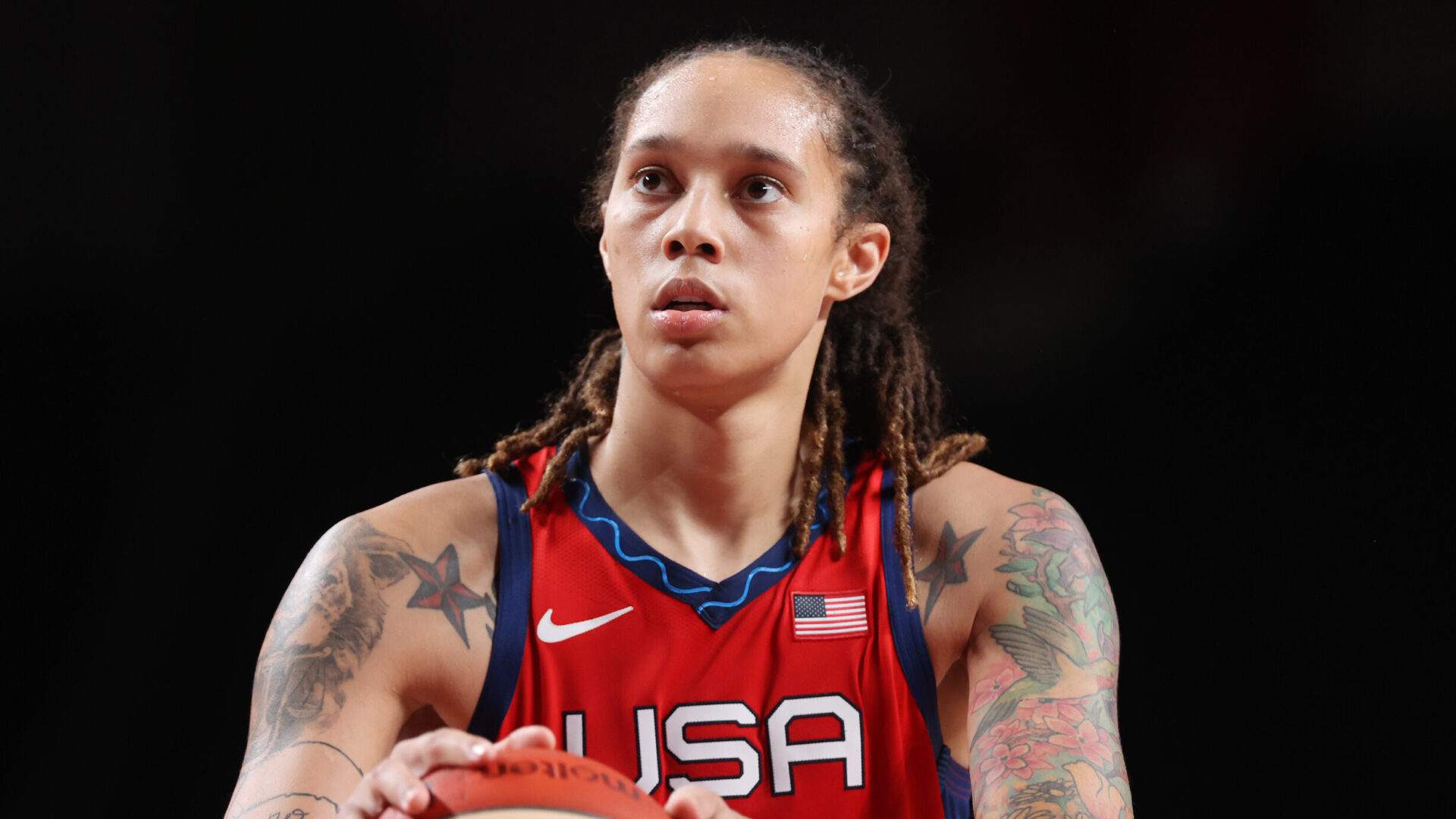 Everything We Know About WNBA Player Brittney Griner's Detainment In Russia
The news of Griner's arrest comes as tensions between Russia and the United States continue to escalate.
WNBA player Brittney Griner has been detained by Russian authorities since February, with news of her arrest being made public on March 5. However, it is still unclear when exactly Griner was arrested, but Texas Monthly reports she's been in custody for about three weeks.
The 31-year-old star athlete was arrested at Sheremetyevo airport near Moscow for being in possession of vape cartridges containing hashish oil. The Russian Federal Customs Service released a video of a traveler going through security who appeared to be Griner, although her name was not immediately released. As we previously shared, Russian news agency Tass identified Griner and cited a law enforcement source. The New York Times broke the news in the United States.
The news of Griner's arrest comes as tensions between Russia and the United States continue to escalate. On February 24th, Vladimir Putin launched a full-scale invasion of Ukraine. Since then, a series of sanctions against Russia have poured in from the United States, European countries and allies from around the world. These sanctions go from freezing the assets of Russia's central bank to imposing visa restrictions on Russian oligarchs, the businessmen and women close to the Kremlin.
Read more of our coverage of Russia's invasion of Ukraine here.
Griner, who is a 2-time Olympic gold medalist and a 7-time WNBA All-Star, has been playing for the Russian team UMMC Ekaterinburg during the off-season, just like many of her fellow WNBA players. UMMC Ekaterinburg is owned by Iskander Makhmudov, a businessman who was named as one of the oligarchs with ties to Putin, according to NPR. Makhmudov is listed under the Putin Accountability Act, a bill drafted by Republican lawmakers to impose more sanctions on Russia. The bill is currently being considered by Congress, as reported by NPR.
Last month, several WNBA players who play in Russia were planning to leave the country due to the invasion of Ukraine. According to ESPN, agents to the players asked for the remaining American athletes in Russia not to be identified for safety reasons. The United States embassy in Moscow advised Americans to leave Russia as many countries have recently closed their airspace to Russian airlines.
On March 6, U.S. Secretary of State Antony Blinken acknowledged that an American is being held in Russia but didn't identify Griner by name, reported NPR. A criminal case has reportedly been open against Griner, according to Interfax and as reported by CNN.
Griner's wife, Cherelle Griner, as well as the WNBA and the Phoenix Mercury, have also publicly identified the athlete. "My heart, our hearts, are all skipping beats everyday that goes by," wrote Cherelle Griner on Instagram. "There are no words to express this pain. I'm hurting, we're hurting. We await the day to love on you as a family."
Russia has strict laws against the LGBTQ+ community. Just last month, the Russian Ministry of Justice tried to shut down one of the country's most prominent gay rights groups, the Russian LGBT Network. In July 2021, the European Court of Human Rights condemned Russia for not recognizing same-sex unions. It is unclear whether this could come into play into Griner's case.
Right now, Griner faces up to 10 years in prison. Over 5,000 people have so far signed a petition on Change.org to secure Griner's return to the United States.
Those close to Griner fear that her case will be used for political purposes in light of Russia's invasion of Ukraine. "My biggest fear is that … she will become a political pawn," Debbie Jackson, Griner's high school basketball coach, told CNN.
On March 5, Texas Congressman Joaquin Castro took to Twitter to address the situation. "I'm closely monitoring reports of Texan Brittney Griner's detention in Russia," he wrote, also referring to former Marine Trevor Reed, who has been detained in Russia for over two years. "This follows a pattern of Russia wrongly detaining & imprisoning US citizens, including Trevor Reed. US citizens are not political pawns. Brittney, Trevor, and other Americans must be safely returned."