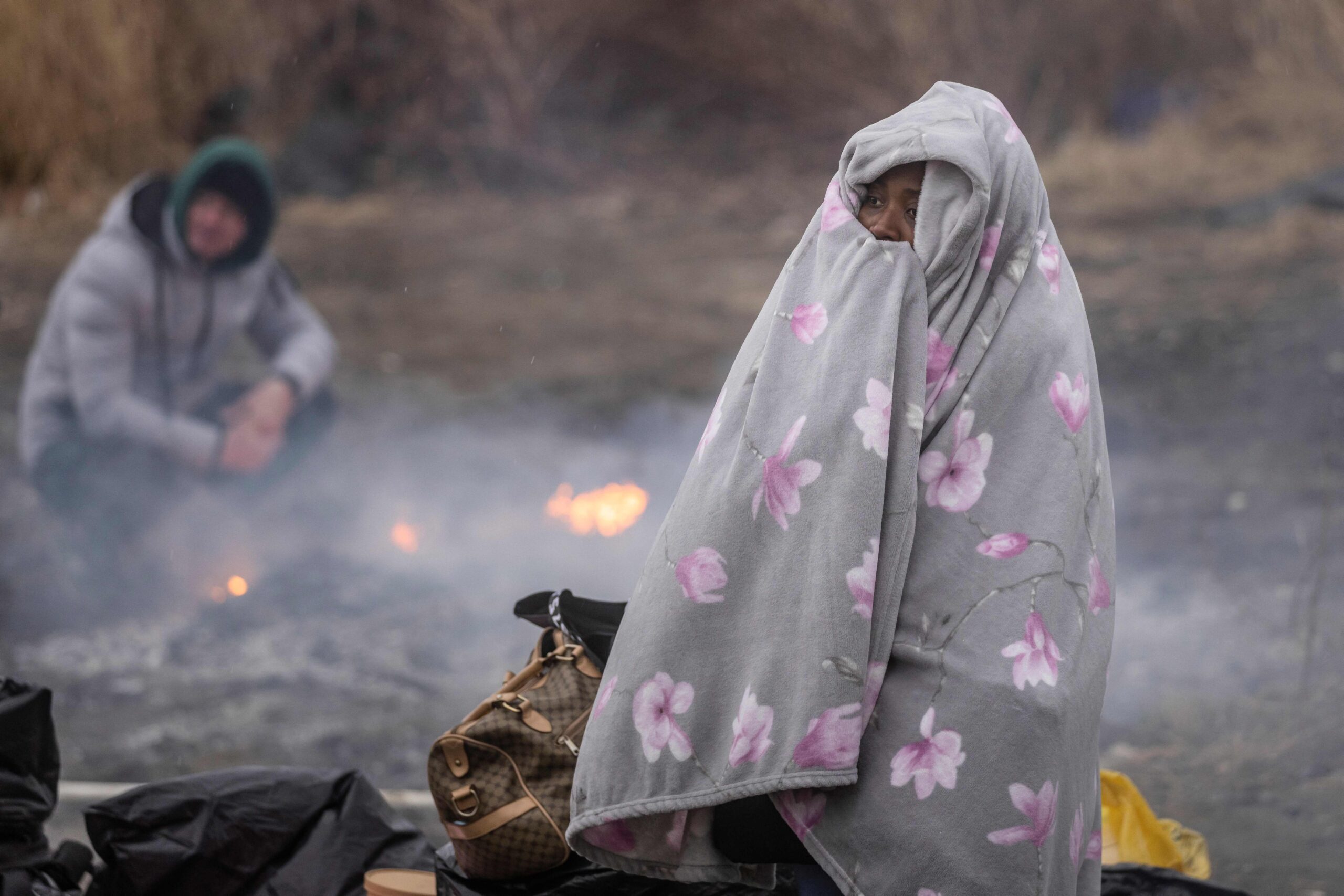 Women Speak Out About The Trials People Face As They Attempt To Flee Ukraine
We're also sharing ways you can assist people as they try to escape.
Continuing a years-long war, on February 24, 2022, Russia invaded Ukraine, forcing many to evacuate as they attempted to avoid further violence. Many have faced pushback as they try to flee.
MADRE, an international women's human rights organization, shared a testimony from an anonymous human rights defender, who is currently trapped in Ukraine.
"We are cut off. On the street there's a lot of damage to buildings, and bridges…pieces of bodies, cartridges, and fragments all overlap. We can't leave the city. My family are residents, but not citizens of Ukraine. Therefore, we need visas to cross the border – they're not available here now. Only if there's a green corridor for all refugees, with any passport, can we leave."
Amy Waliszewska, a development advocate, shared the following:
"Fleeing a warzone is stressful for everyone, no human is ever prepared for it. But as war started, due to bureaucracy, ignorance and systematic racism, we didn't need [have] to wait long to see that not all refugees are treated equally. On Thursday I couldn't sleep, I was all night on Twitter and basically, I had a live stream from the beginning of the war. My thoughts went right away to my colleague, a Nigerian man and his wife, that was in Lviv.
I contacted him in the morning and offered him my help. He didn't even know about the war when he read my message. I was able to get him to the border quickly, the same day as war started. This is where I saw the difference—his wife was quickly released, while he was first kept overnight at the checkpoint, then taken to a bus to Sanok, where also was there overnight in a temporary refugee center. Me and my father were calling authorities around in his name, reassuring him that he has a place to stay, but still it took us over 2 days to let him out. We didn't know yet that he was lucky, since later we had people being held at the border for days, transported through the whole country to other places without anyone to properly even communicate in English."
Executive Director of MADRE, Yifat Susskind, shared that a group of migrants and students within their network — from several African countries — have crossed the border to Poland after 5 days of limbo, in freezing temperatures. They have sent funds to these individuals for shelter, blankets, food and water.
These experiences have also been documented on social media by Black women who are trying to escape the war-torn country.
On Instagram, African student Korrine Sky posted a video of herself in Ukraine talking about her experience of facing discrimination, as Indians and Africans are being put on to the side, as they prioritize Ukrainian citizens, particularly those who are white when it comes to leaving the country via bus.
"For the people who've managed to actually get to the passport patrol, it seems like there's a hierarchy of Ukrainians first, Indians second, and Africans last. So there has been a lot of segregation in that sense," Sky says.
"Amongst the communities trying to flee Ukraine, there's been a lot of violence amongst people. It's a very stressful situation. It's feeling like right now where we all were like Squid Games, people are trying to get out," she adds.
Two days prior, she shared a photo of a sleeping setup in a Romanian hotel. "After the 4 day ordeal we've been through so happy to have somewhere to lay my head," she wrote on Twitter.
"We've been pushed, we've been shoved. We are denied access. There's so many of us compared to the Ukrainians. Ukrainians get special treatment. While the Africans are waiting outside in the cold in big herds. You get people from Congo around here, a lot of Africans, you get Africans from Rwanda. It's just a mess at the moment," Sky also said.
If you are looking for ways to help people escape from Ukraine, here are some resources that need your support:
MADRE is currently taking donations to get emergency grants to frontline women leaders in Ukraine to make sure that the hardest hit communities and individuals who are most marginalized will get the resources that they need.
In response to the racism that Black students were facing, Korrine Sky, Tokunbo Koiki, and Patricia Daley have formed an organization, Black Women for Black Lives, where you can donate funds that go directly to supporting Afro Carribean students leaving Ukraine." They have been supporting students since February 26.
Black Foreigners in Ukraine are working to lift up the voices of Black foreigners in Ukraine, while helping get them to safety. To help them continue this important work, you can donate to them through their Cash App.