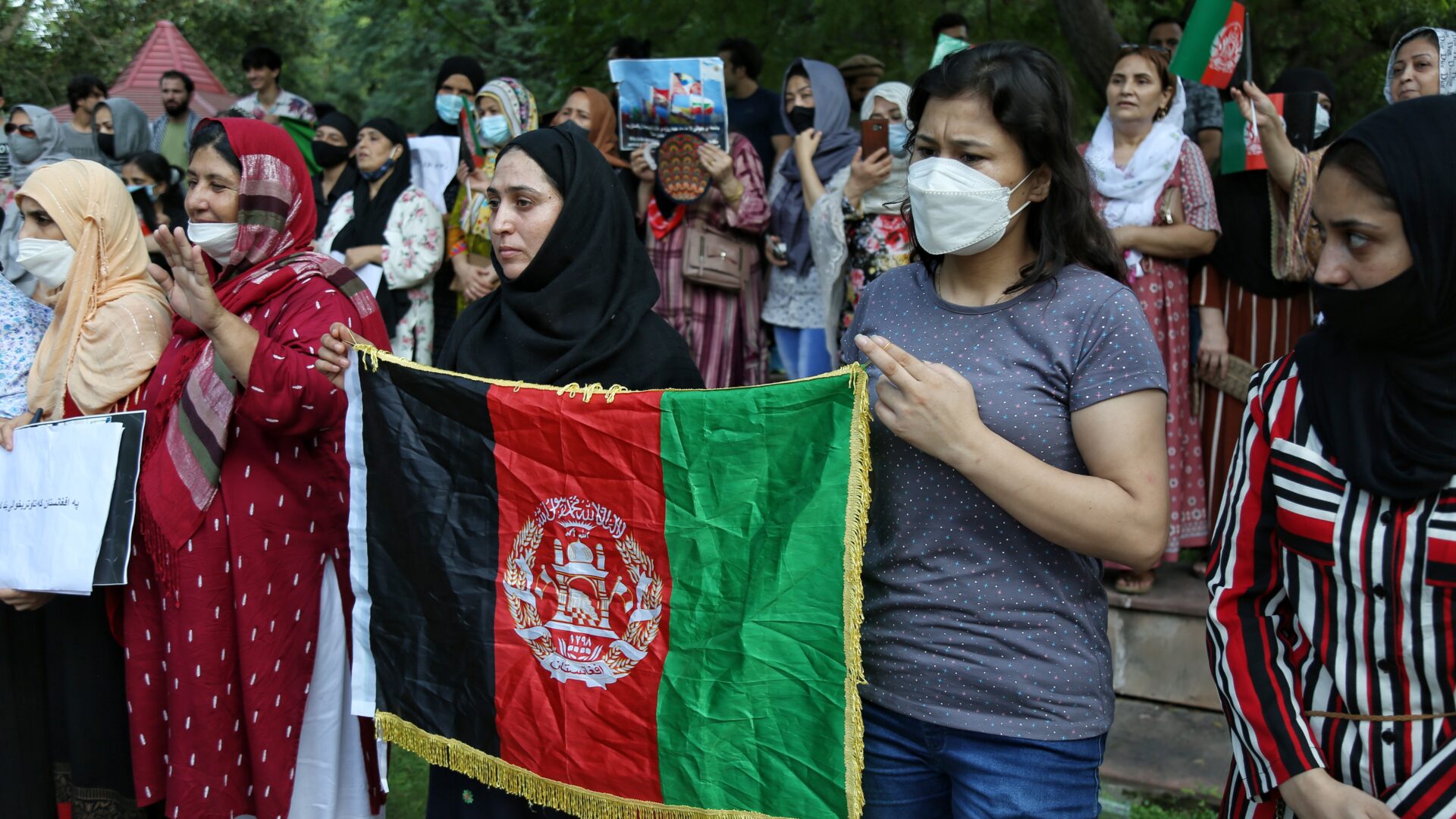 How You Can Help Support Women And Girls In Afghanistan
The Taliban took over Afghanistan again in mid August. They have started to restrict women's freedoms.
When the Taliban seized control of Afghanistan in August, it re-signaled fear and trepidation for the citizens left behind, especially Afghan women and girls. Previously, organizations were able to come in and help women and girls access education, work to prevent early marriages, and overall, create real progress for this population that was not possible before. However, with the Taliban's takeover, the chain of progress for Afghan women and girls is in severe jeopardy of being destroyed. Many organizations who have been dedicated to supporting this population have paused all programming, as they are working to keep their staff members and clients who are in Afghanistan protected throughout this horrific time.
If you are looking for a way to support our sisters in Afghanistan, below are two organizations that are doing the work to continue pushing for access to education, working to end gender based violence, and fighting for Afghan women and girls' human rights.
MADRE
This organization describes itself as an international women's human rights organization and feminist fund, providing rapid support to local partnership networks of Afghan women activists and human rights defenders. They are using their funding to help to meet immediate needs, such as food, water, and pre-paid phone services. They are also working to mobilize security, help with relocation efforts, and continue programming in support of women and girls.
Diana Duarte, the Director of Policy and Strategic Engagement, talked about the danger women and girls are facing in Afghanistan, since the Taliban has taken over.
"In provinces controlled by the Taliban, women and girls are in serious danger. There is also a crisis of displacement within the country, as people have fled rising violence in certain areas and are congregating in others or attempting to leave the country," she said. "We have heard reports of fighters going door to door, painting big pink marks on the houses of women they deem to have stepped out of line. Despite public promises by the heads of the Taliban that they will respect women's rights, the reality is playing out very differently on the ground, as they force women's shelters to close, compel women to leave their jobs, and respond with violence to women's protests."
Duarte also shared how their organization is working to continue to help women and girls in Afghanistan. This includes coordinating with on-the-ground partners and allied organizations internationally to create cohesive advocacy strategies. They also support women's rights activists (especially those who have been threatened by the Taliban), making sure to stay in contact with one another to work together to relocate as far away as necessary from danger.
"We're also providing our partners with money for travel, fuel, food, medical care, and secure communications technology. Most of our partners are unable to travel abroad, so we are prioritizing an in-country escape and support network for relocation. We're also funding local efforts to provide humanitarian aid for women and families facing shortages of food, fuel, and water due to the collapse of the government, COVID-19, and drought."
SAHAR
This organization has been dedicated to making sure girls in Afghanistan have access to education since 2001. Some of their projects include: building schools, teaching girls important skills like digital coding, providing computer and teacher training, working to prevent early marriages, and engaging men and boys to become allies for women and girls.
However, all of these projects are officially on pause. Sahar's program manager, Shogofa Amini, talks about the conditions in Afghanistan as they work to keep their staff safe.
"There's not clear answers from the government. Our staff hasn't really been able to get out of their houses… our main focus right now is to evacuate our staff from Afghanistan to bring them here, because most of our staff members are female, and male as well, but they are in the minority groups."
However, Amini also made it clear that Sahar is committed to continuing their work in Afghanistan to make sure that Afghan girls keep their access to education.
"Our organization is committed to staying in Afghanistan, by trying to different paths to educate girls. We're not abandoning the girls like Afghan girls, because we have worked [for] 20 years on that, especially right after September 11th, Sahar was the first organization open… we really have had good positive outcomes. So that's not something that we just give up and leave."
How You Can Get Involved
Along with donations, both Duarte and Amini talked about ways that we can step up and stand with our Afghan sisters.
Amini spoke on about the importance of us being allies in the fight for women's rights in Afghanistan, by using our voices to speak to those in power about this issue.
"We need help from our Western allies to reach out to their Congress and Senators, speak about women's rights. Stand up with women's rights in Afghanistan and not abandon them.  Putting the pressure [on them] that if we abandoned women's rights in Afghanistan, that would be very dangerous. 85% of women in Afghanistan are illiterate, they cannot read and write. So imagine that, if we abandon them, what would happen?  It's not about only Afghan women, it's generations and generations, because if you educate the woman, you educate the family, you educate the community."
Read more of our political content here.
Duarte also added that we should listen Afghan women's voices.
"The most important point is to listen to Afghan women, working hand-in-hand with them to support their leadership and meet their communities' needs. We must follow the lead of grassroots feminist activists who know best what they and their communities need to survive crises and mobilize our actions and resources to support them."
To donate and find out more information about SAHAR, you can visit their website.
For MADRE, you can visit their website. You can also follow them on social media: Facebook | Twitter | Instagram
Photo credit: Sanchit Khanna/Hindustan Times via Getty Images