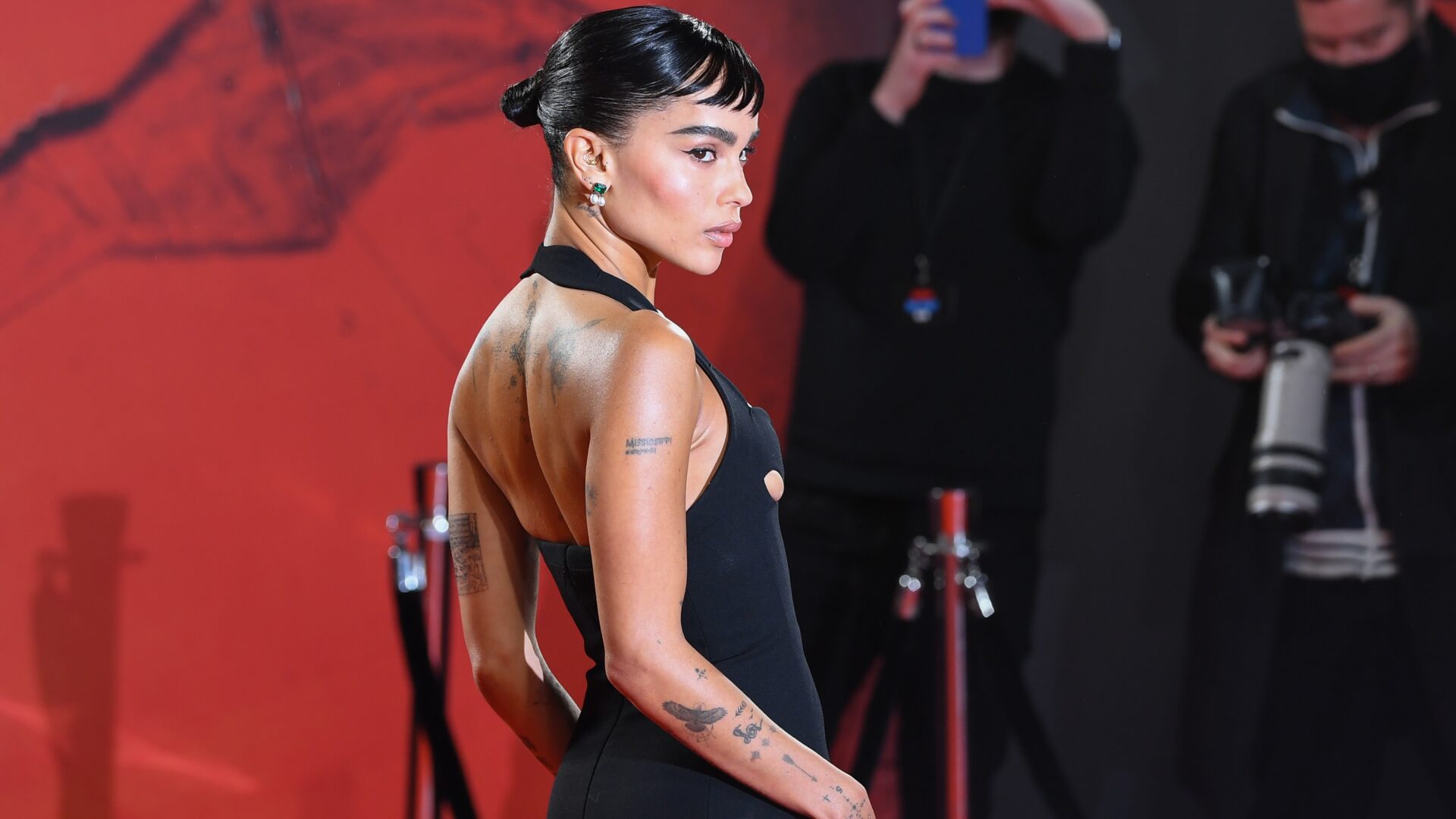 Zoe Kravitz Debuts Catwoman-Inspired Outfits During 'The Batman' Press Tour
Think black leather trench coats and hemmed knit dresses.
As Zoe Kravitz is getting ready for the premiere of The Batman on March 4th, the actor, singer, and rising style icon has been sporting outfits seemingly inspired by her Catwoman character much to the delight of all fashion lovers and DC Comics fans. The former High Fidelity star is known and respected in the fashion world for her eclectic sense of style, whether it be for her sheer metal mesh Yves Saint Laurent gown at last year's Met Gala or casually walking the New York City streets in layers upon layers while hand-in-hand with boyfriend Channing Tatum.
This past week, the 33-year-old posted snapshots of her latest Catwoman-inspired outfit to Instagram. Kravitz attended a press junket in Paris, FR posed on a rooftop with the Eiffel Tower peeking through the background. She wore an Yves Saint Laurent frosted leather trench coat over a black fishnet top, as reported by British Vogue. Kravitz completed the look with gold rings, a pair of black oval sunglasses, and a slicked-back bun with two baby braids framing her face.
Her stylist Andrew Mukamal helped put together the look. It isn't surprising that Kravitz would choose to wear Saint Laurent as she is one of the brand's beauty ambassadors and has previously worn pieces designed by Anthony Vaccarello, the creative director, according to Teen Vogue.
Two weeks prior, Kravitz gave a glimpse of her press tour style by posting another snapshot to Instagram. She wore a black knit dress designed by knitwear brand Khaite, which is known for its sculpting and flattering ribbed knits. Kravitz chose to highlight the brand by featuring the brand's Matilda dress, which features an off-the-shoulder hemmed neckline. For the occasion, she completed the look with a subtle cat-eye and glossed lips. Her makeup was done by artist Nina Park, according to British Vogue, topped off with a slicked low bun and classic red manicure.
Zoe Kravitz is bringing her own love for fashion to honor the character of Catwoman, whose real identity is Selina Kyle. In October 2020, fans were able to get a preview of her character's closet while Kravitz was filming The Batman in the U.K. Kravitz was spotted wearing a shiny trench coat, a matching fascinator hat, and lace-up boots. Jacqueline Durran, The Batman's lead costume designer according to Vogue, has previously worked on movies known for their intricate and accurate costume design such as Little Women, 1917 and Anna Karenina.
From the interpretations of Michelle Pfiefer, Eartha Kitt, Halle Berry, and Anne Hathaway, Kravitz's Catwoman could set her apart in the DC Universe and very well become a fashion-oriented villain, matching Kravitz's own love of classic and sleek fashion looks. According to a tweet by Comic Book Resources, Kravitz could be starring in her own HBO Max spinoff series, as mentioned by The Batman director Matt Reeves.
While in her acting bag, Kravitz is keeping busy in the music department, as she is currently working on her first solo album. She was previously part of the R&B /electropop duo LOLAWOLF. "It feels vulnerable, and it's a little scary, but making music makes me happy," Kravitz told Elle about her upcoming project, which is currently produced by Jack Antonoff at Electric Lady Studios in New York. In this album, she will be exploring themes of love and loss, and describes her working relationship with Antonoff on the album as "a really wonderful experience and very therapeutic."
Can't wait until March 4? Watch the official trailer for The Batman below to get your quick fix of Kravtiz and Pattinson ahead of the film's premiere!
Photo Credit: Photo by Joe Maher/Getty Images