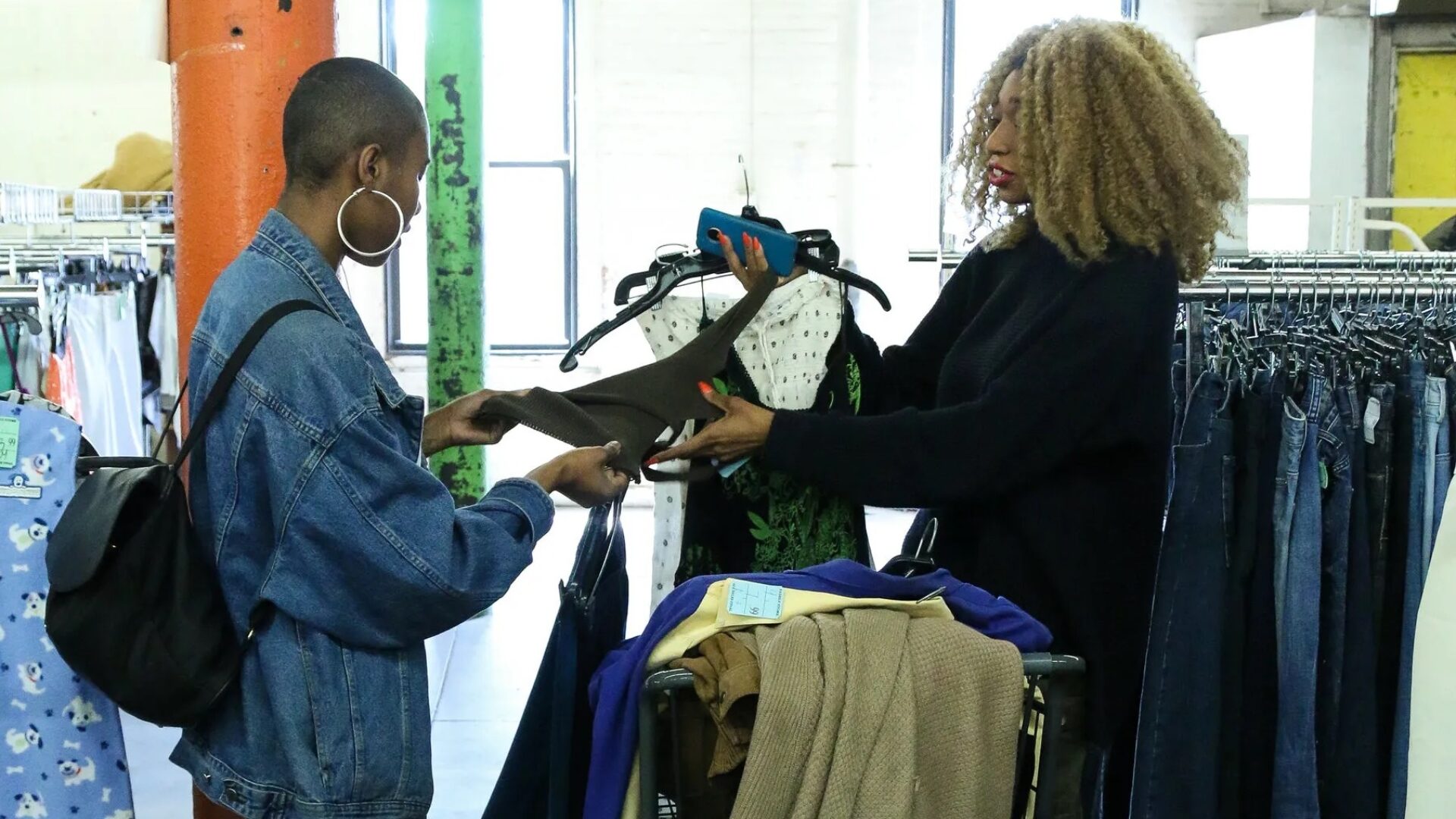 Here's How Thrifting Allows Zillennials To Redefine Vintage Fashion
Thrifting connoisseurs believe vintage wear is bigger than a trend. It's a necessity.
Resellers changed the e-commerce space for celebs like Rihanna, Bella Hadid, and Lori Harvey. Rap's newest princess, Ice Spice, recently indulged in pre-loved brands sporting a 2004 Dior Kaos tank top, courtesy of Raiden Francis. Previously, Francis spoke with GU about his prestigious vintage shop, the Raiden Co. Now, the NYC native curates more archival wear and makes his mark as a womenswear designer— where "seductiveness" meets ready-to-wear pieces. The 26-year-old wants to depict "sleek consumerism" in a world where fast fashion overshadows individuality and couture.
Francis reveals fashion buyers aren't respected like small vintage shops because resellers innovate aesthetics beyond fashion boardrooms. He noted thrifting became counterproductive even though vintage dealers wanted to decrease their "carbon footprint." With trends like Barbiecore and quiet luxury, Francis says resellers are limiting their inventory to specialized, high-quality pieces to target unique shoppers. "We're no longer going to carry the pieces that fill your basic day-to-day needs," Francis told GU. "People want to feel different and enter a community we never had before. So many different aesthetics are all being accepted at once."
Francis respects the shift Black vintage consultants created in fashion and notes they are taken seriously. "We choose what we want to present to the masses," he said. "Those pieces become special because we're producing it at such a grand scale, and people are looking at us with expertise."
Alongside Francis, Uzochi Okoronkwo fancies couture pieces. However, instead of sourcing locally, Okoronkwo took her passion for reselling pre-worn clothes far east, as in Tokyo, Japan. The 29-year-old reveals secondhand luxury should be affordable to the fashion dolls with limited funds. She established KO Vintage in 2021 and gained notoriety on Twitter. She balances being a performative art teacher and a reseller for brands like Comme des Garcons, Dior, and Issey Miyake. The Maryland-born businesswoman's love for pre-worn items stemmed from her Nigerian father, who ran an import and export business in discounted garments. Though embarrassed about wearing thrifted clothing, the University of Maryland alumni finally appreciated the longevity of thrifted materials. 
From vintage Levis to Junya Watanabe, Tokyo's culture aided in transforming Okoronkwo's chic style. Since the Yen's value is significantly lower than the dollar, reselling international pieces made KO Vintage stay afloat. Since celebrities capitalized off the vintage market, Okoronkwo resales pre-loved luxury that isn't "viral" that affordable and of the same quality. She blames social media for consumers falling into the desirability of high-priced items.
However, Okoronkwo flourishes in the luxury vintage market since each garment she rocks tells a story. But as a high fashion girl at heart, Okoronkwo condemns elitist resellers. She avoids achieving a financial goal since Black women are her main customers. Her sole focus is balancing the "rarity" of products and satisfying her clientele. "I really just want to be happy in my life— not to be a boss. I don't care about that," Okoronkow told GU. "I just want to make money, travel, look fly, and help other people to be fly."
Abby Auguste is more than a stylist; she's a cultural curator with many talents as a fashion content creator, personal shopper, and vintage enthusiast for her brand, The AA Collective. Now, the LIM college student and her friends Brooke Collins and Mya Rivers created Bam Studio— a collective that hosts art direction, photography, and styling for respective creatives.
The 23-year-old Philly native surrounded herself with pre-loved wear as a youth ever since her mother designed clothes in Haiti. Even though she loves vintage Sacai and Louis Vuitton, she disagrees with price gouging in the pre-worn market.
Aside from studying sustainability and fashion merchandising in college, Auguste's interests in secondhand wear and reworked fashion derived from the label archivist Dapper Dan. She credits his take on making luxury fashion accessible to Black people.
Auguste noticed the fashion industry needed more representation for darker skin couturiers and thicker bodies. In her eyes, light-skinned women brought recognition to the fashion market. Auguste recounts an ex-peer who suggested she receive cosmetic surgery to conform to a "modelesque" physique.
Despite colorism and fatphobic remarks, Auguste channels her craftiness in the vintage world by showcasing her sleek but maxi-malistic style on social media, especially TikTok. Her duty is to make young Black Gen-Zers feel included. "Find what works for you, not what people tell you," she told GU. "I had people telling me things I can't do, but they're not God."
Like a typical Chicago kid, Brian Stepney Jr. found his 90's-esque fashion sense or what he refers to as "jiggy" from movies like Juice, Kanye West, and the drill music era—which translated to his vintage brand, "Bum Threads." Before the 29-year-old became a model, he would thrift secondhand wear with his mother since he could not afford luxury wear. Now, Stepney manifested his "oxymoron" childhood hobby into a lucrative business. He founded "Bum Threads" in 2017 after realizing his personal style resonated with his customers.
Stepney started sourcing at Goodwill and flea markets for his streetwear brand. Then, he started sourcing pre-worn athleisure wear on platforms like Depop and Whatnot to reinvigorate nostalgic moments for his business. Though the reselling game made Bum Threads boom, Stepney realized the demand for vintage became oversaturated due to the popularity of phenomenons like "hype beasts," in which fashionistas desire trendy threads.
Though he realizes thrifting aids in sustainability, he notes some Black people demean secondhand wear because of the false reputation of being "cheap." However, he praises Black women (surprisingly, his biggest clients) for supporting his brand. Stepney calls for Black men in fashion to revolutionize and take a stance on refurbishing archival goods. Stepney acknowledges he profits off low-priced goods but pours recyclable fashion into the Chicago community. "I just want to be a pinnacle to the everyday Black kid in Chicago," Stepney told GU. "I want [Bum Threads] to be a household name."
Read 'Luxury Black-Owned Vintage Shops To Support In the Summer'
About Ayeshah: Ayeshah Plummer is a fashion, beauty and lifestyle writer. When she's not writing she curates her own content focusing on hair and makeup.