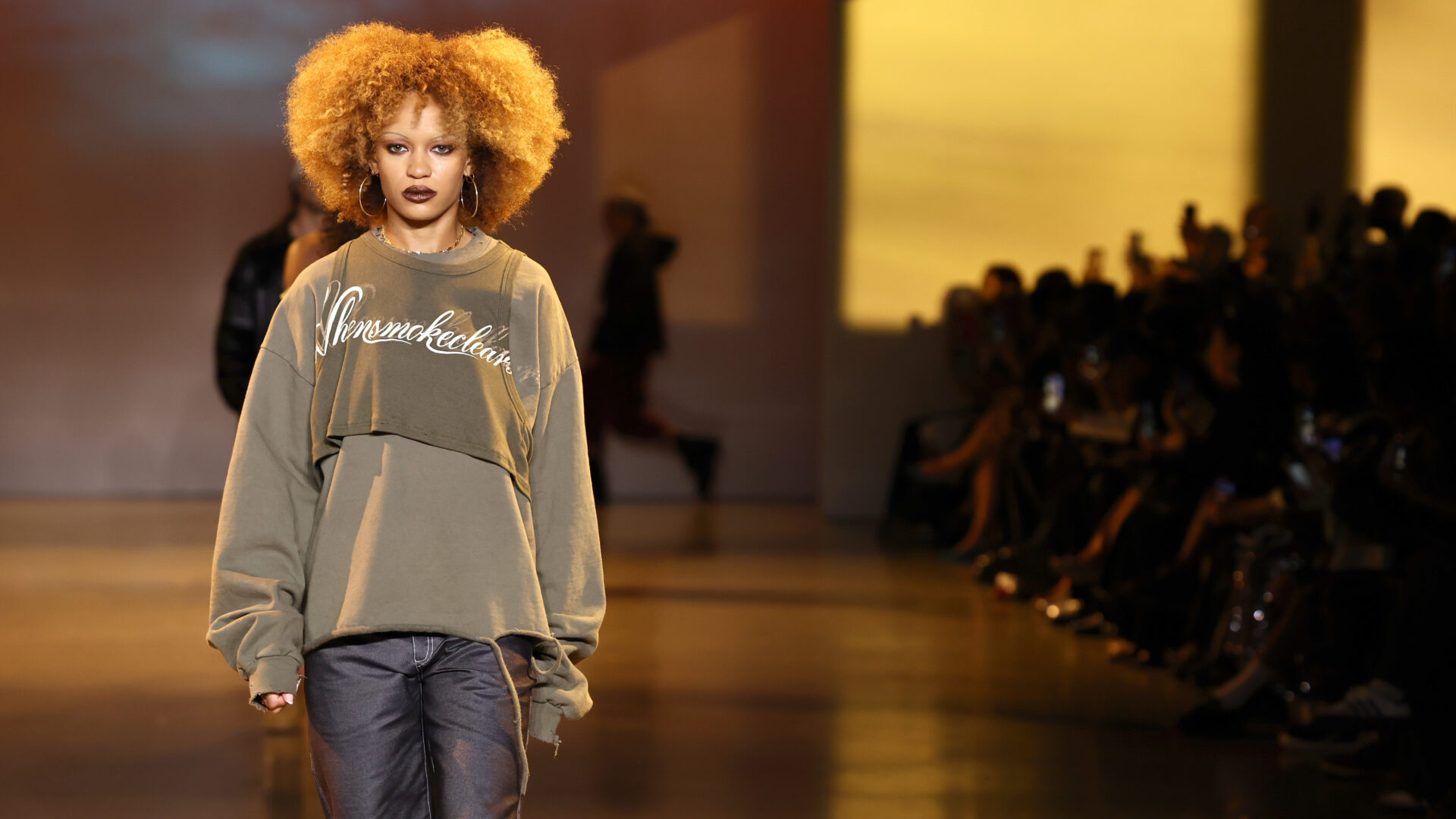 Whensmokeclears Takes Us Uptown With A 'Birds Eye' View
Founders K$ace and Thermal pay homage to their Uptown and Bronx roots at New York Fashion Week.
Regarding luxury streetwear, Whensmokeclears founders K$ace and Thermal have mastered the concept of versatility. "Birds Eye" paid homage to their Uptown and the Bronx upbringings represented through the subway emerging from the underground, offering attendees a bird's eye view of the city.
Through elevated designs of their signature apparel and accessories, the entire collection embodied an evolved streetwear, featuring notes of both casual and formal looks. Whensmokeclears is known for its denim and leather pants like the World Pants and the Nailhead jeans. This season, they added sweatpants and tracksuits to their staple themes with a cohesive color scheme of black, white, red, green, and blue throughout "Birds Eye." Each model sported Timberlands, a signature cultural streetwear shoe in New York City, to top off the looks.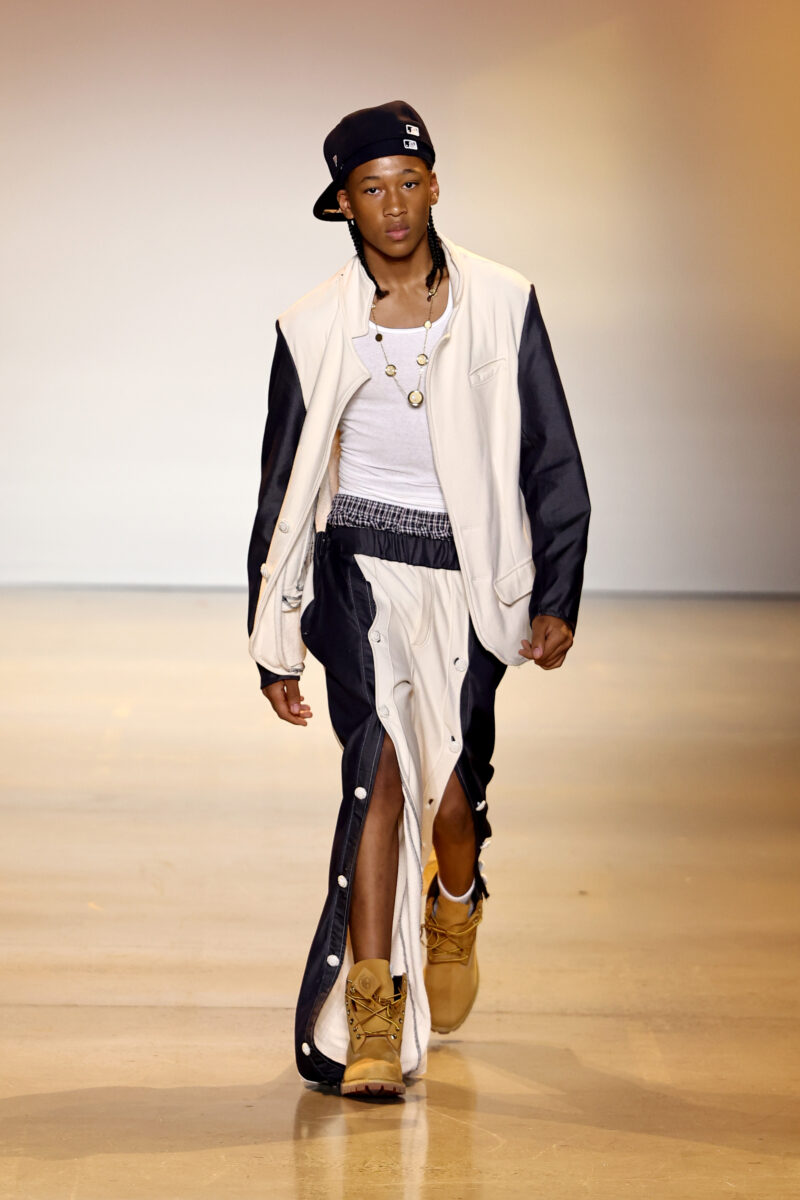 "People don't understand how poppin' New York is," Thermal said. "People are immune to the train and all of the buildings because they see it everyday. But if you go out of the city, people have never seen anything like it. We're just here to show people what it's like. We're giving them a real experience."
The first look was a relaxed black and white tracksuit followed by a shirt and shorts two-piece outfit with a 'W' embossed on the front and 'SC' on the back. On almost all of their pants is a yellow tag on the back that reads 'Whensmokeclears.' Expanding with more womenswear, the brand placed that tag on booty shorts with pockets hanging out.
"This collection is inspired from where we're from, the things we've been around all of our lives like our parents and things that make Whensmokeclears, Whensmokeclears," said K$ace. "It's people that have been supporting us. Other people appropriate our s*it, well we're about to bring our s*it and really show you our s*it."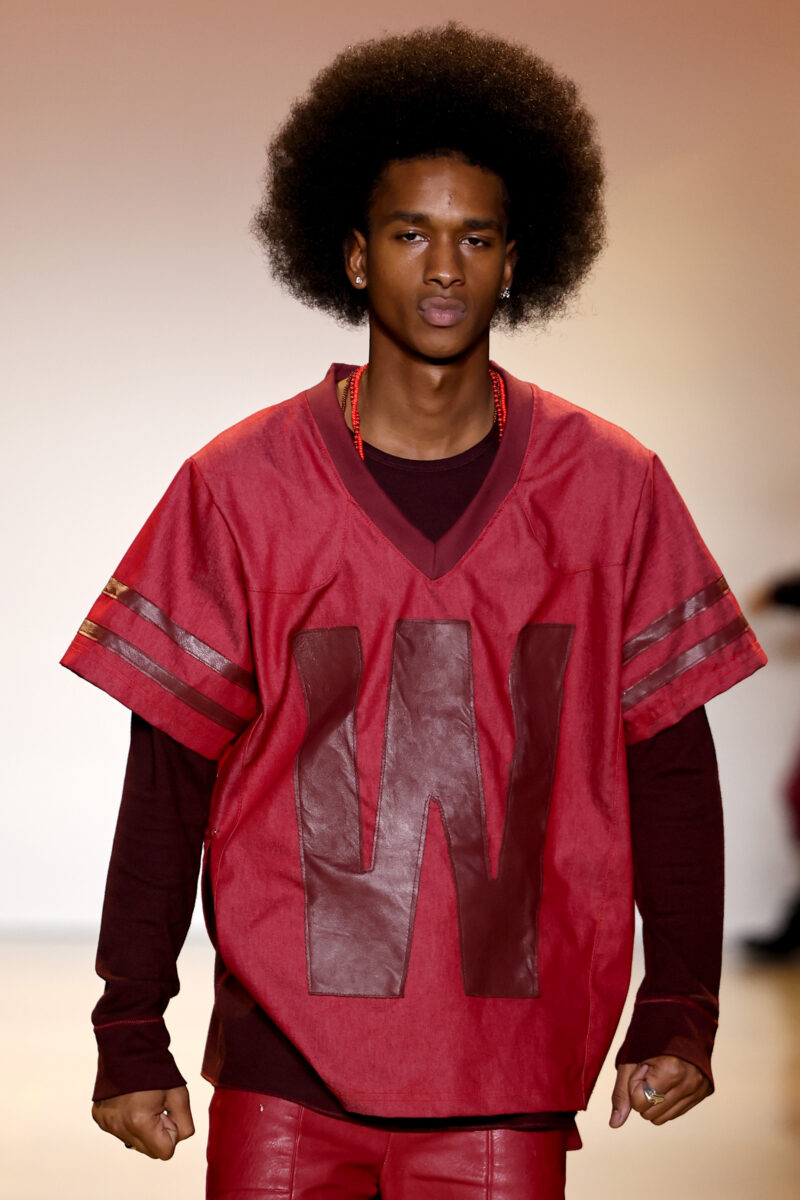 This season, the founders created baggier pants in contrast to their more straight fits in the past. With their continued stack fit, they added more pockets, buttons, and drawstrings to their bottoms. Their iconic leather pants had more solid colors than their usual embroidery and embellishments.
New York's art and fashion scenes reflect much of the brand's values. K$ace and Thermal prioritize collaborating with designers and artists nationwide, inspiring them to make better clothes each season.
"Every time we create, it's like a documentary," Thermal said. "We grab all of the creatives from the city and people that we gravitate towards or are aligned with. We build community in our studio. We do it in every city – we've done it in Atlanta, Los Angeles, and New York. It's about meeting the young kids and giving them the platforms to do what they want to do."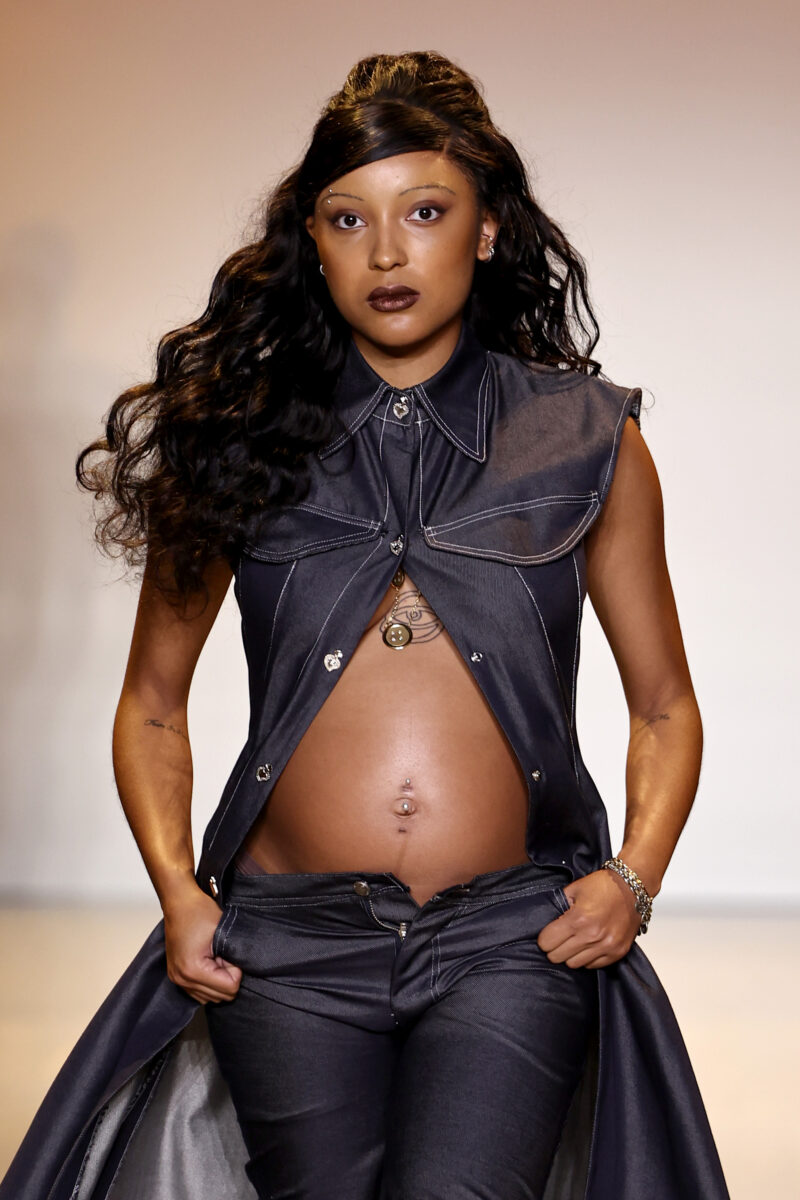 The last runway look was a show-stopping dark-wash maxi denim dress with matching pants modeled by a glowing pregnant woman. The finale was a proud moment for Thermal as that model was his significant other and baby's mother. The heartfelt conclusion nearly left the crowd in tears and left everyone in awe at Whensmokeclears' ability to represent the city's culture.
Photos by Arturo Holmes/Getty Images for NYFW: The Shows