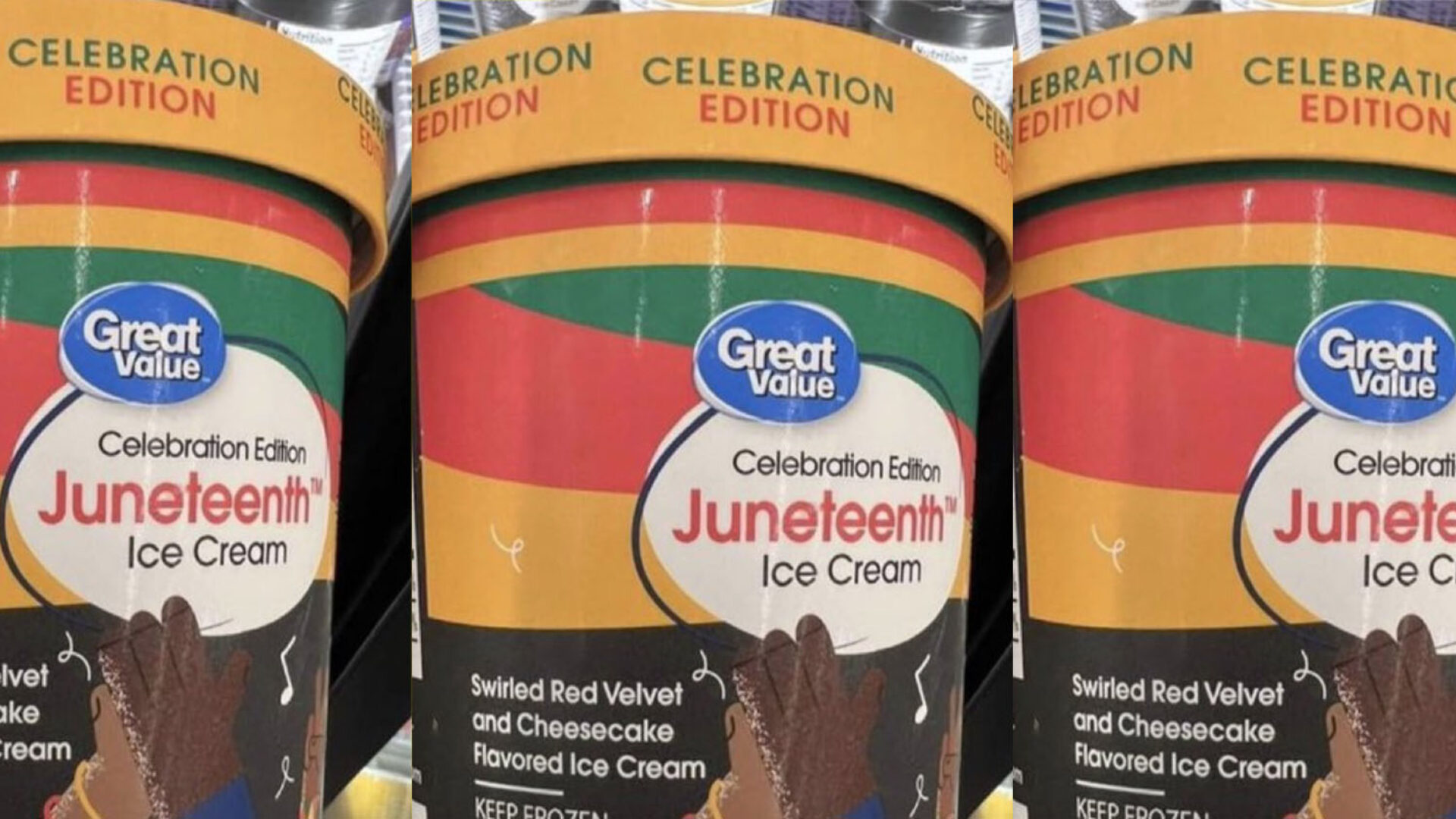 Walmart Pulls Juneteenth-Inspired Ice Cream And Apologizes: 'We Are Reviewing Our Assortment'
Leaked photographs caused outrage over the dessert.
Juneteenth, the 1865 day Texans were told all enslaved people were free, is celebrated annually on June 19. Ahead of the federal holiday, rumors of a Walmart-brand ice cream began circulating online. The retailer has since decided to pull the ice cream.
Read our story on how a new generation is celebrating Juneteenth.
"Juneteenth holiday marks a celebration of freedom and independence," the company said in a statement to FOX Television Stations. "However, we received feedback that a few items caused concern for some of our customers and we sincerely apologize. We are reviewing our assortment and will remove items as appropriate."
In what appeared to be a leaked photograph, a "Celebration Edition Juneteenth Ice Cream" by Great Value – a Walmart brand – was seen. The ice cream carton featured two Black hands high-fiving over strips of yellow, green, red and black colors. On the side of the carton, under a category entitled "Our Story," can be read: "Share and celebrate African-American culture, emancipation and enduring hope." The ice cream is swirled red velvet and cheesecake-flavored.
The images created an uproar one. Many Twitter users felt that a big corporation such as Walmart capitalizing on Juneteenth was exploitative of Black culture.
"They're trying to bastardize the meaning of Juneteenth with Pan African & Ethiopian flag colors, exploiting Native Black Americans history by trying to capitalize financially off of our ancestors fight!" wrote one Twitter user. "Look at what Walmart and other corporations are doing."
Social media users were also quick to point out the trademark symbol appointed next to "Juneteenth" on the ice cream carton, indicating that Walmart may be trying to trademark the holiday's name.
"Convinced that Juneteenth (TM) Ice Cream is a sketch from Spike Lee's Bamboozled that was left on the cutting floor. Ain't no way Walmart execs said, "Let commemorate the end of slavery in the U.S. by monetizing a cheap brand of ice cream." And attempt to trademark the holiday," tweeted another user.
It was also revealed that the ice cream flavor was used by a Black-owned brand. #CultureTags creator Eunique Jones Gibson tweeted, If you want some red velvet cake ice cream this Juneteenth and beyond, support Black owned Creamalicious which is available at Target."
President Joe Biden made Juneteenth a federal holiday in 2021. Since then, corporations such as Walmart have taken this as a queue to capitalize on it by selling merchandise and slew of products celebrating the holiday. The Black community isn't having it.