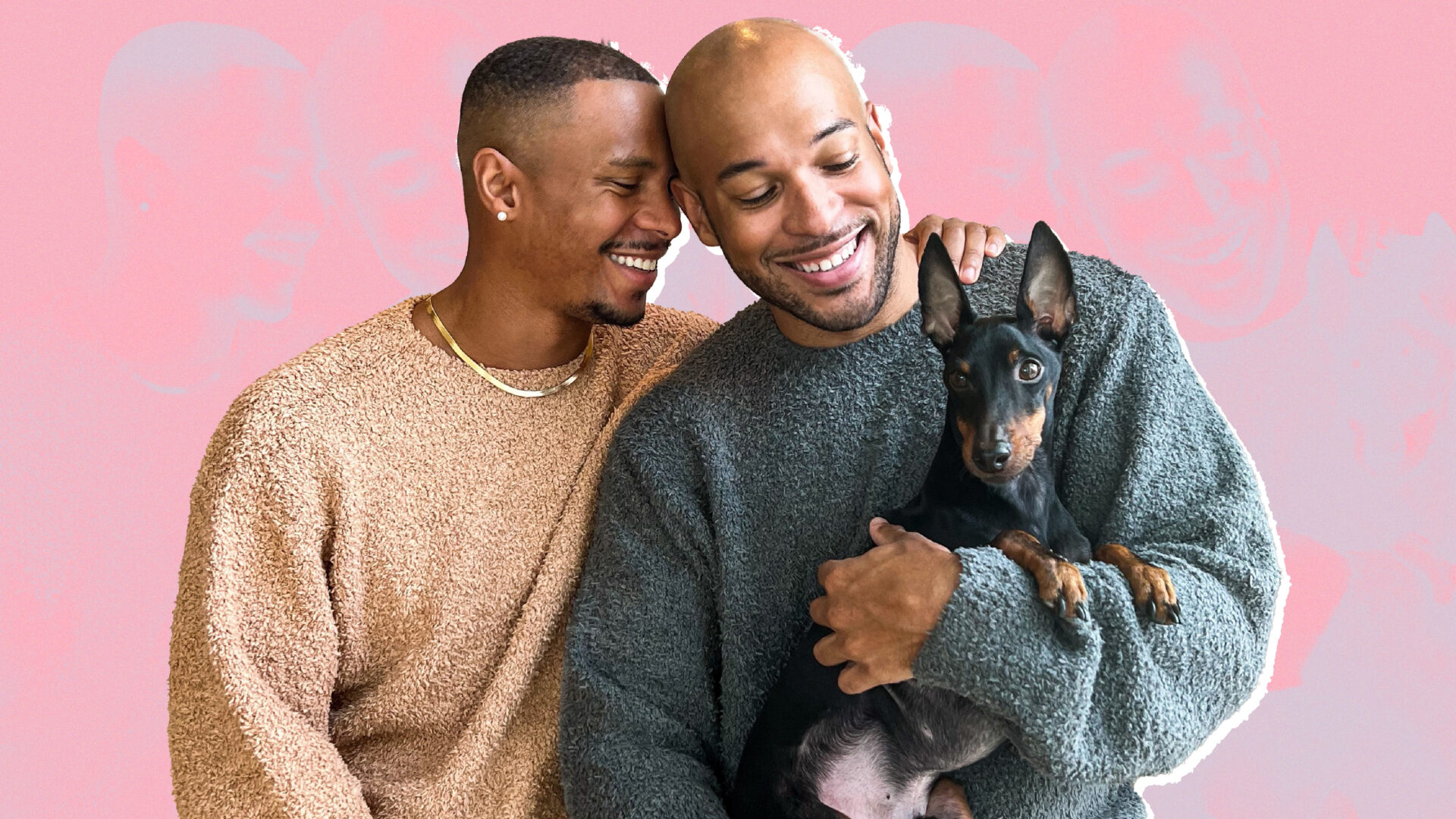 Three Queer Couples Share Their Love Story
Love is in the air for Valentine's Day, and what better way than to hear some love stories? Through the season of romance, it's essential to showcase every aspect of Black devotion and how Black millennials and Gen-Z'ers turn true friendships into romantic relationships.
As we enjoy the holiday, whether with friends, lovers or family, let's all remember that Valentine's Day is a time to spread and share the love with the ones who care about you unconditionally, and want to see you smile.
Read 'Bahja Rodriguez Is Feeling The Love With New V-Day Single'
Check out our favorite love stories from three queer couples who share their favorite moments, discoveries about each other, and how they've grown since being together.
Jonta Harris and Denver Sean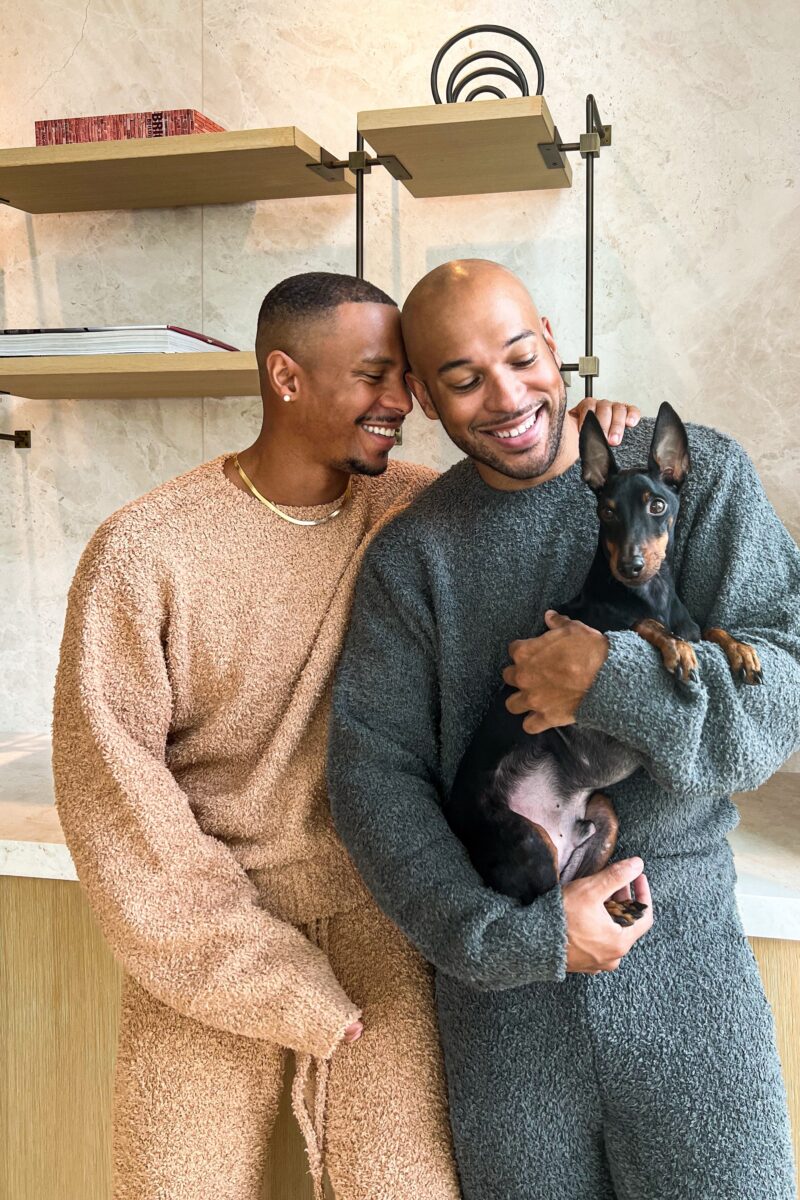 Girls United: How did you both meet?
Harris: We actually met at a mutual friend's housewarming party in 2018. We bonded over music and wine, we would just sit in front of a fire pit, and we just started talking to each other.
That's how we got connected and started becoming friends after that, but what I love about how we met, it was just so organic. It wasn't that we were looking for a new love or relationship. We were just out having a good time. Ever since that party, we became really close friends until it got to a point where I'm like, "you know, I actually think I like you a lot."
Was there a specific moment when you knew you were in love?
Sean: There was one moment where he grabbed my hand, and held it, and it was the literal feeling of electrocution. So I think from that moment on, that's where things kind of shifted for me, and I began to take it a lot more seriously.
Harris: I'm kind of an introvert so when I went to that party, I went by myself.
So finally seeing him again, I didn't necessarily look at him, like, "oh, this is somebody that I could see myself with, or this is future partner," but in that moment, I thought this was a great friend. I like to build friendships before I build relationships with people, so at that moment I could really see myself being a really great friend with him and that's how I knew.
What advice do you have for couples when they have a disagreement with their partner?
Harris: I would tell other people that you first have to go into it open minded, vulnerable, understanding, and not defensive. What we've realized what works for us is that whenever we do get into a disagreement we have to understand that it is us versus the problem and not us versus each other. Once we look at it like that, then we have a better understanding of whatever the issue is at hand, and we can get through it together.
Sean: Sometimes you have to scream it out first, before revisiting that it's us versus the problem. [Laughs] It's not always going to be like "we're gonna sit down and we're gonna solve this." We do have to get it out and have that moment. Then once you're done screaming at each other, you're like, "Okay, I'm tired of being mad," and now we can actually [discuss] it.
Davlin Wilson and Kameron Johnson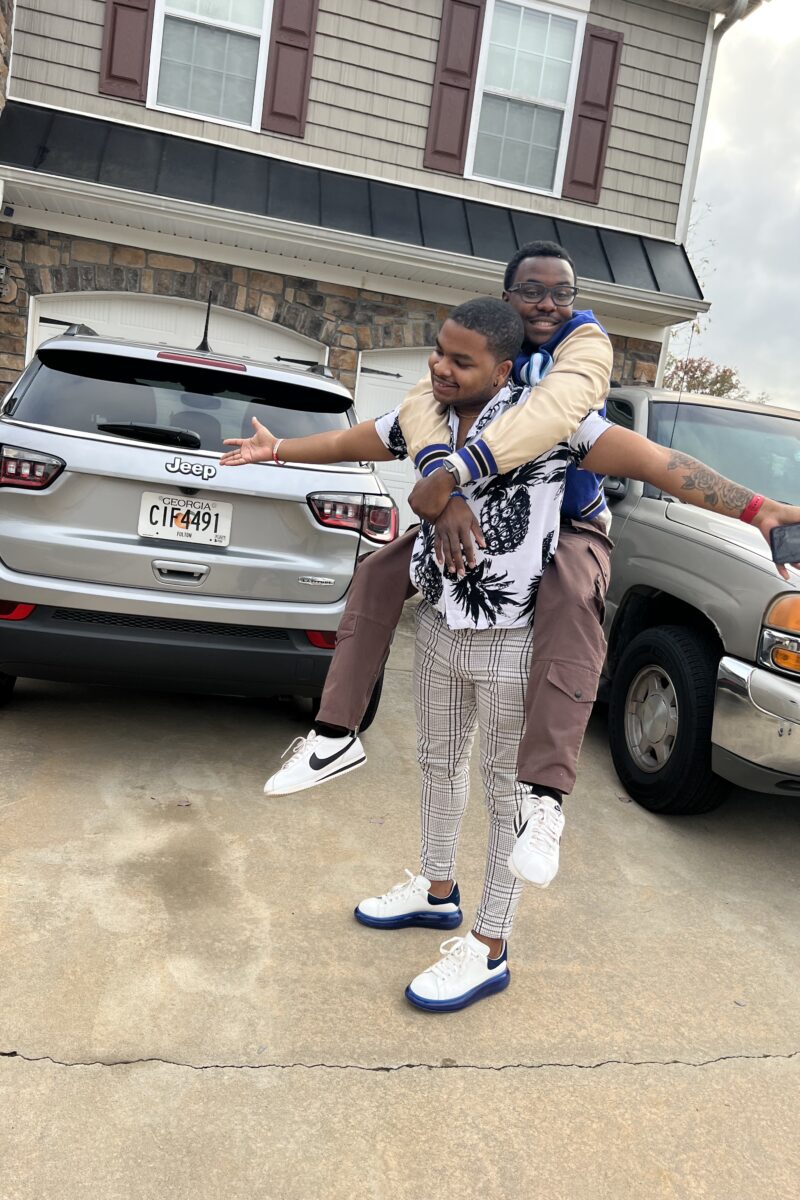 GU: How did you both meet?
Wilson: Funny story, we had been mutuals on Twitter for a long time. After I crossed and was offline, we were put in a group chat. When I saw his face, I instantly recognized him and thought about how fine he was on camera.
We developed a friendship rather quickly based on our similar upbringing. We would always joke and say that we lived the same life, just with different settings, characters and plots. After that, I decided to shoot my shot, but I was being scary, so I had my friend do it for me. From there, we began to facetime every day, and in October, I invited him to come out to Georgia and be my date to the National fair
When did you know you were in love?
Johnson: It was a process from our first conversations to spending Christmas with each other. I believe I knew I was in love after our first physical encounter. It felt so beautiful to know that someone loved me unconditionally and was so enamored by my presence. From our "first kiss" in a Toyama Camry to our first teary-eyed goodbye when I had to go back home. God was shaking me to my core, saying "Kameron, don't let this one get away" that's when I was in Love.
How have you seen growth in each other from your relationship?
Wilson: I have become more independent. I have learned to not be a people pleaser and to put my own happiness before anyone else. [I'm] sterner with my life, my peace is everything to me, and I am learning to not stress about what I cannot control.
Johnson: I've seen substantial growth between both of us. I feel I've become a sweeter, more nurturing and more empathetic boyfriend because of our union.
Being two gay black men, of course, we're fighting against "generational" traumas, but we never let that impact our relationship we're both here to learn and love each other equally.
Julia Wilson and Courtney Williams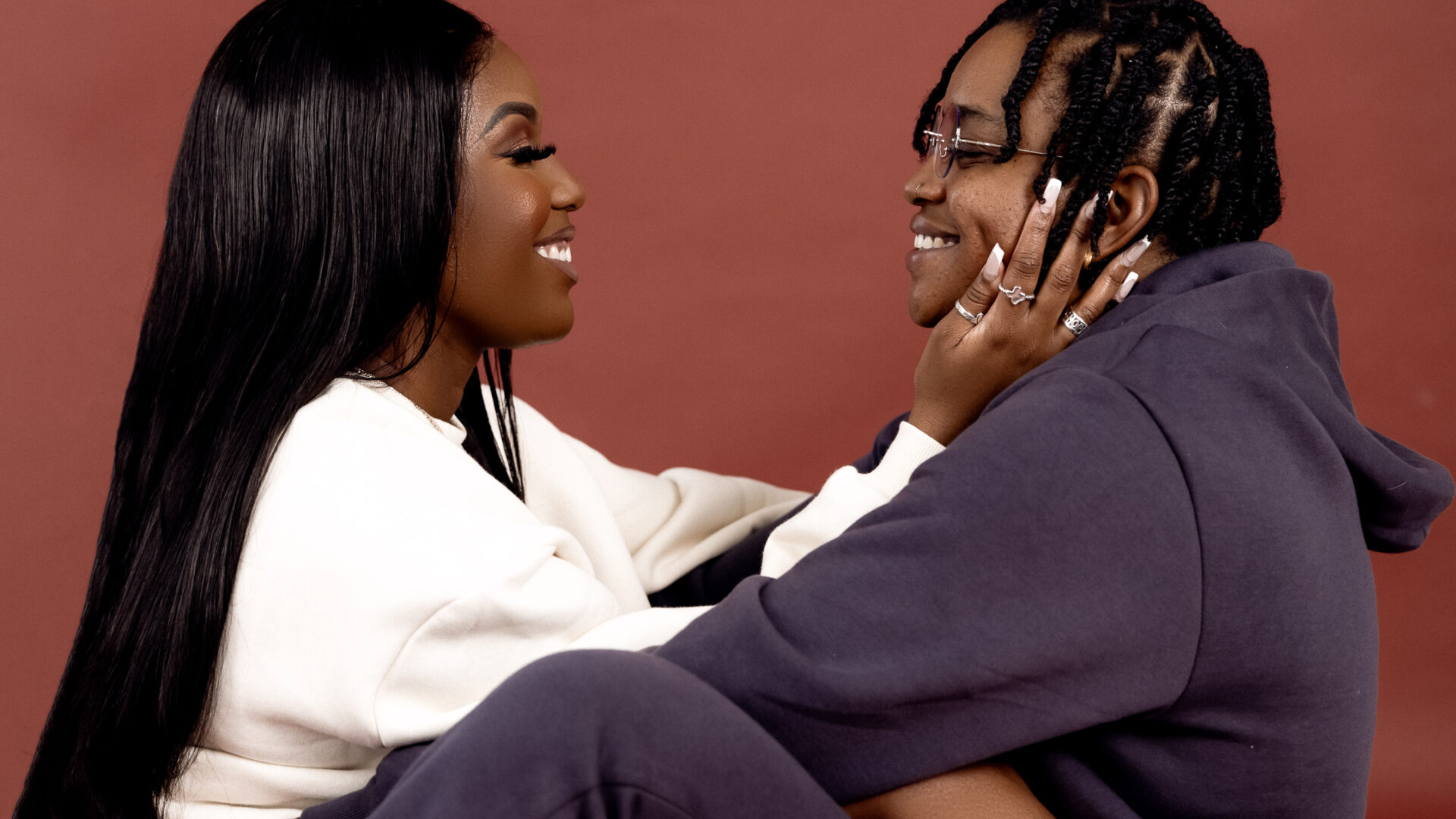 GU: When did you know you were in love?
Courtney: I was telling all of my friends about her, all the time. To the point where they didn't even think she existed and that I was making her up.
At that time, I had been single for a long time and wasn't sure when I would pursue another relationship. I found myself trying to come up with more ways for us to hang out, and I would try anything to add extra hours to the time we spent together.
Whether it be adding dinner to the drive-in movie, we were going to see or driving for a quick drop off of some Gatorade after a girls' night out. Nothing was ever forced and things became very natural in a way that could only be when you find your true other half.
Julia: When I was staying up late talking on the phone with her. If you know me, I despise talking on the phone, honestly, though, it felt very different.
I wanted to be with her all the time because I was so excited and loved her energy. With her, things have always flowed effortlessly, and we really understand one another. I can be goofy, have fun and do it all with my best friend. You really can't ask for anything more. It's truly a warm, fuzzy, safe and secure feeling that everyone deserves to feel in their lifetime.
How have you seen growth in each other from your relationship?
Courtney: Our communication has grown to the point where we are in sync. I know when she's going through something even if she doesn't say anything and vice versa. Often times I'll catch her in mid-thought and ask "What were you thinking?" Of course, her response is "Nothing" followed by me telling her exactly what she was thinking, and her response was "You don't know me?" but I do.
Despite how big of a kid I am and how goofy she can be at times when it is time to be open and honest with each other we are mature enough to listen and make each other feel heard when working through difficult conversations that come with every relationship.
But then it's right back to laughs and jokes. We try to consistently go on date nights. This helps us reset, check in mentally with one another, and spending one on one time without distractions.
Julia: Keeping God at the forefront of our relationship has also helped us in more ways than one. We rely on Him and His goodness to get us through everything because He is our rock. Don't get me wrong, we have misunderstandings like any other couple does, but we always make sure to let each other know that we are not the other person's enemy. We don't listen to respond; we listen to understand.
What are your favorite qualities about each other?
Courtney: Her nurturing instincts, and how she shows she cares. It's always the little things and the way she shows me is very infectious. It makes you want to be loved by her. Last year I experienced back-to-back losses, including my grandmother and maternal uncle, less than 3 months apart.
The empathy she showed and the consistency in her support helped me to be able to deal with the difficult times I was currently facing. She's relentless when it comes to making sure that I am authentically me and she always encourages me that I am more than enough.
Julia: Her attentiveness and desire to help. She pays attention in an insanely detailed manner. I could be in our home office, leave and come back and she's filled my water bottle up. Or I could be scrambling around looking for something and she's like, "Oh, I put it in your purse already."
She always goes above and beyond to see that I'm taken care of and have all I need. She has given me the freedom to be more vulnerable and open to allowing myself to be taken care of in a relationship even though I'm a pretty independent woman and don't particularly enjoy asking for help. She makes it a point to vocalize that she's here and wants to do these things for me.
About Kenyatta: Clark Atlanta University and Medill School alumna Kenyatta Victoria is the Girls United writer covering everything from news, pop culture, lifestyle, and investigative stories. When she's not reporting, she's diving deep into her curated playlists or binging her favorite comfort shows.