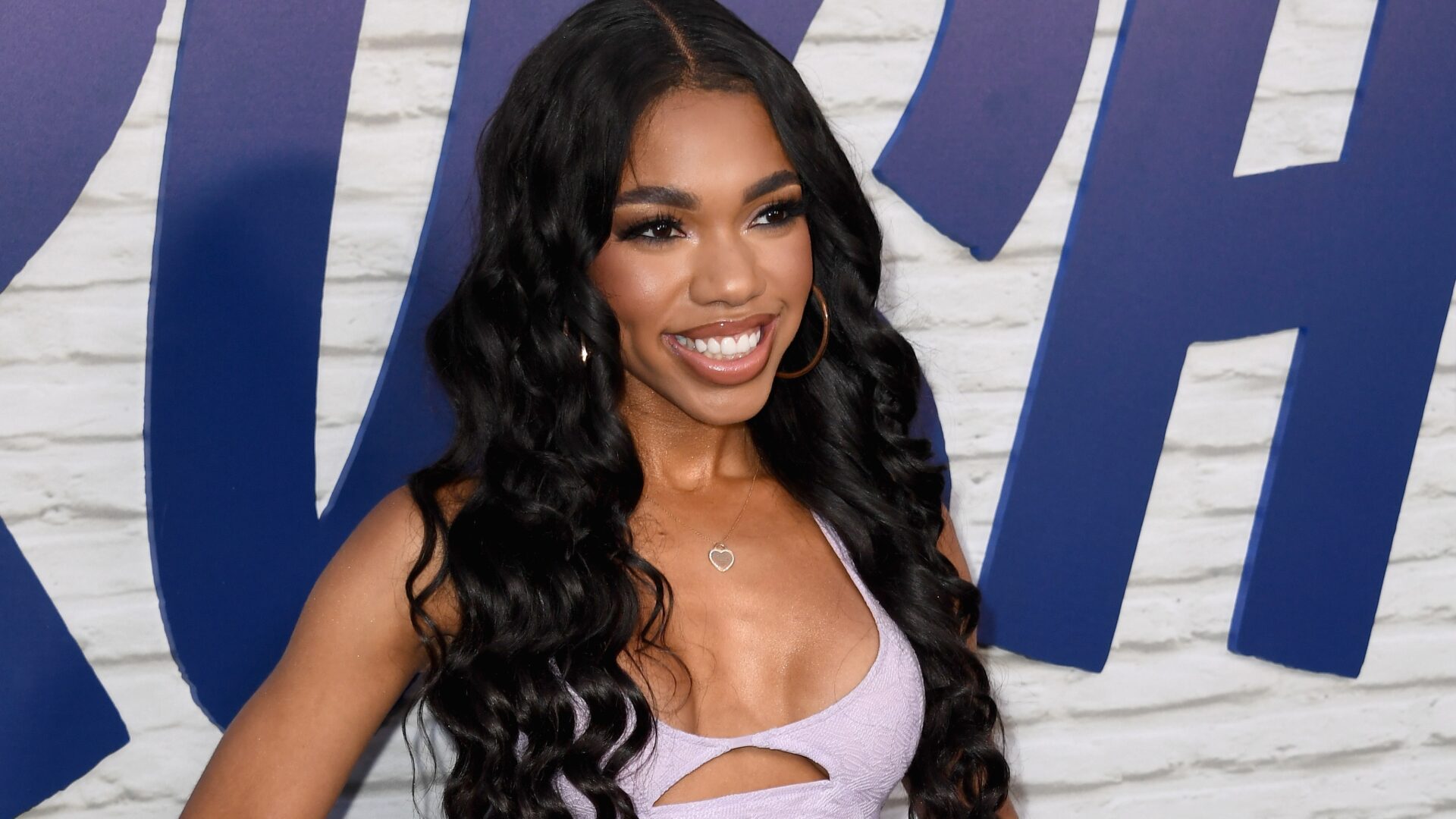 Teala Dunn Doesn't Think There's A Such Thing As Too Many Celebrity Skincare Lines
The 'Crush' actress recently launched her Creme de la Cube skincare line.
Teala Dunn has been sweeping the influencer scene for the past few years and we can't see a single Netflix teen rom-com or scroll on our TikTok feed without seeing her face. While her major breakout roles included Disney Channel's Shake It Up, Dog With A Blog, and Nickelodeon's The Naked Brothers Band, Dunn has taken her career to the next level by venturing into the world of influencerhood and entrepreneurship.
In addition to recently starring in Hulu's Crush starring Rowan Blanchard, the 25-year-old launched her first beauty brand called Creme de la Cube. "Originally, they wanted me to do a makeup line and I was like, 'No, I really am invested in skincare,' because I had really bad cystic acne in 2019 and 2020," Dunn admitted to Girls United about her skincare journey, which she has openly spoken about on her social media platforms. After her skin cleared and she became more confident, Dunn wanted to create a product that illustrated that not all luxury skincare solutions have to be expensive and pocket-breaking.
"I know that Walmart is so affordable, so the fact that I was able to do my skincare line with Walmart has been a dream come true because I know my viewers will have full access to that," Dunn explained, as opposed to creating a nearly $85 line. "I just wanted to make sure that it was something that people would feel comfortable with buying, and it's been great." While creating her own signature skincare line, Dunn has also been starring as Zelda on Freeform's Good Trouble with Zuri Adele, Maia Mitchell, and Cierra Ramirez.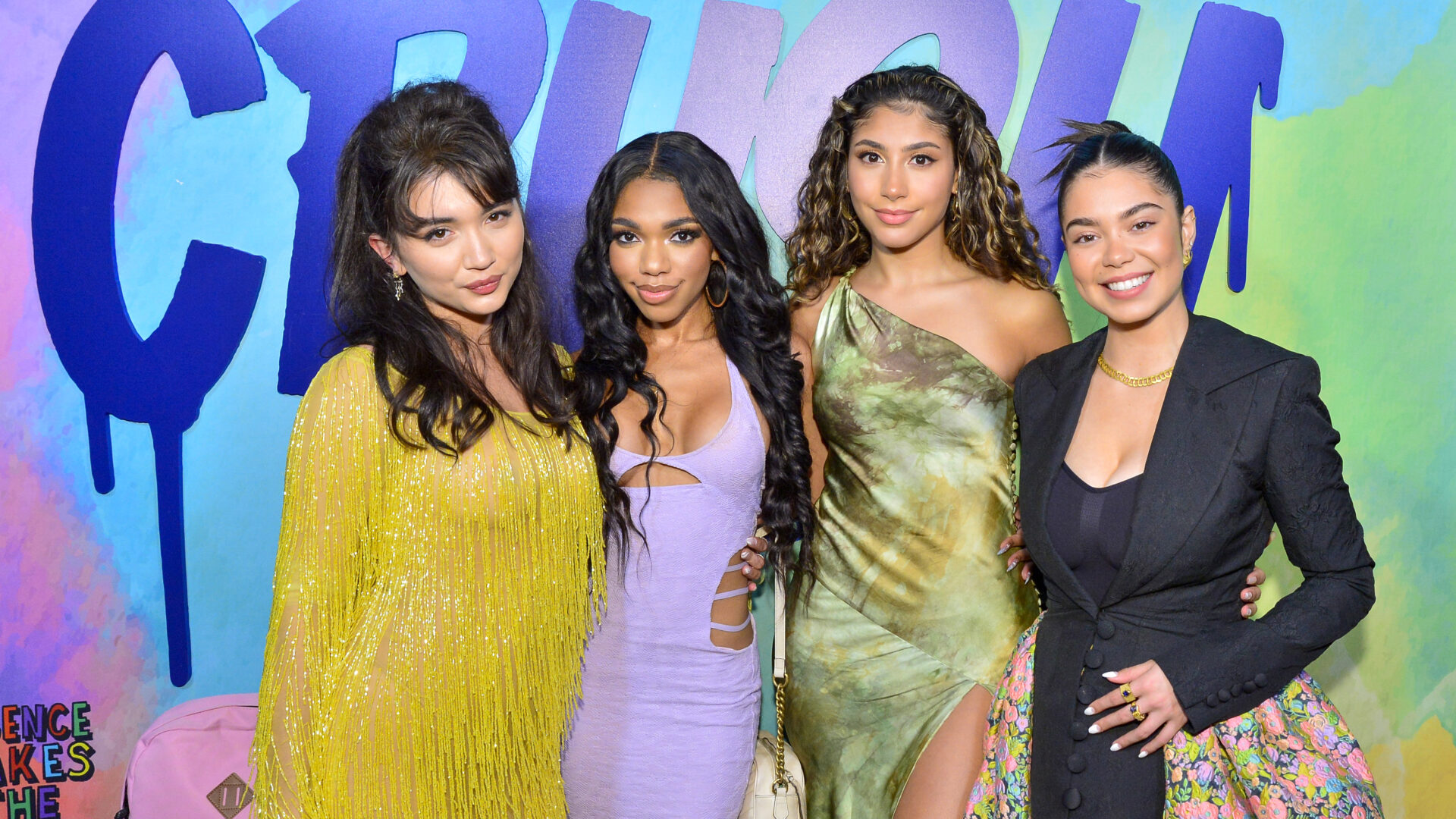 HOLLYWOOD, CALIFORNIA – APRIL 27: (L-R) Rowan Blanchard, Teala Dunn, Isabella Ferreira and Auliʻi Cravalho attend the Los Angeles Premiere Of Hulu's Original Film 'Crush' – After Party at NeueHouse Los Angeles on April 27, 2022 in Hollywood, California. (Photo by Jerod Harris/Getty Images)
Ahead, Girls United caught up with the Are We There Yet? sitcom star about her skincare line, her favorite skincare hacks from TikTok, and the launch of her new podcast, Anonymously Yours, on Brat TV.
Girls United: Last time we caught up was for the Adultin' podcast, but now you have Anonymously Yours. Tell me how it got started and what it's been like working with Brat TV.
Teala Dunn: Anonymously, Yours has been honestly so much fun. My Spotify podcast with Nia [Sioux] was a dream come true. That was incredible, but I wanted my next podcast to be something that would involve my viewers and my supporters because, in my last podcast, they weren't able to send in questions. What's so cool about Anonymously, Yours is my viewers send in crazy stories or their friend's stories and everything's anonymous. I'm able to give them advice and react to some of the stories. Most of them are so crazy and surprisingly; some of them I'm able to relate to. It's been really fun because I have a lot of my friends joining me. I have different guests every single week from all different industries and most of them have been my closest friends.
GU: How do you balance the podcast, your personal life, and your influencer work? What are some of your tips for achieving balance?
Dunn: I've always been a girl that hates procrastinating ever since I was a teenager honestly. I'm such a type A person. Everything builds inside of my mind like, "I have to do this, this, this, this, this, and then I can do this." I always like to reward myself by hanging out with friends or going to the beach after I get my work done. I've been like that since I was a literal kid in elementary school. I would always do my homework first and then I'd be able to play my Nintendo DS and stuff like that, so that mindset has just been stuck with me.
Now I'm literally 25 and I'm like, "Okay. I have this audition tape. I have this brand deal. I have to film this. I have to turn in this, but I also have a really big event tonight. But I'm going to get all those things out the way so I can have fun, enjoy myself at the event and not have to worry about all the work that I have to do." That's pretty much just how I live, and I don't really know how I balance it. I think I'm just always used to just doing the hardest thing first and not putting anything off, then I'm able to really enjoy my free time.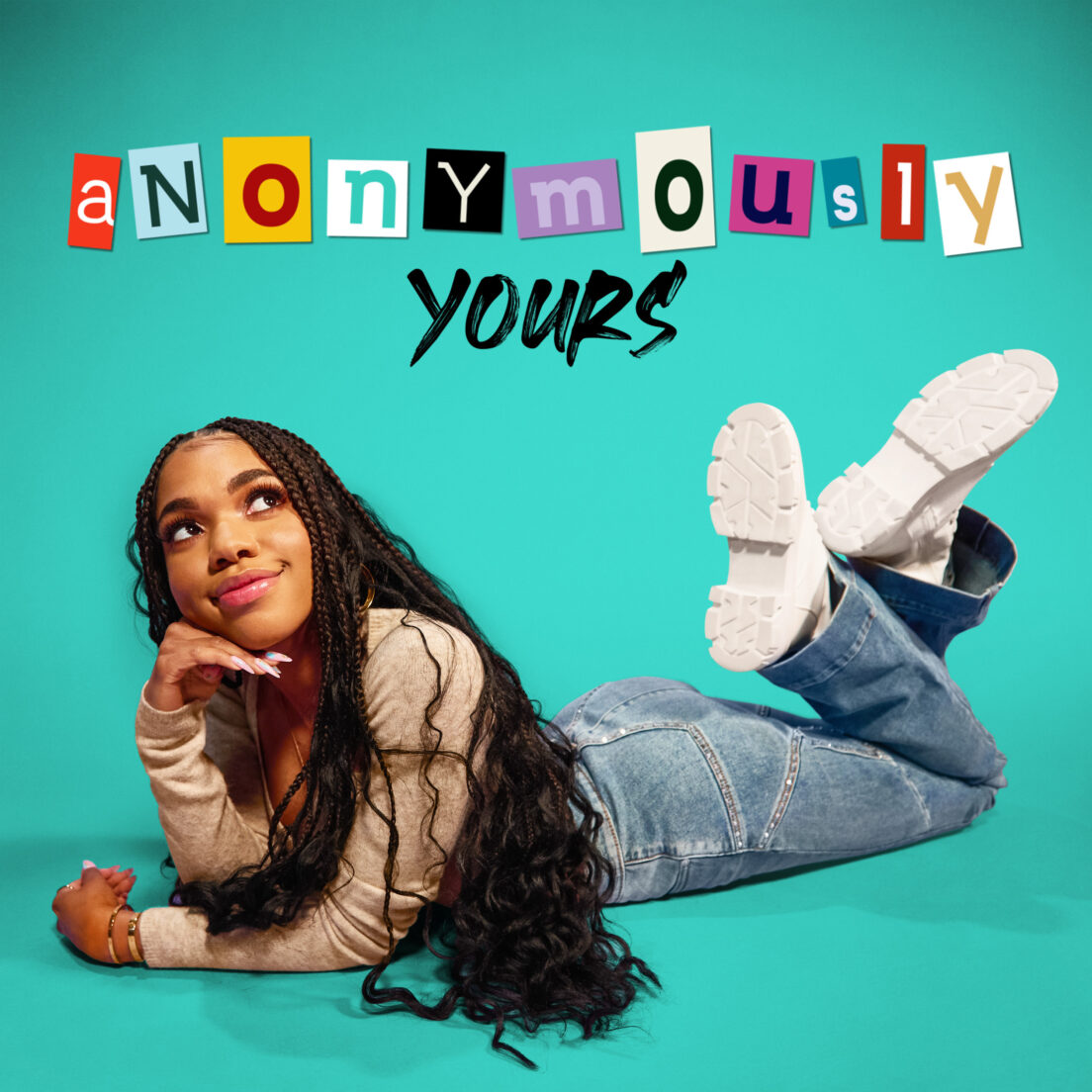 GU: In your opinion, as an influencer yourself, do you feel like the skincare and the makeup industry is too oversaturated with celebrity beauty brands?
Dunn: No. The beauty industry is so saturated with different influencers making makeup lines, which is completely fine. I just personally just don't want to just slap my name on something. I want it to be something that I'm passionate about, and I absolutely love makeup. Maybe in the future, I can make a makeup thing, but it wasn't where my passion was. I wanted to focus on something that I care most about, and that's really my skincare. I think there is room for everybody in this industry, and I have yet to try out some of the celebrity brands like Ariana Grande's makeup and Selena Gomez's. I have yet to try those out. Apparently, they're really good so I'll let you know.
GU: From the perspective of a beauty influencer, how has social media – TikTok specifically – really changed the evolution of the beauty industry?
Dunn: Oh my God, I think TikTok has changed it tremendously. People are so smart. These young kids know all the beauty hacks. They know every hack you can think of. If you want to learn something, go on TikTok and you'll find so many different tips and tricks on how they do your makeup and everything.
GU: What are some of your favorite beauty hacks that you've discovered?
Dunn: This has been one of my favorite beauty hacks – using the micellar water with an eyeshadow brush and turning any eye shadow color into a liquid liner. It's been incredible. I've been doing that with Rihanna's makeup and turning it up.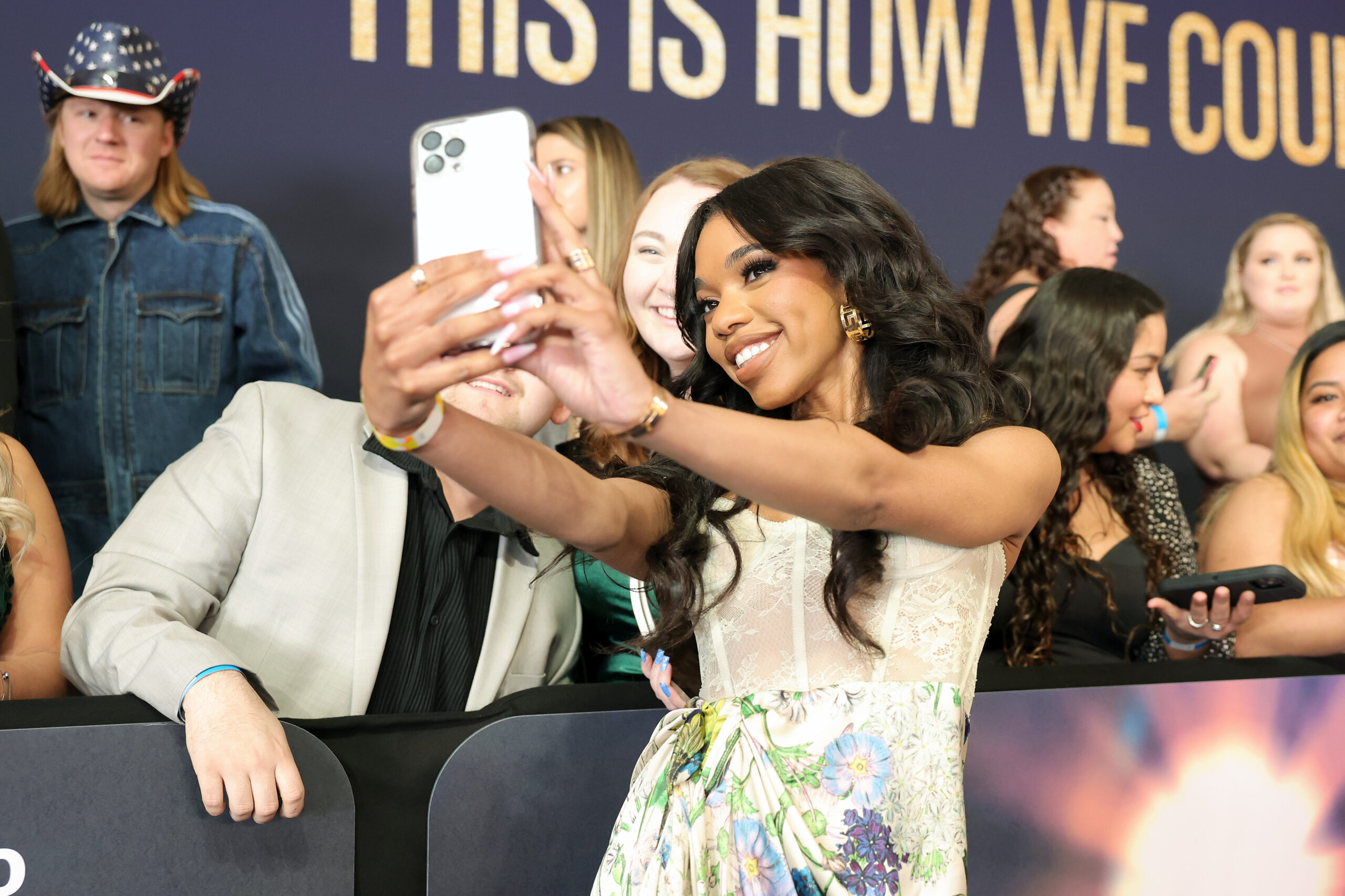 LAS VEGAS, NEVADA – MARCH 07: Teala Dunn poses for a selfie photo with a guest during the 57th Academy of Country Music Awards at Allegiant Stadium on March 07, 2022 in Las Vegas, Nevada. (Photo by Rich Fury/Getty Images for ACM)
GU: How would you say that your beauty routine differs from when you're on set of Good Trouble, versus when you're off set?
Dunn: I would say it depends on the role for sure. With Zelda, they go off on my glam for Good Trouble. I got the lashes, I got different lip colors, and I'm doing different eye shadow colors literally just to match my outfit. If I'm wearing a green outfit, I'll have green glitter on. They just go off and I feel like a complete queen. Then somebody like Stacey [Clarke] is just how I do my own makeup, lots of gold eye shadows and a simple lip, so it really depends on the character.
As far as Zelda, I definitely don't go all out with my makeup in real life. I should, honestly. Anytime I watch Zelda, I'm like, "Wow, I was looking really good." I've been really lucky to work with incredible makeup artists and wardrobe stylists. It's been really fun just playing dress-up and honestly, I learn a lot. Whenever I'm on sets, I learn a lot from what the makeup artists do to me. I'm like, "I like the way this looks. Let me start doing this in my daily routine."
GU: What pieces of advice would you give young girls who want to venture into the influencer space, but aren't sure about where to start?
Dunn: I would say consistency is key in whatever field you want to do. I just like to do a little bit of everything. I always want to encourage young people that are following me, especially young Black women, don't ever make anybody make you feel like you are in a box. I never want to be a stereotype. I love breaking all those boxes and being whoever the hell I want to be. That is so powerful for young girls, especially young girls of color, to know. You don't just have to do one thing, whether that's acting roles that I go for and all the characters that I've been so blessed to be able to play, they are all not stereotypical Black women, which I absolutely love.
For instance, Zelda on Good Trouble is just – well, people will find out more about her character, but she's just a very intelligent young Black woman who is an entrepreneur and so successful. That is very powerful for young girls to see how a beautiful young Black girl can be a boss, can be a CEO, and have a lot of money. Inspire others to chase their dreams and don't let anybody bring you down because, at the end of the day, there's always going to be somebody that has something negative to say always. You just have to just keep moving forward and surround yourself with people that truly care about you.
Photo Credit: HOLLYWOOD, CALIFORNIA – APRIL 27: Teala Dunn attends the Los Angeles premiere of Hulu's Original Film "Crush" at NeueHouse Los Angeles on April 27, 2022 in Hollywood, California. (Photo by Jon Kopaloff/Getty Images)
About D'Shonda: Born and raised in Brooklyn, NY, D'Shonda Brown is the Associate Editor at Girls United. When she's not interviewing or writing, she enjoys running, dancing, buying sneakers, and binge-watching Lifetime movies.