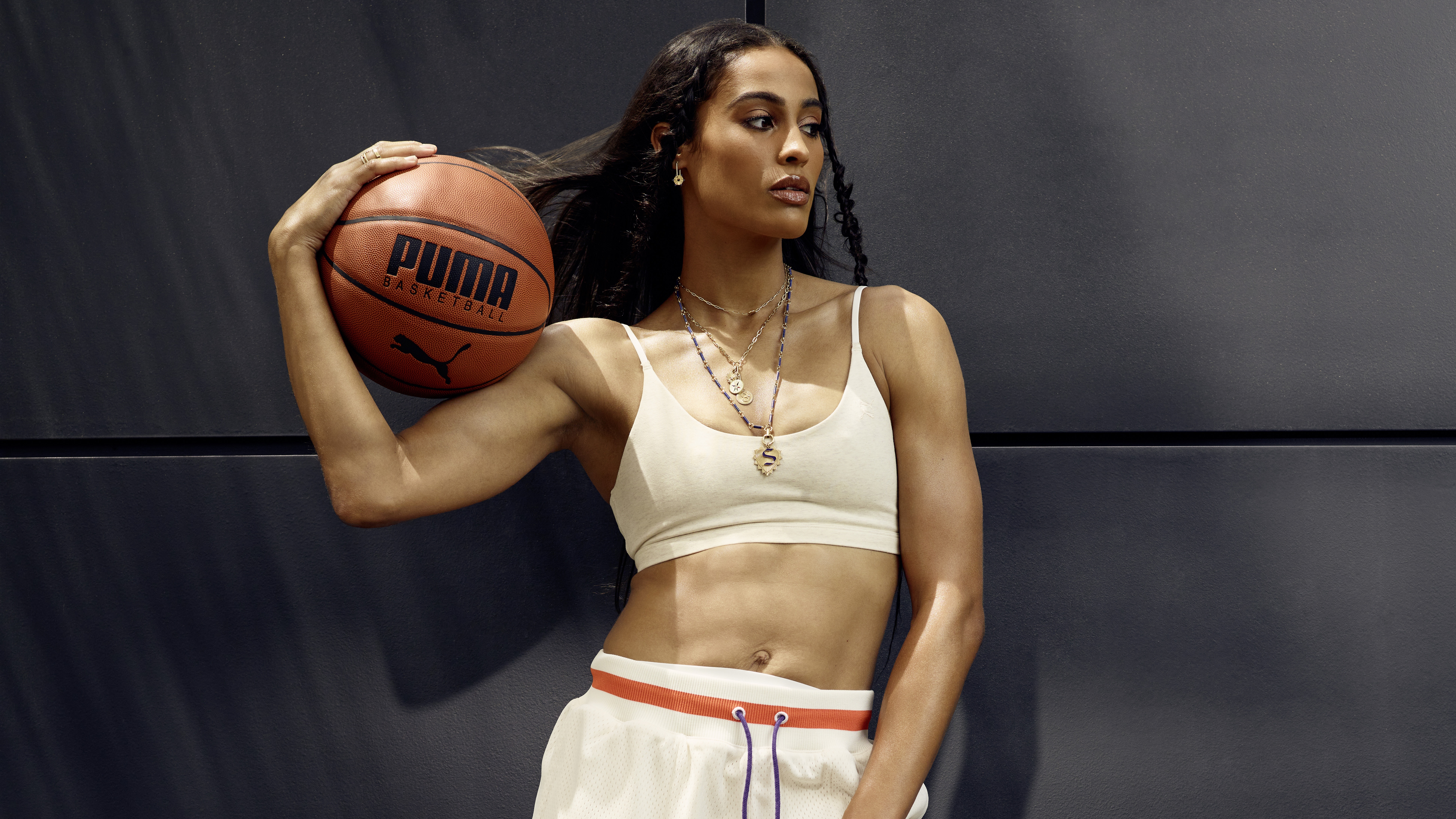 Skylar Diggins-Smith's Latest PUMA Collection Includes A 'Private Message' Between Her And Her Mother
The collaboration officially dropped on her birthday, August 2.
Beauty, bronze, and basketball star are just some of the many ways to describe the on and off-court force that is Skylar Diggins-Smith. In celebration of her birthday, the six-time all-star and Phoenix Mercury Guard debuted her first-ever capsule collection with PUMA Hoops titled Desert Sky.
Skylar Diggins-Smith first teased her PUMA Hoops collection on June 29 at her Phoenix Mercury v. Indiana Fever game, turning heads and having fans wondering where they can cop her fit. Diggins-Smith previewed her Desert Sky jersey dress for her tunnel fashion fit and debuted her signature TRC Blaze Court Desert Sky sneakers on the court. The collection officially launched at PUMA.com on Diggin-Smith's birthday, August 2nd.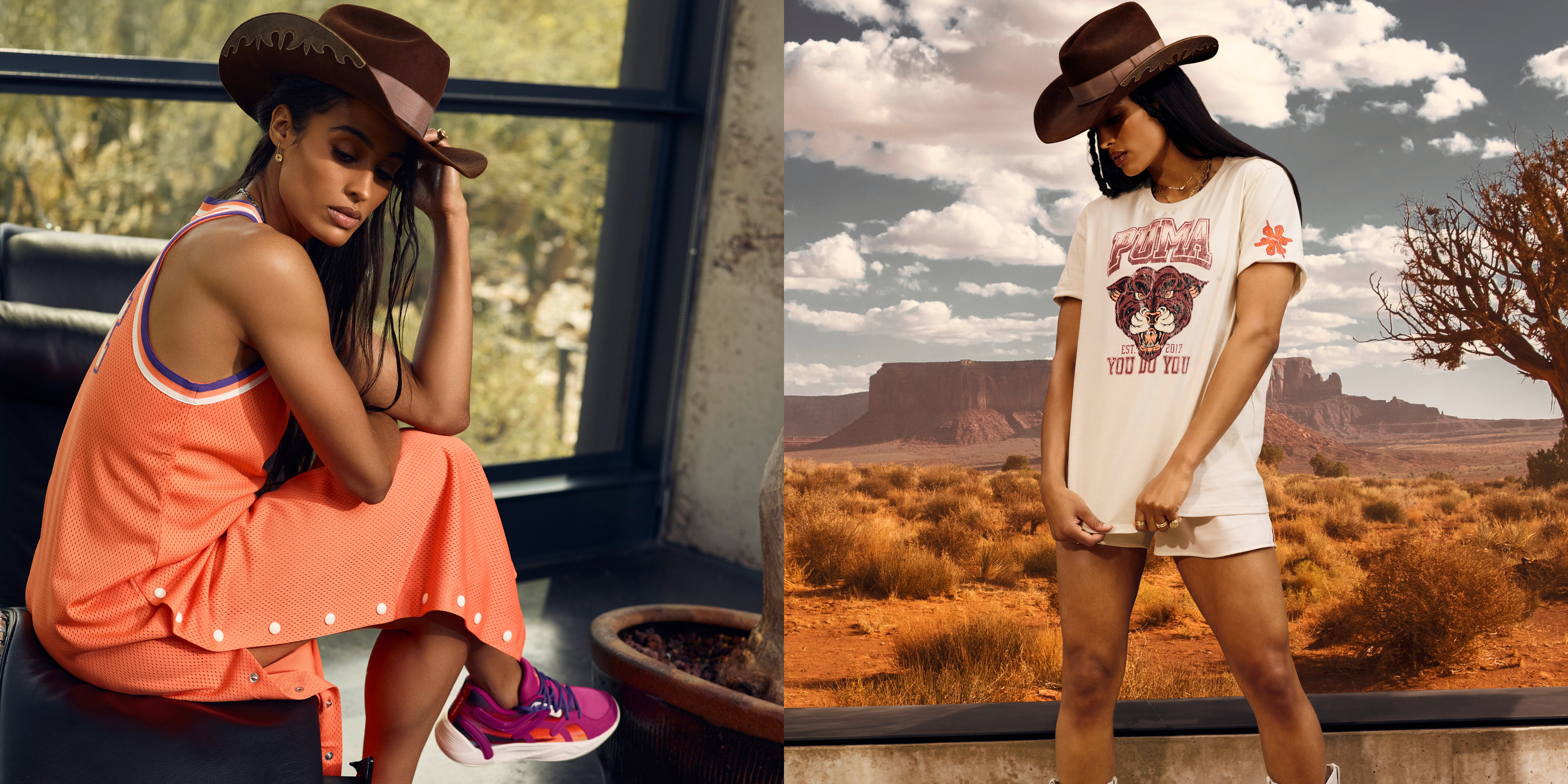 Courtesy of PUMA
When Diggins-Smith and the PUMA Hoops brand first joined forces back in 2018 as the first WNBA player to join PUMA, they were redesigning what their basketball program would look like, according to the basketball player. After sitting down for a "real conversation" about the direction that the PUMA brand wanted to bring the division, Diggins-Smith was brought on board thanks to their "personal investment and dedication" to the sport and herself as an athlete and woman in the field.
As an all-star athlete and woman in a male-dominated industry, Diggins-Smith recognizes the importance of including young athletes in conversations about fashion and style. "We are a fabric of basketball culture and basketball culture is the epicenter of culture – fashion, music, sport. Either neighborhood games [or] the court, [it] is a community [and] we should be included in the conversation because we are an integral part of the conversation."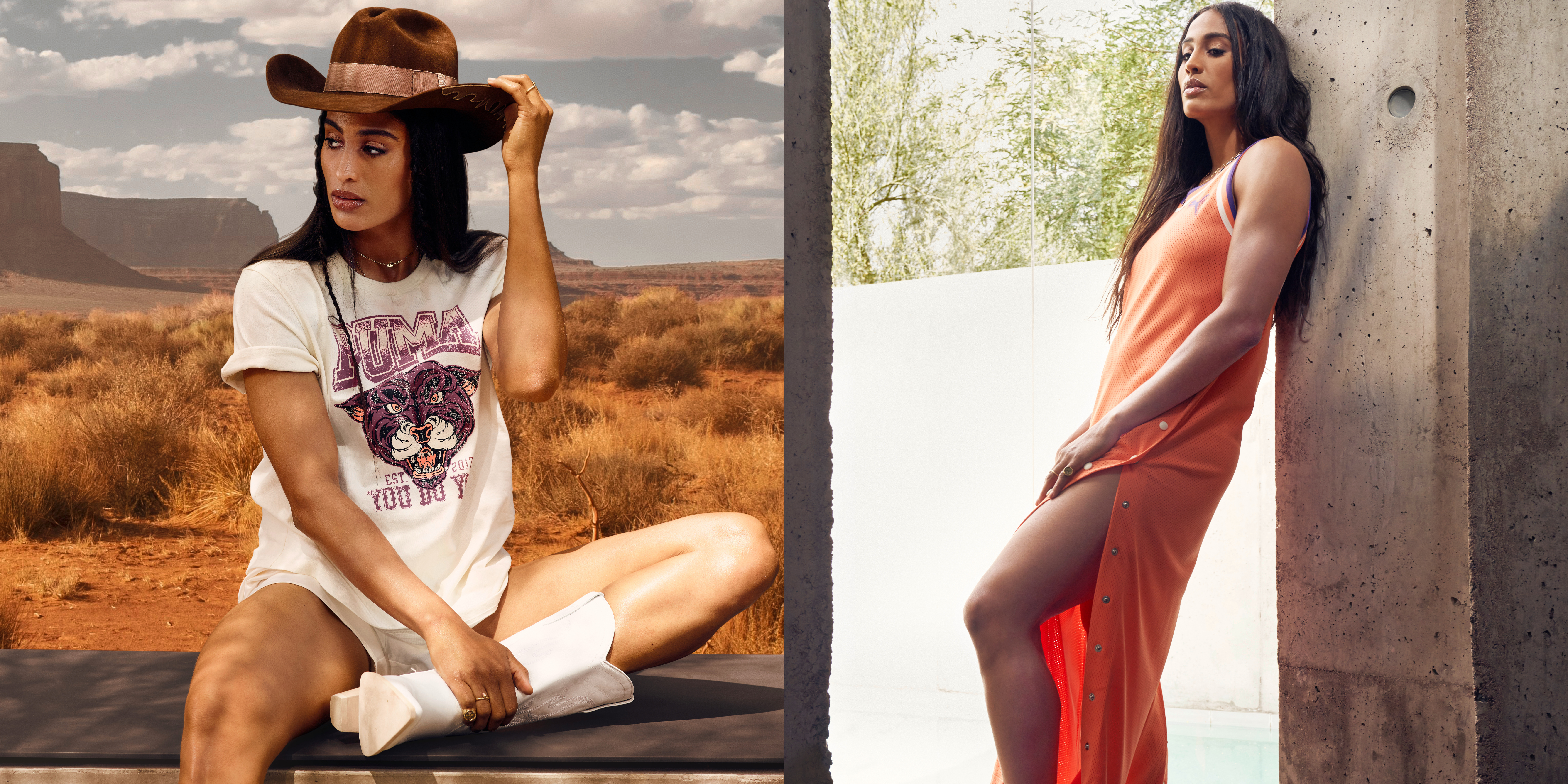 Courtesy of PUMA
"That's like asking, 'Who's your favorite child?'," Diggins-Smith said jokingly when Girls United asked which of the four capsule collection pieces are her favorite. "Each piece represents a memory, a piece of my real lifestyle. Either I'm chilling and need easy-wear shorts [because] I live in Phoenix. The T-shirt, a staple, pays homage to the private message my mom and I share to this day. The jersey dress pays homage to an era of fashion – this time, I put my twist on it."
As someone who is known as a hooper with style, she knows the term "look good, feel good" all too well, but she told Girls United that she flips the mantra on its head to redefine what it means to her. "I think that's actually backwards. I believe in 'feel good, look good,'" she explained. "When you feel good, when you are your truest self, that's when the real glow comes through. When you feel good, there's nothing that can stop you."
To see the full campaign commercial below for PUMA Hoops x Skylar Diggins-Smith's Desert Sky capsule collection, check out the official video below. The full Desert Sky collection was released on August 2 via PUMA and select retailers.