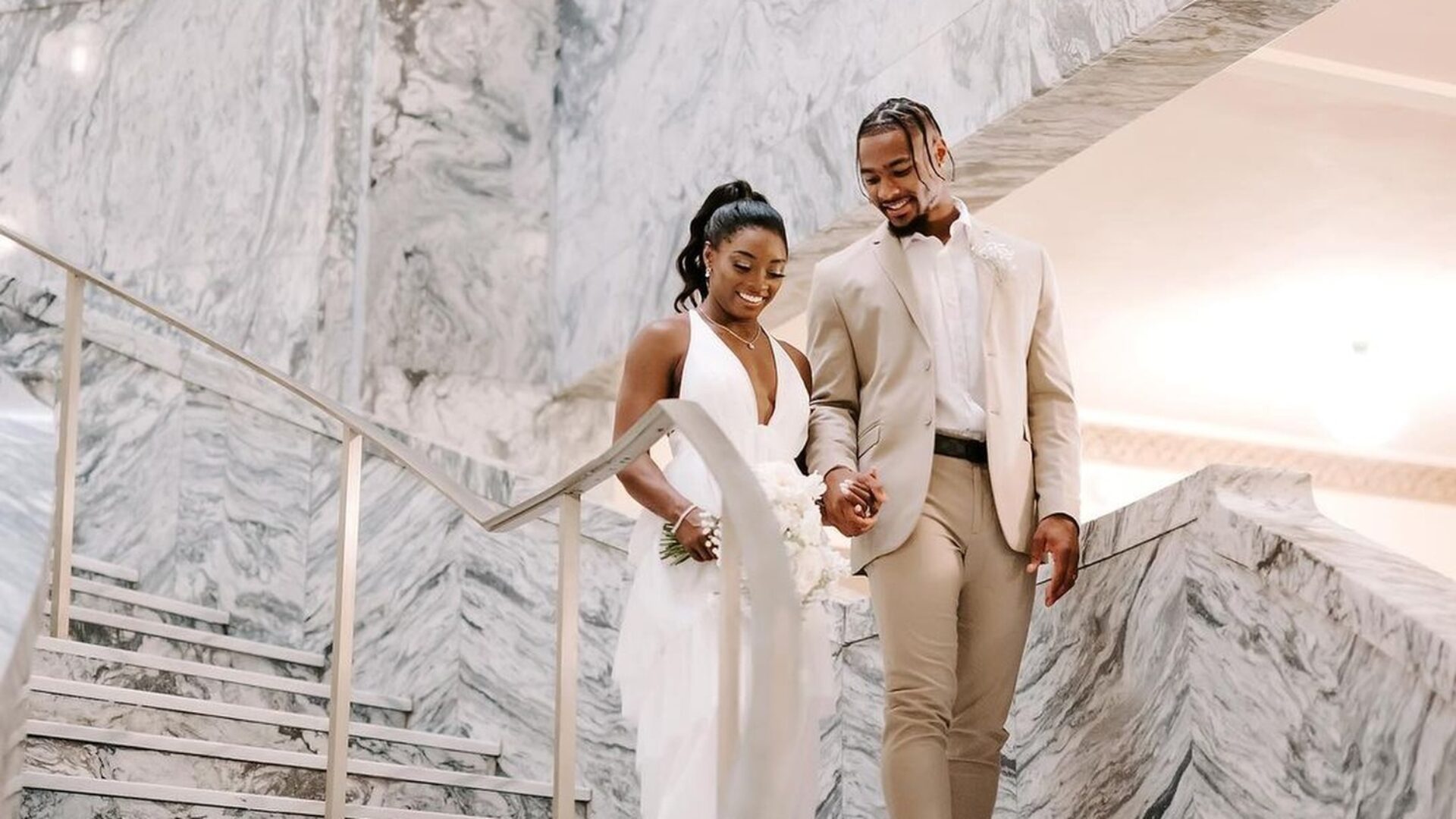 Simone Biles Shouldn't Have To Explain Anything About Her Hair
Black women deserve to embrace their natural texture
Over the weekend, Simone Biles celebrated one of the happiest days of her life as she tied the knot with long-term partner Jonathan Owens. Biles has kept her supporters updated on her wedding every step of the way, and when the day comes, she finally drops her jaw-dropping wedding photos. "I do officially, Owens, " she captioned on Instagram.
Unfortunately, she endured criticism many Black women face on social media and in real life: texturism. Internet critics stormed the timeline while pinpointing that Biles' hair did not fit the aesthetic for wedding photos. They said her hair looked "unkempt" and "messy," insinuating that her texture was not up to the societal beauty standard.
For many years the conversation surrounding texturism has been highly prevalent in the natural hair community as it focuses on the desirability of a looser curl pattern and deems those with kinkier hair as unattractive and lesser than others.
In 2023 social media users proved that the conversation surrounding Black women's hair should end as soon as possible. With the CROWN Act bill being implemented across the states, continuing the progression is essential instead of falling into the forced definition of beauty made by white supremacists.
Since the period of slavery, a hierarchy has been placed in our community regarding hair texture, making those with coarse hair feel unwanted and pressured to change the pattern they were born with.
Even after slavery was abolished, Black people still faced the comb test, an examination that enforced the idea that kinky hair was not socially acceptable. The test would consist of hanging a fine-tooth comb outside a door and demonstrating who was not welcome if their hair could not easily be combed.
As we are almost halfway into 2023, it doesn't make sense that people are still trying to critique and slander Black women for things they can't control. This day was meant for Simone Biles to enjoy a new chapter in her life, but instead, trolls and self-hating texturists decided to flood the timeline with their thoughts and opinions.
"I saw those pics of Simone Biles, and my first thought was, "Aww, she looks so happy." The fact y'all zoomed in on her edges and hair is so miserable," a Twitter user shared.
Unfortunately, the conditioning about our textured hair has been ingrained in us for decades, and assistance from the patriarchal society does not help either. Within the United States, the culture has pushed Eurocentric features such as light skin with straight or loose curls that it creates a classist and elitist structure for young Black girls to feel pressured to conform to.
Media and constant push for one category of beauty make it hard for Black women to express themselves and embrace their natural features. Though Biles has to endure trolling and backlash on her wedding day, she's setting a new standard and showing Black women that they don't have to conform to the slickest ponytails or straightest hair.
Black women deserve the right and privilege to wear their hair in whatever state they want and should not feel pressured to blend in with society.
About Kenyatta: Clark Atlanta University and Medill School alumna Kenyatta Victoria is the Girls United writer covering everything from news, pop culture, lifestyle, and investigative stories. When not reporting, she's diving deep into her curated playlists or binging her favorite comfort shows.